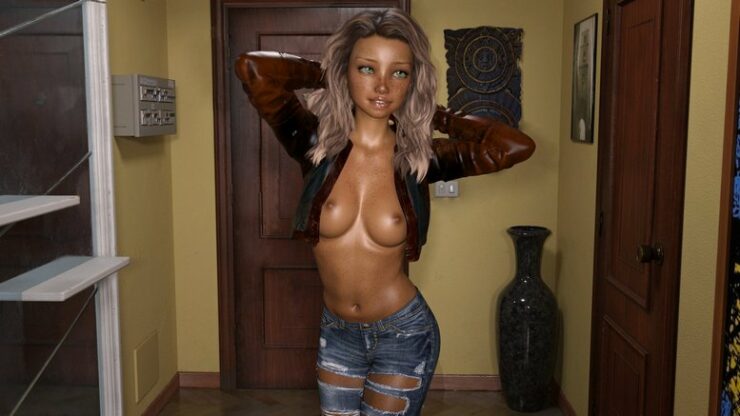 Release date: 4 February, 2021
Genre: 3DCG, Male protagonist, Female protagonist, Multiple protagonists, Sex toys, Spanking, Romance, Fingering, Groping, Exhibitionism, Lesbian, Masturbation, Teasing
Censorship: None
Platform: Windows, Linux, Android
Version: Avalon 8.2 Completed + Inc Patch
Language: English
File size: 2.9 GB
About game:
Avalon is a third-person novel that orbits around two main characters; Avalon and Byron. When Avalon has a falling out with her mother, she moves in with her adopted Uncle Byron. As they continue to learn about each other's deep and disturbing traumas, a romance begins to blossom. They lean on each other, and their friends, as they both continue to heal…
+ Changelog
v7.11 Hotfix 2
I worked my tail off the last several days rebuilding the Gallery and Act Select so I could get the Unlock feature to function properly. I have tested this build thoroughly myself and I've had others test it as well. It absolutely should work.
v7.9
– Final Dallas Poly scene now shows if you're playing from the start of the game.
– Added an Unlock feature so you can unlock all content with a password.
– Locked the Mono Scenes Button. Unlocks after you finish Act 7.
– Minor aesthetic changes to the menus.
– Minor grammatical and spelling fixes.
(PLEASE NOTE: The lock content feature does not currently function properly. This will be fixed in the next update.)
The password to unlock everything is:
megalodong
v7.8
The Final release of Act 7 is here! I appreciate everyone being patient with me while I put together this last piece of Act 7. Let's go through the additions.
There are a total of four new scenes, one for each path. And each one contains a sex scene sequence.
On the main menu is a new 'Mono' button that will allow you to watch all the mono scenes. In order to watch the Poly scenes, however, you will have to play through the Poly paths. I recommend using the Act Selector if your saves are corrupt.
Without further ado, please enjoy the completed story of Avalon!
v7.6 Bug Fix Release:
Fixed mono path jumping to the end in the middle of the act.
Fixed Gallery Reply for final lewd scene
Fixed two minor grammatical errors.
Created an error where it's hard to see the Change Relationship option at the main menu. Will be fixed upon next release.
v7.5
Dear Fans,
We have the conclusion of Avalon's main story released below! We've still got two more releases before Avalon is completely finished but I'm excited to bring you the finale to the main route.
The Poly path and Mono path still have yet to be concluded, which I'll be working on over the coming month or so. We'll have that release before Christmas. There is no lewd content with Leah in this update, we're saving that for the Bonus Act which we will start on after the next release.
I've made some minor updates to Myrabelle at the beginning of Avalon, I redid the Main Character's avatar and did some other minor polishing.
I hope you all enjoy this finale and please let me know what you think either in the comments below.
Thank you for all your support!
v7.1
Released first half of Act 7.
Over 10 new scenes.
Updated some earlier renders, especially the spa and steam room scenes.
Improved relationship picker with descriptions of girls.
v 6.2
fixed the issue with Penny's textbox coming up as Queen Naudica.
redid Penny and Byron's first meeting.
v 6.1
This is the first half of Act 6. I don't want to spoil anything by listing out the scenes.
We're exploring Byron's past.
We are meeting a new character named Leah.
There are 3 new sex scenes.
v 5.7
Minor Fixes
Grammar and Spelling Mistakes Fixed
Sun Mei and Xianne Scene unlocked in the Gallery
Byron changed to [player_name] at the end of Act 5
Two Gallery Scenes named appropriately
Spaces now will not be accepted as a player name.
v 5.6
Additions
This is a really big update. If you were waiting on playing Avalon until there was a decent amount of content, now is the time to play. This is a great point at which to give it a playthrough. There's plenty of fun content now and some excellent naughty scenes.
We've had difficulty with saves in the past. So with the help of a professional coder, we've added an ACT SELECT to help alleviate this problem. Once you finish an Act, the proceeding Act will be unlocked in the ACT SELECT menu. Please thank OscarSix for this addition!
I also had a GALLERY implemented so once you've seen a scene, it will unlock in the GALLERY. Remember, there are four paths. So to unlock all the naughty scenes, you'll have to play through them all. Each path has additional information about the story but the Mono Paths have considerably less content as of this release than the Polyamorous paths. Please thank OscarSix for the addition of the GALLERY.
We've also implemented a SAVE GAME NAME feature. It's a little tricky; when you go into the Save Game Menu, type in what you want to name it and then click the slot you want to save on. Please thank OscarSix for the SAVE GAME NAME feature.
Scenes –
Pre-Date at Home (All)
Octavia Date (Octavia Poly)
Dallas Date – (Dallas Poly)
Avalon and Penny Date (All)
Octavia and Byron Nightcap (Octavia Poly)
Dallas and Byron Seduction (Dallas Poly)
Octavia and Penny Reunited (Octavia Mono)
Penny's Late Night Visit (Dallas Mono)
Avalon and Byron Night 5 (Mono)
Avalon and Byron Night 5 (Poly)
Merc and Lance Recovering (All)

Download from [File Boom]
Download from [Tezfiles]