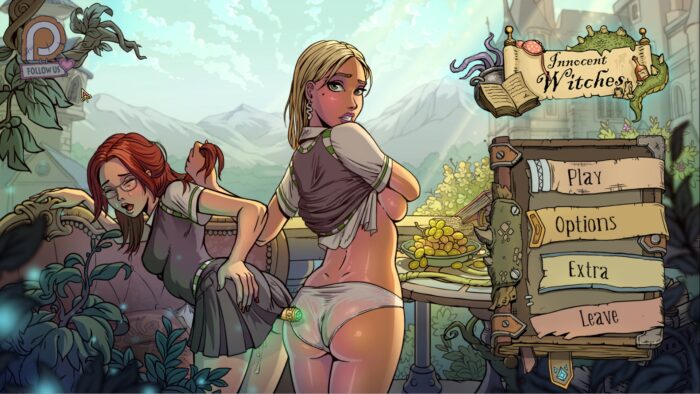 Release date: 15 February, 2021
Genre: Visual Novel, Interactive, Sexy Girls, Small Tits, Beautiful Ass, Erotic Content, Sexual training, Striptease, Trainer, Magic, School, Anal sex, Vaginal Sex
Censorship: None
Platform: Windows, Linux, Android
Version: Innocent Witches 0.6.5 Final + Walkthrough + Save + CG ImagePack + Full Animations
Language: English, Russian
File size: 962 MB
About game:
Amazing and at the same time, a strange story was told to me by an old acquaintance by correspondence. He told me of the time when he was nothing but a simple guy, yearning for a young female flesh. But due to the thunderstorm of events, in which he was cast, he found himself at a disastrous end. His birth was shrouded in mystery, and his goals were that of a simple man. His youth could be the envy of all. But to live through his destiny and bear the entirety of it, is even beyond my power.
He will recite you a tale about the students who changed his life. And many women who he met, and how they have changed his fate.
We are about to take an endeavor into a magical world, that has not seen a wild debauchery since the fall of the Bewitching Guild.
The old magical school, that above all valued purity and chastity. And we also hear about a young doctor, who grew tired of old witches, and who dreamed of young and innocent witches. Many familiar characters will meet us there; some of them will take on roles you would have never expected to see them in. Child's tale transform into the one for an adult. You have never seen them like this. What was hidden or held back from the inquisitive, but naive child's mind, will be revealed with most obscene details…
+ Changelog
0.6.5 Final
1. Fixed animations being stuck in certain situations (special thanks to those who helped with debugging).
2. Fixed an exception with transferring persistent data from a very old version.
3. Fixed several notification and goals issues.
4. Fixed a rare crash during transition to the next day.
5. Fixed incorrect swimsuit demonstration in Act 1 Chapter 4.
6. Fixed incorrect speaker portrait during Cho Chang encounter in Act 1 Chapter 4.
7. Other minor fixes and adjustments
0.6.4F
1. Fixed a rare crash during transition to the next day
2. Fixed incorrect swimsuit demonstration in act 1 chapter 4
3. Fixed incorrect speaker portrait during Cho Chang encounter in act 1 chapter 4
4. Other minor fixes and adjustments
v0.6.3
1. Updated Daphne's animation in main menu to Live2D version
2. Fixed several critical problems with Sonya's leveling
3. Fixed animations being stuck in certain situations
4. Other fixes and bugs
v0.6.2
1. Hermione's background animation in main menu was updated to Live2D
2. Fixed errors with saving/transferring game progress
3. Fixed a bug caused by sending letters to multiple recipients
4. A bunch of fixes and adjustments based on the players' feedback (Thanks!)
5. Updated old bugs and added several new ones
v0.6.1
1. Fixed the Book of Runes event
2. Fixed incorrect/missing translations
3. Fixed the Wheel of Fortune (WoF) event
4. Added slightly different endings for the WoF event based on the difficulty
5. Random bedroom encounters should be reachable now
6. Further updated the drinking minigame interface
7. Fixed Xandria interactions in Act 2 Chapter 2
8. Adjusted the difficulty/time-to-finish of some of the minigames
9. Added the option to use old music from the previous versions
10. Fixed problems with saving/transferring the progress
11. Other fixes and adjustments
12. New bugs
v0.6 FINAL
1. Added introductory CG scene with Hermione
2. Added new Hermione's minigame
3. Added new tutoring scenes for Daphne and Susan
4. Added second date scenes
5. Reworked drinking game interface to make it more user-friendly
6. Added introductory scenes with Xandria
7. Added Christmas event with tasty rewards
8. Updated and added several new music tracks
9. Hermione's interactions with phoenix received additional art
10. Added new costume for Sonya
11. Added unlockable journal notes for Daphne's and Luna's minigames
12. Added random bedroom encounters. Who knows who you can meet there 😉
13. Added casual dialogues option when drinking with Minerva
14. Slightly increased the quality of the art in the main office
15. Added easier version for the statue minigame in Act 1
16. Added new memories in Innocent Witches
17. Updated the game's engine to version 7.4.0 (better performance)
18. Other bugfixes and adjustments
19. Added new bugs
v0.6 BETA (Upd)
1. Made it possible to transfer some of the progress between versions (includes memories, Sonya, achievements, dressing rooms, as well as game preferences and screenshots). This functionality should work starting from this version.
2. Added introductory dating scenes with main girls.
3. Added bonus shower scenes for Daphne and Luna.
4. Sonya and achievements are now global and their progress is shared between different playthroughs.
5. A ton of fixes of numerous bugs throughout the whole game.
6. A new interactive statue mini-game was added to Act 1 Chapter 3.
7. Added proper hinting arrows to the early chapters of Act 1.
8. Reworked and updated Hagrid interactions in Act 2.
9. Act 2 Chapter 1 has different flow of events now.
10. Many events in Act 2 Chapter 1 were polished or changed.
11. Act 2 Chapter 1 can be finished now.
12. The quest journal received an additional hinting functionality.
13. The quest journal received a cosmetic overhaul.
14. Numerous hints were added to the quests throughout the game via hinting in the quest journal.
15. Added a warning message to the events that are not yet finished.
16. The message about new version of the game should now work correctly.
0.6.1A
Here are some of the fixes:
1. Fixed drinking game bug where you could lock yourself out
2. Fixed Chapter 4 passage issues
3. Fixed Luna scene indentation error
4. Fixed Hermione skirt bug
5. Fixed bug with new scene staying stuck on screen
6. Fixed Chuglerita being broken
7. Fixed skip menu options
8. Fixed Susan in Chapter 4, being broken upon insulting her
9. Fixed unclear and broken goals in Act 2, Chapter 1
10. Many other smaller fixes (thank you all for your reports!)
11. Added new bugs in Innocent Witches
0.6A
Complete edit of chapters through chapter 4, text and flow
Added hinting arrow system that guides you through clicking, only works up to chapter 2
Added ambient sounds, that happen when you open the window or doors, or change location
Added continuance of drinking game
Added test functionality of minigame with Hermione (not yet complete)
Added new Susan minigame, with rewards
Updated objectives as things changed in game
Added small rewards for choices in chapter 2
Added more main plot to Act2 Chapter 1
Added spying on girls prior to dating scene in chapter 4
Added dating scene in chapter 4
Swimsuit quest is simpler and easy to follow, ripped out a lot of redundant text from chapter 4 (We apologize this sucked up a lot of development time but has been the biggest complaint)
You now pick a Waifu at the beginning of that chapter and only solve/read papers of one girl
Added sound functions to support random sounds (not in use atm)
Added function to enable fining Markus for bad actions
Built scripts to swap out translations as we will be redoing the engine completely in the future, so we had to do this to support it
And last, but not least, a new scene with one of the girls, finish Act2 Chapter goals, and you will see the steps required for it in your goals, once you are on the right track.
Things that didn't quite make it:
Minigames with Luna, Daphne and a special minigame for Chapter 3
Side dating scenes for Act 2
About the new scene:
We now have movement continue while text is displayed, this is a custom module we made for Innocent Witches and is not standard renpy behaviour
Due to this, we have added intro sounds, that have loops queuing after, which then play while the animation is happening, once the player continues, the outro music is queued, this makes it so the sound is seamless, regardless of how fast you play through the scene.
This also means, you might get annoyed by some of the loops and sound volumes, please remember you can adjust them to your taste. We had many discussions and debates about sounds and music and the fact is, it's not easy to reach a consensus when people's tastes are different. So if you hate the music, and want a poll about it, ask in Discord.
0.5.1F
1. Fixed most of the critical bugs that were reported to us by the players
2. Probably added a couple of bugs as a result
0.5F
1. Dark path in chapter 5 is now passable!
2. Continuation of Luna's scene
3. Additional scenes for dark path added
4. Miniskirts quest line, you can get 2 shorter skirts on the main girls now (more later)
5. This will allow you to buy new things from an old friend
6. Dressing room added
7. Peeking on the girls in the shower introduced (minimum functionality)
8. Quest to introduce drinking game added
9. Drinking game itself added (preliminary, basic functionality) to make money
10. Sexecution catalogue and market introduced
11. Dark path special scenes with Susan for tutoring
12. Dark path scene with Hermione
13. Manipulation/Fervor mini-game added
14. Continuation of Diadem quest line added
15. Combining and breaking apart of items mechanic
16. Special scene with Daphne introduced
17. Easter egg with portraits is in game
18. Portraits now have random texts
19. Haggling with Filch mechanic added
20. Chapter 4 was slightly overhauled (updated with goals + fixed bugs + more streamlined now)
21. Added an option to change the speed of scenes/events (can be accessed via the "Advanced" tab in preferences)
22. Ability to save screenshots into the in-game gallery (can be accessed by hiding the interface via the button in the dialogue window, or by pressing "H")
23. Bunch of different QoL fixes and additions for interface and translations
0.5B
1.Act 2 begins! (there are several additions in act 1 chapter 5 as well)
2.New scene with main girl (these scenes are on light path for now)
3.Dark path can now allow you to suspend Hermione and Daphne as well
4.Drinking scene bonus for Hermione and Daphne added
5.Art added for Hermione and Susan interactions with Markus tutoring
6.Added Christmas decorations for Marcus' office! (better late than never)
7.Updated idles for Nola and Ginny
8.Ginny's scene was updated
9.Changing room added (WIP, only Daphne is partially added at the moment)
10.New commissar scenes with all girls
11.New random interactions with portraits (WIP, may be broken in pre-release)
12.Dark path continues up to our next minigame which is still WIP (sorry)
13.Memories were added for all girls
14.Changes to Daphne Bathwater event
15.Many quality of life improvements and additions
16.Fixed a multitude of bugs
17.Added new bugs
0.5A:
1.Added new manipulation abilities (both dark and light).
2.Added plot, ability to wear diadem.
3.Added lock mechanism (requirement for sex scenes).
4.Added new scene with a main girl in Innocent Witches!
5.Many requirements for said scene.
6.Redesigned the screen that pops up when error happens to be more user-friendly.
7.Added a way to get more memory fragments for Sonya (can be accessed via her menu).
8.Added early stages of tutoring, light path is fleshed out partially, for 1 girl.
9.Dark path is not complete yet.
10.Added memories, you can replay scenes (around 80% of them at the moment). Some of them have additional bonus content.
11.Added poses for manipulation scenes for future releases.
12.Increased the amount of galleons which Marcus can get (advance the plot to unlock this).
13.Fixed bugs in Innocent Witches.
14.Added bugs.
15.Started working on the next scene with one of the main girls!

Download from [File Boom]
Download from [Tezfiles]