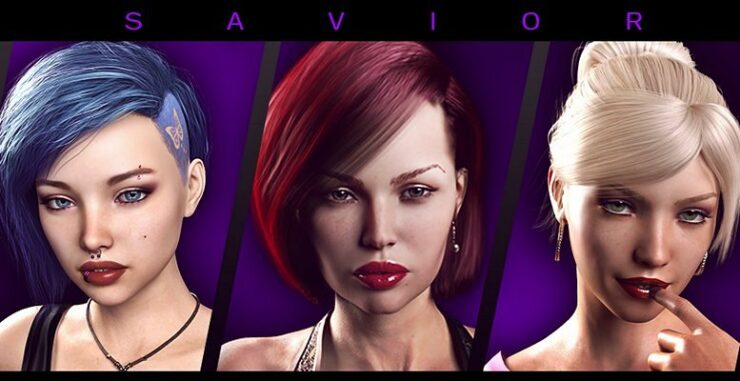 Release date: 10 October, 2022
Genre: 3DCG, Male protagonist, Incest, Anal sex, Oral Sex, Vaginal Sex, Milf, Mind control, Lesbian, Male domination, Super-powers, Titfuck, Big tits, Big ass
Censorship: None
Platform: Windows, Linux, Android
Version: Savior 0.12c + Ic patch + Walkthrough + Gallery/Cheat Mod
Language: English, Italian [patch]
File size: 3.42 GB

About game:
In Savior, you take on the role of a man who was genetically engineered by his scientist parents due to infertility. However, our hero hides a big secret inside of his genetic code. With the world in great peril, it is up to our hero to discover the secrets hidden within his blood and awaken the great potential lying dormant within.
Along the way, our hero will encounter many hot new… acquaintences. Will they be friends or foes? Will they do battle, or will they be doing each other from dusk until dawn? The choice is yours! Be sure to choose wisely, because you are…The savior.​..
+ Changelog
v0.12c
Proofread is done
Reported bugs fixed
Infinite loop error fixed
A few bugs from previous versions fixed
0.12 Beta
623 Renders
36 Animations!
Main Storyline Progress
Vanessa Storyline Progress (Depending on Your Choices)
Olivia Storyline Progress (Depending on Your Choices)
Daisy Storyline Progress (Depending on Your Choices)
Sexual Content with Olivia, Vanessa and Daisy
v0.11c
Added 5 more animations (23 in total)
Fixed one of the animations
Added 5 extra renders
Proofread is done
Reported bugs fixed
v0.11 Beta
599 Renders
18 Animations
Main Storyline Progress
Haruka Storyline Progress (Depending on Your Choices)
Allison Storyline Progress (Depending on Your Choices)
Ruri Storyline Progress (Depending on Your Choices)
Sexual Content with "Haruka, Allison and Olivia"
v0.10d
Fixed the issue with Olivia's conversation at the beginning.
v0.10c
-Fixed one of the animations
-Added a new line of code to give players a chance to switch evil route with Olivia at the beggining of version 0.10 (Your evil points must be higher than good points)
-Added extra line of dialogues for the players who are still in a good relationship with Amber (It's a small change but it implies that Olivia is aware of Amber and she is not really okay with that and expects Mc to choose someone eventually)
-Added one more animation for the evil route
-Added 6 extra renders. (We found that some of the facial expressions were not compatible with the context)
Proofread is done
-The size of the game is reduced from 6.44 GB to 2.81 GB (We reduced the file size of the Webp files. But it's almost impossible to notice any quality -differences)
-Fixed the issue with one of the in-game music
v0.10 Beta
-512 Renders.
-11 Animations
-New Characters: Ruri and Matthew!
-Olivia Storyline
Savior Xmas Special
-86 Renders
-7 Animations
-Two Different Storylines
v0.9c
-3 Animations
-Android Version Added
-Reported Bugs Fixed
-Fixed Few Issues With Animations
-Proofread Is Done
v0.9b
-404 Renders
-11 Animations
-Main Storyline Progress
-Vanessa Storyline
v0.8e
-New scenes with Amber and Daisy (Depending on your choice about Amber from 0.7)
-37 New Renders
-2 New Animations
-Music And Sounds Added
v0.8c
-3 extra animations added
-Proof read is done
-Grammar mistakes fixed
-Reported bugs and errors fixed
v0.8 Beta
-301 Renders
-6 Animations
-Main Storyline Progress
-Maeve Storyline
v0.7
-452 Renders
-7 Animations (There is a clothing error in one of the animations. It will be fixed after the beta release.)
-New Storyline With Amber
-New Storyline With Daisy and Olivia
-Main Storyline Progress (With this update, new possibilities will open for most of the main characters)
v0.6a
-494 Renders (Three Of Them Added After The Beta Release)
-11 Animations (One More Animation Added After The Beta Release!)
-Main Storyline Progress.
-New Optional Fetish! (Futa)
-New Characters (Sort of…)
-Grammar Mistakes And Typos Fixed.
-Proofread has done for both v0.5 and 0.6!
-Daisy Scenes From The Previous Version Are Now Optional!
-All The Reported Bugs Are Fixed!
-Music And Sound Added.
v0.6 BETA
-491 Renders
-10 Animations
-Main Storyline Progress
-New Optional Fetish! (Futa)
-New Characters (Sort of…)
-Fixed Grammar Mistakes And Typos.
-since this is a beta version there will be bugs.
v0.5
Hey guys! We are about to finish things up with version 0.5 so, this is our last progress report before the release day. This version will include 530 renders (Could be more. We will see how things will go after the beta test.)and, 9 animations (Again, could be more).
As you already know, our main focus was Daisy and Vanessa for this update thus you will see lots of progress with them and, lots of scenes with one of them. A little tip; there are gonna be scenes for both paths (evil and good) so, at some point, you will make that choice that will determine which path you will follow with that character in this version. You will know that moment when you see it, don't worry.
v0.4c
The bug about the game-ending after version 0.3's fixed.
Official Android version added.
Grammar mistakes fixed.
v0.4
-208 renders
-12 animations
-New mini-game
-Main story progress
-Allison, Olivia and Maeve's storyline progress
-New superpower( the scene includes Robin and you can choose if you want to see further scenes or not)
-ANDROID version added
• Swipe up: Open Menu
• Swipe down: Hide Interface
• Swipe right: Skip
• Swipe left: Rollback
v0.3b
-Fixed the missing evil point mistake after choosing skip to 0.3 and answering the question about Samantha.
-The Amber-Mc Night scene's choices are now optional. (You can pick blowjob or footjob.)
-(Optional) Added a new scene between Daisy and Mc so the player can have a chance to talk Daisy about her behaviors.
-Fixed some grammar mistakes.
-Changed the file name 'tanışma' to 'tanisma' to prevent errors for the compressed version of the game.
v0.3
-Your previous save files most likely won't work. After starting a new game, the game will ask you if you want to start from the begining, 0.2 or 0.3.
-7 new animations 92 new renders and 108 new character sprites!
-Added Relationship Chart (You can see it by clicking the top left button in the game)
-Added two types of morality for Mc. (According to your choices in the game, you will get to see different scenes for different characters in the future updates)
-The game over screen from "Samantha Park Sex" has been removed. Instead of that, mc's morality will change depending on your choice.
v0.2
-130 new renders.
-7 new animations.
-6 new characters.
-Added music and sounds.
-Animation added to main menu.
-General gui changes(in-game menu, dialouge boxes etc…)
v0.1b
-Grammar mistakes fixed in Savior.
-General writing and dialogs are redone.
-Mc's back tattoo removed.
-Minor visual improvements.
-We compressed the game file without losing image quality.
v0.1
First release Savior

Download from [File Boom]
Download from [Tezfiles]