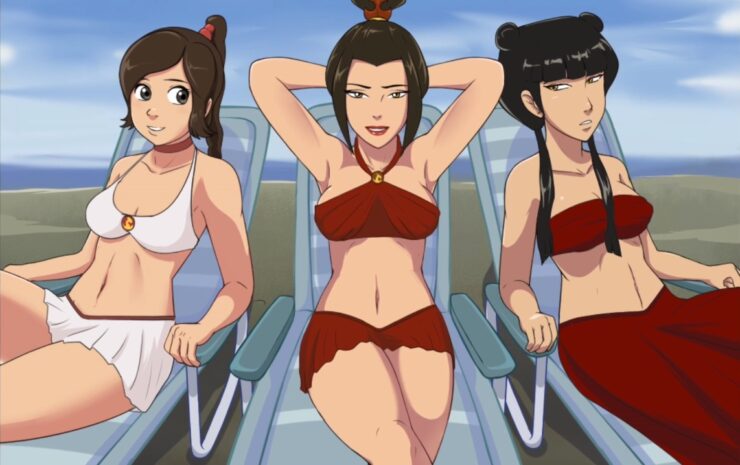 Release date: 26 December, 2021
Genre: ADV, Sexy girls, Big ass, All sex, Anal sex, Blowjob, Sexual training, Parody, Warrior, Fantasy, Ren'py
Censorship: None
Platform: Windows, Linux, Android
Version: Four Elements Trainer 0.9.7c + Lain's Walkthrough + Gallery + Cheat Mod + Save
Language: English
File size: 622 MB

About game:
Four Elements Trainer is a massive undertaking set in the universes of Avatar: The Last Airbender and The Legend of Korra, and will be four complete games all united into one. Along the way, you'll find plenty of (fuckable!) characters, quests, stories, fights, and mysteries to unlock…
+ Changelog
v0.9.5b
What's in this build? Clearly there will be some spoilers here so… perhaps not look at this until you've finished playing the build.
-There's an anal scene(two versions) with Opal.
-There's a one on one vaginal scene with Suyin.
-Two handjobs(Kuvira and Zhuli)
-A vaginal scene with Zhuli.
-Another possible scene with Suyin. If you turned down Baatar's threesome suggestion you won't see it.
-Two of the player's previous incarnations will lick dick!
– Your dick will get slapped!
And a couple of other smaller things along the way.
v0.9.4b
-Two new scenes with Jinora and one old repurposed version so it can also be seen in Zoafu.
-Three scenes with Suyin(two can be missed).
-Two new scenes with Opal.
-And a bunch of other nick knacks along the way. I don't like calling things scenes when they don't have any animation.
Patreon complains when I write as much as even some of the abbreviations of the scenes so you'll just have to see them yourself to figure out what they are.
v0.9.4a
So what can you expect to see in this version? There will be a message telling you when you've reached the end of the build when you go to sleep, but to give you a general idea.
Two new scenes with Jinora(plus one older repurposed scene just so you can see it again ).
Two new scenes with Opal.
And Suyin gets two scenes, but one will be optional and can be missed.
And then there's a couple of other nick knacks along the way.
That's right, no sexy Korra this time though you will see her for a few short moments.
v0.9.1
There are small changes all over the place, but the biggest take place before/during the snowstorm, the first time you see Jinora wearing orange, but the biggest change is that we added a short Jinora scene at the end during day 11.
It's a very small one and not really sexy, but it's another important step to getting in her panties eventually. A pic of it is in the header.
Halloween Special v2:
Spooky times 2 – a FET side story
Hey all! Marty talking!
I finished the Halloween side story. As you might already know, I started creating this around the 10th(?) of this month and it's pretty much a one man creation. Coding, writing and drawing. I hope I've made something funny and entertaining to help you wait for the real main story build to arrive …which has become quite an ordeal to say the least…
Cbob is clearly having some sort of problem. I think I'll talk about that some more in a not too distant post because this is getting too messed up. Just be assured I'll send the links to that future build out via pm's once it's ready, so you can safely quit being a patron of ours and still get the build.
But enough about that for right now. The build I'm linking to in this post is a small Halloween themed side story like I did last year. I added a couple of extra scenes since the bughunt and streamlined it some more.
Thanks for the feedback bughunters! Both for mentioning bugs as well as suggesting other improvements. You'll find I did my best to add most of your suggestions although naturally I haven't been able to add all which you(or I) wanted and asked for.
It has been a few crazy weeks for me, but I'm reasonably happy with what I managed to do. I hope you will be too. And yes, there's a bunch of scenes in here which you can miss, but I've added a summary of what you managed to find/do at the end of the story. Don't assume you've found everything if you got a perfect score though, box spirits are hard to find!
Anyway links are below. And I also just uploaded an Art Assets update, so don't forget that if you are in the appropriate tier.
Cheat code:
money
shady_bucks = x
v0.9.0c
As much as I dislike having to release these new versions with only minor bugfixes, the last one still had a bug which can potentially lock players out of progressing.
You might not have encountered it, but the problem occurs when talking with Korra about the Equalists during book 4's love route. Doing so would make her not want to talk anymore for that day in version 0.9.0b.
Not a problem the first time, but it can cause BIG problems later on if you repeat the conversation again and is able to lock you out of progressing. It's fixed in this new version, but as long as you don't repeat the Equalist conversation later you should be safe in the old one as well.
v0.9.0b
This is basically 0,9.0a with a few small bugfixes. I would've uploaded this way earlier but for the very first time ever cbob's email got caught by my spam filter and I was just waiting patiently for him to send me something which he had already sent!
Quick recap, this build contains the start of book 4's love route. The main differences between this version and 0.9.0a is the fact we added some music and fixed some parts of the sexdoll mini-game. For some people the mini-game was over the second it started and for others, the clicks wouldn't always properly register. Should be fixed in this version.
So if you didn't have trouble with the mini-game earlier it's probably not worth downloading this version.
v0.8.7d
extra dog scene – It was the winner of the poll so… yeah, you know what that means… don't you? Poor korra. My own favorite was the geriatric girls scene! But alas!
extra end scene (Three women, one player and one Oogi providing transportation!)
extra Asami endscene. She can now(just like korra) become big bellied.
New washroom scene (gotta get clean!) Even the cardboard spirit can be found there if you did everything right.
Bunch of new versions of older korra scenes (indicated with a heart). There's not much difference (just a bit) visually speaking, but the dialogue has been changed in the new versions after you defeat Amon to better reflect your new relation with Korra.
New version of old equalist scene (visit the cells). You might or might not have met a female equalist on your travels! You can see her again in the cells.
v0.8.7b
Equalists invade! Oh no!
Face-to-face with Amon! Will this be the end?
You're on a blimp! And what's that? Korra's naked? What's she doing? Oh. OH. That's nice.
Help Asami in a way she doesn't even know she needs! Get rewarded! Friendship is magic!
Southpole adventures continue! A surprise for you, and a birthday party! (Can you create the best birthday party ever?!? Probably not!)
Oh no those are saggy breasts that you chose to see despite all of my warnings
Squash Pema and Lin's beef!
Be a terrible pseudo-daddy! A couple times! Don't get caught!
Help Shady make a sexy city-wide Movers with lasers!
Take Korra on a walk!
Did you get Korra pregnant? Why did you do that?
Finish the slave route!
More equalists in prison!
v0.8.6d
Fixed the Goblin bug in Four Elements Trainer
The mask is now properly 3 respect
Bunch of bug fixes and various small edits
v0.8.6c
Bunch of bug fixes and various small edits
v0.8.6b
You can sort your mail!
You can return to the south pole. Including a few older scenes which you now can replay there will be a new:
– Eska scene
– Desna scene
– Eska/Desna scene
Ask everyone where Korra is.
– anal/vaginal with Asami
Get lube (not what you think!)
– Korra teaches Equalist how to bend. Or not.
– Equalist girl appears. Or not.
A shocking revelation. Or not
Provide Korra with mental support. Or not.
– Korra sad sex
Be Shady's/Asami's errand boy!
– Yangchen anal/vaginal
– Yangchen boobjob
Fix what's borked! Look at the airships!
v0.8.5d
Okay this should be the last 0.8.5 version.
0.8.5c works fine, but it was missing a couple of things we had planned on.
In general the differences between 0.8.5.c and this one are few. We added some more hints about what to do next along the way. For example, finding Kyoshi in this last build had a lot of people stumped, so we added something which will make meeting her a lot more natural.
There's some minor bugfixes and we added a new scene for Toph's mom at the end of book 3's slave route. It's when you pick "give toph a little sister".
So if you're one of those people who has to be careful with the amount of data they can download each month, there's no major reason to download this immediately.
v0.8.5c
Okay, small explanation. We wanted to have this finished way earlier and could have finished it way earlier… but we got some good feedback from the bug hunters about things besides bugs. That made us want to add and change a couple of things to make it a better build.
The changes we thought of seemed very doable within the set time frame. But, we got too greedy and found some more bugs along the way which also took up time to find and fix.
So instead of waiting until we finish all of that, we decided to release the version minus the more ambitious changes right now. Once we finish the version with the extra's we'll upload that one, but until then please have fun with Four Elements Trainer 0.8.5c!
v0.8.4 (+a b c):
– visit a cold island!
– Visit Katara and don't have sex with her!
– Visit the sauna
– Finger Korra during a visit to the sauna
– Force Korra to walk around with her panties filled with sperm
– Korra gets it in the ass!
– Korra's mom get's it in the ass!
– Eska get's in the ass!
– Yes, there's a lot of ass-action going on!
– Zhu Li poses for you in the nude.
– Get a blow/handjob from Eska/Desna (never forget, twins can't be trusted!)
– Help Shady make some kick-ass tea.
– Senna inserts Korra's college funds indirectly… in her ass (this build's subtitle could be "anal-island"!)
– Look at a bunch of "spirit papers" after earning them through card-battle! (there's no additional reward for collecting them all though. This isn't pokemon! Wait… did pokemon actually have a reward for catching them all??) Four Elements Trainer

+ Cheats
In order to use cheats, you need to open the console. In games on ren'py, the console opens the same way:
Go to Four_Elements_Trainer_0.9.5 \ renpy \ common and open the 00console file with a text editor. Find the line # If true, the console is enabled despite config.developer being False.
config.console = False and change False to True. Save the changes.
In the game, press Shift + O to open the console.
Book 1:
katara_aff =
kpubwalk =
krespect =
money = {Money you want to add}
potions =
Waterbending =
Book 2:
total_girls =
used_girls =
fmoney = {Money you want to add}
food =
morality =
aslut =
apublic =
azula_aff =
mai_aff =
potions =
crab_potions =
Book 3:
.bk3_lifepotions =
store.bk3_manapotions =
toph_aff =
emoney = {Money you want to add}
obsidian = 100
bk3_wood = 100
bk3_steel = 100
bk3_player_life = 1000
bk3_accuracy = 100
bk3_evade = 100
renpy.call_in_new_context ("meangirls_reward") [restart the event for the reward scene]
Affects your level and stats in the tunnel)
bk3_level = 20 (I don't recommend going any higher because lvl 20 is the highest)
bk3_hp = 1000
Crabs
crab1_hp = 10000
enemy_crab1_hp = 1
enemy_crab2_hp = 1
enemy_crab_hp = 1
crab1_move2 = True
crab1_move3 = True
crab1_move4 = True
crab1_acc = 100
crab1_att = 100 (For other crabs, replace crab1 with crab2, crab3, etc.)
crab1_def = 100
crab1_level = 99 (max lvl)
Book 4:
bk4_money =
korra_resist =
korra_moral =

Download from [File Boom]
Download from [Tezfiles]