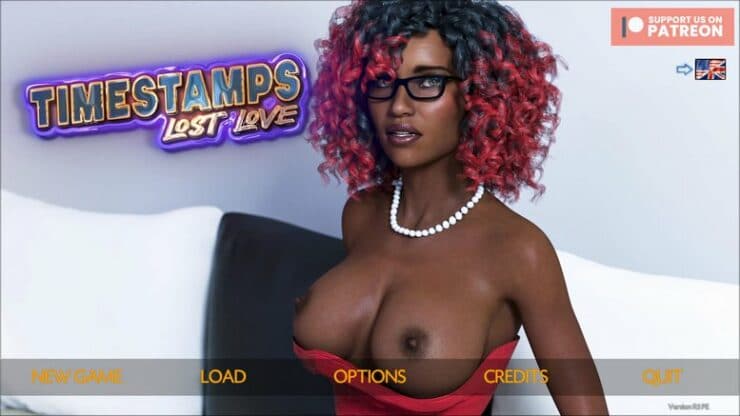 Release date: November, 2021
Genre: 3DCG, Male Protagonist, Milf, Incest, Voyeurism, Masturbation, Forced, Humilation, Groping, Family Sex, Mother-Son, Brother-Sister, Blackmailing, Seduction, Voyeur
Censorship: None
Platform: Windows
Version: Timestamps: Unconditional Love Final + Lost Love2 R7 PE + Walkthrough + Inc patch + CGRip
Language: English
File size: 4.17 GB
About game:
Second chapter of the game. You're a college student who's lustful desires have caused you to make horrible mistakes. But lucky for you, your best friend has found a way to manipulate time… You have the chance to go back and fix some of your mistakes… Will you correct the things in the past to make your life better or will you make it worse. You can make new decisions follow new paths try to get everything you desire or you just might continue to fuck things up… The only good thing is time is on your side. There are so many paths to follow… Will you help them make the good choices?​
+ Changelog
Timestamps Chapter 2 R6 PE P1:
– Added 4 completely new animations
– Fixed some animations that didn't play out in the scenes.
– Extended animated scenes to not be as easily skipped by accident
– Rewrote and added parts to one scene when visiting bacon
– Typo corrections
– Changed navigation from basement to go out in a more logical angle in hallway.
– Stronger Outlined navigation arrows for Beach, OMJ and outside the house.
– Moved the Beach exit arrow a bit further down.
– Changed a task-list text that was incorrect.
– Correctly updated Menu background (non animated) for R6.
– Correctly makes latest Platinum animation now show up for new players for R6
– Added a hopefully working and final fix to "stuck in elevator" issue.
– Added a few more room-blockers
– Fixed some incorrect sound effect references, and music references from R5
Timestamps Lost Love R6 PE
* New scenes!
* New animations!
* Updated some room designs.
* New "Emergency" hotkey left shift+ctrl to open up youtube… cause you know… you never know…
* New Platinum menu (Unfortunately it did not switch automatically this release, realized it too late, so you can change it in Options) VNGINE Changes
* Ingame Phone Notification System Upgrade
* Ingame Phone Notification Popup added
* Lowered volume of splash intro to 50%
* Improved design for Load & Save slots – New icon for renaming save – New icon for deleting save – New confirmation box for deleting save – New editing box for renaming saves
* Added new engine feature for more complex path logic in dialogue
* Added new engine feature for automatic SF/Regular image swaps.
* New emergency tab-out feature with Left Shift+Ctrl that opens youtube in your browser. Bugfixes -Disabled auto-forward after a flashing special effect -Disabled a flag-flipping feature when in replay mode. -Fixed an error that occurs when trying to go "Clean UI" when in main menu. -Fixed so that skipping dialogue correctly stops special effect sounds.
Timestamps Lost Love R5 P2:
* Bugfixes
— A lot of typo and grammar corrections
— Made some content optional
— Engine Change: Reduced the skip/speedclick limiter by 25% so you can skip even faster.
— Added a new audio track for arcade
— Fixed Juli Choices in scene «if you liked it or not»
— Fixed getting stuck after bus scene for one path
— Fixed (hopefully) choices not showing up in elevator and in some other scenes for some people.
— Fixed Heather Balcony Scene if you dont flirt causing some errors in the following scene. Dialogue changes:
— Added a new choice in a scene with bacon instead of some strict conditions Replay changes:
— Mistook Molly for Maureen in one replay menu button. Engine changes:
— Changed some configuration commands to not be case sensitive
Made a changelog, that was a while since last time, wasn't it?
– Tons of new scenes & animations
– New music tracks – Engine Changes –
– User Interface Overhaul
– New Dialogue Panel Design and changed layout.
– New "Clean UI" Setting to disable dialogue panel background in options
– New crisper buttons
– Button click sounds on phone and menues for more feedback
– Completely new Choice panel that is really slick!
– Improved the show/hide UI with Z key
– Fades on phone apps
– New Popup system and fade.
– New stacking popups feature for multiple notifcations on top of eachother.
– Revamped Dialogue History Panel
– Much improved fluidity on going back and forward in dialogue
– Improved performance in dialogue system.
– Turned off some debug logging to save on your disk space and some performance.
– Quick navigation button and panel got some graphical improvements
– Inventory got some graphical improvements
– Hover tooltips in navigation (like on doors) got massive graphical improvements.
– New Cum Effect. – New Picture Effect in Timestamps.
– Code optimizations for performance.
– Bunch of quality of life improvements.
Timestamps: Lost Love R2 PE:
A bunch of new renders and playable scenes! Continuation of the Chapter 2 story!
VNGINE Improvements
* Added a new Minigame
* Added Game Setting to toggle Smoking Fetish (The choice you made at the start)
* Added Smooth Layered Video Transition
* Added Layered Video Background Preloading for less pop-in effect on the background. Still not perfect but without comparison better.
* Options Menu has been optimized for better performance
* Added new feature for room navigation to use multiple populated backgrounds (Seen in College during daytime)
* Arcade Game Major overhaul with stages and special background unlocks viewable after in the easter-egg section of the replay menu.
* Arcade Game Now has sounds, wider paddle, stage counter, use mouse to move paddle. Esc to quit arcade game.
* New Navigation Item-pickup system for picking up stuff up in sertain situations
* New Navigation Item-pickup tracking system for seeing the amount items needed to be picked up
* Added new system for providing choices without making micro-saves for last choice (Specifically used now in new Elevator)
* Added Last Choice button to Esc menu when in navigation (The one on the phone)
* Added a bunch of new characters
* Added new system to automatically linebreak dialogue in the text box.
* Widened the dialogue box by about 30-40% so more text will fit on one "page".
* Updated the map icon in quick navigation.
* Added multiple new rooms to the navigation.
* Added 2 new quick navigation locations in College.
VNGINE Bugfixes
* Regional Calendar settings messing with Save/Loading
* Save/Load not sorting properly on minues/hours on the save/load screen.
* Cyrillic Support
* Quick navigation in college, one button went to the wrong room.
* Fixed a bug where if you load into navigation and save without playing a scene, could cause error.
* Changed mapping nav_nika to use the already existing nika mapping for the Veronika map pin.
* Fixed the tooltip when hovering on rooms in navigation.
PATCH NOTES FOR R1:
* Fixed getting stuck at Night 8->Morning 9 if not peeking Juli & John
* Change name button in options is now back!
* Missing replay from Day 1 Juli bathroom is now back
* Main Menu Music changed
* Some wrong click messages are fixed
* Several fixes dialogue typos and misconfigurations.
* Fixed issue causing fade text to sometimes miss the first letter.
* Derick is now added to translation mapping for translators.
* Camera is no longer available to pick up in Day 3 Repeat / GHD
* Corrections to some pathing beeing wrong based on choices.
Chapter 2 PE R1
Continuation story…

Download links have been removed at the request of the copyright holder. We apologize.