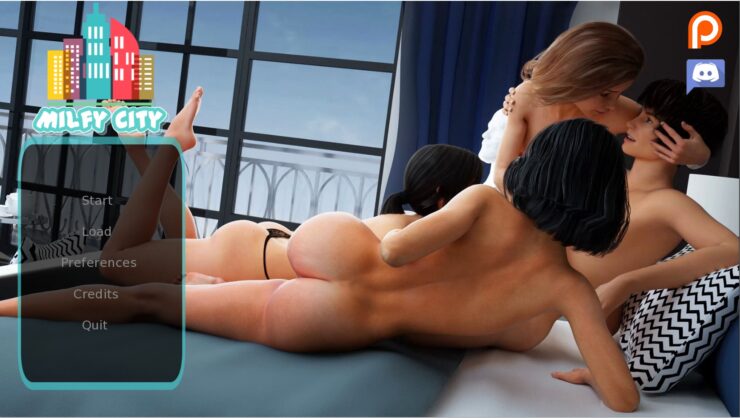 Release date: 3 November, 2023
Censorship: None
Platform: Windows / Linux / Android
Version: Milfy City 1.0e Final + Ic Patch + last save + Gallery/Cheat/Secret Mod + CG Images
Language: English / German / French / Italian (0.6e)
File size: 8.88 GB
About game:
A young student finds himself in the school therapist office, after a humiliating moment with another teacher at school. While plotting his revenge, he'll romance other characters at the school and at home…
+ Changelogs
v1.0e
Final Steam version!
v1.0d
– Most of the bugs should be fixed now. If you find yourself unable to progress with your current save, it's probably best to start a new game and skip through the text quickly.
v1.0c
– Crash when visiting MC's bedroom at night
– MC sometimes cannot sleep to progress to the next day. Bug reported by multiple users.
– Crash with Linda and Caroline
+ About 20 more reported bugs fixed
v1.0b
release include:
Reintroduction of Celia with a newly redesigned route, and proper conclusion to her story.
Conclusions to the stories of Linda, Sara, Bob, Liza and Yazmin.
Fully completed routes for minor characters like Judy, Violet, Lily and Delilah (the pool girl!).
Horny Calls ring up Linda, Sara and Caroline for booty calls at night!
Completely new HUD, new icons, menu .etc
Thousands of new renders!
+550 New animations!
+60 New secret cards!
New scenes scattered throughout the game to make Milfy City feel more interesting and alive!
A built-in walk-through "quest log" to guide you through the game if you get stuck!
New Minigames and skip features!
Many new sound effects!
Emojis in SMS!
+ more!
v0.71b
– Progress with Sara storyline
– ~400 new renders!
– ~40 new animations!
– 4 New scenes in the gallery
– New locations!
– New 5 secret cards in Milfy City!
v0.6e
– Added 13 new animations with Caroline (Doggy/Cowgirl)
– Added one missing scene at night with Celia with animations
– Fixed a few bugs and typos
– Fixed secret cards (2 new ones with Sara)
v0.6d
– 131 New Animations
– New scenes added into the gallery
– Added an option to skip minigames in the game options. (Preferences)
– One new minigame
– Bugs and typos fixes
v0.6c:
– Fixed bugs
– Fixed saves compatibility
– Fixed typos
– Fixed Caroline repeating event
v0.6b
– +2400 new renders!
– Relation up to 5 with Caroline
– Relation up to 3 with Celia
– Many new locations!
– New minigames
– 39 new secret cards!
– Many new night scenes!
– New menu after reaching 5/5 relation with Caroline
– Neighbors Content
v0.5b:
– 800 new renders!
– 60 new animations!
– Relation up to 4 with Linda!
– Two new additional scenes with Linda at night
– New locations
– Two new characters
– New secret cards
– Five new scenes in the gallery
– A few changes in the pool minigame

+ How To Use Previous Save Files
1- Delete "C:\\Users\\AppData\Roaming\Renpy\Milfy City" folder
2- Then put the file save into the saves folder in game directory or vice-versa.

+ Character Name Change:
1. Enable the console:
First you'll want to find the folder named "renpy", this should be in the first page after opening up your game.
You'll want to open this folder and double click the folder named "common".
Next you'll want to find a file named "00console", we're looking for the one that is .rpy, not .rpyc.
After finding 00console.rpy you'll want to right click and choose the option "Open with" and select notepad.
Once opened you'll want to hit "Ctrl + F" to opening up the search bar and you'll being searching for False, refer to image if confusing.
You're looking for the part that highlights this False
You'll then change the line "config.console = False " to config.console = True, refer to image if confusing
Finally, look to the top right of notepad, select File, and then save.
Start up your game and load file and hit "Shift + O" and this should bring up the console command prompt. From here you'll be able to use any commands that were listed in your choice of game forums.
2. Press "Shift O"​
3. Type in player_name = u'the name you want'​
4. Hit "Enter"​
5. Hit "Esc" to exit console​

+ Lain's Walkthrough + Cheat Mod
Features:
This mod adds an in-game walkthrough for every character and event in the game Milfy City! The walkthrough menu contains dynamic guides that let you track your progress for each character and see the requirements needed to trigger their scenes and advance their story.
A cheat menu has also been added which has cheats that allow you to disable mini-games, set your money to $9999, unlock all secret cards, and unlock all of the scenes in the scene gallery.
I've also made a few other improvements to the game that can be changed in the mod settings menu, such as adding the option to skip the game startup splash screens.
Last but not least, do you want to make your Milfy City game more festive for the holidays? The last feature I've added is the option to use winter and Christmas themed background location images for the rooms in the game!
Installation:
Unzip the mod and put the folder named "game" from the mod into your "Milfy_City" folder.
To open the mod menu, click the help icon near the top left of the screen when you're in-game.
Download from [File Boom]
Download from [Rapidgator]