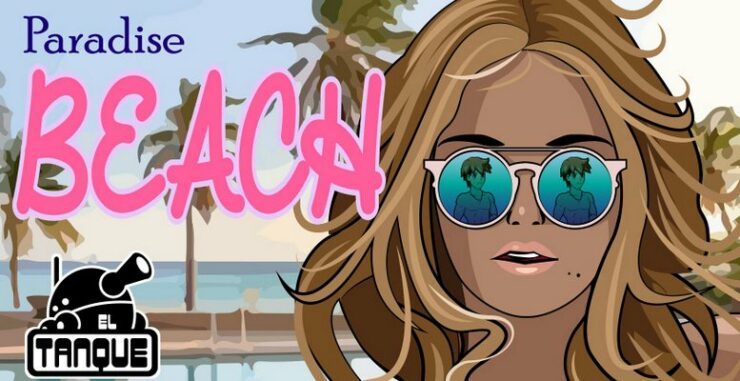 Release date: 3 April, 2023
Genre: 2dcg, Male Protagonist, Adventure, Dating Sim, Graphic violence, Multiple Endings, Anal Sex, Creampie, Handjob, Interracial, Milf, Oral Sex, Pregnancy, Titfuck, Vaginal sex, Virgin
Censorship: None
Platform: Windows
Version: Paradise Beach 0.3.4
Language: English
File size: 1.07 GB

Adult game:
I'm creating a RPG MAKER game called Paradise Beach, using vector image draws, in which you play as a young man, who during his adolescence had training in fighting, weapons, diving and survival tactics. During this time, you have lived with your father in your grandfather's mansion. But after the death of your father on a fishing trip, your grandfather reveals the true reason for your training, and where his fortune comes from. You do not take this news very well, and you decide to leave that life and your grandfather, earn your life honestly as a fisher, and lead a quiet life, or at least that is your intention. In this set of islands there are many things you can do, have fun and go out with girls, different part-time jobs. Did I mention that there are many beautiful girls?
+ Changelog
v0.3
Highly recommended to start a new game, as the update modifies and expands previous content and events. However, it is not necessary (I think), but obviously you will not be able to enjoy the full update.
-The main story continues, there is a new combat mission.
-New sex scene with Laura and with Samantha.
-Luciana has a new sex scene on the deserted island. Plus new car art when she takes you to meet her mom.
-The dance with Lili at the Night Club, has more content and more scenes, so the dance with Mini and Sharon dance and sex, has one more scene.
-The part where you meet the witch in the swamp, now has its denouement and the nature, or purpose, of the MC is explained to you a little better.
-A large part of the artwork has had some modernization, little by little I will be changing scenes that I don't like very much.
-On the deserted island, I put a star cheat, for those who don't want to collect all the stones and branches.
-Combat with pirates on the boat has new art, and a better balance between enemies.
-Many dialogues have been improved (again).
-When you go by car, now you will go much faster, you can regulate the speed a little bit if you press "Shift".
-And a lot of things, which do not really add anything to the story, but I think they make the game a little more complete, such as fishing at the time you want from the dock of your house, with the possibility of earning money by selling your fishing.
v0.2
-The continuation of the story on the deserted island.
-The first night on the abandoned island has a little new content, with Jacky.
-I finally replaced the horrible placeholder with the jumping dolphins.
-The night at the disco with Lili has a considerable change in the dialogue and I added one more frame of Lili dancing.
-New Pac-Boy game, you will be able to make good money from the beginning of the game,
if you are good at Pac-Man of course.
-A romantic date with Sarah.(scene that prevented me from releasing the update before christmas)
-Several improved character arts, Jacqueline, Big Mama, Claudia, some of Emma.
-New dice game with Kiki.
-Strange pipes have appeared on the islands.
-New arts for the twin sisters.
-Many dialogues have been improved.
-I improved some house interiors and the hospital.
-The Christmas and Halloween events have had improvements.
(One of the endings of Halloween, and the progress of the Christmas story).
-You can now replay sex scenes you have already unlocked from your computer.
v0.1
-The story of Emma, Luci, Jacky and mayoress continues. (Main Mission).
-Updated mission book, in MC bedroom.
-Some changes and new images, at the twins' welcome party.
-Big changes, to Tiger Island.
-Many small changes around the islands, some purely cosmetic.
-You can meet one of the nurses who was attending the MC, when he was hospitalized.
v0.09 Christmas Special
-Christmas event.
-Continuation/End of the second combat mission.
-Date with Sam on the beach.
-New content with Veronica.
-Date with Tia.
-Several bugs fixed.
-Many cosmetic changes, signs, vehicles, some arts.
v0.08
-The Mac version still needs the file in the Note.
-This update is about the trip to the mainland with Liliana, mostly dialogues and scenes of course.
-Minimal wandering.
-A lot of scenes where the MC looks weird have been changed.
-Some old errors have been corrected, as well as some texts.
V0.07
-Advancing Samantha's Story.
-Fishing with Molly.
-Two new mini-games on the computer, (but Kronar game and Halloween event have been disabled for the time being).
-Some changes to the house were made, in the living room and a new bathroom for the MC.
V0.065
Mostly bugfix.
All reported bugs have been fixed, and others I found.
Some texts corrected in Paradise Beach.
Kronar's minigame, has a new image, and history but still WIP.
I changed the time advance system in bed, thanks to JesusPorn's suggestion.
v0.06
1-well as you saw, the content follows the story of Yuli and Laura, after visiting the loan shark. Done!
2-Liliana and Laura have a little altercation at the bank where Laura works. Done!
3-Abigail, (farmer) gives you a surprise when you go to work at her. Done!
4-An afternoon with Emma and Luciana with a new job opportunity. Done!
5-A new and complete combat mission that will be a preview of the Russian "cousins" of the MC. Done!
6-I'm connecting again the other fishing missions, as in the demo of the game, there are six options, each one is more difficult than the previous, but you earn more money, Although I don't intend to make this game an endless grinding, because money is not a great factor, you will have to pass every mission at least once to unlock a content. Done!
7-I'm also working on the sex scenes with Camila, if you're her boyfriend of course. Done!
8-I changed a little the story of Kronar the annihilator, so that it is not control of the mind. WIP
9-If I include the Halloween content, it'll be with Molly and Kiki. (and a new character:devilish:) Disabled…
10- I included a little content with Samantha in the morning. DONE!
11-Change the texts a little here and there, to explain things a little better.
12-Some bugs corrected, probably others added in Paradise Beach…
13-I moved the witch's house to the mangrove swamp, now it's easier to get to, but it's still WIP.

+ Guide
PARADISE BEACH
To access the new content v0.06:
1-Visit the older sister Liliana, in the morning and accept to accompany her to go jogging. (only if she is not angry yet).
2-Camila, visit her in the morning, in the mini-market and talk to her, (after having saved her of course).
3-Samantha, during the morning, she is in the laundry room, she will ask you to help her. (It doesn't matter if Lili's mad, get the other laundry baskets and talk to Sam. However this event needs you to finish the first combat mission. When you help Yuli, otherwise you'll just have a small conversation.).
4-Yuli and Laura, after the combat mission, and that you already paid Laura's debt, go see Yuli at the ice cream store, she will be very happy to see you.
5-Emma, go to her room at the evening, and talk to her.
6-Emma, Luciana, in the afternoons she is on the couch in front of the TV, small news talk. (To unlock the other content you need to follow Lili's path in the pool, until she gets angry, then, go motorbike riding with Emma… again.
7-Abigail, MC's cousins: You need to have completed the first combat mission, visit Abigail on her farm and help her with her harvest (two days, first seeding, then next day harvest). (Second combat mission and MC's cousins)
8-If you want you can do the halloween event, but I warn you that is not finished, (but anyway, nothing in the game is) so I recommend, that you leave it for the end, or do not save during the event, on your main entry. Activate the event from your room computer.
9-Now you can add your last name to the character, if you start a new game, it is automatic, if you are playing an old one, you can change the name of the character in the computer.
10-Most stores now have custom shop signs, it's just a cosmetic change.
UPDATE v0.01
To begin Yuli story, visit the ice-cream shop in the morning, then afternoon and dusk. (You will go to the first combat mission).
Sarah sex scene now is possible, keep visiting her in the bakery at dusk.
Tía, moto quick date, possible in the dusk.
Family barbecue possible, keep talking with Lili in the pool (MC home) in the afternoon. Lili will be pissed off with you, but Emma will suggest a family event.
Emma and Molly Ice-cream event now is possible.
Now you receive your payment from Cherry for the lifeguard job at the hotel, however there is no new content.

Download from [File Boom]
Download from [Tezfiles]