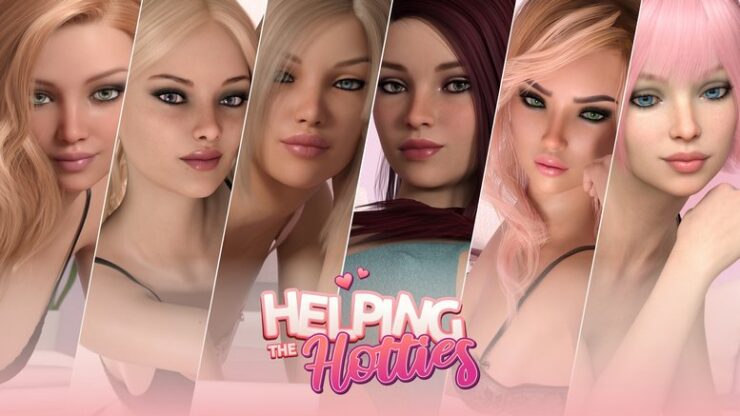 Release date: 21 July, 2023
Genre: 3DCG, Male protagonist, Animated, Big ass, Big tits, Creampie, Exhibitionism, MILF, Oral sex, Point & click, Sandbox, Sex toys, Stripping, Teasing, Vaginal sex, Voyeurism
Censorship: None
Platform: Windows, Linux, Android
Version: Helping the Hotties 1.0 Completed – 1080P / v0.9 – 4K + Walkthrough/Gallery Mod
Language: English
File size: 4.91 GB – Full HD | 16.31 GB – 4K | 2.24 Gb – Compressed Full HD

About game:
In Helping The Hotties, you're a college student who receives an unexpected phone call at the worst possible time, the beginning of summer. The next day, you're on a bus going to work in a boy's educational and behavioral rehabilitation camp. But, to your surprise, it's not a boy's camp anymore…
+ Changelog
v0.6.1 fix:
– fixed an issue with not returning to the same location after entering game menu screen or opening diary
– fixed an issue with replay gallery not working properly
– added transparent text box which can be turned on and off in the Options menu
– added and option where you can change your text size
– added Quit button to the main menu
– added an option to enter "Patreon key" screen from the game by pressing on the x-ray Patreon exclusive button
– reduced overal size of the file by adjusting some of the assets, without any loss to the quality
– many other small improvements in Helping the Hotties
v0.6 4k
Red Falls Renamed, Helping The Hotties.
Episode 6
N/A
Episode 5
1422 new renders
81 new animations
Bonus content:
300 renders in Helping the Hotties
Episode 4
1110 New Renders
29 Animations
Bonus content:
39 angle images
19 x-ray images
40 gallery images
190 blink images
Episode 2
1082 New Renders
12 Animations
Image rotation
Bonus content:
128 angle images
123 x-ray images
Episode 1
1000 new renders
50 new animations in Helping the Hotties

+ Features
Red Falls Renamed, Helping The Hotties.
Hey guys! We have a special announcement to make. Remember the surprise we hinted at? It's finally here!
We listened to your feedback and took your suggestions to heart, fundamentally rebuilding the narrative and improving the overall experience. Because of the amount of changes, we realized that this new experience deserved a more fitting name.
That's why we're proud to present our new game, the labor of many months of hard work – Helping The Hotties – a harem game where you play as the only male character in a camp full of curious, seductive, ladies. Will you find the right one for you or will you be able to handle all of them? Play the game to find out!
We want to give you the best experience possible, so here are some of the new features that have been implemented:
NEW 4K Visuals
All the original and new renders have been rebuilt from the ground up, re-rendered specifically to improve the visual fidelity of the game. All our focus went into the attention to detail needed to improve all renders and enhance the game's atmosphere with improved lighting and textures, and we hope you'll enjoy the huge improvement.
Helping the Hotties Mini-Games
If you're feeling extra playful, try out some mini-games to play the scenes out in a more unconventional manner. If mini-games aren't your cup of tea, you can turn them on or off in the menu at any time.
Free Roam Mode vs. Visual Novel Mode
Another big feature we've added that changes the way it feels to play the game is a free roam mode toggle. If the sandbox type experience isn't how you like to play, and experience our games, then you can turn off free roam mode at any time from the menu–changing all free roam segments into multiple choice buttons that will skip past all the walking across camp.
Missions and Achievements
How attentive are you to your favorite character? Are you a good guy, or a bad guy? Complete all story missions to enjoy the rewards of your efforts. During the game, you'll be making decisions which affect story outcomes and directly affect the achievements earned throughout the game. You decide what type of player you want to be, and unlock some hidden renders and animations.
In-Game Collectibles
Wanting to make the game a truly layered experience, we've added collectibles, in the form of panties, to the game! Of course we added panties! What else would you be collecting?Are you an expert panty raider, a completionist, or all of the above? Then you'll definitely find the in-game collectibles to be a welcome addition to your game, and be rewarded with special gallery image for each pantie you find.
Sounds and Music
Sound effects, as well as music, have been added throughout the whole game to make it into a more enjoyable experience. Maybe you'll even find something more than sounds and music we've been working on.
Helping the Hotties User Interface
New and improved interface to better suit the game's theme and optimize player experience. It's a fresh-looking, modern, just like our girls.
Other Technical Features in Helping the Hotties
Apart from these major changes, many more smaller features have been implemented and more will come with each next update. We hope you like it as much as we do!

+ Bonus code
Bonus code is: burnbaby
It's highly recommended that you start a new game.

+ Installation on Android
Here is the updated Android version. Due to technical limitations, there are two parts you have to download and install. But you can only have one part installed at a time. What does this mean?
Download both parts, but install just the first part. After you finish the first part, find the second part in your downloaded files and click update. Then, load the save you want to continue from. Don't delete the first part though, because you will lose your progress.
And if you have already finished Helping the Hotties on Android and just want to continue from where you left off, download and install the second part of this updated Android version. Then, load the save you want to continue from.

Download from [File Boom]
Download from [Rapidgator]