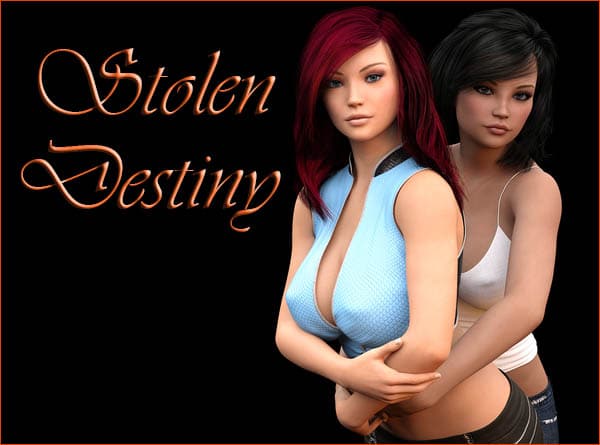 Release date: 16 May, 2023
Genre: Visual novel, 3dcg, Big tits, Incest, Male protagonist, Milf, Voyeurism, Femdom, BDSM
Censorship: None
Platform: Windows, Linux, Android
Version: Stolen Destiny 0.1.9
Language: English + Italian Patch
File size: 1.88 GB
About game:
You start the game with a guy named Nick. The beginning of his adult life brought him several unpleasant surprises.
In an instant, from a carefree life surrounded by luxury and pretty maids, Nick, along with his mother and sister, is left without shelter and money for existence. And now he has to take care of his family, earn money and arrange his personal life.​..
+ Changelog
v0.1.9
You can take a bath with Jane. And this time she will be much more relaxed!
In the living room you can massage her shoulders and more.
Help her with new clothes in her bedroom.
And she, in turn, will help you with your "morning exercises"!
Tutorial at the beginning has been updated.
v0.1.8r
Interface
Replaced icons of rooms in the apartment
Added permanent display of character money
Added "special event" icon
Added character icons to navigation menu
(Now you will always see which room Jane and Sarah are currently in)
Added environment icons to interact with them
A tutorial has been added at the beginning of the game to introduce players to the interface and game mechanics.
A tutorial has been added to familiarize players with the new game mechanics.
Added hints for Jane and Sarah's initial quests.
Added new fonts.
The display of "locked" memories in the gallery is now different from "not yet opened"
Gameplay and balance
Added new mechanics.
(Now you can interact with some environment elements)
Added tooltip to "Fateful Decisions"
(Now you will know what effect your choice may have in the future)
Cleaning and searching for spare keys can now occur at any time when the character is not in the corresponding room.
You can now use champagne at any time, except at night and when Jane is in the kitchen.
Reduced the number of repeatable events in Sarah's initial quest. Now you can progress faster with it.
Night visits now increase the arousal of the characters.
For visiting the "Special Work" you will now receive money in the same way as for visiting a regular one.
(Don't ask me why this hasn't been done before… stupid story.)
The cost of champagne was halved.
v0.1.8
Over 170 new scenes
5 new animations
New character Sonya
New emotes for several characters
And fix some bugs.
v0.1.5
During its development, so many things went wrong that I can't even believe that it finally happened!
Well, let's see what the new addition will bring.
Actually, everything is new.
Over 250 unique renders. And that's not counting the new emotions of the characters.
Even I probably can't count the number of events, so I'll say the following.
If you don't skip the dialogues, it will take you about an hour and a half to see all the new content. And this is if you know exactly what to do.
Old saves are supported.
v0.13
300+ new renders
240+ Frames of animation
12 new emotions in Stolen Destiny
New character Victoria
New bathroom events with Jane
New living room events with Jane and Victoria
New nightly events in Nick's room with Jane
New morning events in Nick's room with Jane
Continuation of the morning event in the kitchen with Jane
v0.12
Over 180 new renders
A series of old images has also been changed to improve their quality
Three new fantasies with Sarah
New character Lisa
New event in the tanning salon
New recurring event with Sarah on Tuesday
New recurring event with Sarah on Thursday
New recurring event with Sarah on Sunday
Continuation of the event with Sarah in the evening in the bathroom
A new minor event with Sarah and Jeanne on Saturday evening
Fixed a number of bugs and errors in Stolen Destiny.
Many new dialogues (How many new words, letters, and punctuation marks I don't know, I didn't count.)
The random system for searching for items has been replaced with a pseudo-random (Now the fourth attempt to find an item has a 100% success rate)
v0.1
-The gameplay has been changed in the direction of decreasing grind.
-The probability of finding a spare key to Sarah's room is temporarily increased to 100%.
-The probability of finding a spare key from Jeanne's room has been increased from 20% to 33%
-The hidden "Mood" parameter of the character Jeanne is temporarily removed from the game.
-A cheat for money was added to the PC. (Activated after visiting the location "Special work")
-Some old scenes were also re-rendered to improve image quality in Stolen Destiny.
-And a huge number of small changes that I can't remember.

Download from [File Boom]
Download from [Tezfiles]