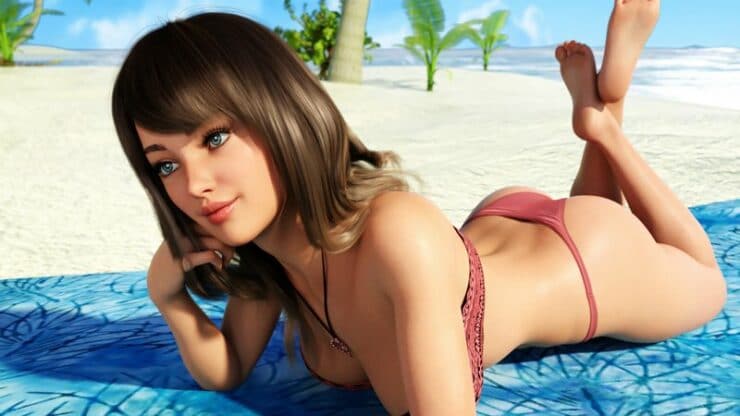 Release date: 23 October, 2021
Genre: Mr Dots Games, 3DCG, Male protagonist, Incest, Romance, MILF, Loli, Big tits, Lesbian, Oral sex, Teasing, Vaginal sex
Censorship: None
Platform: Windows, Linux, Android
Version: Sunshine Love 0.0.8 Extras + Walkthrough + Incest patch + Cheat Mod
Language: English
File size: 3.1 GB
About game:
You play as the main character who finds himself having to travel from his home to Sunshine Bay near the start of the game. He goes there to help his sister run a Bed and Breakfast Hotel, which is located in Sunshine Bay. Your objective is to help her create more business for her flailing hotel before it goes into receivership. You will stay there during the usually busy Summer period, or three months if things go well. You will also be given the task of helping her to recruit other people (or characters) in the town for specific positions at the hotel (e.g a cook, a maid, a receptionist, plus other jobs!). As the game progresses, you will get to know some or all of these characters a lot better, and you will have the option to choose to see them as a work colleague, friend or maybe even something more!
+ Changelog
v0.0.8:
1 x Jazmin
1 x Svetlana
1 x Trisha
2 x Kristina
4 x Childhood Friend
– Ashley handjob (3x speeds)
– Ashley blowjob (2x angles)
– Ashley doggystyle sex (3x speeds)
– Jazmin handjob (3x speeds)
– Jazmin blowjob (3x speeds)
– Jazmin titjob (3x speeds)
– Shortcake ball tickle
– Shortcake handjob (3x speeds)
– Shortcake blowjob (3x speeds)
– Childhood friend blowjob in the bedroom (3x speeds)
– Childhood friend titjob in the bedroom (3x speeds)
– Ivy missionary sex in the hotel room (3x speeds)
– Ivy reverse cowgirl sex in the hotel room (3x speeds)
– Ivy from behind sex in the hotel room (3x speeds)
– Lily missionary sex in the hotel room (3x speeds)
– Lily reverse cowgirl sex in the hotel room (3x speeds)
– Lily from behind sex in the hotel room (3x speeds)
– Childhood friend missionary sex by the beach (3x speeds)
– Childhood friend side-facing sex by the beach (3x speeds)
– Childhood friend doggystyle sex by the beach (3x speeds)
– Childhood friend cowgirl sex by the beach (3x speeds)
v0.0.7 Extras
About this update
We've spent the past six weeks, writing, rendering, coding, creating walkthrough's and adding in some bonus renders to make Version 7 of SL, which we're confident in saying is, our BIGGEST update yet!
As it stands, six weeks to work on each update of SL seems to be the perfect amount of time for us to cover everything we need to for each version we put out.
Thanks to everyone for e-mailing or posting errors/bugs that they've found on either of my pages or on the fan discord. We're pretty confident that they've all been fixed now. But if they haven't, then please let us know and we'll get to those along with any more errors that you find in v7.
One question we always get asked is just how many of the ten love interests will feature in each update.
That usually varies with each release depending on where we go with the story, but normally we aim to have four or five girls appear for each version that we put out.
The preview pics we post up each Sunday is usually an indicator as to who will feature, but that's not always the case 😉
Another question we get asked quite a lot is "when will we be able to do more" with certain girls.
This will vary depending on the girl. Some of them will be up for anything almost straight away, others you're just going to have to be patient for a little bit longer.
Because we have such a big cast we want all their personalities to differ from each other and just maybe, you might be able to relate to one (or even a few) of them as you play through the story.
Not all of the characters can/will feature in every update, so we try and give a fair balance to all of them because we know that every girl has their own group of fans.
In this update, there will be another major event that you and your childhood friend will start to prepare for. Again, it will greatly benefit the hotel and you will have to work together to be able to take advantage.
You will also be able to reach Level 2 in this update, therefore, a new set of tasks will become available for you to check through.
During this update, the tasks will appear in the "Tasks List" in the Hotel Menu individually as each character mentions.
Don't worry, there will be an on-screen notification to let you know when each task gets added to this list.
Again you will have some big decisions to make in regards to who you date and who you have no interest in.
For those of you who have played up until the end of the previous update, we know that you're eager to find out how you, the MC will get out of the situation that you find yourself in.
How will Connie react, now that she has seen you and your childhood friend together in her bedroom, late at night?
What will be the repercussions of Connie's father cutting her off after you and your friend hosted her birthday party at the hotel?
You'll get to visit new places in Sunshine Bay and also see the town from a different perspective. But which characters will you spend time with, in these new locations?
V7 will answer these and many other questions!
Changes to this update in Sunshine Love
With regards to the main walkthrough, we have added a list of all the main female characters at the bottom of the walkthrough pdf,
where you can find out exactly when and in which scene you can get onto each girls' path.
If you are already on a girls' path, then there will be scenes with them in future updates where you can back out or jump off.
NOTE: Not all combinations will be possible by end of the game, given what we can or cannot do due to Patreon rules.
There will also be an option in the future where you can just be friends with your "Friend", however, much like what we did with Melody, we may not implement that option until after the story-part of the game is finished. We'll see how that goes though.
You'll also notice that we've added some extra special sound effects to a few of the sex scenes in this update.
Let us know what you think of these new additions after you've played these scenes!
How to jump ON and OFF character paths
We have NOW added an option in the "Character Info" section for each character so that you are able to switch their paths ON and OFF.
That way it saves you from having to go back to the point in the game when each girls' pathways begin, in case you are not already on their path.
To do this, all you need to do is:
– go into your tablet in the top-right corner of the screen
– select the "Char. Info" button
– under the "Characters Info" section, choose the character whose path you want to set to ON or OFF.
NOTE: Some of the characters may not have this option.
On the character profile pic, you will see that we have added a heart icon. Simply click on it (Red heart) to be ON their path, or to turn it OFF (Black).
The changes will not take effect until you start the scene after the one you are currently on, so be sure to make this change beforehand if you want to view or not view a specific scene.
NOTE: If you do change a character from OFF to ON, then you should be aware that the characters' maximum points at the end of each update may differ from what we have stated in the Walkthrough.
Searching for Doughnuts!
For our $10+ tier members, you will return to looking for doughnuts in this new update. In the April release (v6), we had you all search for Easter Eggs instead.
When you locate the new doughnuts, it will unlock the next set of special renders.
Again, there will be plenty of new Peeping Tom images that you can view in V7 as well.
All up, there are 20 x new Doughnuts to locate, and 21 x Peeping Tom images.
Can you find all the doughnuts in this update? If you have the Rewards Gallery walkthroughs, they will certainly help!
Rolling WIP's + Animated Scenes (***SPOILERS***)(Available to $20 members):
You can see the full list here: https://i.ibb.co/2637bfx/content.jpg
Sunshine Love Final Words:
So here it is, the brand-new update of SUNSHINE LOVE – VERSION 7! It is now available for you to download and play.
We really appreciate every single one of you for supporting us throughout the production of our three games to date.
The team and I would love to be able to continue making these kinds of games for as long as possible and having you all supporting and encouraging us will make that dream possible.
Whenever we get to the last week of working on any of our updates, we always wish we had more time to add in more scenes, more animations, or give more screen time to certain characters.
But unfortunately, that's not always possible, and once we've set a deadline, we always try our hardest to have the update released on time for you all.
It's something we do very well and much better than most! It's a promise to you, our supporters, and one we always hope to keep.
You guys (and girls) are funding our projects, and in return, we want to keep to our word and to deliver our work on time, every time.
For the next few weeks, we'll be working on our other game, and then once that has been released, we will re-commence work on Sunshine Love V8.
So that's it for now. As always, please let us know your thoughts about this update and if you find any errors, please list them in the comments section below or post them in the #bug-reports-SL channel on our Unofficial Fan Discord. Some of my team members check that channel regularly.
All the best everyone, stay safe, and we hope you thoroughly enjoy the continuation of our third visual novel, Sunshine Love!
It's been a pretty successful 2021 for us so far, and we're hoping to finish the year with some even higher quality updates for you all with both of our games.
Take care of yourselves, and thanks for your support.
MrDots Sunshine Love
v0.0.6 Extras
Animated Scenes:
– Ivy handjob
– Lily blowjob
– Rosa handjob (2 x angles)
– Rosa blowjob (2 x angles)
– Cowgirl sex with Rosa (2 x angles)
– Friend handjob (3 x angles)
– Grinding scene – Friend on top (2 x angles)
– Friend blowjob (3 x angles)
– Oral on Friend
– 69er scene with Friend
– Grinding scene – spoon position with Friend (3 x angles)
v0.05.1 Extras
— Some renders fixed
— Grammar fixes
— Fixed various bugs that fans had reported.
v0.05
Animated Scenes:
— Jazmin handjob
— Jazmin blowjob
— Jazmin cowgirl (2 x angles)
— Jazmin (2 x from behind)
— Friend handjob
— Friend makeout scene
— Friend (fondling her breast)
— Shortcake makeout scene
— Ashley blowjob (2 x angles)
— Sis (Handjob+masturbating — 2 x angles)
ROLLING WIPS:
— Ashley x 2
— Shortcake x 1
— Connie x 2
— Ivy
— Jazmin
— Lily
— Friend
— Trisha x 2
v0.0.4i
Animated Scenes in Sunshine Love:
– Nicole's fantasy of the MC and Sis, hand job from sis
– Ashley and the MC make out
– Jazmin hand job happy ending massage
– Ivy or Lily and the MC make out
– MC and Vicky sex scene – 2 x positions
– Vicky handjob
– Friend and the MC make out
– Blowjob from "Young Ashley" (Fantasy sex scene)
– Sis gives the MC a handjob
– Sis licking MC's penis
ROLLING WIPS:
– 3x Sister
– 1x Ashley
– 1x Cousin
– 1x Kristina
– 1x Vicky
– 1x Ivy & Lily
– 1x Sis & Vicky
v0.0.3.1 Extras
It's an updated version of Sunshine Love v0.0.3, as we've made quite a number of changes over the past few weeks that will affect the next update (v.0.0.4), which will be released on Saturday, November 28th. You can find it here:
We also wanted to give you a chance to have a play through the last update (or the whole game until this point) as there are some noticeable differences.
Something that was heavily mentioned by our fans and also discussed several times with my team was these two options from v.3 (below):
Going by the feedback that we received from you all, regarding this scene, it's probably become the most important scene in the game so far.
We've heard your concerns, and we've made a big change to this scene that you will notice in this update.
IMPORTANT:
In the previous version of the game, you were given two choices: "Don't agree" or "Accept her decision". We have removed the "Don't agree" option (staying in a relationship with Nicole).
The dialogue that features in this scene will be you, the player, automatically agreeing to be in an "Open Relationship" with Nicole (for now).
However, during the new scenes in our next update (v.0.0.4), at some point you will be given two new options where you can either:
"Agree with her" (continue having an Open Relationship) OR you can "Break up" with Nicole.
The chance to officially end your long relationship with Nicole is an option that a lot of our supporters had asked us for, and something that we really should've included the first time around.
But as we've said several times in previous posts, we're not perfect and things aren't always so obvious when we're writing and creating our scenes. But we hope that these two new options will appease many of our supporters.
When you get to play v.4 in a couple of weeks' time, there will be a "Notification" screen that will come up for these two new options, with further details for what each of these choices will mean for your character in future updates. So keep an eye out for that notification in the next update!
Other changes that we've made:
With the help of one of our most knowledgeable supporters, "NabegoPewu", there have been plenty of changes and corrections made to the coding in the game.
Another reason why we've put this version out two weeks before v.0.0.4 is released is because these changes to the code may break a lot of your previous saves.
So by playing this new version now, you can start making or replacing your old saves, which will have you all set to go for when Version 4 drops!
Any grammar errors that you have previous made aware to us have been corrected now, and we've also fixed a number of renders as well.
IMPORTANT: PATCH FILES
Due to these recent changes, those of you who have applied the patch that was made available on the Unofficial Discord Fan channel, will have to replace it with each new version that we release from now on. You can find the latest patch there if you need it.
If you are unsure, you can ask for help with this from the moderators over at our Discord Fan Server: https://discord.com/invite/DKhZGFr
A points error in the Walkthrough
In the last update during the scene where you are teaching Shortcake how to run the front desk, there are several options that you can choose in this scene.
Almost all of the correct options will give you +2 points for her, except for choosing Driver's License > Ask for a passport.
Instead of us changing this, we've decided to keep it the same, so you don't have to play this scene over again.
Let's just call it a "glitch" on our part. 😉
Last Words
Let us know what you think of the changes and if you find any further issues or problems with your saves or any other error we may have missed, then please list them in the comments section or post them in the #bug-reports-sl channel on our Unofficial Fan Discord.
This will give us a chance to make (any) further corrections before v0.0.4 is released.
We'll have another preview from v4 posted up in the next day or two, so stay tuned for that 😉
All the best, stay safe, and we hope you are looking forward to the continuation of "Sunshine Love" at the end of the month.
We're certainly looking forward to finally presenting it to you all!
MrDots. Sunshine Love
v0.0.3i Extras
One thing we should address is how we set up each of our updates, in terms of the days and weeks that pass with each release.
It's pretty similar to what we did for our second game "Melody". Normally there will be two days in the game, and they will be set during a specific week.
Each day could be either the start, middle, or end of the week. Be sure to keep an eye on your tablet in the top-right hand corner of the screen (see pic below).
This new update is set during Week 2, and the two days are for the start of the week, and the middle of the week (a few days later).
Time skips may become a regular feature across the duration of the game, and we will be sure to let you know more about that with each release.
This update again has some focus on you helping your sis fix and replace things at the hotel to make sure it's ready when it's officially re-opened to the public.
There are a number of characters that you will continue to build your work relationship with as well. So make sure to pay attention to the information and tips that they give you.
But this update isn't just about work. You're in Sunshine Bay to have fun too!
What kind of fun you might ask?
How does learning how to surf with Cousin sound?
Or being invited to a special evening event in town by The Twins, Ivy and Lily?
What about taking a "special trip" with the adventurous teenager Yuki?
Are you able to resist the "Milfy" Ashley's charms while you're desperate to learn the truth about why she and sis moved out nine years ago?
What about a night out with the desirable but mostly "off-limits" Victoria? And will it be a simple evening between future work colleagues, or will either of you consider it to be an actual "date"?
And what about your girlfriend Nicole that you left behind? Do you think you can make your relationship work with her over the summer, despite the long-distance that currently separates you two?
v0.0.2 Extras
Unlike the first release, every character (that we shared previews of before the game was released) will feature in SL v2.
That won't always be the case with every update, but there will be several scenes in the game where you can build your rapport or relationship with each of these girls/women.
This update focuses a lot on learning more about the characters you have already met during the first update, and also being introduced to some new characters for the very first time.
Make sure to pick up relationship points for the girls that you might be interested in romantically, as that will be highly important once you complete the Task List and then move on to the Hotel being at a Two-Star rating.
*There will be more information on that in a future game day post.
We have added 14 new sound effects (50 in total) into this update to hopefully give a bit more of a realistic vibe/feel about them.
There has also been 12 new animations, 25 donut gallery images, and 34 peeping tom gallery images added to this update.
Changes that we've made
After the first release, there was always going to be a few things that were going to work well for us and some not so well.
So in other words, it was a typical first release for any developer.
We received a lot of suggestions for what we could do to improve your game-playing experience and we've done our best to include some of these changes for you.
Changes and edits in Sunshine Love:
– Fixed previous grammar errors and bugs, changed some lines from v.1 that were minor plot holes.
– For this update, we have spaced out the locations of the Doughnuts in this release, rather than grouped them all closer together.
This will mean the Doughnut notification sound won't come up too frequently (unless you've switched it OFF of course.)
– We have also put another new option into the menu for when you are searching for the doughnuts.
From this update onward, once you have found a doughnut, you no longer have to find the same one again, and the special render attached to each doughnut will remain in the special gallery. This will be known as the "Doughnut Reappearing" option.
So to have the Doughnuts not appear again once you've located them, set this option to "Disabled".
v0.0.1b
Fixes Sunshine Love:
Music player hides properly now.
Fixed Navy terminology (opening scene) and a few dialogues/renders. Thanks to the Navy members of our community for the feedback.
Animations loop properly now.
Fixed a few animations that were having playing issues (Flicker)
Android animations work now.
Grammar errors fixed (any other errors found after this post will be corrected in the next release of SL).
New Features:
Added a black text box for those who are having a hard time reading some of the dialogue. You can turn it on/off in the settings menu.
Audio Preferences are now in a separate tab, and I've also added an option to turn the "Peeping Tom" and "Donut" sounds on and off.
v0.1
Sunshine Love First Release

+ Gallery/walkthrough Code
opening for gallery
rebound for walkthrough

+ Walkthrough + Cheat mod
Download from [File Boom]
Download from [Tezfiles]