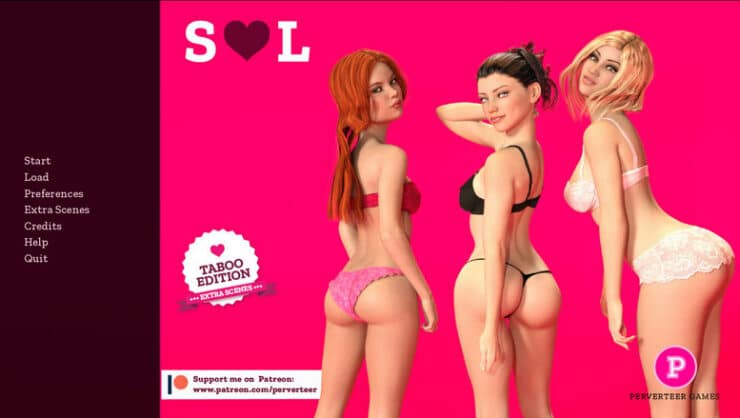 Release date: 18 July, 2023
Genre: Anal, Lesbian, Corruption, Voyeurism, Perverteer, Incest, Masturbation, MILF, Group Sex, BDSM
Censorship: None
Platform: Windows, Linux, Android
Version: Sisterly Lust v1.1.11 Extra – Uncensored Full Edition + Inc Patch + Lain's Walkthrough & Scene Gallery Mod
Language: English, French, Italian, Spain, German
File size: 2 GB
About game:
Until recently you've lived in a different part of the country with your father. Your parents divorced when you were very little and the family was ripped apart after a fierce custody battle. Your mother took her three daughters home, while your father moved away with you. You haven't seen your family since and any attempts at communication were very much discouraged by your father.
But now, everything has changed after his sudden death. During your fathers funeral you were approached by a woman you instantly recognized as your mother. She asked if you would be willing to go home with her, meet your sisters and be a family again.
+ Changelog
v.1.1.11
– Fix spelling and grammar (thanks to Grubb and Randall)
– Add Portuguese (thanks to Grubb)
– Updates to all languages
– Update engine to Ren'Py 8.1.1
– Possibly fix Steam Deck freezes
– Day 145: Fix missing images (thanks to Deadlock, Kythosjunk, jessejames65 and MadProfGlint)
– Day 145: Fix dialogue when checking on girls (thanks to Randall)
– Day 141: Fix continuity for Liza/Bella relationship (thanks to Randall)
– Day 32: Tweak Rachel's dialogue (thanks to Randall)
– Day 30: Fix continuity error (thanks to Tythesly)
– Day 21: Fix panning image (thanks to flybutter)
– Day 11: Fix continuity when looking at Bella's pictures (thanks to LeMont)
– Day 11: Fix continuity error (thanks to Tythesly)
– Day 4: Fix wording (thanks to Marcus Schätzle)
– Day 4: Make it less easy to miss Bella's and Rachel's path (thanks to SGD)
v1.1.6
– Add Polish translation (thanks to Bev_)
– Update German translation (thanks to Spatenklopper, Traumwelt)
– General fixes to all translations- Allow more characters in input modals (thanks to Bev_)
– Add menu option to open bonus directory
v1.1.5
– Update German translation (thanks to Michael Wagner, Marcus Schätzle)
– Add Russian translation
– Fix untranslated strings (all languages)
v1.1.4 Extended
Extra Scenes Edition
v1.1.4 Bugfix
– Add German translation in Sisterly Lust (thanks to Hein Dattel)
– Update existing translations
– Fix continuity errors regarding Liza (thanks to The Dude)
– Fix wording of Megan pregnancy (thanks to Caeir)
– Spelling and grammar fixes (thanks to Caeir)
– Fix missing images (thanks to Mike Sumra, The Dude)
– Fix syntax error in Spanish translation
– Day 15: Fix bedding situation (thanks to mr_gatez)
– Day 39: Fix continuity errors regarding Susan
v1.1.3
– Add Spanish translation in Sisterly Lust (thanks to ⎝⎝✧Dαrαx✧⎠⎠)
– Update Italian and French translation
– Lots of spelling and grammar fixes (thanks to Marcus Schätzle and Micheal Hawk)
– Day 18: Break-up large passages of text (thanks to Kendra Denimore)
– Tweak walkthrough (thanks to WEF-Harris)
– Endings: Fix conditionals in Adriana sequence (thanks to goobdoob)
v1.1.2
– Add Italian translation in Sisterly Lust (thanks to Frank Rosario)
– STEAM: Remove achievement registration for progress achievements
– Localized splash images in French
– Day 139: Fix incorrect variable (thanks to Alehazar)
– Day 34: Fix French translation error (thanks to Olivier)
v1.1.1
– Tweak package options
– STEAM: Fix Ma Belle achievement (thanks to angmarets)
– STEAM: Make Lord Of The Rings achievement less hard to collect (thanks to アリス Alice)
v1.1
– Add French translation in Sisterly Lust (thanks to Maxo)
– Spelling and grammar fixes (thanks to Dom57)
– Fix using wrong variable in James interactions (thanks to BitesZaDusto)
– Endings: Fix endings when only pursuing the side girls (thanks to Michelrpg)
– Endings: Add missing render (thanks to Horagen81)
– Day 145: Fix wedding vow (thanks to myuhinny)
– Day 145: Fix Adriana creampie label (thanks to myuhinny)
– Day 145: Fix James referencing incorrect amount of women (thanks to myuhinny)
– Day 143: Fix continuity error regarding Riley's bikini (thanks to Dom57)
– Day 139: Fix wrong renders showing up during scene (thanks to Dom57)
– Day 30: Fix incorrect reference to Mrs. Smith (thanks to Anthony Docimo)
– Day 27: Fix continuity errors (thanks to Polaxymer)
– Day 10: End relationship if not going to Discreet (thanks to Sesman)
v1.0 Extra
Add Megan scenes to Bella's romance path in Sisterly Lust (thanks to Merlin)
Various fixes to renders (thanks to Josh Jackson)
Fix several levitating testicles (thanks to Josh Jackson)
Fix spelling and wording (thanks to MRMIdAS2k, Pheline and Regardie)
Fix multiple inconsistencies and continuity errors (thanks to Thomas Davidson)
Endings: Fix random bride selection (thanks to goobdoob and parceload)
Endings: Fix missing renders on Rachel/Bella/Susan harem route (thanks to Julian Harper)
Endings: Fix empty James ending (thanks to DannyVsJuly)
Endings: Fix James and Ana relationship (thanks to Moist Serpent)
Endings: Fix Riley ending (thanks to Ramen-)
Endings: Fix Rachel not forgiven conditional (thanks to parceload)
Endings: Fix strictness of Hazel conditional (thanks to parceload)
Endings: Fix Liza non-Belugio conditional branch (thanks to parceload)
Endings: Add non-Belugio render to Alina ending (thanks to parceload)
Endings: Add non-Belugio render to Ana ending (thanks to parceload)
Day 145: Fix bugged conditionals in the Rachel/Bella/Susan harem without Liza on the island (thanks to Julian Harper)
Day 145: Add pregnancy renders to ceremony scenes (thanks to Josh Jackson)
Day 145: Add pregnancy render (thanks to HoboCop86)
Day 145: Remove repeating dialogue in James conversation (thanks to Merlin)
Day 145: Add render reference to James conversation (thanks to parceload)
Day 145: Fix repeating dialogue in Ana and Alina conversation (thanks to Merlin)
Day 145: Fix Adriana creampie conditional (thanks to Nandanox)
Day 145: Fix duplicate choices (thanks to Cúran)
Day 143: Add pregnancy render reference for Liza (thanks to parceload)
Day 143: Add extra conversation branches to Nia dialogue (thanks to parceload)
Day 142: Fix incorrect speaker (thanks to Josh Jackson)
Day 142: Add extra else statement during Ana conversation (thanks to parceload)
Day 142: Add extra dialogue snippet (thanks to parceload)
Day 142: Fix Rachel dialogue (thanks to Josh Jackson)
Day 142: Fix Susan dialogue (thanks to Josh Jackson)
Day 140: Fix dialogue with Riley (thanks to Josh Jackson)
Day 140: Fix Liza appearing during shopping trip (thanks to Josh Jackson)
Day 139: Fix Liza dialogue conditional (thanks to parceload)
Day 139: Fix Liza dialogue with Justin (thanks to Josh Jackson)
Day 39: Add missing render reference (thanks to parceload)
Day 34: Fix Rachel flashback variable location (thanks to parceload)
Day 28: Fix Ana/Kira conditional
Day 27: Fix Bella rejection/make up dialogue and continuity (thanks to Regardie)
Day 24: Add some extra dialogue to the various Bella paths (thanks to Regardie)
Day 23: Add missing jump after cuddling with Rachel (thanks to parceload)
Day 23: Add extra conditional (thanks to Regardie)
Day 20: Remove options after choosing them (thanks to HoboCop86)
Day 18: Fix Susan continuity (thanks to Josh Jackson)
Day 17: Fix player dialogue during yoga event (thanks to HoboCop86)
Day 17: Add extra dialogue on meeting Rebeca (thanks to Regardie)
Day 16: Fix Bella dialogue (thanks to parceload)
Day 15: Fix continuity error with Rachel, Nino and Nia (thanks to Josh Jackson)
Day 13: Add variable tracking sexual act with Hazel (thanks to Regardie)
Day 12: Remove Liza dialog options after choosing them (thanks to HoboCop86)
Day 10: Fix supermarket (thanks to parceload)
Day 10: Remove redundant relationship variable (thanks to parceload)
Day 9: Remove redundant relationship variable (thanks to parceload)
Day 9: Fix continuity during Rachel kissing scene (thanks to Josh Jackson)
Day 9: Fix Rachel conditional talking about work at breakfast (thanks to Josh Jackson)
Day 9: Fix Rachel conditional at breakfast (thanks to parceload)
Day 8: Fix Riley conversation conditional (thanks to parceload)
Day 6: Fix Susan's book reading (thanks to parceload)
Day 4: Remove dinner dialog options after choosing them (thanks to HoboCop86)
Day 4: Fix Susan's book reading (thanks to parceload)
Day 3: Make Susan dialogue non-repeatable (thanks to parceload)
Day 1: Remove Rachel dialog options after choosing them (thanks to HoboCop86)
Sisterly Lust

Download from [File Boom]
Download from [Rapidgator]