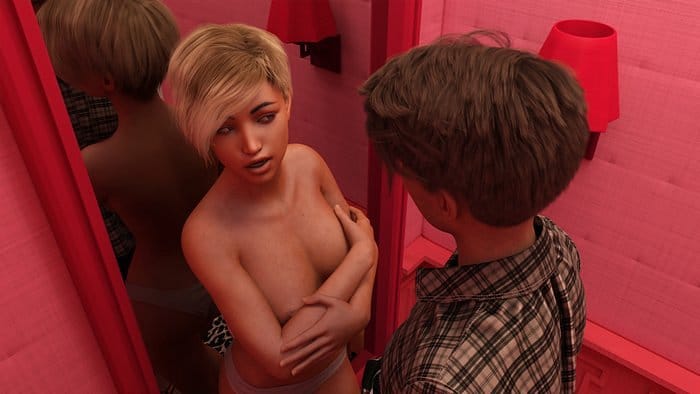 Release date: 16 July, 2023
Genre: 3dcg, male protagonist, romance, visual novel, handjob, oral sex, vaginal sex, group sex, incest
Censorship: None
Platform: Windows, Linux, Android
Version: Summer Scent 0.6.3a + Ic patch + Walkthrough + Multi Mod
Language: English
File size: 3.73 GB
About game:
It's the beginning of summer. Jack is 18 years old and has just finished high school by graduating. He has a tense relationship with Eve, his "childhood friend" who seems to have disliked him cordially for a few years. Jack's parents had left town for a week, Eve invites her best friend, Cassie, to join them. They have the house and the pool for them alone. How Jack will handle the situation depends on you.​..
+ Changelog
v0.6.3a:
The credit screen has been updated.
Some Achievements have been corrected.
Several misassigned variables have been corrected. This doesn't impact any choice as of Day 6 Part 3 but may induce some issues in the future.
Several typo and punctuation errors have been corrected.
v0.6.3:
New content. 7 scenes (Scenes 19 to 25), 29 417 words, 10 000 lines of code, 959 images for 1015 total renders.
Added a text message interface to display text interactions. Only for Day 6 part 3 content for now.
The inkling module has been removed. It is replaced by the lifeline, which will allow for a more precise display of the whole trigger chain.
Stealing the panties during day 2 will now lock you into either the Moronic Hero, Psychotic Knight or Evil Asshole paths.
Jack cannot be friendly with Luke anymore during the coffee shop event on day 3.
Being a cad during the night pool event on day 3, is now only available on the Moronic Hero, Psychotic Knight and Evil Asshole paths.
The option to lie to Cassie again, about Jack's experience, has been removed.
As a consequence, Dom Cassie is very pleased and won't crush Jack's balls anymore during her night event on day 3.
The final option to reject Eve on her love path on day 3 has been removed.
The option to fail your love story with Cassie on day 5 night has been removed.
The option allowing you to exit the Dual Dom path on Day 6 has been removed.
A few continuity errors have been rectified.
Several typo and punctuation errors have been corrected.
0.6.2R
The Renpy engine has been updated.
Corrections to Day 4 script. Some conditions have been corrected.
Corrections to Day 6 part 1 script. Some conditions have been corrected. A few lines of content have been added.
Corrections to Day 2 script. Typos and punctuation.
Corrections to Day 3 script. Some typos have been corrected. A continuity error has been rectified.
The Lighthouse Mode has been added to the game. Activating it will show you the triggers for a selected path.
The Achievements system has been modified to be more Steam compliant.
The warnings at the start of the game have been reworked into a proper introduction sequence.
A lot of changes in the background code, for better maintenance and clearer organisation. It's still a work in progress. The game is now more modular, which should allow for easier distribution in the future.
The whole Day 1 has been reworked. 2445 lines of script, 8250 words, 213 new renders. Trust me, it's way better than the previous version.
v0.6.2
Day 6 Part 2 contains 8 scenes (Scenes 11 to 18).
28 725 words, 9158 lines of code. 893 shots are posed, rendered, post-processed and exported.
V0.6.1
Day 6 part 1 content. 50 351 words, 11 249 lines of code, 1060 renders.
The logic of the Moronic Hero and Kelly Path has been corrected. Your saves on this path won't work properly.
The text has been tweaked to display a more prominent outline. It should now be easier to read.
Hidden choices are now exposed.
Various bugs and typos have been corrected.
You can no longer rename Eve and Cassie.
A few lines of the introduction of Eve, on day one, have been rewritten, to better explain her situation. This will probably need further tweaking.
Added a presplash screen, as the initial loading time can be noticeable.
Added a new title screen.
Several other things I forgot about.
v0.5.5
Reworked the UI.
Added an achievement system.
Corrected some typo.
Corrected some render mistake.
v0.5
Day 5 content is 1074 renders and about 87 850 words long. It's twice the size of V0.4 which was already twice the size of the previous version.
v0.3.5
New GUI. I tried to make something clean and sober while still aiming for a bit of personality.
The gallery. I couldn't make renpy default gallery system to work properly. So I coded my own. You will have to replay the game to unlock images.
Bug corrections. Some undefined variables are now defined, some badly indented blocks are now in their correct place.
I've found and corrected the bug that was preventing me from generating translation files. So I can now seriously think about internationalization. Maybe a french version in a future update?
v0.3
Day 3 content is here. Day 3 consists of 338 new renders and 4450 lines of code and dialogue.
Added an interface to track the girls' stats points. It's ugly.
Added several new triggers on Day 1 and Day 2. That means that your previous saved game won't be compatible with V0.3.
Added some buttons on the main menu.
A "Credits" page now replaces the "About".
v0.2
It covers the story up to the end of Day 2.
The plot thickens as Jack has to make his first decisive choices which leads to different developments with both Eve and Cassie.
Day 2 contains 234 renders and 3000 + lines of code and dialogue.
v0.1.1
The demo version of the Summer Scent has been updated from v0.1 to v0.1.1 with some dialogue being rewritten and images being compressed.

Download from [File Boom]
Download from [Tezfiles]