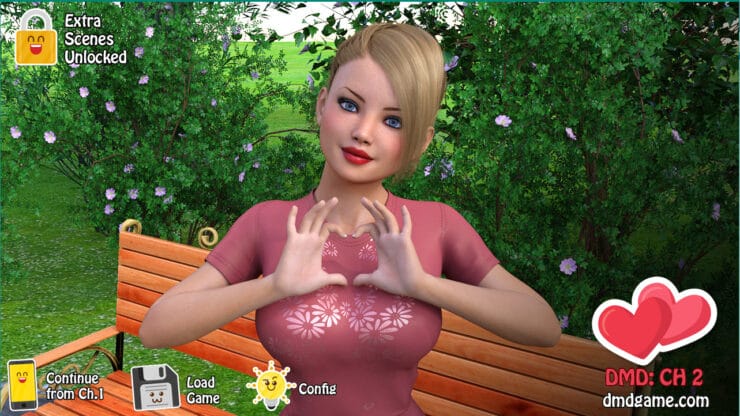 Release date: 5 May, 2020
Genre: Sexy girls, Ren'py, Date-Sim, Sexy Girls, Blonde, Big Tits, Father-Daughter, Seduced, All sex, Incest, Voyeur, Beautiful ass
Censorship: None
Platform: Windows, Linux, Android
Version: Dating My Daughter Chp. 1-3 v0.26b Extras + Walkthrough
Language: English
File size: 3.12 GB
About game:
You'll assume the role of a divorced father who hasn't seen his daughter in years. Now that she's 18 years old, she contacts you and tells you that she would like to have a "father-daughter" date with you. You'll have the chance to get to know your daughter better, build a special relationship and why not, maybe convince her to have more "father-daughter" dates with you in the future…
+ Gameplay
In Dating My Daughter You'll be making choices between two or more decisions that will negatively or positively affect the outcome of the date and the main story as well.
There are two stats (at the moment) in the game: Friendship and Love. You can see them at the top right corner of the screen.
Every time you make a choice, you'll win or lose a point (sometimes more than one) depending on the decision you make. For example, if you choose to stare at your daughter's ass and she catches you, you'll lose 1 friendship point.
You'll have to get a certain amount points to advance in the game. If you fail, you'll have to repeat the date.
There will be secondary characters like your ex-wife, your daughter's best friend, your coworkers, etc..

+ Changelog
V0.26
Good morning/evening, to wherever in the world you are reading this from!
So after a short turnaround (around about four weeks) since our debut release of Sunshine Love was posted up for you all, DMD is back with a brand-new update – v26! It is now available for you to download and play!
As most of you would know by now, we are currently developing Chapter 3, with plans for a fourth and final chapter that should take us through until the end of next year.
It will also allow us to include all the endings and fetishes that we have in mind for the story, and to also tie up any loose storylines as best as we can.
We know there are certain combinations and fetishes that you would like to see in the game, and there are many things that we still have planned before DMD concludes. But there's only so much we can put into one update and we are slowly but surely getting through every possibility.
Some of these pathways will require a build-up over a number of updates – some of them will longer than others, but they will be worth it in the end.
We create visual novels for a living, so creating a plausible storyline for these various paths is what our main intention is when developing these stories.
About this update
Quite a bit has happened in this chapter so far, and as you would know if you have played up until the end of Day 36, everything is gravitating slowly towards D's debut in a major modeling competition. She's still in the middle of her preparation and aside from Angie and Cassandra booking her in for photo sessions, she now has your former co-workers Georgina and Martin (if you are on his path) to help you both out.
There are also characters that are hoping that D fails in her quest to become the next most talked about model on the scene.
Will Rachel find out where you and your daughter are when she finally arrives in Seaside, or will she give up her search and head on home?
What will be the repercussions of sleeping with your daughter at the end of the last update, with Martin staying over and asleep in the next room?
Will Georgina say anything to you or D about how she knows about your forbidden romance with your daughter?
And how will you and D celebrate your engagement? Will it be a memorable occasion?
Now that a few different sharing paths are in play, you will also have to decide which ones you want to stay on or which ones you should end.
Most decisions that you make from here on in can change the way the game ends for better or worse, so if you have the Walkthrough, you may want to consider using it.
Try and keep an eye on how the Relationships menu changes while you are playing the game.
And for those of you who are on the D-path ONLY, don't forget to pick up those LOVE points when they are available.
They will be vitally important when the game comes to its final conclusion!
Thank you!
We are incredibly thankful for those of you who have supported us at any point during the production of our first two games, and especially those that supported us through the production and completion of our second game MELODY, which was completed in December of 2019.
The team and I are even more grateful for your continued support and feedback ever since we released our third game, SUNSHINE LOVE.
The next version of SL will be out around early to mid-June, with an official release date to be confirmed later this week.
Final Words
We really hope you enjoy playing DMD v0.26, and again, thanks for sticking with us. We make these games for you as much as we do for ourselves.
As always you can leave your thoughts, feedback, errors/bugs found and any constructive criticism on today's update in the comments section below.
We always strive to do our best and to give our fans a satisfying hour (or so) of entertainment with each release for either of our games.
Thank you for your continued support because without it, our games would not exist.
MrDots, Dating My Daughter
v0.25
About this update
With more time on our hands now for what we have in mind for how to end DMD, the next few updates will each be dedicated to one or two various paths that you may or may not be on. This update may seem a little shorter in playing time due to two things:
– If you are only playing the D path, and
– We didn't start working on this update until late January, giving us less time than usual. That time was dedicated to our very first release of Sunshine Love, because we want it to be a big opening release for you guys who are subscribed to either of our two pages (Patreon and Subscribestar).
If you have played DMD up until the end of v24 (Day 34), you may have noticed in the "D menu" the number of sharing paths that have been added to the girls that you can individually date (Elena, Jen, Georgina).
This update continues on where Day 34 ended, with our two main characters reflecting on their adventures from the night before, and how or if it will affect their relationship in the future. Some of their close friends already know about your forbidden romance with D, but what happens when the wrong person finds out that you're dating your own daughter?
A couple of D's best friends will feature in this update, as will a couple of yours. There's a very risqué photoshoot that D will model for, and one huge moment, possibly the most important in the game thus far that will also happen.
Now that a few different sharing paths are in play, you will also have to decide which ones you want to stay on or which you think that you should end.
Most decisions that you make from here on in can change the way the game ends for better or worse, so if you have the Walkthrough, you may want to consider using it.
Dating My Daughter

Download from [File Boom]
Download from [Tezfiles]