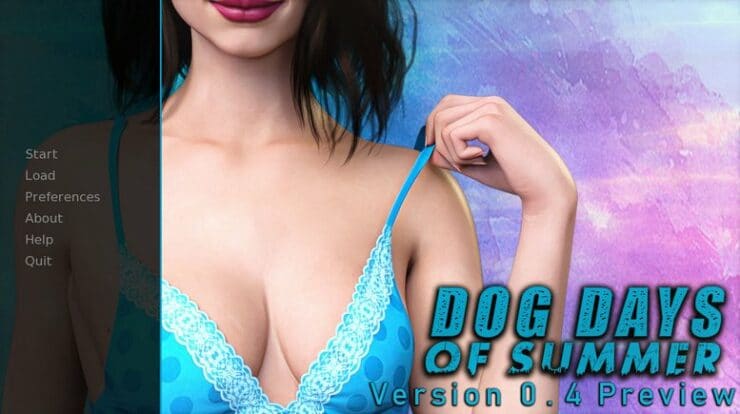 Release date: 13 April, 2021
Genre: 3DCG, Female protagonist, Lesbian, Big tits, Big ass, Masturbation, Teasing, Mobile game, Sex toys, Oral sex
Censorship: None
Platform: Windows, Linux, Android
Version: Dog Days of Summer 0.4.8 Full + Walkthrough + saves
Language: English
File size: 1.35 GB
About game:
Dog Days of Summer is about a young girl named Vivian entering into the last summer before she graduates college. She soon meets a mysterious woman named Tara who sets her on a more erotic course. Where she takes it and how her summer plays out will depend mostly on the player…
+ Changelog
v0.4.8 Full
living with Evaline – 3 sex scene variants
– short preview with harper training
– redid some previous CGs and other minor visual improvements.
– lot of bug fixes.
v0.4.8 Test Build
After party with Des
After party with Des, Evaline lives with you didn't go to party
after party with Des, Evaline lives with you and went to party
In a relationship with mom
Moved out of the house living with Des
Didn't go to party, Evaline lives with you
Meeting with Evaline
Meeting with Desiree
Des sex scene(Three variants)
v0.4.4
– Mom date is implemented. "Not sure I like the latter half so I might change it in the future."
– returning home when Evaline is living with you is now complete.
Fixes:
– Forgot to actually implement some of the images that I had added in the last update. So there are some new images now sprinkled through the game.
– Fixed a few switches that were improperly implemented. Probably won't affect your game as it should have just been mostly text and no decisions at this point but there is no harm in making a new game.
v0.4.3
content:
continued but didn't finish the party if Evaline is living with you. (it's there but really buggy still and will break your game in the funniest of ways so I cut it short.)
updated the scene with Des drugged. Added some new images to keep the scene from being too stagnate.
added some images when agreeing to go on a date with mom.
continuation if you went home with Des(short show sex scene)
an intro to the date with mom
fixes:
bug when talking to your mom after the party where the scene from the hotel starts to play.
a dialog correction when talking to Tara at the Salon when Evaline is living with you.
Some other hold overs from the last update, as well as some that I found while playtesting it this time through.
some grammar fixes as always.
v0.4.2
Des sex scene
Des bathroom scene
Eva sex scene going to party with Des
mom after party
mom after not go to party
Fixes –
Add naming save slots- implemented (though I am still tinkering with it so it may change in the future)
Reworked some of the sub path. Made it so now if you are being blackmailed and chose to lick Harper's pussy you will now be considered of the sub mindset. Also fixed a bug in the Harper teach path where the switch was not set properly. My bad. I suggest starting a new game if you want more sub content.
Hall of Fame at the end of the game. This is just a special thank you to all my $15 backers or people who have contributed a lot of money or other form of support to the game. Don't worry. Once your name is in the Hall of Fame there is no getting out of it.
v0.4.0
Added the hotel scene with the mom
Changed the music for the sex scenes
A lot of grammar and spelling fixes. Thank you Schnuup
v0.4.0 Preview
Finished the scene between the mom and Evaline if she is living at home and you did not go to the party.
There is also a small introduction to the party when going with the mom to the party.
Dog Days of Summer fixes:
The game should now end properly at all points. (if not please let me know)
some grammatical fixes.
Update Monday v0.4 preview
Hello everyone. So this is just a little update. I am not going have the party finished by next Monday so instead here is a little preview to help tied you over. My hope is to have .4 done in about 2 weeks.
I am making this preview free to everyone however the update will be the normal one dollar and up.
v0.3.8
added scene after meeting with Rebeca.
finished scene in the bathroom
reworked the scenes with Evaline after leaving the VIP room.
fixes:
a lot of spelling and grammar through the entire game
fixed a lot of image bugs either not displaying or not going away
several back end bugs
v0.3.8 Beta
added party content with Des
this also includes if Evaline is going or if she is not.
party includes 2 different threeway sex scenes
alternative regular sex scene
lots of making out
other sex scenes not involving Vivian.
fixes
went back and reworked a lot of the back end content for the game. any saves before 3.8(Preview) will most likely be broken. Should be the only time this ever happens.
fixed several wrong dialog so should be consistent with your choices.
v0.3.8 Preview hotfix
The only new content here is if you didn't go to the party. Where you will come home and 'talk' with your mom. And because of the back end work this version will probably break your saves. So you will have to start a new game
v0.35
fixes:
earlier dialog lamenting about going to the party even if you lied about it.
dialog with Tara referring to Des being with you when with your mom.
several switches that weren't set right. – If you can load back up to entering Ms. Harper's office. That should fix all of them. Otherwise you will probably need to start a new game.
content:
Evaline shopping(partial sex scene with several variants.)
added new opening menu.
added missing music
v0.34
Morning
Salon
Shopping with Des
Shopping with mom
Shopping if no plans were made.

Download from [File Boom]
Download from [Tezfiles]