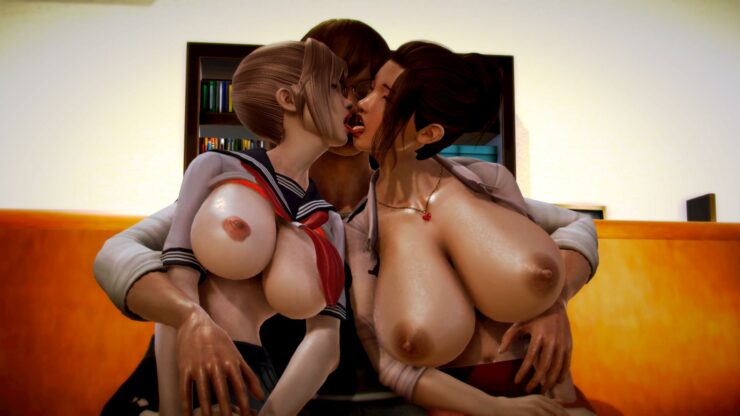 Release date: 29 June, 2022
Genre: ADV, 3DCG, Big tits, Oral sex, Anal sex, All sex, Titsjob, School, Incest, Mom, Daughter, Titfuck, Group sex
Censorship: None
Platform: Windows, Linux, Android
Version: Corruption 1.0 Final + Incest Patch + Cheat Mods + Walkthrough + Save
Language: English, Italian, Spanish [Install patch!] File size: 9.16 Gb Heavy / 4.6 GB Lite

About game:
You like corruption topics? The girls in the game are becoming increasingly depraved and enslaved. You can see different events for each corruption level…
+ Changelog
Final
– Jenny and Nicole Ending In the living room (added animation)
– Main story Ending in Sanctuary
– Ending of Auntie's family at Julia's house
– Ending at the main entrance of the apartment building
– Megan and Emily Ending in their house (added animation)
– School ending at the main hall
– Tutor house Ending
– correction of awkward scripts
– Many bug fixed
There are still some unfinished tasks. (Gallery, Additional Endings of Some Characters)
v2.65
Features>
– New booty call scene (Evelyn) in Hotel
– Slave band performance scene in My Club
– Mia and Trisha enslavement scene in apartment
– Ava enslavement scene in apartment
– Ava scenes after enslavement
– After enslavement, Mia and Trisha's porn shooting scene in the studio
– New monk scene in temple
– New Sarah (Lucy's friend) scenes in the Bar
– Part-time job scene in the Bar
– Increase the amount of money you get from My Club
– Some bug Fixed
– Computer password: 1546
v2.60
Features
– Evelyn New level scenes at Gym
– Evelyn & Sophia mentoring events in Apartment
– Evelyn Slave event scene
– Evelyn & Sophia 'Dance', 'Sex' scenes after enslavement
– Ava New level scenes at her house
– Ava Slave event scene
– Ava threesome scene after enslavement
– Fixed some bugs including image broken
v2.55
– Evelyn 10 new potion event scenes
– Evelyn 10 level 'Flirt' scenes
– Evelyn 10 level 'Training' scenes
– Ava new potion event scenes
– Ava 7 'Piano lesson' scenes
– 'New menu test' scene at fast food restaurant
– New event scene with a fat family at a fast food restaurant
– New 2 event scenes with Girls In the Apartment
– 'Camera test' scene with Mia in the studio
– Fixed hospital lobby error (image broken)
v2.50
Features
– Fast food waitress new level scenes
– Melissa (Principal) Sex Scene in the Principal's Office
– 'Sleep' scene in Mrs. Simpson's house (You can now pass the day in her house)
– 'Sex' scene in Mrs. Simpson's house
– Stage event in 'My club' : Event occurs after enslaving the band 'Exciting'
– Introducing the new band members Ava and Evelyn (Appears after the club stage event)
– Mia New level scene
– Mia's mother (Trisha) new photo shoot scene
– Mother and Daughters Slavery Event at Tutor House
– 3 sexual scenes of mother and daughters in tutor house after enslavement
– 5 new scenes from Eva and Trisha's new exhibitionist training
v2.45
Features
– Trisha's 3 additional levels of studio photography
– Trisha's 2 exhibitionist training scene
– 5 levels of Trisha and Eva meeting scenes at her house
– Eva's exhibitionist training scene
– 3 Eva and Trisha's joint exhibitionist training scenes
– New Booty-call scene: Stewardess
New Character: Eva (Trisha's best friend)
v2.40
Features
– Band porn shoot Take1 and 2 (Earn extra money through this)
– Band enslavement scene
– Band support speech at City Hall
– Mia New level scene
– Mia's mom 2 level scenes
– Fast food mother-daughter porn shoot Take1 and 2
– Fast food mother-daughter new scene at the restaurant
– Secretary new level scene
– Secretary enslavement scene
– Mayor election scene
– Newscaster 2 bathroom scenes
– Scarlet family enslavement scene
– Slave Maid new scene
– Slave Scarlet and Victoria scene
– Slave Scarlet and Victoria 'Live streaming' scene
– Slave Scarlet and Victoria 'Mayor election celebration' scen
v2.35
– Mother in law and sister 2 new level scenes (1 animation) in temple
– Temple inside scene and 'tea time' scene in temple garden
– New 'Booty Call' scene (1 animation) in the Hotel *This scene is bugged in the heavy version.*
– 'Video call' scene in tutor house
– New sun-bed scene on the beach
– Kate new sex scene in tutor house
– 'Porn shooting' 2 scenes in the Studio (in TV station)
– Jessie's new level scene in the gym
– 'Health checkup scene' with Emily in the hospital
– 'TV interview' with Mrs. Simpson in the mayor room of City Hall
– Slave Jenny night scene in her room
– Slave Nicole night scene in her room
– Computer password: 1546
v2.30
– Mrs. Robinson slavery scene
– Mrs. Robinson restaurant date scene in private room
– Mrs. Robinson 'Drink with Justin' scene
– Police cops pregnant scene in hospital
– Police chief (pregnant) scene in police station
– Amy and Bella (pregnant) new jail scene in police station (1 animation)
– Stewardess sex scene
– Tutor house 3 new events (1 animation)
– Widow 4 new events in the temple
computer password: 1546
v2.25
– New jerk off scene
– Slave Jenny and Nicole video recording scene in living room
– Playground new scene (1 animation)
– Playground new hide and seek 3 scenes
– New family dinner scene in Julia's house
– Class role-play scene in Mrs. Simpson's classroom
– Jessie 2 new level scenes in tutoring house
– Jessie new level scene in the Gym
– Jessie 'Greeting' scene in the Gym
– Jessie 'Help her exercise' scene in Gym
– Olivia new level scene in tutoring house
– Olivia 'Greeting' scene
– 'Booty Call' scene in Hotel (2 animation)
-Computer password: 1546
v2.20
– Addition of pregnancy to the hospital for three wives in the residential area
– Pregnant sex scene of 3 wives in the residential area
– Dana & Becky 'going out with them' additional scene (with 3 wives)
– News anchor new level scene
– The band's new shooting scene at the broadcasting station
– The band's new performance scene at the broadcasting station
– Maid's BJ scene in the mayor's mansion
– Sex scene with a maid in the mayor's mansion
– Sex scene with Scarlet at the mayor's mansion
– Sex scene with Victoria at the mayor's mansion
– Megan's husband event scene at the playground at night
– Megan and Emily Spa dating scene at Megan's house
– 3 additional scenes in the subway women-only vehicles
v2.15
– Mrs. Robinson new greeting scene
– Mrs. Robinson new blow-job scene
– Emma and Grace new greeting scene
– Emma and Grace new blow-job scene
– Sophia slave ceremony scene
– Slave Sophia beach event scene in private room
– Slave Sophia and Mrs. Robinson family scene in Sophia's house
– Fast-food fat mom new scene
– Fast-food fat daughter scene
– New level scene at the coffee shop
– Casino new level scene in Corruption
– Sex scene in casino with three rich women
– Computer password: 1546
v2.10
– New characters: Monk, Widow, Olivia, Kate, Jessie
– New Location: Temple, Tutoring house, Gym, Hotel in Magic Island
– Monk 5 Level scenes
– Widow 5 Level scenes
– Garden 5 event scenes
– New characters encounter event on the beach
– Olivia, Kate 4 Level scenes
– Jessie 2 Level scenes
– Jessie 2 Gym event scenes
– Day pass available at the hotel
– After beach event, available tutoring-job (Open on the computer <+$500 per session>)
v.2.05
– Dr. Anne, Amanda Enslavement Scene
– Slave Amanda Talk scene in Lobby
– Nurses Enslavement Scene
– Slave Dr. Anne Talk scene
– Slave Dr. Anne Patient examination scene
– 'Knock somebody up' scene at Front desk
– New lounge scene in Corruption
– New Nurse Discipline Scene
– Hospital slaves election support speech scene in cityhall
– Secretary new level scene
– Secretary 'Trap' event scene
– Secretary sex scene
– Newscaster new level scene
– Mayor's family new level scene
– Mayor's family TV interview scene
– A new scene of pregnancy mothers in park
– Julia, Lucy, Lily added to the club bar
v2.00
– Julia and Twins Slave ceremony scene
– Julia and Twins 'Go shopping' scene (1 animation) in private room
– Julia and Twins 'Family Dinner' scene
– Slave Julia and Twins new talk scene in garden
– Slave Twins 'Play Tennis' scene
– Slave Twins 'Bathing together' scene
– Slave Twins night scene in their room
– Slave Julia 'Gate Show' scene
– Slave Julia 'Go Driving' scene
– Slave Julia night scene in her room
– Slave Jenny and Nicole new scene in living room
– Added Nicole's Gallery
– New Diary system
– New Main title screen
v1.95
– Night Living room Jenny and Nicole scene (1 animation)
– Living room scene in daytime (Jenny, Nicole TV interview)
– New Mrs. Simpson's house event scene
– Amy and Bella's mom pregnant sex scene
– Sophia new level scene
– Sophia Talk scene
– Sophia new 'Call Mrs. Robinson' scene
– Mrs. Robinson new level scene
– Emma and Grace 3 new level scene
– Emma and Grace 2 daytime scenes
– Mrs. Robinson 3 nighttime scenes
– Added 'Day Pass' menu in MC's room
– Added Gallery system in MC's computer (Only Jenny now)
– New Characters: Emma and Grace ( First meeting at Mrs. Robinson's house)
– Computer password: 1546
v1.90
– Dana and Becky Slave event scene
– Melissa Family Pole dance scene in Utopia stage
– Melissa Family pool date scene (1 animation)
– Melissa entertain guests scene in my club
– Dana entertain guests scene in my club
– Becky entertain guests scene in my club
– Michelle open-up scene in my club
– Mrs. Simpson open-up scene in my club
– Resident area wives new scene (Need new item of adult shop)
– Dana and Becky 'Go out' scene in day time
– Slave Melissa family dinner scene in evening time
– New playground scene after 'Pet Play' with slave Maria
– Added Michelle in my club mini-game
– Added Mrs. Simpson in my club mini-game
– Added Melissa family in my club bar
v1.85
-Mrs. Simpson Slave Event
-Mrs. Simpson Slave Initiation Scene
-Mrs. Simpson Talk Event
-Mrs. Simpson Class Inspection Scene
-Mrs. Simpson Yoga Private Room Scene
-Melissa (Principal) Slave Event
-Melissa Talk Event
-New Staff Meeting Event/Teacher Enslavement Scene
-New Morning Assembly Event/Student Enslavement Scene
-School Support Campaign Speech Scene
-Lifeguard Slave Scene
-Girls in Principal's Office Impregnation Scene
-Girls in Principal's Office Pregnancy Announcement Event
-New School Hall Scene w/ Pregnant Girls from Principal's Office
-New School Toilet Scene
-New Gym Scene
-New Computer Room Scene
-New Pool Scene
-New Lifeguard Scene
Corruption New CG: 119
v1.80
Newbies' mom new level scene
– Newbies' mom new jail scenes
– Newbies' mom blow job scene
– Newbies' mom slave scene
– Newbies' mom pregnant scene
– New campaign support speech scene
– New scene of Mrs. Simpsons' house
– New scene at convenience store
– Election Broadcasting Debate on TV-Station
– Michelle cycling scene in a private room
– New airport and in-flight scenes
– Private room Michelle bug fixed

+ Computer Password
1546
Pass is for the bonus: 1542

+ Cheat Mod by D.S.-sama
Now you'll have a image button (my logo) in the up-right corner of the screen that you can press or if you'd like you can press 'z' and the mod will appear. In the living room and town map the screens will not appear but if you press 'z' the mod will appear. Now you also have the option to use some cheats without needing to enter the cheat menu, right from the ui screen.
Installation:
1. to install mod you must unRAR/unZIP the archive "D.S.Mod" in the "…\corruption" folder
2. for uninstalling the mod you only have to delete the .rpa file, but if you used UnRen, then you must also delete the folder "…corruption\game\D.S.Mod"

+ Console cheats codes
to open the Console press Shift+O then type the command and press Enter.
To get the console if you don't have it I recommend using UnRen because it's easy to use and it offers more options.
change the "x" with the number you want
money = x
day = x (by adding or removing days you change the days of the week, for example if you want to always have "Monday" and you have lets say 421 days and you are at "Night" set the day to 420 and do what ever you like to pass the night and in the morning you'll be at day 421 on Monday morning)
time = x
were x is :
1 for "Morning"
2 for "Afternoon"
3 for "Evening"
4 for "Night"
potion = x
gas_potion = x

+ Nab Cheat Mob
Features:
Add money +8000
Add potions +8000
Corruption Installation:
Two ways
One is to put script.rpy into corruption/game
If first doesn't work try this
Extract corr.rar file and put it in corruption/game
How to use it:
You have nothing to do everything will be automatically done expect
If you want to use save file then load the save file go to computer , click on bonus and enter 1546 you will get 3000 Money.

+ Internet Mod:
Replace the comp.rpyc file in the game directory.
You can access the cheat menu via the computer in your room, just click the "bonus folder" icon in the top-left corner.
You can cheat money, potions, change your name and edit stats of all characters, including the bar hostess and Alice (the store girl). The sex values are set so you can view the transition scenes easily, for instance, if you set a character to level 2 and give them a potion, you'll see the transition scene 2->3 unless it isn't implemented yet.
The script is designed to work in future versions as well, just make a backup copy of the original "com.rpyc" in case it doesn't.

Download from [File Boom]
Download from [Tezfiles]