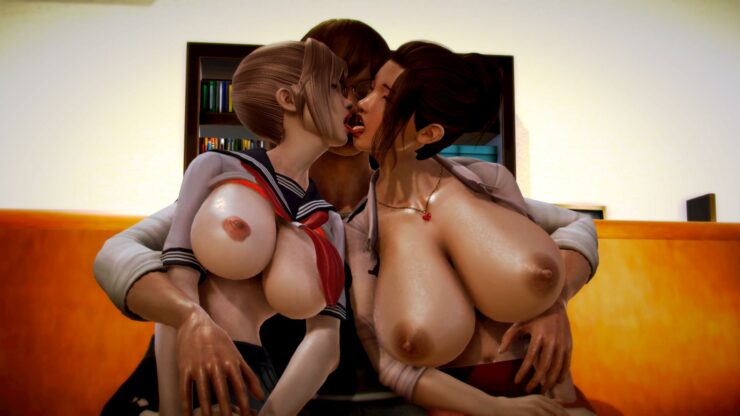 Release date: 5 June, 2020
Genre: ADV, 3DCG, Big tits, Oral sex, Anal sex, All sex, Titsjob, School, Incest, Mom, Daughter, Titfuck, Group sex
Censorship: None
Platform: Windows, Linux, Android
Version: Corruption 1.95 Fixed + Incest Patch + Cheat Mod + Walkthrough + Save
Language: English
File size: 4.34 GB
About game:
You like corruption topics? The girls in the game are becoming increasingly depraved and enslaved. You can see different events for each corruption level…
+ Changelog
v1.95
– Night Living room Jenny and Nicole scene (1 animation)
– Living room scene in daytime (Jenny, Nicole TV interview)
– New Mrs. Simpson's house event scene
– Amy and Bella's mom pregnant sex scene
– Sophia new level scene
– Sophia Talk scene
– Sophia new 'Call Mrs. Robinson' scene
– Mrs. Robinson new level scene
– Emma and Grace 3 new level scene
– Emma and Grace 2 daytime scenes
– Mrs. Robinson 3 nighttime scenes
– Added 'Day Pass' menu in MC's room
– Added Gallery system in MC's computer (Only Jenny now)
– New Characters: Emma and Grace ( First meeting at Mrs. Robinson's house)
– Computer password: 1546
v1.90
– Dana and Becky Slave event scene
– Melissa Family Pole dance scene in Utopia stage
– Melissa Family pool date scene (1 animation)
– Melissa entertain guests scene in my club
– Dana entertain guests scene in my club
– Becky entertain guests scene in my club
– Michelle open-up scene in my club
– Mrs. Simpson open-up scene in my club
– Resident area wives new scene (Need new item of adult shop)
– Dana and Becky 'Go out' scene in day time
– Slave Melissa family dinner scene in evening time
– New playground scene after 'Pet Play' with slave Maria
– Added Michelle in my club mini-game
– Added Mrs. Simpson in my club mini-game
– Added Melissa family in my club bar
v1.85
-Mrs. Simpson Slave Event
-Mrs. Simpson Slave Initiation Scene
-Mrs. Simpson Talk Event
-Mrs. Simpson Class Inspection Scene
-Mrs. Simpson Yoga Private Room Scene
-Melissa (Principal) Slave Event
-Melissa Talk Event
-New Staff Meeting Event/Teacher Enslavement Scene
-New Morning Assembly Event/Student Enslavement Scene
-School Support Campaign Speech Scene
-Lifeguard Slave Scene
-Girls in Principal's Office Impregnation Scene
-Girls in Principal's Office Pregnancy Announcement Event
-New School Hall Scene w/ Pregnant Girls from Principal's Office
-New School Toilet Scene
-New Gym Scene
-New Computer Room Scene
-New Pool Scene
-New Lifeguard Scene
Corruption New CG: 119
v1.80
Newbies' mom new level scene
– Newbies' mom new jail scenes
– Newbies' mom blow job scene
– Newbies' mom slave scene
– Newbies' mom pregnant scene
– New campaign support speech scene
– New scene of Mrs. Simpsons' house
– New scene at convenience store
– Election Broadcasting Debate on TV-Station
– Michelle cycling scene in a private room
– New airport and in-flight scenes
– Private room Michelle bug fixed

+ Computer Password
1546
Pass is for the bonus: 1542

+ Cheat Mod by D.S.-sama
Now you'll have a image button (my logo) in the up-right corner of the screen that you can press or if you'd like you can press 'z' and the mod will appear. In the living room and town map the screens will not appear but if you press 'z' the mod will appear. Now you also have the option to use some cheats without needing to enter the cheat menu, right from the ui screen.
Installation:
1. to install mod you must unRAR/unZIP the archive "D.S.Mod" in the "…\corruption" folder
2. for uninstalling the mod you only have to delete the .rpa file, but if you used UnRen, then you must also delete the folder "…corruption\game\D.S.Mod"

+ Console cheats codes
to open the Console press Shift+O then type the command and press Enter.
To get the console if you don't have it I recommend using UnRen because it's easy to use and it offers more options.
change the "x" with the number you want
money = x
day = x (by adding or removing days you change the days of the week, for example if you want to always have "Monday" and you have lets say 421 days and you are at "Night" set the day to 420 and do what ever you like to pass the night and in the morning you'll be at day 421 on Monday morning)
time = x
were x is :
1 for "Morning"
2 for "Afternoon"
3 for "Evening"
4 for "Night"
potion = x
gas_potion = x

Download from [File Boom]
Download from [Tezfiles]