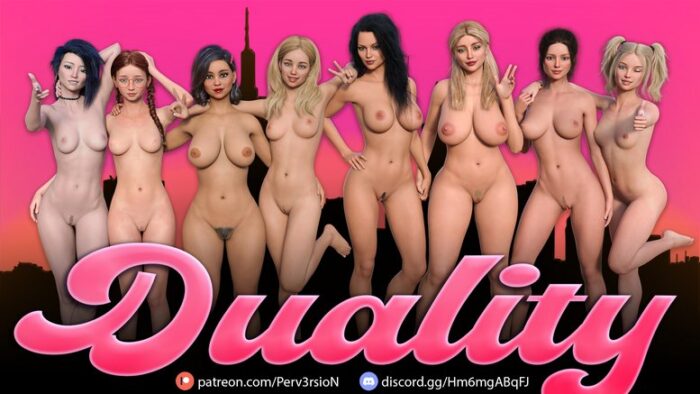 Release date: 3 August, 2021
Genre: 3DCG, Point & click, PoV, RPG, Sandbox, Male protagonist, Incest, Corruption, Voyeurism, Milf, Male domination, Female domination, Groping, Sexual harassment, Sleep sex, Teasing, Big ass, Big tits
Censorship: None
Platform: Windows, Linux, Android
Version: Duality 0.1.3c + Ic patch
Language: English, Italian [patch!]
File size: 1.49 GB
About game:
In Duality, you take the role of a boy freshly expelled from high-school. After moving to another city you'll get the chance to meet all sorts of girls. Interact with them freely throughout the day, and watch your relationship evolve according to your actions. Will you be a charming seducer or a ruthless oppressor?​
+ Changelog
v0.1.3c
Features:
⦁ Aquiring Tiffany's pictures is no longer required to progress through the "new house" events.
⦁ Greatly reduced time between the "new house" scenes.
⦁ Added the ability to quickly advance phone messages by clicking or via the skip feature.
Bugfix:
⦁ Fixed a bug that left the messages screen displayed after closing the phone when messaging Ruca.
⦁ Fixed a bug that prevented the scene where MC moves to the new house from triggering if the player selected the "I can't afford it…" option during Tiffany's flash segment in the scene where MC's first visits the new house.
⦁ Fixed typo's.
⦁ Minor bugfixes.
v0.1.3b
This version brings new content for Ruca, June, Tiffany and Angie, aswell as a new house where MC can live. If you find any bugs, feel free to report them to me via Discord or by commenting on this post.
Fixes all bugs reported during early-access, adds some previews to the new house and better walkthroughs.
v0.1.3
Content:
New scene where Ruca meets Charlee and Tiffany.
New scene for Ruca.
New scene for June.
New scene for Tiffany.
New scene for Angie.
Ability to "Dream about Ruca" when sleeping in MC's bed at her apartment.
A total of ~410 new images.
Features:
Whole new house for MC to live in.
Updated ren'py version to the latest one.
Bugfix:
Possibly fixed a crash some players where experiencing when starting the game (suspected cause being the specific version of ren'py previously used).
A few minor fixes.
v0.1.2c
Bugfix:
– Fixed Ruca's shower scene when choosing between "Horny" and "Freaky" with Quick-Scene enabled.
– Possibly fixed a crash some players were experiencing when starting the game.
– Improved phone messages usability.
– Removed the option to ask Tiffany for new photos after MC aquired all of them.
Features:
– Viewing Ruca or Angie's walkthrough no longer prevents rollback.
– Better looking walkthroughs for Ruca and Angie.
– Added a counter for in-game days passed (in the phone's main screen).
– Added difficulty choice after viewing the tutorial.
UPDATE NOTES:
v0.1.2c fixes a few bugs and adds some minor features. I does not add any new scenes, so if you already played all the content present in v0.1.2 you can skip this update.
New content is coming mid/late July.
v.0.1.2b
Content:
New story scene for June, Tiffany and Charlee.
New perversion scene for Ruca.
New shower scene for Ruca.
New outcomes for Ruca's dinner scene.
A total of ~260 new images.
Features:
"Quick Scene" mode for repeatable scenes.
Ability to replay unrepeatable scenes.
Redone "Horny Meter" with pulsating effect.
Improved all animations by changing the timings.
Added a money cheat in Duality.
Ability to use cheats, view walkthroughs and change difficulty mid-scene.
Improved Ruca's walkthrough.
Redone time-skip button.
Bugfix:
Tweaked heights/weights (in the phone) to better reflect the models.
Fixed phone's settings menu and messages while viewing a scene.
Tweaked some stat-checks.
Fixed savegame compatibility code.
Fixed some scenes that redirected to the wrong label.
Fixed Ruca's gym scene behavior choice triggers.
Other minor fixes in Duality.
v0.1.1
This update fixes all known bugs and adds a few requested features.
I will now resume working on new content, unless any other game-breaking bugs are found.
Thank you all for the feedback and the bug reports!
Bugfix:
Fixed spelling.
Fixed character relations mistakes.
Fixed a bug that prevented the correct function of the "return" button in the game menu.
Fixed a bug that didn't allow you to ask for your allowance if choosing the "Demand it." option.
Fixed a few mispelled labels that caused errors.
Fixed bug that made screens unclickable after viewing the walkthrough or the dev notes.
Fixed a bug allowing MC to keep asking tiffany for pictures even after the questline was complete.
Angie will now answer questions if her Respect is high enough (used to be only feelings).
Fixed Jenny's store dialogue. Exiting is now possible without buying the binoculars.
Fixed phone's settings screen.
Fixed store screen after angie's lv10 Perversion scene.
Adjusted some stat requirements.
Adjusted text on phone's main screen.
Updated tutorial in Duality.
New Features:
Shortened delay between text messages.
Added code to ensure savegame compatibility with current and future versions.
Added cheats.
Added a time-skip button to every location.
Added the ability to manually pick between scenes if relations are high enough.
Added walkthrough for every girl and improved Ruca's.
Added cash counter in the phone's main screen.
v0.1
Duality Initial Release.

Download from [File Boom]
Download from [Tezfiles]