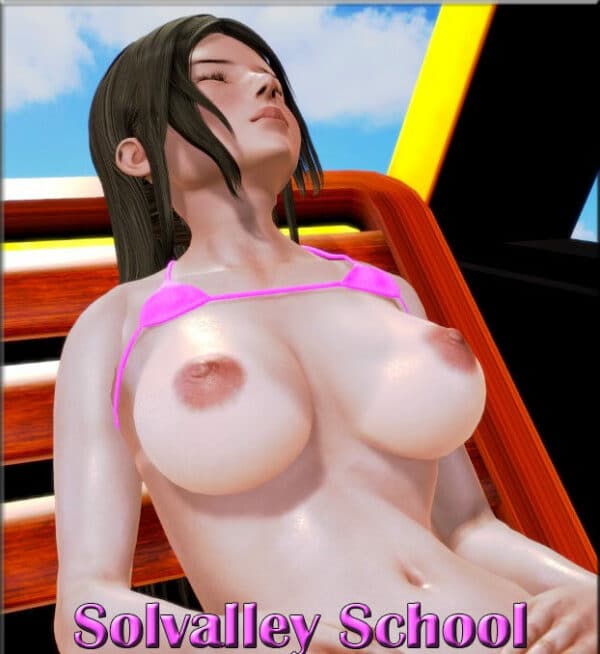 Release date: 24 December, 2022
Genre: Rpg, 3DCG, Erotic Adventure, Male Protagonist, Sexy Girls, Big Tits, Big Ass, All Sex, Blowjob, Deepthroat, Anal, Titsjob, Doggystyle, Hardcore Sex, Bukkake, Gangbang, Orgy, Lesbian Toys, Public Sex, Family Sex, Brother-Sister, Seduction, School, Teacher
Censorship: None
Platform: Windows, Linux, Android
Version: Solvalley School 3.0.0 + Gallery mod
Language: English
File size: 6.31 GB
About game:
The player controls Alex, an ugly and stupid student at Solvalley School. Alex needs to study, work out in the gym, work to make money, etc., all for the sole purpose of fucking as many girls as possible…
+ Changelog
v3.0.0
– Sabrina Scene 1 (walking her home)
– Sabrina Scene 2 (helping in the house)
– Sabrina Scene 3 (on the beach)
– Sabrina Scene 4 (Alex VS Delilah)
– Sabrina Scene 5 (sex with Sabrina + Anna sharing bonus)
– Sabrina Scene 6 (Sabrina & Delilah)
v2.1.0
1. Scene: Alexandra ending
2. Scene: Shibuya ending
3. Scene: Lucy's pool again (solo)
4. Scene: Lucy's pool again (sharing)
5. Scene: sex with Nikky (lottery girl)
6. Scene: extra – after marrying Shibuya (solo and sharing variations)
– Nine animations added in the old sex scene between Tatiana and green Kirk
Numbers:
New images:
499 new solo images (68%)
234 new sharing images (32%)
New animations:
126 new solo animations (73%)
46 new sharing animations (27%)
v2.0.0
New scenes:
– Victoria again
– Victoria mini-ending
– Mia mini-ending
– Tiffany mini-ending
– Sarah and friends at the beach
– Sarah and friends at the beach again
– Mireia and Minji mini-ending
– Sarah mini-ending
– Sex Club (sharing)
– Sarah sharing scene (sharing)
+ bug fixes, changes to some old lines
Total: ~1000 new images, ~110 new animations
v1.6.0
– Harem ending (prologue – Bianca)
– Harem ending (recruitment – Kyra)
– Harem ending (recruitment – Maids)
– Harem ending (recruitment – Miranda, Aurora and Lisa)
– Harem ending (training and free sex – Kyra)
– Harem ending (special scene – Aurora and Miranda)
– addition of a very short part at the end of Kirk's final scene
– bug/typos fixes
v1.5.0
Changelog:
1. End scene: Tatiana (708 Cgs + 67 animations] 2. End scene: Teacher Laura [276 Cgs + 32 animations] 3. Emma: doctor
4. Emma: beach
5. Emma: office
6. Emma: repeatable solo + sharing mode
7. Shorts beach solo (Lara, Miranda)
8. Shorts beach sharing (Lara, Miranda, Verdi + Alexandra)
9. End scene: Playing as Kirk (sharing mode only)
+ Scene at Lucy's house where Laura does a blowjob was redone (new images, animations and improved text)
+ in the orgy scene there is a new short scene with Uyara
v1.1.0
New scenes:
1. Ruzena sex scene
2. Ruzena ending
3. Lucy (solo / sharing variations)
4.Tatiana and Milena (movies, remake 1)
5. Tatiana and Milena (new)
6. Alex, Tatiana and Milena (remake)
7. Sex with Tatiana
8. Samantha I (small scene)
9. Samantha II (sex scene)
Note: the card album will be added in the next update
v1.0.0
1. Scene: twins
2. Scene: Verdi's ending
3. Scene: Mary and Amanda
4. Scene: Linda House 1
5. Scene: Linda House 2 + Orgy party
6. Scene change: Verdi's house (true vanilla variant)
7. Bug fixes
Details: 754 new images + 108 new animations
v0.16
New scenes:
1. Laura's House
2. Laura's House 2 (with Lisa + Marian)
3. Mia 1
4. Mia 2
5. Verdi's House (vanilla/hardcore modes)
6. Phone Mary
7. Alanna (Photo studio)
8. Monica (Photo studio)
9. Dating Gianna (Kyra's sister)
Remakes:
10. Tatiana (first Taties's scene with new images and animations)
11. Linda and Laura (remake with new image, animations and text)
12. Linda and Saori (remake with new image, animations and text)
13. Phone Linda (remake with everything new)
Note: to unlock events with Mia, train at the Gym until you are super strong (if I'm not mistaken> 75 strength)
Note 2: you can see Linda and Tatiana's redone events right in the replay gallery, if you have already done these events in your save file
v0.15.0
1. Shibuya and Ruz 1
2. Shibuya and Ruz 2
3. Lara's Dance
3b) Lara's Dance hardcore variation
4. Sex with Suki
4b) Sex with Suki hardcore variation
5. Kiss game with Miranda and Friends
6. Lottery Girl scene remake
– added option "Sarah" in sex with her and mom
– text improvements
Note 1: I forgot to modify Ruzena's speech in the bank after a certain event, this will be fixed in the next patch
Note 2: The lottery scene has been completely redone, so it will not work perfectly depending on your progress in the game. It is recommended that you start a new game to see this particular scene. I made the probability of winning the lottery very high (50%) if you buy the Lucky Charm and place the $ 100 bet. In the final version, the probability of winning the lottery will not be so high.
v0.14
1. Scene: Sarah's house
2. Scene: Sarah's phone
3. Scene: Miranda and friends on the beach
4. Scene: Tifa on the beach
5. Scene: Date Tifa
6. Scene: Glory hole
7. Scene: Suki and Laura at the Bath House
– some bugs fixed
– bank does not generate as much money after a certain amount
v0.13 Bugfix:
In this file there are two scripts with the necessary corrections for Replay 101 (Verdi and Alexandra) to work correctly. Unzip the file and copy the scripts to the "game" folder (PC version) and overwrite the old files. I'm not sure if the procedure works in versions for MAC.
v0.13:
1. Sex option with Adele in the library
2. Sex option with Adele and Lucy in the Library
3. Visit to Verdi's house
4. Scene of Verdi and Alexandra (with variant for hardcore mode)
5. Visit to Anastacia's house
6. Visit to Anastacia's mother
7. Anastacia final scene (with two variants)
– Corrected more than 200 grammatical errors
– Added an icon that indicates when the animation is looping and requires the player to click to proceed
Solvalley School

Download from [File Boom]
Download from [Tezfiles]