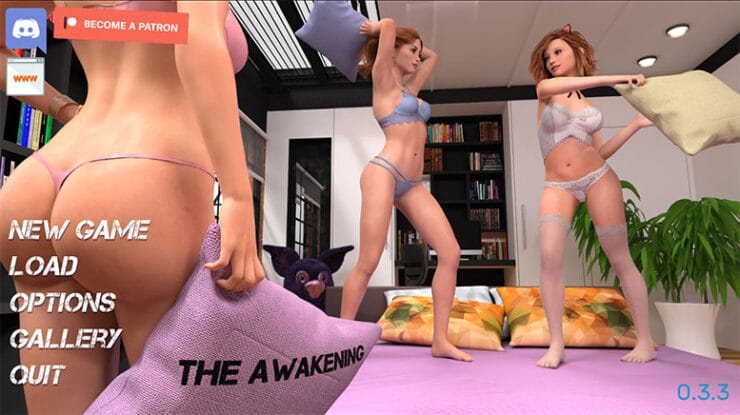 Release date: 10 April, 2023
Genre: 3dcg, Male Protagonist, Corruption, Harem, Milf, Lesbian, Oral Sex, All sex, Incest, Super Natural Being
Censorship: None
Platform: Windows, Linux, Android
Version: The Awakening Version 0.4.3b + Inc Patch + Walkthrough + In-Game Mod
Language: English
File size: 3.13 GB
About game:
After two years you finally wake up from a coma which was caused by a car accident. You are suffering from amnesia and you have not the slightest idea in what kind of situation you are in. CREATE your character and go along the journey to find out who you truely are. Don't forget that your choices will make an impact on the story as new updates come out…
+ Changelog
v0.4.3b
Added relationship input when you meet Abby and Liz.
Added option to change relationships and names in the options for the mom and sister.
Added the Halloween special to the game.
Fixed a couple of bugs and typos.
v0.4.3a
Bugfix
v0.4.3
It's finally done. The merge is complete.
I can't currently offer an android version because it exceeds the 2GB size limit.
Keep in mind that old saves will not work.
I will work something out, don't worry. Worst case I have to split the game for android players into multiple parts.
v0.4.1 (Beta Update Part 1)
So this is the first part of the rework. Some parts are still rough and need some work, but overall this is the general direction it will take.
We are taking more time refining the story. Putting more love in the detail. And making sure that the overall theme stays true to itself.
With the reworked beginning we are trying to tie the story better together with additional new features that we will introduce in the 2nd part later on.
The second part of the beta is about 50% done I'd say, so that will come out soon.
v0.4.0
Here's what's new:
New Story lines for the teacher Klara, and the Landlady + some side scenes with other characters within those stories.
There's around 1000 new renders with 200 xrays and 36 animated scenes.
I also changed it when you load an old broken save it will put you into free-roam instead of crashing.
(unless you try to load a save where an idle animation is playing, I didn't manage to fix that yet)
There's still a new fairy scene missing, but I just couldn't get it done in time, but it will be shipped when I completed it.
If you have the launcher from 0.3.5b still installed and you want to update the game through the launcher -> Start the launcher -> Click Update -> close the launcher -> reopen the launcher -> click update -> Play
Code for autoupdate: fairy69
(to update to 0.4.0a)
v0.3.5
A continuation to Margaret's Story.
v0.3.4b
New stuff:
-added Introduction to the gym
-added choice for Victoria to stay awake
v0.3.4
678+219xray renders
19 animations
v0.3.3
– 581 new renders(including x-ray)
– 21 animated scenes
-2 new story paths
-You need to start a new game if you got save files below 0.3.2b. There is a quick start function if you start a new game though
v0.3.2
-A new story path for the Landlady
27 idle animations
213 still images
7 animated sexy scenes
Voice lines for 0.3.1 have been added
There are some new gameplay mechanics I hope you'll like.
v0.3.1a
here's 0.3.1a Linda update
58 idle videos, 9 animated scenes, 70 still images.
it's a very alpha build, so text hasn't been edited and voice over will be added in november.
anyway, hope you still have fun with it, compressed version will be made when I have the edited texts, or someone else makes one
v0.3c
Brings voice over for the characters.
v0.3
+added an inbuilt guide that you can use if you get stuck
+added additional night visit scenes
+added a new place to visit.
+added Margaret's first story part
+added new roommate story part
+added the beach episode as a daydreaming option
+added new fairy content
+the code for the free-roaming segment has been completely rewritten and should give better performance, especially on phones. (a bit of lag when visiting a room for the first time)
+ color correction and noise reduction has been done for the 0.1 part -> let me know if you like it.
+ every text/dialogue has been edited to be less cringe to read (huge thanks to Conviction07!)
+voice over will become available as soon as it's ready! (please let me know if you find any typos or stuff that doesn't make sense before I send it in )
Ps: if you find some typos pls let me know so I can correct them. The dialogue for the roommate part has not been edited yet -> so that's my own written text you have to read, unfortunately
Pps: In the options you can select "Deutsch" as a language. I wanted to translate the game myself into german before 0.3 but I couldn't make it. But I'll add it with the voice-over update
Added Beach Episode in The Awakening
v0.2b:
Minor bugfixes and typos.
The Awakening Content:
-486 idle animations
-193 still images
~ 20+ animations
-5 story parts to play through
– Shop with items
-Christmas episode is inside v0.2b
-Android should not crash anymore and performance improvements

+ Developer Notes
Developer Notes
PC Pass: greedisgood
When using an old save file, make sure to use one where you are in the free-roaming part, since they seem to work more likely!

Download from [File Boom]
Download from [Tezfiles]