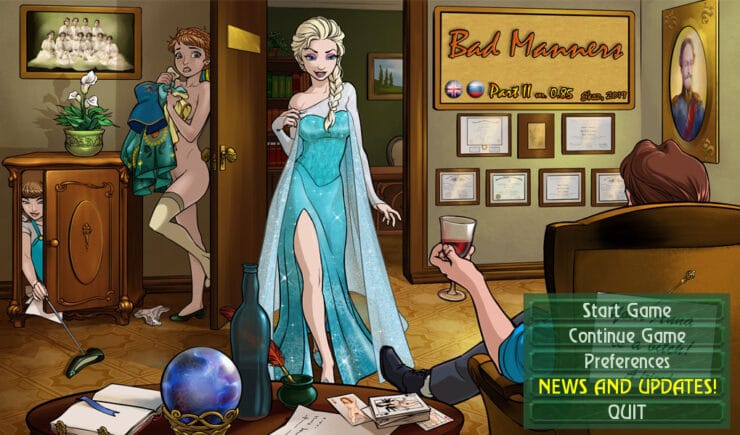 Release date: 1 October, 2023
Censorship: None
Platform: Windows, Linux
Version: Bad Manners Part I Final + Part II v2.20 All + Walkthrough
Language: English / Russian
File size: 933 MB
About game:
After the unsuccessful attempt to usurp the throne, the disgraced Prince Hans Westergaard gets a sudden offer to become the principle of the Imperial College of Proper Ladies. The mysterious benefactor who made the offer promises its powerful patronage, and maybe even the throne, if Hans can change the proper ladies into… ordinary sluts. First hesitant, Hans zealously accepts the offer when he learns that the sister-princesses who ruined his plans will also be attending the College! But everything isn't as simple as it seems…
+ Changelog
v2.20
Some 'fairies' decide leave the college, prompting Hans to seek guidance from otherworldly forces.
– Hans takes a closer look at the newcomers, especially if they happen to be attractive.
– Anna drops a hint that there might have been something between Dorothy and Elsa.
– Elsa claims to have affections for something else, but that doesn't deter Hans.
– Lisa сhanges her image
– Hans makes the princesses an offer they can't seem to refuse. Well, it's about sex (but you have no doubts about that, right?
– The girls receive a promise of a seaside trip and come up with a unique form of entertainment. Seems like everyone's going to enjoy it, except for the new girls.
– Elena declares that all noble girls should go the way she went
– Abigail's stepmother makes an appearance, and Hans has some plans involving her.
and also:
Added quite a lot of new art and a few scenes with simple animation (Hans with Merida, Elsa, Helena, new maiden, pupils; lesbian scene between pupils)
Made a couple of changes to the game engine, which allows easier positioning of character sprites (the effect is not visible to players, but you can be sure it saves time during development)
Adjusted a couple of dialogues in section 13.11 to make them fit with the new storyline.
Added Ariel's location (accessed only through the scene); changing the look of the office location slightly.
Also, the choice of 13th chapter's sections, from which you can start a new game is now on a separate screen. Don't let that confuse you.
Oh yeah, I almost forgot, a new minor character has been added – a girl from Avalor!
v.1.82
Added:
Dressing room for Anna
New scenes for the Memory Lane:
– Elsa & Anna
– Hans & Elsa
– Peasants
– Dorothy
– Rapunzel
Fixed:
Jasmine's sprite moving
Changed:
The mechanism of formation of the game menu
v.1.40.1
An Additional ending
Erotic scenes with Elsa, Cassandra, Rapunzel (simple animation)
An opportunity to look into the brothel during its construction and after its launch
Hans have to draw his sword again! (Not the 'sword' you're thinking of, guys. However, that 'sword' has to be drawn too
A small scene where Meridiana do more than 'just talk' about sex.
and much more…
v.1.10
+1 additional ending
New recruitment of peasant girls in the College. Will they be able to fit in?
Elsa asks Dorothy to take care of Anna. Hmm, the Queen doesn't seem to understand the consequences.
A way from a farm to her own castle? Dorothy receives an offer no one can refuse. Or can she?
Merida's brothers find out that their sister is in the College, where the girls are very liberated. This opens up very interesting prospects for the lads… ?
It seems that Martha is plotting another betrayal. However, in sex, she is good as always…
Cassandra is ready to prove with her sword that she is not an attachment to bed! It seems that the girl needs 'training', but it will not be easy at all, you know.
v.0.98 Full
What's new:
+2 endings in Bad Manners!
Anna calls her sister a prostitute and demonstrates her love for Hans to her subjects
A witness appears who saw Hans f.cking Elsa… OMG!
And there is another witness (he/she discovered consecuences of the stable fight). Holy shit!
Rapunzel returns. Hans has to choose one of the three girls
Hans has sex with two girls at once! Lucky son of bitch!
Lars only has sex with one, but… Using his remedy he can make his dirty fantasies come true…
v.0.92
Fully completed Chapter XI, with all additions and updates!
+2 new endings in Bad Manners
Anna competes with peasant women in sex ?
We'll see the consequences of Anna's training by Martha… (It's not the first time a girl got into trouble because of her naughty little tongue ? )
Elsa won't let anyone think her breasts are too small!
Elsa resorts to extreme measures to to teach her little Anna some respect (well, every teacher has their own methods, but… handcuffs?!)
v.0.91
+2 new endings
Hans can try to convince Elsa to be more merciful to Dorothy. And it's better for Hans to do it when he is alone with the Queen, yeah…
The Master of the Lodge offers to marry Hans a person of Royal blood. Is Hans's dream of a crown really coming true?
Hans will have to whether to protect the girl-commoners or the interests of his class. Hmm, doesn't the second option make more sophisticated women available to Hans?
v.0.90
Next Chapter (chapter XI) was added!
In the Chapter, Hans has to confront not only his brother, but the mysterious Lodge. To win, he needs to enlist the support of College students and Queen Elsa. But will Hans be able to bring the girls back to his side, because almost all of them are delighted with the new President?
BM Part II ver.0.90 contains chapters 7-11 (with all current fixes and extensions)
Attention! All previous BM saves are not compatible with ver.0.90!
To play, please, start a new game and start with a Chapter you haven't played yet.
v0.87
Chapter 10 is now fully completed!
+1 extra ending in Bad Manners
You will learn how to properly treat the Queen, so that she asked for penis 8)
Anna is outraged that it is not her groaning that resound through half of the castle 😉
If you get it right, you will learn the whole story of Belle (the story which changed her attitude to sex)
Woohoo! This is the first time you see Belle really horny

Download from [File Boom]
Download from [Rapidgator]