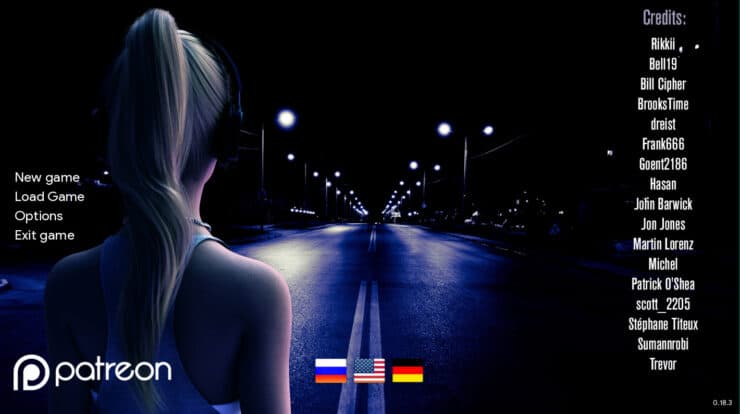 Release date: 19 April, 2021
Genre: Female protagonist, 3DCG, Sandbox, Erotic adventure, Big tits, Big ass, Lesbian, Masturbation, Oral sex, Vaginal sex, Sex toys, Voyeurism, Sexy ass
Censorship: None
Platform: Windows, Linux, Android
Version: Bright Past 0.82.1 + Walkthrough + Save + MOD
Language: English, Russian, German
File size: 2.93 GB
About game:
The game will take place in the modern world. The main character will be a sexy girl. The genre of the project can be described as a sandbox with elements of the quest an RPG.​..
+ Changelog
v0.82.1
This time Alex will take part in deciding the fate of the Arctic cafe. Will Paris make her dream come true? What role will the Mistress of the Red Quarter play?
The opportunity to retire in the toilet of the sports complex.
Random event in the cafe toilet.
Random event in the magazine store in the Red Quarter.
Jane has a little secret hidden in the cafe.
Valerie and Monica can now be found in the park.
Lucas returns to the park with his new dog.
New images of Alex with a phone.
The sports store has been updated.
v0.81.1
Second attempt to fix a bug with Margie
Blowjob lesson has been fixed
Crash when visiting the gallery has been fixed
v0.81.0
Continuation of Valerie's story. Why is her personal life not going well and what to do about it?
Complete renovation of the basement. Stock up on money. Renovations and good furniture are not cheap. Also, access to the basement now opens much earlier. After a complete renovation, the following functions will be available to you:
– sleep
– storage of things
– wardrobe
– mirror
Alex can retire in her car and masturbate. Available only near the house.
You can repeat the laundry event with high anal sex skill. You can even earn some money.
Alex will be able to buy butt plugs. There are 2 sizes to choose from. To insert the plug, you need to find a quiet place. Some scenes take into account the presence of plugs:
– masturbation in a cafe toilet
– masturbation in the car
– laundry
A new meeting with Evelyn and changes in her life.
Updated renders of deep blowjob lessons.
A shower room has appeared in the gym. You can see Barbara there after her training.
Acquaintance with the seller in the porn magazine store. And also a random event in this store.
You can have free coffee on Rick's bus and the staff room at the college.
Alcohol rates are now rising much faster.
1 new NPC in Bright Past
1 new sexy costume for Valerie
Renovated interior of the laundry room.
New renders of a walk with my sister.
In the red street you can see sex right on the street.
Updated student uniforms on college screen.
Bug fixes, including a critical bug with Margie and the clothing store.
v0.80.1
Mechanics:
The NPC menu has turned into a kind of guide. I did a lot of work to organize all the quests and events. With rare exceptions, there are all the tips for the game. I ditched the quest system so that you can play events related to a specific NPC. In total, these are almost 60 NPCs of varying degrees of importance.
The sexual orientation system is now working. Some of your choices will influence Alex's sexual preferences. By rejecting men, Alex will become more homosexual and vice versa. A corresponding section has appeared in the characteristics menu.
Added 3 progress bars in the stats menu. They show the number of open NPCs, visited locations and random events.
Messenger system has been added. How often do you talk on the phone these days? Now some NPCs will write messages to you.
Newspapers were also removed from the game. You can now read all the news on your smartphone.
New appearance of achievements. Now they look like achievements in Steam.
Content:
Continuation of the story with Penelope. Try to take the lead in your relationship and see what happens.
The sex scene with John and Ash has been expanded. If you don't want to choose between the two, you can just watch. Yes, Alex can now become asexual.
In the Red Quarter, you can use the services of one of the local whores. Why not?
A series of third-party events have been added to Pearl Beach. Now you will not be bored by driving to vocal lessons.
New closed sexy swimsuit has been added.
2 new locations and 1 NPC have been added.
Updated locations:
Bank
Red quarter
Pearl Beach
Rose Street on the right
Yoga class
Car showroom
Updated scenes:
Yoga classes
All scenes in the secret room
Gynecologist
Communication with a car dealership employee
Observing nudists
Scenes on the beach
Inspection of Evelyn's belongings
Poker event
Playing the guitar at home
Violinist
Walk with Tanya
Completely changed NPCs:
Victor
Banker
Guitar player
Nurse
Car dealership worker
Mrs Benoit
Dolly (student)
Abigail (student)
Simone (model)
Updated NPCs in Bright Past:
Amanda (poses, emotions and lighting)
Martina (poses and new hairstyle)
Katerina (poses and breast position)
Barbara (poses, lighting, new bathrobe)
Falsetto (poses, facial features, facial expressions)
Michael (poses and lighting)
Leila (poses)
Tina (poses, lighting, facial expressions)
Tanya (updated skin, makeup, some poses)
Bonnie (pose, uniform)
Kian (pose, updated costume)
Owl (poses, lighting, facial expressions)
Miscellanea:
When you first visit Valerie at night, you can get a closer look.
When you have breakfast in Havana with Jane, you can eat.
Amanda will stop snapping if you have a good relationship.
Some outdated location icons have been updated.
Technical:
I did a global optimization of images without loss of quality. As a result, the game lost about 1.5 GB of volume. It should also improve game optimization on slower computers.
Critical bug in Paris's quest has been fixed. Previously, Alex could not leave the toilet.
Many minor bugs, trivia, typos have also been fixed.
v0.75
Ryder returns and is about to take revenge.
– Alex is waiting for a dangerous test and new connections in the criminal world.
Anal training goes to the next level.
– The fingers no longer give the desired effect. Maybe you should visit the sex shop again?
It became really dangerous to walk on the night streets.
– The masked maniac will come again and again. Alex's parameters will be essential.
Some old scenes have been updated:
– The privacy of Valerie and Matthew.
– Alex shows Barbara a home video.
– Ash and John at the cafe.
– Alex in the subway.
– Binge with Amanda and Jane.
– All events with Paris.
New small scenes in Bright Past:
– Alex and Valerie will go to yoga on the subway.
– Alex can spend time with Valerie in the evening and improve the relationship.
New appearance of John, Paris, Vanessa, second prostitute, gangster.
I continue to refine the NPC menu.
The need to wear a uniform in a cafe for stupid reasons is now gone.
You don't have to wait until Saturday to meet Jane on Rose Street.
Lucas' office has been updated.
1 new animation.
1 new NPC.
3 new items, including weapons.
Some sprites have been updated.
The courier quest has been fixed.
Pharmacy night image.
v0.74
Continuation of the main quest. Why did Michael come to us at night?
The maniac is watching Jane again. To start the event, you need to complete the tasks of Amanda and the Red Quarter.
I continue to rework the NPC menu. Now an indicator will appear for each character icon. So you can find out about the changes in the tasks of this character. The menu still needs some work. Very soon it will replace the quest menu and will be more concise and informative.
Now I am consulting with a designer. In this regard, there have been some visual changes:
— The appearance of the casino and all events associated with it has been changed. And also a complete change in Molly's appearance and Alex's work uniform.
— Updating Valerie and Barbara's rooms, as well as an event with Val and Ruby.
— Updating the appearance of the park.
— Update of the event with Evelyn.
In the intro, Alex will visit a beauty salon and a clothing store.
Some character sprites have been improved.
New sexy outfit for Barbara when she reads a book in the evening.
One new bonus card.
The text input font color has been changed.
Many of the pop-up messages have been redesigned.
Many bugs and shortcomings have been fixed. Including a mistake that prevented the preparation for the concert from starting.
v0.73.1
Webcam event in Bright Past:
New lecherous outfit
New mask for anonymity
The first live communication with the audience.
Includes animation.
Basement renovation started.
Acquaintance with 2 new workers.
Sexy event included.
The event now starts after the first concert.
An opportunity to masturbate on Rick's bus. (Will Alex manage to go unnoticed?)
Updated events in Bright Past:
Shower sex with Penny (including animation)
Sauna and event with Penny and Margie
Night event with Rudo
First date with Ruby and truck rides (also new party dress for Alex)
Choosing a dress for Margie
New locations:
Fast food restaurant in the city center
Locker room in yoga class
Utility room in the cafe
Updated locations:
A cafe
Basketball court
Wasteland
Applying makeup
Other in Bright Past:
Updated appearance of Jane and all scenes with her.
Updated sprites for some characters (in progress)
Ruby and Julia branches have been fixed.
The umbrella will now be available at the start of the game
In the store, prices are now visible on product icons.
Displaying sex skills.
The online store is now using your electronic money.
After classes at Penny's house, the mood improves.
The visor disappeared from the tennis suit
Valerie's try-on event starts differently.
1 bonus card
v0.72.2
Tennis event with Ruby
Tennis suit and racket for Alex (don't forget to take off your panties)
1 new animation
Acquaintance with 2 local residents and a redesigned event to find the key to the basement.
Basement cleaning and getting to know Rudo's dick up close.
Ruby was replaced by a new girl in the event with Kevin. This is due to my desire to develop Ruby's character in more detail. And now I think this event is illogical for this character.
A new small suitcase dismantling event at the very beginning of the game.
The backdrops of the courtyard and neighboring streets have been completely renewed.
Alex's car is now displayed in the yard.
A mirror appeared in the Glory Room.
The Combat Fagots event has been updated.
I also want to drop the quest menu. Now events will be tied to specific NPCs. So far only being tested.
1 bonus card
1 new achievement
Many old bugs have been fixed in Bright Past
v0.71.1
Vocal lesson
A few small bugs that you hardly noticed.
Hotfix 0.7.3
Pregnancy test
Clothing store
Rock bar fix
Hotfix 0.7.2
Stress pills
Inventory bugs
Beer for Rick
Naked Alex after training
A rare bug with a taxi
Hotfix 0.7.1
Dialogue with Leo
Jill's diary
Fatigue rate
Bright Past 0.7
Sports update:
You will find a quest related to some old and one new character.
The quest will have 2 endings. It all depends on your choice.
Both branches have a hot ending.
Two animations are also present.
Some of our old friends will now go to the gym with Alex.
Several new collaborative activities with Margie.
Home training will be redesigned.
Images of the training process are slightly changed, a variant with a tattoo is added.
After training, Alex will take a shower.
The appearance of the reception desk in the sports complex has been changed.
There also appeared a toilet where you can do makeup.
Alcohol update:
This update is for those who really wanted to get drunk.
I added a complex system of intoxication and alcohol addiction. In short, the more often Alex drinks alcohol, the more she can drink. And the further, the more pleasure she will receive. But the negative effects will also be stronger. A very strong addiction can only be cured in a hospital.
In the future I will develop this aspect of the game, right up to the bad Alcoholic ending.
Alex can drink alcohol at the rock bar. First beer and wine, later — something stronger.
The harassment of the local drunk will also be.
Strongly drunk Alex will not control the situation. And the night streets are very dangerous. If you know what I mean…
Also, do not forget to drunkenly come to Valerie.
Inventory and trade:
You did not ask, but I did.
The inventory and trade system has been completely redone. Now all purchases will be carried out in one click, and transferring items to the chest of drawers has become much more convenient. In the future I will still work on this system to make it even more convenient.
What else:
After exercise, Alex will sweat. Do not forget to take a bath.
Several new music tracks. Including in the main menu and at the beginning of the game.
A gas station has been added. Also in emergency situations you can call a tow truck.
In the area of ​​your home, you can now move between locations using the arrows on the keyboard.
Old night event with Valerie. Added images with tattoos.
Sleep for more than 2 hours is available only sleepy Alex.
Updated backgrounds in Alex's room and at night in Valerie's room.
Are you still reading this? Yes, you are just a hero! LIKE if you've read up to this point.
Also, the images of the seats on the bench were updated (the absence of panties was taken into account).
Now you can smoke regular or electronic cigarettes at the same time.
Something else, but I don't remember everything.
v0.68.5
First concert (don't forget to turn on the sound)!
Alex visits Michael's house
More themes, more songs, redesigned inspiration system
Songs can be improved now
Redesigned Rock bar, Kitchen, Smartbucks
Party in the Arctic Cafe, with Amanda and Jane
Anal training 201 (Animation)
Valerie in the bathroom, again (Animations)
Many new pics, now considering the tattoo or the no-panties option
New achievement for an old event
Mini-icons added, more NPC'S in the NPC-screen
Fixed a lot of bugs in Bright Past
0.68.1
The main plot:
Alex and her band will finally play their first concert (don't forget to turn on the sound)!
New topics and 3 new songs.
Alex can attend concerts at a rock club. The appearance of the club was also improved.
The inspiration system has been redesigned a bit. Now you can get inspiration every day, but in smaller quantities.
You can improve your not very successful songs.
Alex will visit at Michael's house.
New events:
Amanda's new request, a really big plug and a non-standard event with her and Jane.
Alex will continue anal training. Why not add another finger? (animation attached)
We continue to have fun with Valerie in the bathroom. (includes 2 animations)
Other:
Animation of masturbation in a solarium.
Added all the missing scenes with black lingerie.
The scene with Ash and John has been redesigned. Now it takes into account new underwear, tattoos and the absence of panties.
When masturbating on the bench and in the quest for finding Kian, the absence of panties is also taken into account.
Images for tattoos and cosmetics was improved: home sports, running (including selfies), handing out flyers, working in a cafe, eating ice cream.
New achievement in Bright Past.
v0.6.5
You will meet again with Valerie's sister and meet the big bosses of Jade City.
I completely replaced the gloryhole cabin in the toilet with a better one.
I also replaced all the scenes and Albert's dick. A tattoo option is also included.
4 new animations, including recycling 1 old.
Now you will be able to receive orders for fulfilling piquant tasks. Take a look at the website work.bp.
The deep blowjob lessons were not in vain. You can apply knowledge on Broom.
In a leather dress you can now walk without panties (you need a high level of courage).
Alex can sleep without clothes.
New images of Barbara in the shower in the first scene.
A new image of a clothing store + seller.
New breakfast images (including tattoos).
On the street to the right of the house there are now people.
Dialogue with Margie in the store no longer needs rhetoric.
An elevator appeared in the sports complex.
2 bonus cards in Bright Past.
v0.6.3
Alex will be able to attend deep blowjob courses.
Intimate acquaintance with nudists on the beach.
The ability to sunbathe and swim without clothes.
Your group will begin preparations for their first concert.
Alex will be able to get a tattoo. It will be displayed during dialogs and in the wardrobe.
The image of Alex in the wardrobe has been improved.
New location – tattoo studio.
New clothes for performances.
New very hot selfie.
You can use the fuck machine in the secret room for arousal. To do this, you must interrupt the act of masturbation. Event in the casino also increases the arousal.
Starting a teacher job has been simplified. A hot selfie is needed only for the event with Teddy.
Some old scenes have been updated with new underwear.
The save menu in the English version has been fixed.
The condition for opening a sex shop has been fixed.
Fixes for many minor bugs.
v0.6.2
Bright Past Bugfixes.
v0.6
Bright Past 0.6 (announcement)
Walk with Tanya and sleep together.
Work in college.
Hot event with one of the students.
Posing for artists without clothes.
Sex in the back booth.
New Event in the Red Quarter.
New work clothes.
New appearance of Bonnie.
7 new npc
6 new locations
A washbasin and a mirror will be available at the college
3 new selfies
The center now has a grocery store
Game Interface Changes
World Map Bug Fixes
Sexual orientation changes in a different way (still requires additional balancing)
Medical checkup images have been updated (including new underwear)
2 new collectible cards
I continue to fix old bugs.
(This month, the interval between dates will be slightly reduced.)

+ Cheat Mod
This cheat mod will help cheat on Bright Past
This also have a add-on to this cheatmod it's the laptop function
Features:
Online Money
Money
Natural Courage
Natural Beauty
Talk
Mood
Items
Laptop
Install:
Move the rpa file into the game folder
Bright Past \ game
Just a reminder to press k to change the courage just before the menu when you need the courage to be high

Download from [File Boom]
Download from [Tezfiles]