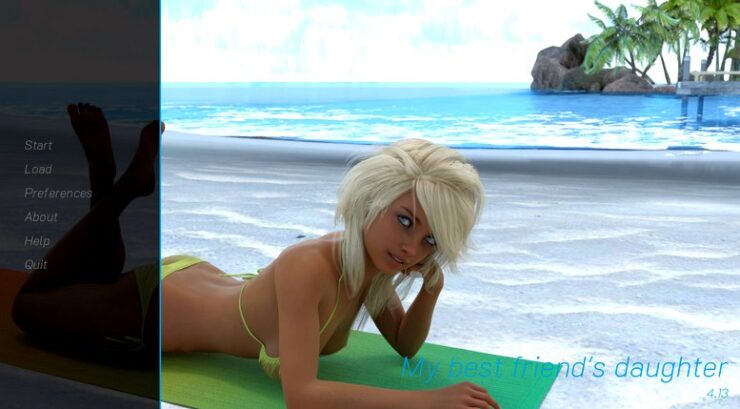 Release date: July, 2023
Genre: 3DCG, Male Protagonist, Corruption, oral sex, teasing, voyeurisms, animated, sandbox, sexy girls, beautiful ass
Censorship: None
Platform: Windows, Linux, Android
Version: My Best Friend's Daughter 15.04 + Walkthrough + save + Season 2 v7.00 + Walkthrough + save
Language: English
File size: 2.82 Gb + 2.05 Gb

About game:
My Best Friend's Daughter is a Sub-story of "Room for Rent" with same main male character. A few years earlier, our male character travels to the CeLaVie Islands to spend his vacation with his best friend's daughter. You are playing the male character, but also have the option to play the female characters. How will you thread your best friend's daughter?
+ Changelog
S2 Ep. 7
Enclosed please find of the final version of 'My Best friend's daughter' Season 2 Each.
The story with the 4 girls will continue in season 3 at a later date.
S2 Ep. 6
Episode 6 is the largest update I have ever made. No less than 111 new bookmarks and no less than 1.456 high resolution images are implemented in episode 6. In order to finish this episode make sure to try out all 'options' with the girls.
If you haven't finished the previous episodes you can switch to another episode at the end of the day – just click the tools icon in the lower left corner when it occurs.
I wish you happy playing
S2 Ep. 4
First of all thank you for your interest.
I'm doing my utmost to improve the games every day and I really hope you like episode 4 of 'My Best Friend's Daughter' Season 2.
From this episode I have reintroduced the counter system due to many requests and you can skip between the episodes too, simply by going to the toolbox in the lower left corner at day shift.
Almost 1.300 new images are implemented in this update and 67 bookmarks; however you can find more events as not all of them are counted.
I have tried to make this episode more straight-forward however you still need to read the advises and dialogs
A small hint: You can't proceed with 1 girl only. Make sure to have a good relationship with all girls – talk with all of them etc. If you just follow the options one by one the game is easy to play.
Season 2 v1.0:
Dear all
This is first episode of season 2 of 'My Best Friend's Daughter'
If you're Diamond, Platinum or Gold member – Your personal copy is in your Patreon mailbox.
If you sign up after release time please be patient as I have to generate your personal copy.
For this new game I have changed the gaming engine. You'll not just 'click and search' but really need to think about your next step. If you just 'click and try' you'll never proceed. When a girl is present her avatar will be shown in the lower right corner. You can always click the avatar and ask her about many things. She'll help you to proceed.
I'm sure you'll love it.
In the new game engine there are several events that are based upon random trigger – however the better your relationship is – the better chance to succeed. You can't trigger all events in this episode, but I can guarantee that you can do it in next episode, so you'll not miss anything. Episode 1 has 635 new high resolution images.
v14.01
Episode 14 contains of 47 new bookmarks and almost 700 new images.
v12.1
Since my first episode of 'Room for Rent' my games have undergoing huge improvements and it's my plan to continue this.
From this episode you can skip a day or a single hour. Please use it wisely as some bookmarks can't be achieved if you make the wrong skips. Instead – Please follow the skip functions when it's an option in the game like you'll see at dinner time.
I have implemented no less than 100 new animations. I hope you like it. I'll continue to improve the animations in the game and hopefully exchange more and more images with small animations.
Just to let you know – I'm still in a learning process so some of the animations could be better. I'll try to improve them over the next month. This episode has been the toughest episode to make so far. No less than 18.000 images have been generated before I could make the animations in this episode. Most of the images can't be used due to various problems.
Please notice that you can still switch between the episodes as you want.
v11.32
Many new features are now implemented.
In Preferences you can now decide if you want to see hints after gallery is unlocked or you don't want to see hints at all.
In the gallery you can now lock gallery for each episode and/ or galleries from previous episodes
From toolbox – you can now decide which episode you want to play (This is still in alpha stage so please be aware that errors may/will occur)
Shifting between episodes has been completely rewritten.
From this version you'll no longer need external save files. You can now generate them by yourself..
Episode 11 has 42 new bookmarks – several long animations and more than 500 new images.
'My best friend's daughter' has now more than 8.000 images – 20 animations and 580 bookmarks
Julia's dad will arrive – the same will Cindy – let's see what will happen in episode 11.
There have been many requests for Android version. I have now made an agreement with CaxHub and they will be in charge for the conversion.
v10.12 Public
Enclosed please find updated version of episode 10.
Unfortunately I have had several bugs in previous episodes – mainly episode 7 and 8. These have been introduced in episode 10
I have now rewritten the breakfast events that caused the problems.
Sorry for the problems – I really hope it works now.
If you have past episode 9 – just ignore this update.
v10.01
Contains Episode 10.
This episode is mainly about Anna – the new girl on the island in My Best Friend's Daughter.
v4.13
You have now access to hints and gallery for episode 2 to 4. Just click the icon in the lower left corner.
If you want to replay the game and want to have access to hints you'll need to delete your persistent file from game folder \game\saves. You also need to remove persistent file form c:\\Users\User\AppData\Roaming\Renpy\My best friends daughter.
Never use TAB or any other skipping function – you'll never be able to succeed. Keep an eye on the upper left corner when you play. Once an icon appears – you need to decide if you'll follow the person/fly or just continue.
If you go to the Toolbox and select 'Game mechanics' you'll be able to replay the instructions and how the level of shy, love and horny works.
The gallery and hint system is in its very early state. Bugs may/will occur however It's under constantly improvement.
v2.16 Public
Instructions how to play this game can be found under toolbox in upper left corner. This is replay of the instructions from the beginning of the game. This guide will tell you how to use the fly and MC icons and how the 'points' are working.
Ep.1
Initial Release – My Best Friend's Daughter

+ Developer Notes
Instructions how to play this game can be found under toolbox in upper left corner.
When you see an icon in the upper left corner you'll have the possibility to change character or fly around​

Download from [File Boom]
Download from [Tezfiles]