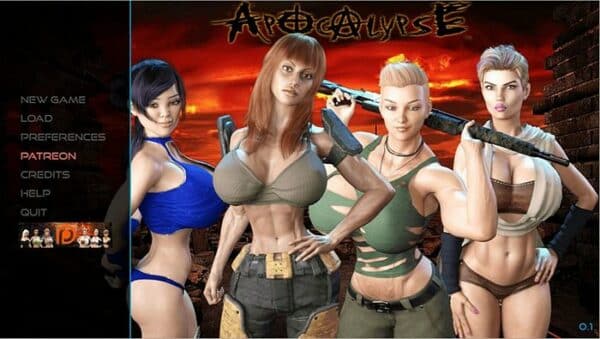 Release date: 21 April, 2021
Genre: 3DCG, Male protagonist, Sci-fi, Animated, BDSM, Big ass, Big tits, Harem, Humor, MILF, Oral sex, Titfuck, Vaginal sex, Anal sex, Footjob, Handjob, Very very BIG cock, Cosplay, Combat, Incest
Censorship: None
Platform: Windows, Linux, Android
Version: Apocalypse v0.7 + Inc Patch + Hints + Gallery Unlocker Mod
Language: English
File size: 2.36 GB
About game:
You play as a young, muscle bound, hero who survived the nuclear apocalypse. After joining the Resistance compound «Eden», your task is to build a harem, increase your skills, fulfill missions assigned to you and explore the surrounding lands, with the ultimate aim of avenging your family by removing President. The future of humanity is in your hands!
+ Changelog
v0.7
OUTDOORS: 2 new areas to explore, thus completing the E-range hexes. One includes a MFFFuta foursome with a new character, Heather.
GAMEPLAY: 3 new Supreme White House Messages, introducing a new character, Kimberly.
GAMEPLAY: Can now turn MC cumming sounds off (press \"b\" in-game to access screen for that).
GAMEPLAY: Mechanics, combat, firearms and French now maxed at 10, strength at 15.
INTERFACE: 4 new walk animations including for new characters Kimberly and Heather. (Also She-Hulk and Suk-Yu).
HAREM: Marnie as a new harem girl.
HAREM: Angie can now be impregnated.
v0.6.1
OUTDOORS: 2 new scenes at the gas station with Penny and Jenna.
COMPOUND: Nightwatch Duty implemented (talk to Lena at HQ to volunteer, max twice/week).
COMPOUND: Date with Lena implemented.
HAREM: Penny as a new harem girl.
HAREM: Gwen can now be impregnated.
Bugfixes: pregnancy was going twice as fast as intended in previous version, now it will take 8 weeks. Girls cannot get re-impregnated except for Taylor. period out of range error fixed after doing too many things at Church, other minor bugs fixed.
v0.6
OUTDOORS: Hex E2 completed with a new MFFF foursome scene when re-visited.
OUTDOORS: 2 new areas to explore, one including sex scenes.
INTERFACE: Inventory screen implemented. Press \"i\" in-game to acces it.
INTERFACE: New character with walk animation (Wendy).
HAREM: MC can now marry Taylor.
HAREM: Pregnancy system implemented. So far, 5 girls can get pregnant and give birth (Amy, Michiko, Nancy, Taylor and Zara).
HAREM: Extra impregnation sex scene for each girl that can become pregnant.
v0.5.2
OUTDOORS: 1 new area to explore in the E-range hexes.
COMPOUND: 1 new science scene in the lab that triggers from week 6 onwards.
COMPOUND: Date with Gwen at the Red Canyon implemented.
HAREM: Gwen available as a new harem girl.
HAREM: Amy and Gwen available for harem threesome scene (need both of them in the harem to trigger).
v0.5.1
* OUTDOORS: 1 new area to explore in the E-range hexes.
* COMPOUND: One new virtual fight available between Michiko and Suki (including a new related Suki quest).
* COMPOUND: More activities available at the bar on Friday evenings. Includes new Lena scene at the gym.
* COMPOUND: Gwen handjob scene in the strip lounge implemented.
* COMPOUND: MC can now share a spliff once a week with either Amy or Suki for +1 lust.
* HAREM: Suki available as a new harem girl.
v0.5
THREESOME EXTRAVAGANZA in on the menu!
Changelog now included in the game menu. Hints guide included in the game folder.
* Game now "officially" runs until the end of week 15
* OUTDOORS: 4 new areas added, thus completing the D-Range hexes. Includes a new THREESOME scene.
* OUTDOORS: MC can now acquire his own motorbike from Road Warriors Chief Diamond ($5 upkeep/week).
* OUTDOORS: She-hulk quest can now be completed, leading to an MMF THREESOME.
* OUTDOORS: MC can now re-visit the hippie chicks in B4, leading to an MFF THREESOME.
* OUTDOORS: Bounty from Melania may lead to an MFF THREESOME at Mar-a-Gogo with the First Lady and the bounty huntress.
* COMPOUND: Gym overhaul with a new iron-pumping session when MC's strength reaches 10.
* COMPOUND: Nancy can now be seen at the pool (50% chance of occurrence).
* INTERFACE: Naughty Gallery updated with all new scenes.
* INTERFACE: New character with walk animation (Taylor).
* HAREM: Harem girls with lust 5 do not leave harem if not satisfied (but lose one lust point).
v0.4.2
* 1 new harem girl (Ayla)
* 2 new dates (Ayla and Penny)
* One new Lena mission (called "Church of Sins") that will trigger itself automatically at the start of any week starting from week 6.
* Penny titjob strip scene implemented
* Melania walk animation and stats screen added (triggered after getting bounty from her)
* One new hex (with sex scene involved)
* CG gallery added (accessible by pressing "c" in-game). Only previously seen scenes are available
The new hex I added very recently, so it only half-finishes the She-Hulk quest in that you can't yet take Magnus back to her.
I thought it was important to add the hex now anyway, because you can meet Joe Biden in his basement, and it wouldn't be as freshly humorous in two months I gathered…
v0.4.1
This update focuses on expanding the outside world. Game now "officially" runs until the end of week 8.
This is a smaller update than the previous one, hence it's called v0.4.1, but it's still a decent update I hope you will agree. It includes:
* Amy as a new harem girl (but harem limited to 6 girls max at any one time)
* Bounty Huntress can now be met (random encounter when going out to explore the world)
* New Ivanka scenes (attached to the bounty huntress encounter)
* Dr Evil's pendulum can now be used on various girls
* Random side-stepping to the gas station when going out on a scouting mission with Penny
* Queen Opala's close combat scene implemented
* One new hex available in Apocalypse
* Suki's day-dreaming school scene implemented
* Date with Marnie now available
* Zara can now be met at the pool (in order to allow her to re-join the harem)
* Ruby can now also re-join the harem
v0.4
This update focuses on expanding the outside world. Game now "officially" runs until the end of week 8. You can also now FUCK IVANKA (literally)..
GAME MECHANICS HAVE BEEN REVAMPED:
* It now takes THREE training sessions to gain one point in firearms, strength, close combat or mechanics, but they carry on from one week to the next
* Close combat outcome is now determined by a die roll modified by the MC's close combat ability and various bonuses and is played in rounds
* The outcome from shooting is now determined by a die roll modified by the MC's firearms ability and various bonuses
* A 6 on a die roll always leads to a hit, while a 1 is a miss no matter what.
* MC can no longer choose the accompanying scout, which is now determined randomly
* Killing 10 camels now also leads to -1 in Club Sierra faction
* C-range hexes can only be explored once all B-range hexes have been explored and week is at least 4 (except Desert Town and the Forward Ops Base, if knowledge of their presence has been acquired)
* 6 new outdoor hexes available, including one multi-areas hex (Forward ops base)
* Stripclub in desert town now open for business!
* Re-ordering of the Supreme White House messages to account for possibly meeting Ivanka at the forward ops base (basically, Ivanka's messages have been moved forward in time)
* 2 new Supreme White House Messages available (with both Ivanka and Melania together)
* Ivanka walk animation now available in the character interface after she is met
* MC can now choose to go on scouting missions with any harem girl. Some might end up being useful…
* More quests can now be completed (Queen Opala, Hammam)
* New sex scenes with nurse Rachel in the medbay that will trigger randomly
* 4 hardcore school day-dreaming sequences available from week 6 onward
* Firearms training scene completed in Apocalypse
* New skill can be improved during class starting from week 6 onward (French)
* Extra hidden stone available for those who choose not to buy Zara
* And the MC can now catch Covid-19 too…
v0.3.2
* One new date with Ruby
* One new harem girl (Ruby obviously…)
* Ivanka pics redone
* Player can become a member of the NRANRA
* Player can acquire faction nicknames (Trumpsters and Road Warriors available so far, the Trumpsters nickname can only be acquired during the posing session with Barbara at this stage…)
v0.3.1
This update is pretty much only about SEX, SEX and MORE SEX. It includes the following:
* 3 new harem girls
* 1 threesome with a harem girl and the Black Widow
* Jake's friendship now leads to an outcome once it reaches 4
* a lingerie set to buy from Old Joe
* harem interface de-bugged
PS: to trigger the threesome, a quest needs to be started with the Black Widow which should trigger at lust 3. So it might be the case that it won't trigger if you are already above that in a saved game. In that case, open the console and type $ lustwi = 3 before visiting her.
v0.3
This update has some progress for both the compound and outdoor areas.
The game now runs until the end of week 6 (officially, but you can play as long as you want actually).
A lot of sexy bits, 15 new MASSIVE cumloads from the MC!
So pretty substantial and it will include the following:
It includes the following:
* 1 new outdoor hex to explore – and it's a MULTI-areas hex called "Desert Town"
* 1 new surprise character to meet (in Desert Town…)
* more dialogue options for most girls
* dating system implemented – 4 dates available
* one new virtual fight session (between Lena and Ruby)
* several ongoing quests can now be finished
* one new harem girl available
* footjob from Michiko and handjob from Clara at the stripclub now available
* two extra gym girls to meet (including the surprise character)
* Jake can now be seen occasionally in the shower room
* Two more saucy photoshoot sessions with Joe – one including a female partner
* 4 more classroom scenes in Apocalypse
* 1 extra Melania and Ivanka calls where they bare all
* 2 more options in the sex scene with Scarlett Johansson when you return to see her after you've reached lust 3
v0.2
This update focuses on expanding the outdoor areas to explore, and not so much on the girls within the compound. The next update will probably focus more on that.
It includes the following:
* 7 new outdoor areas to explore in Apocalypse
* outdoors map system implemented – introduced in a new mini-scene during the intro
* mc stats screen implemented
* 1 Lena mission fully implemented that will trigger itself at the beginning of week 3
* weekend evening events implemented (dance night on Friday evening and virtual fights on Saturday evening – head to the bar at those times to trigger these weekly events)
* one harem girl available in Apocalypse
* extra school scenes
* one extra science lab scene in Apocalypse
* one extra pool girl to meet in Apocalypse
* Can now receive messages from Ivanka Trumpf from week 3 and 1 extra Melania Trumpf call (her face and body was re-done also by the way, I mean IN the game…)
* a few more dialogues, but progress is lacking in that department
* new MC bedroom, didn't like the previous one
* bugfixes (lust-spamming, minor glitches, typos)
New variables defined, so please restart the game, which will now run for a full four weeks.
Beware, the game will end in the destruction of planet Earth by the Glorglans if you don't quickly get the available harem girl!!! If you find it too hard, open the console during week 2 (shift+o) and type: $ alienfuck = True
v0.1
Apocalypse First release.

Download from [File Boom]
Download from [Tezfiles]