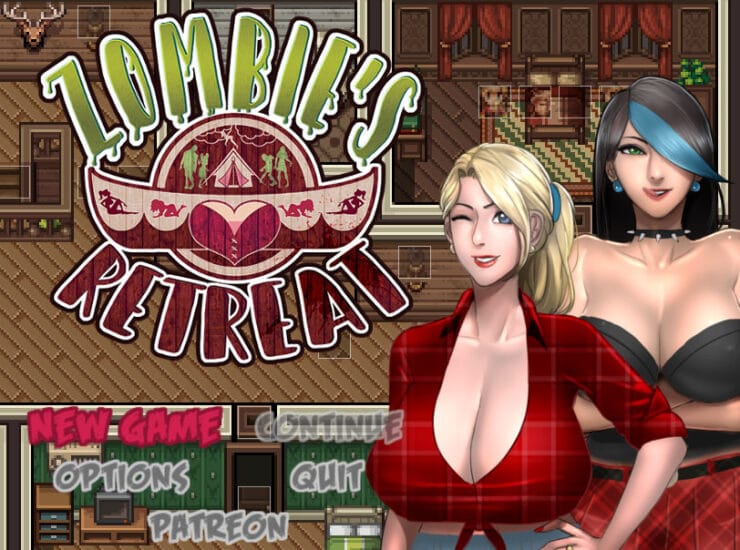 Release date: 3 May, 2021
Genre: 2DCG, RPG, Adventure, Incest, Milf, Puzzle, Male protagonist, Big tits, All Sex, Blowjob, Handjob, Doggystyle, Hardcore Sex, Family Sex, Mother-Son, Brother-Sister, Seduction, Voyeur, Zombies
Censorship: None
Platform: Windows, Android
Version: Zombie's Retreat 1.0.4 Final + Walkthrough + Saves + Gallery Mod + CGRip + Zombie's Retreat 2 : Gridlocked [v0.2.1 Beta + Gallery Mod]
Language: English, Italian [Install patch!]
File size: 767 MB / 384 MB

About game:
Welcome to Camp Zomi! A lush resort located in the heart of The Zomi Woods: A region well known for it's gorgeous sights and rich history. Looking for a place to get away? Camp Zomi's campsite is full of fun activities! Take a dip in the cool waters of Lake Zomi, hang out with friends in the Rec Center, or take a refreshing hike through our beautiful trails. Your Deluxe Retreat is just a phone call away!"
Zombie's Retreat is an action RPG involving a young man on a summer camping retreat. What's intended to be a bonding experience turns horribly wrong when a sudden evil outbreak spreads across the camp. With very 'strange' circumstances surrounding this new found threat, it is up to the player to save any and all survivors while attempting to escape in one piece!
Zombie's Retreat takes place in the same universe as my current/main project, Town of Passion! Expect some cross over as well as story references from that project!
Solve puzzles, slay zombies, and most importantly, protect your survivors!
+ Changelog
Zombie's Retreat 2 Gridlocked v0.2.0:
Busts Added:
Olivia ("Counselor")
Scenes Added:
Meredith Shower Peek (CG)
Meredith Shower HJ
New Location:
Diner (West District)
Content Update:
Beta 0.2 begins to get the ball rolling with the main content of Zombie's Retreat 2, starting with Meredith.
This update begins some of her early quest/storyline so there is finally a little bit of NSFW content added to the game. Her story is by no means completed yet so there's still more to come but I really wanted to have H content finally available.
The Grid Functionality:
Behind the scenes, this is probably the highlight of this update. A lot of time was spent trying to figure out how to properly
convey a clean and logical menu system for building new buildings, editing previous structures, and assigning quests to items
within The Grid's functionality.
With this update, Fiona's Day 2 quest now can be completed and this gives a little tease as to how you will be able to build and
edit buildings/facilities in future updates!
Meredith's questline also has some ties to this new system. I hope I've done a satisfactory job making sure this system feels
easy to understand!
Olivia Recruitable:
I've added the first new rescuable woman to the game, Olivia. Olivia is very similar to Caroline in Zombie's Retreat 1 as far as
her 'role' to the main character. You can customize her role to your liking.
When recruited, she will occupy the empty room in your upstairs. Future rescuable women will instead move into the motel to
the North East of your town home.
Her recruitment cutscenes also varies slightly if you have specific allies in your party! This should help keep the interactions a
little more natural.
Other Misc Changes:
-Added destructable boxes in various locations
These boxes need to be attacked to break open and will yield various resources
-Added rain/weather effects
-Added Quest log in options menu
-Custom keyboard controls in options menu
-Misc bug fixes/improvements
Zombie's Retreat 2 Gridlocked v0.1.2 Beta
Bug Fix
Ch.2 Gridlocked v0.1.0 Beta:
Initial Release Zombie's Retreat 2 Gridlocked
Ch.1 v1.0.3
Hey everyone!
Zombie's Retreat has been updated to 1.0.3! This update just brings about a small few bug fixes so if you are playing the previous version, 1.0.2, it is not a mandatory or revolutionary upgrade.
v1.0.2
This update is mostly for bug fixing. There were a few more issues that players had pointed out to me as well as some minor things I noticed that needed some tidying up. With this update, ZR is looking mostly cleaned up so I wouldn't expect too many more updates, especially so soon.
v1.0.0 Final
In case you are curious about what's in the update, this one was mostly focused around polishing and rounding up the content. There is a new costume, some refreshed character busts, & more scenes but my main focus was making sure the game feels complete.
v0.16
Busts Added:
ToP Main Character
ToP Mary
Scenes Added:
ToP MC/Mary Sex
Leslie Gloryhole BJ
Clara Gloryhole BJ (echo)
Gallery Rewards/Pictures:
Jessie (personal story complete) [Old save files should unlock this when stepping outside of home lodge for first time] Ashley Sneaky Dinner Sex
Ann Round 2 BJ
0.15.1
-Added books in MC's room to allow you to change character names at any point
-Fixed black screen in Leslie's scene
-Minor misc bugs/typos
v0.15.0
Busts Added:
Leslie Swimsuit
Jessie Swimsuit
(yes, these are 2 brand new busts!)
Costumes Added:
Rachel Swimsuit
Caroline Swimsuit
Scenes Added:
Jessie Pool Sex
Leslie Pool Sex (echo)
Leslie/Caroline/Rachel 4-some BJ
Photos Added:
Caroline sneaky HJ
Rachel innertube Sex
Girl & Boy Sex (z-choice)
Girl & Zombie Sex (z-choice)
== Content Update ==
This update adds the third costume pack/event into the game! The Summer Event is intended to be a late/post-game event so you will
need to have your save file far along to progress.
If you are unsure of where to find this costume pack, there is an upstairs section to the Town Hall in Old Town that opens up after
you finish the quest with Talia. This secret area will have what you're looking for!
This update is indeed a short one. The intention was to provide myself a bit of a mental break after finishing up the main story
but it also goes with the theme of this event which is to just sit back, relax, and enjoy all of the progress you made in ZR!
In addition, I also added a minor event in Jessie's camp if you examine the bag just north of her. This is the other Z-Choice
that I had been mentioning would be added. This one is significantly less important but does provide just slightly more information
about the zombies if you are curious.
0.14.1
Busts Added:
Professor Ann
L-001
Serena (Warlock)
Scenes Added:
Serena Warlock Sex
Serena Nude Sex (echo)
Ann L-001 Sex
Ann MC Sex (echo)
Sprite Scenes:
Ann MC/L-001 Mating Press
Content Update:
This update finishes the main story of Zombie's Retreat! In order to progress, you need to make sure your Lust Level is at least
level 6
After the main story is complete… there are still some extra secrets to uncover.
Lvl 7 is the max. I might reduce the requirements by 1 or 2 if that feels right but I'd rather players play through most of the
game in order to unlock the final fight
IMPORTANT: I want to make sure people are aware, there are still at least two more updates planned for Zombie's Retreat! While
the main storyline is completed, there are still a couple bonus objectives, interactions, and quests/crossovers that I want to add!
Other Misc Changes Zombie's Retreat
— Misc bug fixes/improvements
-Fixed issue not allowing Serena scenes
-Fixed issue with wrong bust sprite appearing
-Fixed issue with starting Ann's quest early
v0.13
Hey everyone!
Been a minute since I've posted a ZR update so I'm sure you all are waiting to hear the latest!
== Upcoming Content ==
Something I wanted to note: This upcoming build won't be short on it's usual amount of content, however, I intend to introduce quite a few new characters in some of the later updates coming this year. Because of this, I'm sending Scarlett a lot of character designs now to try and get a head start on this backlog. As you saw with the previous teaser, we've got some awesome designs coming up. However, those new characters won't be in this upcoming build. I don't think this will really slow anything down as Scarlett is knocking our requests left & right but, eh, figured I'd update you all!
I think that's about it for now. If you follow my other games, there is some news on House Chores as I plan on releasing an updated build later this week (partially why I haven't had time to type up a Patreon update for ZR).
Expect to see one more teaser sometime this month and the update should follow shortly after!
Thank you all so much for your support! Stay safe & healthy and I will see you all soon!
v0.12:
Scenes Added:
Leslie Tent Sex
Clara Tent Sex (echo)
Jessie Table Sex
Profile Scenes:
Clara Fondle & Undress
Jessie Kiss
Special Art:
Camp Zomi Map! (Fast travel will now pull up a map of Camp Zomi for a better visualization of where you're going. Beginner manual
will also have a page for the full map if you wish to view it)
Vending Machine Rewards*:
ScarlettAnn Halloween
ScarlettAnn Christmas
Caroline BJ (Chechi)
== Content Update ==
This updated rounds out some additional side quests & characters before the final story sections of the game start getting completed.
Jessie now has some new tasks for you to complete and Clara has a new bonus location that she'd like you to show her to in Camp
Zomi!
There are also some gameplay improvements in this build as well:
== Difficulty ==
I added 3 difficulty options to Zombie's Retreat! There is Easy, Standard, and Hardcore.
Easy: Meant for players who aren't as interested in playing the game and want to experience the scenes. This difficulty allows you
to use an OPTIONAL cheat station where you can give yourself a bunch of ammo & resources to avoid scavenging.
Standard: The default intended way to play. The same game that you all have been used to!
Hardcore: Intended for fans looking for a challenge. Resource consumption is stronger, health upgrades are unavailable.
IMPORTANT: The difficulties WILL be tweaked over time. I'll gauge feedback on areas that feel too difficult, too easy, or not
challenging enough given the right criteria. Expect areas of the game to change over time on both Easy & Hardcore.
== *Vending Machine ==
A new feature has been added in this update. There is a newly installed vending machine in the Camp Zomi lodge found in Old Town!
Found around Zomi through sidequests or hidden areas are Vending Tokens. You can redeem these at the vending machine and receive
bonus photos to your photo album! These pictures will be reserved for certain fan art pieces or special drawings featuring one
or more characters from Zombie's Retreat!
I plan to add a couple more photos in future updates!
== Other Misc Changes ==
-Changed how daily food resource consumption is calculated
-Originally, if you didn't have enough fish OR vegetables, you would trigger a game over. Now, the game adds and checks for
both. So if you need 3 food and you have 2 fish & 1 vegetable, it will properly consume them. Should help prevent any
unfair game over's
-Removed private campsite salvage point (now its a scene activation point with the right guests *hint hint*)
-Adjusted zombie groan sounds
-Fixed private campsite fire not healing when active
-Misc changes/improvements

Download from [File Boom]
Download from [Tezfiles]