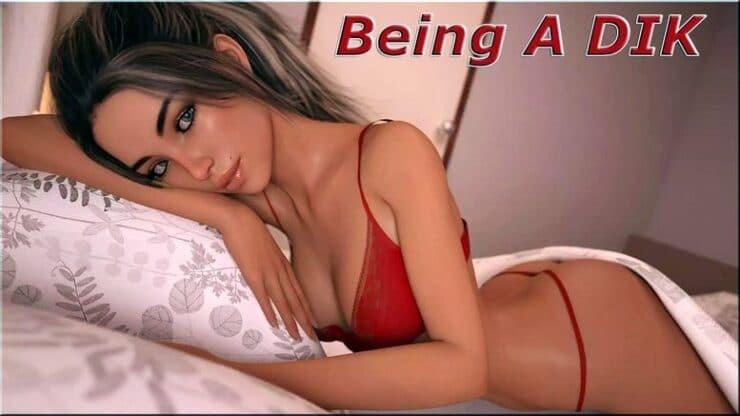 Release date: June, 2020
Genre: 3DGC, Animated, Male Protagonist, Anal Sex, Big Ass, Big Tits, Creampie, Exhibitionism, Female domination, Groping, Handjob, Humiliation, Interracial, Masturbation, Milf, Oral Sex, Prostitution, Stripping, Titfuck, Voyeurism, Dating Sim, Humor, Romance
Censorship: None
Platform: Windows, Linux, Android
Version: Being A DIK 0.5.2 + Walkthrough Scrappy MOD + Save
Language: English
File size: 8 GB
About game:
A young man, from a low-income family, moves away from his widowed father and his summer love to attend college at Burgmeister & Royce. As he is cast into freshman life and persuaded to join the up-and-coming fraternity Delta Iota Kappa, he'll be exposed to a new world filled with conflicts, alcohol, drugs and sex…
+ Changelogs
v0.5.2
Fixed a bug that was introduced in v0.5.1, where English tests would fail when cheating.
v0.5.1
Corrected typos
Fixed a bug where a point wasn't being credited to MC or Derek in the DIK evaluation.
Fixed a bug with the Bios app where notifications didn't show for new messages.
Fixed a bug that occasionally caused cheating in English mini-games to fail.
Fixed a bug causing a line being drawn over art when Maya holds a list and changed those renders to fix windowed mode misalignment.
Fixed a bug where Maya #1 special render wouldn't unlock if you opened the phone immediately after finding it.
Fixed a bug that didn't reset the keys of Jill's piano if leaving before finishing playing the song.
Fixed a bug with Rooster, episode 4, where new clucks didn't display correctly after the cluck of Cathy was deleted.
Added timers that hide the money and special render banners that pop-up and occasionally didn't disappear during the game.
Tweaked the timer for the painting mini-game. It's slightly easier to pass the mini-game.
Added supporters to the credits list in Being A DIK
v0.5.0
Added Episode 5 that includes
2456 renders
157 animations
25 songs
18 sound effects
Added an icon to indicate if a Cluck in Rooster is new.
Fixed a bug where you could repeatedly play guitar in Isabella's home during her free-roam event in Episode 4.
You can now use whitespace (space) in the save names.
Updated the Chat and Swyper apps chat interface.
When you unlock new gallery pictures in Swyper, the main menu of Swyper will show indicators for it.
Swapped the end credits for a code-based variant.
Changed the backend calculation of unlocked renders. Corrected typos
Being A DIK v0.4.2
– Fixed a bug where a wrong render would show when buying from Derek, during his free-roam event in episode 4.
– Fixed a bug in episode 1 where the chat with Josy wouldn't trigger a dialogue prompt during the date in certain cases.
– Adjusted the difficulty setting for Brawler.
– Added 2 unused animation to a lewd scene (rooftop , episode 4).
– Fixed a bug that caused cheating to fail on the English test in Episode 4.
– Fixed a cosmetic bug with Brawler with text messages after winning a fight multiple times and getting no reward.
– Fixed a bug that caused the game to crash at the Save/Load screen if special characters were used to comment the save.
– Fixed a bug with the phone that displayed your current affinity incorrectly.
– Corrected typos Re-processed an animation in Episode 3 that caused GPU spikes for a subset of GPUs.
– Added two songs to the main menu music list
– Fixed a bug where music didn't play when replaying a lewd scene in Episode 4.
– Added a tutorial for the tennis mini-game
v0.4.1
– Corrected typos
– Changed the scoring of the tennis mini-game.
– Fixed a bug with the quick menu that caused it to change settings when loading a game during mini-games. The quick menu is now treated locally instead of as a persistent variable, meaning that you need to set your preference in every game you start.
– Fixed a bug causing cheating in the English mini-game go to 100% completion instead of the current cheating boost.
– Corrected the credits list with missing supporters
Being A DIK v0.4.0
Added Episode 4 that includes
2532 renders
134 animations
21 songs
14 sound effects
– Added a new dating app, Swyper.
– Changed the design of the apps Chat and Call
– Changed the design of the Bios app
– Added 14 characters to the Bios app
– Changed the design of Rooster app
– Updated all character avatars to higher quality art
– Fixed a music bug with Envy's lewd scene in Episode 3.
– Re-encoded all animations Episode 1-3 to increase the quality.
– Fixed a bug where you would get a lewd text from Sage even if you didn't get her lewd scene.
– Fixed a bug where one digit didn't show for the vault in Episode 1 if you played with minigames enabled.
– Fixed a bug in Episode 2 where Sarah kissed you even if you lost the CUM-petition.
– Fixed a bug that would change the visibility setting of the Quick Menu after playing Brawler.
– Fixed a bug that would cause the choice box to be too small when deleting all save files and starting the game from scratch.
– Corrected typos of Episodes 1-3

+ Walkthrough + Cheat Mod
Walkthrough that shows the results of your dialogue options
Dialogue that gives you more points is colored green
Phone text messages that give you points are bordered green
Answers shown for tests
Cheat Menu that lets you edit Points
Unlocking all Scenes/Rewards

+ Vault Code:
Episode 1: 1386
Episode 2: 4413
Episode 3: 3985
Episode 4: 0421
Episode 5: 4226

+ Update patch
The patch will upgrade your game from v0.4.0/v0.4.1/v0.4.2 to v0.5.1.
NOTE! Patch only works with unmodified Patreon versions (v0.4.0, v0.4.1, v0.4.2 or 0.5.0). Patch instructions are included in the .zip file.

Download from [File Boom]
Download from [Tezfiles]