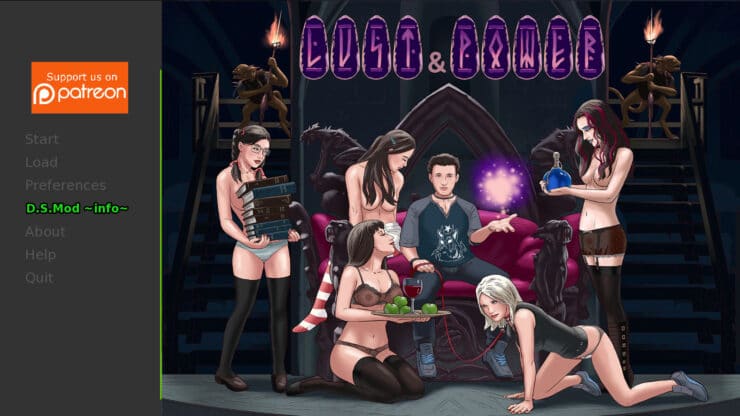 Release date: 8 February, 2021
Genre: Visual Novel, Male Protagonist, Sexy Girls, Big Tits, Incest, Beautiful Ass, All Sex, Blowjob, Anal sex, Doggystyle, Hardcore Sex, Forced, Family Sex, Mother-Son, Brother-Sister, Fantasy, Corruption
Censorship: None
Platform: Windows, Linux, Android
Version: Lust and Power 0.37 + Cheats
Language: English
File size: 369 MB
About game:
In this game you play as a young man, whose family inherited a mansion from a distant relative. There you are going to reveal some mysteries and to gain some dark powers. You will have to face demon attacks, to protect your family (mom and sister), and to use their gratefulness to gain control over them and to make them your sex slaves…
+ Changelog
v0.37 Regular
+3 new scenes with Roxie.
(To start her corruption, first get at least 30 points either of her love or her submission, then she'll ask you to train her and after this her corruption options will become unlocked. )
v0.36
+ 3 new scenes with Cherry
v0.35
– we added +1 Lisa's scene in the bathroom, which consists of 4 animated stages. Lisa washes various parts of main character's body and gives him a handjob in the end.
– we added + 2 animated scenes Lisa's room. Now the player can touch Lisa's pussy or watch her playing with her pussy.
– we added the progress bar to the part where the main character is sleeping in his room. It's a part of the game where the code still needs some optimization, and the game slows down a bit during this part, so this bar will help players to understand that the game didn't crash but executing the code at the moment (especially helpful on android devices).
– there was a problem with the game showing "the infinite loop" error on slow android devices in that part where the main character is sleeping. As far as I can judge using my own device, this error was successfully fixed in this update.
v0.33b
– game crash if you try to talk to Cherry. Fixed.
– game crash if you visit the bathroom while Kelly is there while she's wearing her red towel. Fixed.
– game crash if you try to use Stun Charm on plant demons in the forest. Fixed.
Enjoy!
v0.33
+ 3 new scenes with kelly
v0.31c
– Jessica's sex scene crashed if you run the scene while Jessica wearing dog outfit. Now fixed. Great thanks to Mirok Natsume, Isaac Tebbit and Doom stack77 for reporting this.
– when you ask Lisa to wash you in the bathroom, game crashes. Now fixed. Great thanks to Dubsington and Zaitsu for reporting this.
– when you ask Cherry to take off her dress or play with her tits, game crashed. Now fixed. Great thanks to Dubsington and Zaitsu for reporting this.
– when you ask Jessica to bend her knees while she has her jeans on, game crashes. Now fixed. Great thanks to Jacek Blonski for reporting this.
v.0.31a
– we added + 3 scenes with Jessica. One of them can be found only in the bathroom, the other works only outside of the house and the last one works only in Jessica's room in the house. Don't miss any of it!
– we added +2 scenes with Emma. One scene can be found in the bathroom and the other is in Emma's room.
– we added new quest in Demonhunters club. After finishing it you get access to the new special location in the club – the Arena, where the competitions are being held.
– now you can take part in the Demonhunters competitions (visit the Arena after 18 p.m.) and face 3 new battle opponents. Each of them is a Demonhunter, but they use different skills and tactics. The first opponent uses rather strong kicks, the second one uses poisoned knife, and the third one uses the amulet that can cause the lightning bolt that ignores your mental shield. Moreover, they have rather strong armor. Moreover, their amulets protect them from your Stun Charms. The competition may turn out to be really challenging even if you have maximum levels for all your skills, so if you want to succeed, make sure you have enough of Health and Energy potions and you have your Defence amulet charged and a few extra packs of batteries in your bag. That way you'll easily win.
– a new equipment was added – the Attack Amulet. You get it if you win the competition on the Arena in the Demonhunters club by winning three opponents in a row. This Amulet allows your attacks to ignore any armor of any opponent when charged, so it will make your future battles really easy to win.
v0.30b
– We added + 4 new scenes for Lisa, as was decided by the results of March poll. 3 scenes are in her room in the library, and 1 scene in the bathroom. And yes, Lisa starts visiting the bathroom in the morning again starting from this version.
– We added new quest from Fiddle. It's a side quest, and it appears after you finish the quest of potion making. You can run it by pressing the button "Recruitment" on the Fiddle menu. After finishing this quest you get several new advantages:
1) Fiddle introduces you to his colleagues in the next office. Starting from this moment you can join to demons during Ann and Susan scenes and not just peek them through the door, but take part in it.
2) You can repeat Ann and Susan hot scenes as many times as you want. You can strip-search them personally. And if you make them strip-dance first and after that make them kiss each other, you can see their kissing scene while they are naked.
3) You can recruit demons in the Fiddle office. Each recruited demon gives you 10% chance that if you meet yellow demon on town streets, he'll turn out to be one of your recruits and will give you some useful item (wine, batteries or food) instead of attacking you. It makes sense to recruit 10 demons to increase this chance to 100%.
4) You get a special key from the back door of the police station. Starting from this, the option "Sneak in" is replaced with "Use the key" option and you can enter the police station without any risk of being attacked.
Bugs fixed:
– Game crash during Jessica's handjob scene. Now fixed. Thanks John C. Finley and Martin Libby Sr for report.
– Game crash when you have Jessica give you a blowjob if she is not fully dressed. Now fixed. (in v.0.30.b)
Thanks everyone for your support! Don't miss the poll, it starts within a day or two.
v.0.28a
+3 Jessica scenes
+2 Lisa scenes
0.27a
– Added + 2 new options (or 4 scenes) for Emma and Kelly in the living room
Each of 2 options has 2 scenes showed differently based on whom you choose to play the main role – Emma or Kelly.
– Added 1 new big scene for Ann and Susan in the police station. 6 illustrations for each girl
Bugs and errors
– Bug: when you try to use "Feed the dog" option on Jessica playing domination route, it always fails. The scene was available only on love route.
– Logic bug: players could use smoke potions during the fight with red or yellow demons even if they had no such potions in the inventory.
– Image error: when you look at the town map, forest locations are shown as "Under construction", though they are already exist in the game.
– Image error: when using dark theft on Jessica's pants, instead of pants floating over, a text message floats over saying "jess_skirt" not found.
– Image error: game crashes when Jessica is trying to cover both upper and lower parts of her body with her hands while wearing dog costume.
– Image error: in the kitchen, if you talk with Emma and Kelly about your powers while having Emma's submission points between 40 and 70, you can get message "image not found".
– Image error: if you visit Jessica in the bathroom having her love points above 40, the game crashes because of the image failure.
v.0.26a
– added + 3 hot scenes with Cherry. Now you can make her take off her dress, pose for you or play with her tits. Pay attention: all your previous progress with Cherry was probably lost. Well, she had only one scene in previous versions, so it's not much to restore actually.
– added + 3 hot scenes with Jessica (Patron's choice during the November poll). Now you can make her take off her panties, play with her pussy (can be launched only outside) or feed her in the kitchen (can be launched only when she's in her room) like a real dog.
– added the possibility to use Jessica's "undress" group of options not only outside the house, but in her room too. It was nesessarily in order to let you watch her "kitchen" scene not only when she's fully clothed but also when she's undressed the way you like.
– added the possibility to tell Cherry compliments or discipline her, or use your skills on her, but actually it doesn't have any sighificant effect on her, so you may not pay much attention to these options.
– we also fixed text error: when you come back home from your raids without any demon hearts in your bag, but the game still mentions leaving demon hearts in the fridge.

+ Cheat Mod
Cheat Mod by D.S.-sama:
This is a cheat mod that doesn't need to change any original files of the game and it can be removed with ease. If the DEV doesn't change the variables this mod can work even for future releases of the game.
The mod will also remove the "anti-cheat" feature and will also enable the console in the game, this will work with any version of the game.

+ Wardrobe Spells
sister: sexykitten
mom: sexymaid

Download from [File Boom]
Download from [Tezfiles]