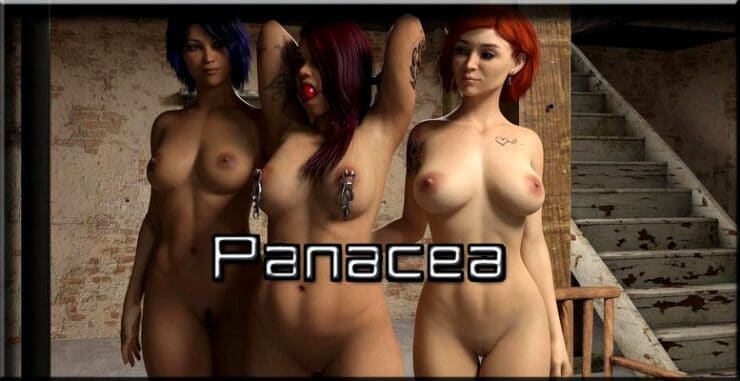 Release date: 14 September, 2022
Genre: 3DCG, Female protagonist, Sci-fi, Transformation, Big tits, Lesbian, Futa/trans, Seduction, Vaginal sex, Spanking, Domination, Blowjob, Hardcore Sex, Beautiful Ass
Censorship: None
Platform: Windows, Linux, Android
Version: Panacea 0.802
Language: English
File size: 2.72 GB
About game:
Panacea, a transformative erotic tale of a young very sexy woman and an experimental new drug with metamorphic properties.​..
+ Changelog
v0.802
– 190 new images
– Amita, Cammy, JJ, Sal + Celeste/Simone endings added, some will require specific choices made in side stories. Will probably add a guide at some point for those who need it.
– Some script fixes on the Sal paths (thanks Stephen Godfrey!)
Well, this is it. The final update for a while, there are a few things still left to do or that I wanted to do that I might revisit in the future but for now this is it. If there any issues or problems let me know below and I'll get to work on fixing it as soon as possible.
v0.75
– 184 new renders
– Simone and Celeste scene + important choice (check the journal under family)
– TG photo session added (if it doesn't show then look at her photo set on the laptop after you've done Cammy's side story)
– Journal issue fixed (thanks Johnny Bobart!)
v0.74
– 465 images (Although some duplicates or minor variation)
– Major choice for Sal.
v0.73 bugfix
– 235 new images
– Culmination of JJ choices with 3 story paths
– Check the JJ section of the journal!
– Spelling and grammar errors fixed (thanks Bartimayus)
– Bugs fixed
v0.72
– 202 new images
– Cammy side story part 1
– Major choice for Cammy
v0.71
– 240 new renders
– Trayi end 1
– Lara end 1
– Wall of awesome updated.
v0.7:
– important story scene
-174 new renders
v0.64
– 205 new renders
– Meet Grandmother scene
– Mission with Kat scene
v0.63
– 197 new renders
– Alternate (domme) scene added to the previous update
– Nisha scene added
– Mayor + Yu scene added
v0.62
Changelog-
– 174 new images
– Nisha scene added
v0.61
– 190 new renders
– New power
– Return of Bunny
– Return of Cammy
v0.6
– 176 new images
– Return of Butch
– More names added to the Wall of Awesome!
v0.54 Fix
-173 New images
– Nisha and Trayi return
– Bug fixed
v0.53
– 266 New Images
– New location on map
– First transformation choice for Simone
– Sex dungeon scene
– More names added to The Wall of Awesome.
v0.52
– Kat and Lara scenes.
– Skippable weird dream sequence
– New powers
v0.51
– 238 new images in Panacea
– Major story choice
– Celeste scene added
– Aaliyah scene added
v0.5
– 390 new images
– Mel scene added
– Mayor scene added
v0.44
– Minor UI change to make some things clearer.
– Minor bug fixes.
– 287 Unique renders added.
– Major character development
v0.43
– 309 new images added (although many are mostly same image but with different hair/outfit for Sal)
– Sal Hairdresser and Transition scene added. With variations based on the choice of outfit made in previous update (Goth, Bimbo or Normal). May allow option to reconsider previous choice if people want it.
– Make final choice on Sal's genitals (Futa or Full woman)
– A choice of 3 sex scenes.
– New names added to the Wall of Awesome!
0.42
– 177 new images
– Celeste scene
– Simone bath scene
– Fetish club scene
v0.41
– 192 new renders
– Cammy scenes added
– Dad scene added
v0.4
– 191 new images
– JJ Gym scene added.
– Dr Shaw scene added.
v0.33
– 199 new images.
– Major story development.
– Ivy Punishment scene.
– Meeting with Dr Khatri.
– Futa or lesbian sex scene added.
v0.32
– 175 new images in Panacea
– Can choose to transform into a man or not, both choices will have consequences later.
v0.3 Fixed
– 175 new images
– New scene pushing the story into the next phase
v0.203 Fixed
– 155 new images rendered.
– Sal shopping scene and sex scene (skippable) added.
– JJ Gym scene added.
0.203 fixes –
– Minor script bug fixed, thank you to calmingstorm for finding it.
v0.202
– 180 new images rendered.
– Branching Simone scene added.
– Extra Pee fetish scene with Simone if you picked that option in the last update.
v0.201
– 181 new images added.
– Sal and JJ scenes remade to reflect changes to characters. Also, can repeat the scenes if you want to see the other version.
– New Simone and Ivy scene
– Sex shop open after viewing new scene
– Two toys to buy and play with.
v0.2 Fixed
– 220 New renders added
– Cammy transform scene added
– Kaley Intro scene added
– Error fixed (thanks Solstorm for finding it)
v0.104
– 214 images added
– Amita intro scene
– Sal's first transform
– Celeste/Simone scene
v0.103 HotFix
– 4 new scenes added, including 3 optional transformation scenes.
– Changes to UI
– New font
– Cleaned up dialogue
v0.102
– 70 new images
– First choice to determine JJ transformation
– Set up for temporary transforms added in Panacea
v0.101
First release of Panacea

Download from [File Boom]
Download from [Tezfiles]