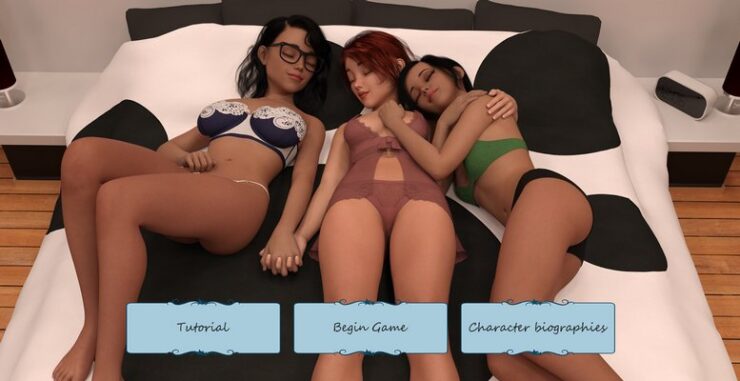 Release date: 30 August, 2023
Genre: 3DCG, Male protagonist, Animated, Corruption, MILF, Groping, Lesbian, Masturbation, Romance, Sex toys, Teasing
Censorship: None
Platform: Windows, Linux, Android
Version: Single Again 1.21 + Walkthrough/ Cheat/ Gallery Mod
Language: English
File size: 6.64 GB
About game:
In Single again you play the role of Frank, a widower and soon to be divorcee. The story begins with Frank moving back to the Loft he used to share with his first wife. A place he never wanted to go back to after her untimely death. You lead Frank as he starts his life over again, soon he begins to find companionship and love in places he never expected to…
+ Changelog
v1.21
It takes place over one and a half days. The second day is split up and 1.22 will continue where 1.21 leaves off.
I have a bad habit of making choices that resolve in future updates. I really need to stop that. So, most of the choices in this update are just dialog changes, with two exceptions.
I tried to resolve as many old choices as I could in this update.
One of the choices will have a major change in the story. Namely where they go on vacation. I've talked about this on Discord, but the short version is that each choice will take multiple updates to complete. I'll make a poll when the time comes and you guys can decide which vacation is created first.
v1.20
This update will cover Wednesday (The rest of Frank's trip) and all of Thursday (Becca and Lilly's moving day).
This update is front loaded with a ton of lewd stuff including Becca's story for Abby winning Best girl as well as what happened with Lilly the night before.
v1.19
This update takes place on Tuesday and lasts almost the entire day. What happens after the update ends will be played out in the next update. (Remember Becca's fetish)
Lilly is the major focus of this update. (Lilly fans rejoice!)
The side images for all the girls have been redone, as well as created a few more sets.
Added a slider so the you can change the text window opacity.
v1.18 is done and ready to be played. All the bonus stuff is also up.
This update focuses on the first day of Franks "trip".
This by bar the biggest update I've made. About %20 bigger than the next biggest.
Someone is posting my links for downloads on pirate sites. So if the links aren't working it means I'm in the middle of changing them… Again. (Seriously dude…)
After the new year We'll do another best girl poll.
v1.17
This update centers on the Sunday pool day. One of the people Discord had the idea of of incorporating the images I made for Lilly's best girl win into the game. So from now on whoever wins each best girl poll, the images made to celebrate their victory will be added into the game as Becca's sexy story time (You'll see what I mean in 1.17).
I went back and made even more spelling and grammar fixes to previous versions. (Thanks to everyone that helps with those).
I'm not huge fan of the side images the way they are now, I'm gong to re do all of them for each girl. That may be in the next update or a little ways down the road.
I'm going to be making a poll soon about Meiko that will change her role in the overall story.
v1.16
This update finishes off date night with the girls (Most of the update), as well as dinner with Beth and Vanessa the next night. The next update will cover all of Sunday (Girls in Swimsuits!) Starting with this update, every update going forward will have some sort of sexy times in it, though you may have to look for them. 😉
Ch.1 – 1.15
– 1.14 and 1.15 have been added.
– Side images for most characters have been remade using their gen 8 models.
– The menu image changes depending on how far into the game you are.
– More spelling and grammar fixes to earlier parts of the game
Single Again Chapter 1
Quality of life
The text box is now permanent and will only disappear during choices and non-looping videos (No more flashing in and out).
Dissolves were added between images where the camera doesn't move (Gives a more animated look to scenes).
Non-looping videos can now be skipped. (no longer have to wait for them to play out before continuing).
Fixed a ton of spelling/grammar mistakes (Well over a thousand corrections).
Game changes
Re-made 440 images (from 0.01 to 0.05).
Re-made 3 videos (The ones when Abigail shows off her new haircut).
Some dialog was re-written/ellipsis removed (Just minor changes to clean it up).
Extra dialog between Frank and Rebecca during 0.13 scene (Added some story that I forgot to add when writing the scene).
New Jess story added at the end of 0.13.
Other notes in Single Again
Old saves won't work with this version (you can use ctrl or tab to skip what you want).
Because old saves don't work there is no update file.
I didn't add any audio (That is still planned but will have to wait).
Reduced the quality of the credits video so the entire file size would be under 4 gigs.
Now that the chapter is finished I'll look into getting an android port made.
v0.10.2
Bugfixes
v0.10.1
– The full 10.1 release to BnV tiers.
v0.10
– So what's new? 3000 lines of code, 319 new images, 4 new videos, 32 SFW wallpapers, and 53 NSFW wallpapers.
– The ability to name your saves has also been added.
0.09
Only 65% of the Single Again release, the full release will be on Nov. 13th

Download from [File Boom]
Download from [Rapidgator]