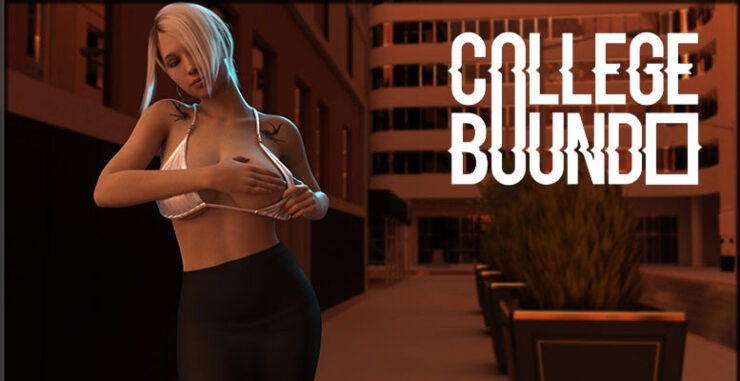 Release date: September, 2023
Genre: 3DCG, Male protagonist, Animated, School setting, MILF, Big tits, Big ass, POV, BDSM, Humor, Oral sex, Vaginal sex, Creampie, Masturbation, Voyeurism, Handjob, Blowjob, Blackmail, Teen, Seduction, Hidden camera, Teacher, Anal sex, Humor, Sex toys, Virgin, Groping, Incest
Censorship: None
Platform: Windows, Linux, Android
Version: College Bound 0.6.16 Completed + Multi/Inc Mod + Gallery Unlocker
Language: English
File size: 7.31 GB
About game:
After two years of working your butt off in college, you finally managed to qualify for an international student exchange program, which also guarantees you a generous scholarship. It was supposed to be a hell of a year-long adventure – you and your girlfriend Summer (who made the cut as well) together in sweet, sweet Paris. Sounds nice, doesn't it? Well, maybe if the principal didn't suddenly exclude you from the program completely. That bitch…
+ Changelog
v0.6.16
Final Release
v0.6.15:
What happens in this release? We're starting off with a bang – a threesome with Aisha and Blanca. Yes, you heard right. A threesome with two of the hottest CB girls, and you're not dreaming. You've got to see that, the visuals will get you excited for sure.
v0.6.14:
The wait is over, and the new release of College Bound is finally here! Get ready to embark on a journey of magic and romance as you dive into the latest release of the game.
In this release, you'll have the power to make Mary's wish come true and prove that 1+1=3! What does it mean, you ask? Well, it means the impregnation season has begun. Don't pull out, this one time!
You'll also get the chance to go on a magical date with Mia and experience a sex session that will leave you breathless and your balls drained. Who knew that the hot Guatemalan MILF knows a thing or two about ancient sex rituals? You really have to experience it yourself to believe it.
But that's not all – you'll also be faced with a life-changing decision about the fate of Summer, the MC's hated & loved ex-girlfriend.
Are you ready to make some tough choices and experience the thrill of two magical sex encounters? Then don't wait any longer – download the latest release of College Bound now and let the adventure begin!
v0.6.13:
In this release, you'll have an opportunity to bang both of these hot chicks – busty MILF Stacy and the cute, also "anatomically blessed" Anna. Prove Anna that she successfully cured you from your (imaginary…) libido problems, and give Stacy what she wants. Because she always gets what she wants. What a coincidence that fucking her is also high on your hierarchy of needs.
Pick your favorite scene, both are red-hot, you have the FOZ guarantee. This release has 13 animations, each with different speed settings, coming to a total of 24 animation files, and that's a lot. That's in addition to almost 190 beautiful renders. Really, I've been taking some classes to make my renders prettier, I hope you notice some (subtle, but important) improvements in the visuals. I didn't record any underwater scenes, or doubled the standard framerate like James Cameron did in the latest Avatar, but I still tried my best to improve the experience!
You may be asking – what's up with those mysterious Mary renders in the preview part of the post? Well, in previous releases you could promise her to give her a baby, and now is the time to deliver (another delivery will take place in 9 months if you play your cards right). She takes some precautionary steps so that she's not noticed with MC in the city by some friends, and especially her fiancé… the release will show that they are up for a surprise, but that's all I will say, without spoiling too much.
Willow and Shanice will also give you some big news, so, a word of advice, be ready for everything.
Note: in order to unlock most of the spicy content in this release, you should've flirted with Stacy and promised Mary to make her pregnant in previous CB releases.
v0.6.12:
Hello, dear College Bound fans!
Did I ever say something about a big release before? Forget it. This one is roughly two times longer than a usual release, and it has more than 370 renders. Plus, animations with Miranda and Lynda.
That's a lot. Do you know what it means? Yup, a ton of hot action and surprising events! In this release, you'll have a chance to:
– get a nice breakfast (and makeout session) from Jess.
– have a VERY surprising guest in your house…who will then surprise you with a blowjob. Intrigued? Wait, there's more – it is a threesome scene.
– find out how much it takes for Zoe to show you her tits. (spoiler alert – inflation is raging and the prices are crazy, so it's easier than you think)
– after that, you'll chat with Blanca regarding your relationship and…your little Blanca, if you haven't been careful before. And, set up a threesome with Aisha if you're particularly lucky.
– evil Liu might finally come to an end! Decide if you want to snitch on her, and lead to her arrest & getting kicked out of university, or keep your mouth shut (because Liu knows how to influence people if you know what I mean)
– Stacy? Did somebody say, Stacy? Yup, you'll meet her at the university, and see a very hot render presenting her most valuable assets
– last, but not least, you'll finally meet with Anna for the long-awaited "psychotherapy" session. What will be the outcome of the session? Will you re-evaluate your life, donate all of your money to Pigeon Rescue and spend the rest of your time simply touching grass? Or…you'll stay sane and show busty Anna that there are better things in life than psychology books? You know the answer.
There is much more, play this release to find out!
v0.6.11:
Hello and welcome to the second part of MC's Metaverse adventure!
After a cliffhanger in the last release, now MC will have an opportunity to have sex with his curvy virtual girlfriend, and she's certainly more skilled than any other human girl he knows. There are 6 animations with her. The bad side? You might not see her again (?), so make a good use of the time you have together.
Apart from that, you'll meet the mastermind behind all the bad things happening to MC's university and his friends. What will be the punishment for that? Here, have a clue: 10 animation files!
Do you think we're gonna stop now? Hell no! Last sex scene of this release features Jess and her asshole husband. However, her husband will not participate as he used to, instead Jess will have messy sex with MC, to punish Matt for his actions and make him a cuckold (if taking away most of his assets during the divorce is not enough). You can choose to let Matt watch or to tell him to go to other room and only hear what you're doing with his wife.
There is more, play this release to find out!
v0.6.10:
This time, I'm taking you on a trip – a virtual one! Just as many of you know, MC can't resist many things, and as this release will show, he also can't resist the urge to put on an unidentified pair of VR goggles, which will take him on one hell of a VR trip.
Download this release to witness the completely new adventures of CB's main character. A word of caution, though. The Metaverse world is known to be a dangerous place, but will it stop you from diving head-first? I don't think so… so what follows is that you will make shady sci-fi deals, help your newly met girlfriend with her questionable errands, and maybe even score some hot, virtual chicks who feel surprisingly real. If you don't get killed in the process, of course.
Apart from the Metaverse stuff, there is shown an argument between Jess and Matt which will bring you closer to what's coming in the next couple of releases, as well as a surprising visit of [redacted] to Lynda's house.
C'mon, put on the VR goggles and show everyone in the Metaverse what you've got!
v0.6.09:
This release has some crazy action – you'll have the opportunity to record an NSFW video on a train, featuring Sina, directed by Blanca. Okay, maybe a clip filmed on the train is not so crazy in 2022 in the age of amateur p0rn, but you get my meaning. Is it the thrill of the possibility of getting caught or just having sex with the hot pink head that you like more about the scene? You decide! The visuals of the scene are simply amazing, you have my word.
Apart from the scene, you'll meet a new character (who goes by a nick, not a name) help Anna with getting her four-legged friend back from the criminals (and get rewarded for that), flirt with the ice-queen Stacy, and have a quick conversation with Lynda that will lead to something really unexpected in the next couple of updates.
Download the release and have some adult fun on the train, it doesn't happen very often!
v0.6.08
The biggest release yet. Yes, you heard me right, this release of CB has the most content so far – over 300 images and 11 animations in 2 speed variants, a total of 22 animation files. It is a no-brainer to play this release if you want to see a lot of animated NSFW content 😉
What's happening in this release? Well…a lot of expected and unexpected. You'll have a chance to spend some private (and paid) time with Rebecca, while helping Victoria to achieve her police goals. You'll get to know about Mary's relationship problems. What's more, you will be able to meet with the lovely latinas, namely Mia and Lucia. Your previous choices will influence what will happen during the meeting, but I can advise you that in this case, Lucia might not be the bad choice. Do you remember Tiffany? She doesn't leave Lucia's side, even in bedroom, as you'll see for yourself. This hot threesome has several animations, make sure to check it out!
After a day full of adventures, you'll get a good night's sleep…or not really? You'll test out Betty's ridiculously conspicuous (and loud) vehicle, then test it's capabities of having sex in the back seat. Betty just can't wait for you to take good care of her, don't let her wait!
v0.6.07
Hey hey!
I hope that your weekend was nice so far… but guess what? It's going to be even better! This release of College Bound will put you in a better mood, because, well… Sina has her methods for that.
You'll have an opportunity to visit Amber in a hospital to get details about her unfortunate accident (if you're lucky enough and the receptionist lets you in), see the new tattoo Sina got (it will look kind of familiar if you've played previous patreon releases of CB), have a quickie with her in the tattooing chair (3 camera angles high-quality animation) followed by some public naughty fun. Furthermore, you'll have nightly encounter with Lynda who apparently thinks that any time is good for sex, especially the middle of the night. You want more? Sure! If you've booked an «appointment» with hooker Rebecca, you'll get a package with something that will be useful for that special moment.
There are 5 high-quality animations, each with two different speed levels, and over 240 beautiful renders.
v0.6.04
Do you know what's up? B-D-S-M is the word of today's release, that's what's up. I have prepared a super hot scene featuring your favorite busty librarian and a new teacher in the university — Stacy, who you might already know from Arctic Adventure. Turns out that talking shit behind Stacy's back might not be in favor of Tracy, though as she seems to like the «punishment» from her busty blonde domina. Check today's release to see what I'm talking about and decide for yourself if the punishment was just or too harsh!
Apart from the scene, there's also a hot make-out session with Mary in her office, a conversation with Willow who will tell you about her recent problems with her significant other, MC finding out about the contents of Victoria's secret box (and Lynda telling him she had absolutely nothing to do with the box being opened). What's more, if you've spent the night with Shanice, you'll discover a painting she made just for you. It's abstract, though, so don't expect to understand it on the first look.
v0.6.03
Get ready for a lot of fun with Shanice in this release! Both in the pub by throwing darts & drinking beers and in the sheets. Oh, she has something prepared for you to make this encounter really unforgettable, check it out for yourself!
Apart from the meeting with the lovely dark-skinned lady there is a very personal "baking" session with your boss Jess. Let's just say that instead of some cookies, you went for the cake.
Last, but not least, there are some other events important for the story, including an unfortunate fall of Amber, Willow's doubts about her relationship and Lynda's discovery.
There are 205 new renders and 12 animation files. Lots of fun for you on this Sunday evening! Or morning…afternoon or the middle of the night, depending on your timezone.
v0.6.01
The first release of College Bound Episode 5 is finally here, and it's awesome. In CB 0.6.01, you'll have an opportunity to give Victoria a day at work to remember (and write something on her butt to make the experience even more unforgettable until she washes it off), discover Liu's secret black hat hobby, and see that Mary indeed has some other things to do in her free time apart from reading a book about Aristotle and Pythafozas.
If you've followed the Summer path, there's a surprise coming for you. Is Summer's decision expected? Not at all, but that's nothing new when it comes to the MC's girlfriend.
If you've played Blanca's route, in this release you're back from Moanui and there's a short interaction with her in her apartment.
There are 13 stunning sex animation files and 176 high-quality renders.
v0.5.16
this release is mostly a continuation of the previous one, with new renders added to the trip with Blanca, new scene with Summer (3 hot animations with her!) and a foreshadowing to what's going to happen with Miranda in Episode 5.
v0.5.15
Just as promised, in this release you'll go on a trip to tropical island Moanui with none other than Blanca! There's focus solely on your favorite redhead character in this release, with nobody else to interrupt your tropical getaway. Well…maybe expect for some furry natives. This release is full of content. Safe to say that there is the most content for one character in one release so far, with over 240 beautiful, detailed renders and 8 sex animations with Blanca.
. If you think there were hot sex scenes with Blanca before…you just have to see what I've prepared for you in this release, maybe you'll have a couple of new favorites. There will be a second, parallel branch of the story for those who chose, for whatever reason, not to be in a relationship with Blanca. That part of the story will be presented in the next release, and will also have many hot sex scenes, so stay tuned. What's more, in the next release there will be more content and maybe some improvements added to today's release, plus improvements to the existing content of Episode 4, before the grand Steam launch.
v0.5.14
In this release you can expect a lot of action with Aisha, so if you're a fan of our exotic girl, be sure to check this one out. The scene has a very developed blowjob scene, with multiple camera angles, supporting animations and very satisfying endings
Apart from that, there are phone convos with Blanca or Summer, depending on which girl you chose to be your partner, and a short meeting with the one and only pink haired girl – Sina.
We're slowly and steadily coming to the end of Episode 4, there are a couple of releases left and then I'll start to build a Steam DLC covering that episode. I'll have to see if there will be a need for a break of one Patreon release or not, as there is a bit more work required with that Steam release than usual, but I'll let you know. What comes after Episode 4? The next and final one – Episode 5 of course. But hey, hey, hey… I have something else planned for you, Episode 5 will not be the end of College Bound saga. Stay tuned for more information about that in the near future.
v0.5.13
Accept Lynda's invitation to the lunch and be surprised to see your boss Jess sitting by the table. What will be the outcome of this scenario? Well, you've probably seen something similar on the Internet already, so you might have your prediction, and most likely it's right. This threesome scene features 10 animations, and is probably one of the most developed sex scenes in the game so far, so make sure to download the release and check it out.
What's more, you'll meet the brunette girl next-door Anna and her four-legged friend. Baxter is no longer the only dog in the game! But don't you worry, this isn't a game only about dogs, there are some really hot renders featuring Anna too, if canines are not really your type.
There's a trip with Blanca coming up in the near future, so you'll also have a chance to buy necessary supplies for the trip to the tropical island. Oh man, such trip is a real fun on its own, but try adding Blanca to the mix…you better fasten your seat belts and stay tuned for future releases.
2022-03-19
Added College Bound: Arctic Adventure
v0.5.06
I'm happy to say that this release turned out great, I'm really satisfied with the renders, animations and the story. There are ~120 renders added, and they are very easy on the eyes, just take a look at preview renders to see what I'm talking about. And it's just a small part of it, because I wanted to make this post on Patreon somewhat SFW.
There is a continuation of the workout with Amber and if you've met that girl in-game in the past, you already know where this gym session is headed. Hint: it includes a really nice sex animation with jiggle physics applied just where they need to be.
What's more, there is a short voyeur scene with Anna for those who like to take a sneak peek. Even though the scene is short (you don't want to get caught staring, right?), the images included in it will probably make Anna a main character of your wet dreams.
You'll also have a quick chat with Sina (scene with her upcoming), witness an argument between Jess and Mat, as well as meet College Bound's one and only 4-legged character (second place is taken by MC who has three legs) – Baxter!
v0.5.04
this week you'll see the rest of Lucia's scene in the tanning room (and check how assertive you are), see your friend you've met at gas station (does she look hot in business clothes, too?) and finally do some real work in your Jess's office gig. There are three short (skippable) minigames and if you'll get them right, you'll get a hot reward. Kind of a reward they certainly wouldn't show on the Office. *wink wink*
There's Blanca featured, too.
v0.5.03
In today's release you'll have an opportunity to meet Miranda in jail thanks to Victoria's cunning plan (and see a hot BDSM-themed render of the inmate), have a quick chat with Rebecca and Lucia, then assist Lucia in her trip to a tanning salon. Prepare yourself, because there you'll see more than you wished for!
v0.5.02 Public
This week's release contains an animated sex scene with Blanca, so if you're a fan of her, I strongly recommend checking out this release. Apart from that, you'll meet two characters we haven't seen in a while, that is Shanice and Liu. Would you suspect Shanice of having such hobby?
v0.5.01 Public
I have a brand new build featuring Summer, Lynda, Lisa and Blanca. You'll have an opportunity to read some of Mary's secrets, discover what has happened in Lynda's past (that she was hiding from you all along) and have a morning surprise by Summer or Blanca (and there is be a buildup to a HJ scene with her so stay tuned).
v0.4.14
This week's release is a big one, I've made over 130 renders and 2 animations with 2 speed options each for it. Whether you're a fan of hot scenes or the story (or both!), you'll find something great for you in this release.
Two steamy hot scenes, one with Summer and one with Amber. Both of them are somewhat public, but it just spices things up. If you've played previous releases you might already know where is the scene with Amber going to happen, and if not, well… you better get some popcorn to see this.
Story part – what you'll see in this release is heavily dependent on your previous choices (so if you want to see it all, make use of your saves). Go on a fun daydate with Summer or have a difficult talk with her and Blanca? Go out with Amber as "friends" or stay home and kill time by doing house chores (what a hard choice…)? You'll be able to make the final decision and pick between Summer and her redhead ex-best friend.
v0.4.13
Get ready. Prepare yourself. Just two words will be enough to explain why – Blanca animation. It's one of the best so far and it comes in two variants (one experimental). Take my word for it, you have to see it.
Apart from that, in this week's release you'll finish your conversation with Aisha, discover a new secret in the university assisted by Mary and set up a meeting with your girlfriend…and some other girl.
v0.4.12
There are two animations and ~100 renders added.
v0.4.08
We're getting emotional, mysterious and steamy hot in this update! Have a conversation with Blanca that may change your relationship with Summer forever, go with Tracy into a forbidden area in university's library and…get naughty! You will also have an opportunity to do something that Miranda will probably not like in the near future, but what exactly is it? You know me, download the game and check it yourself as I won't spoil you the fun 😉
This update brings over 100 new images, 3 new animations (with different speed variants and some of them enable see-though clothing)
v0.4.07
In this update, MC meets with Blanca…for the last time? Also he gets a tip from an unexpected source, and a long-awaited rendezvous with a busty girl we haven't seen in-game for quite a while. I think you already know who am I talking about… (based on preview renders as well :p)
There are three new animations (one having two clothing options), about 120 renders and certainly quite a lot of unexpected plot twists that will change some of the characters' relations maybe for eternity. Is it that serious? Download this update and check it out yourself!
v0.4.03
this weekly release is one of the biggest so far, I made around 145 renders and one animation for it. What you can expect inside, story-wise?
Jess will take you to her summer house a.k.a. cabin, so you can help her out with house chores while her selfish husband is away on a delegation. Will house chores be the only thing you'll help Jess with? Download the update to find out yourself:)
[tiny spoilers ahead] Also there's addded a short buildup for the upcoming scene with Aisha & Willow & MC (threesome will be optional) and we didn't forget about those of you who decided to stay loyal to Summer – there is a short phone conversation with her which will lead to a faithful-players-only scene with her.
v0.4.02
This week, if you've played the previous release, you can probably already expect what's going to happen. A hot, steamy and spontaneous sex scene in the houseparty bathroom!
There's an animatied scene which turned out really hot, there are skin shine details, also more 'ambient' lighting… you've got to see it. Apart from that, you'll meet three other characters – Shanice, Lynda and Tracy.
v0.3.15 Public
his week's release brings over 110 new renders, minor bug fixes and code improvements, but that's all under the hood, I bet you're more interested in the content part.
Safe to say that 0.3.15 is an all-milf release, because you'll meet Mia, Lynda as well as Victoria. Quite a lot of unexpected plot twists, alongside with MC helping Lynda to overcome an addiction and celebrating with Victoria her… well celebrating something, not to spoil you the fun.
v0.3.13 Public
– 130 new renders in College Bound
– 1 animation in two speed variants
v0.3.12 Public
104 new renders
v0.3.9
– 120+ new renders
v0.3.8
– 100 new renders
v0.3.7
– 100 new renders in College Bound
– more bug fixes
– script corrections
v0.3.6
~ 100 new renders in College Bound.
– Minor UI improvements, bug fixes and typo corrections
– 5 new music tracks.
– Added scenes for those loyal to Summer to help tie the story together.
v0.3.5
– 105 new renders in College Bound
– Reported bugs and typos have been fixed
– The ENTIRE College Bound script has been proofread, revised and edited
v0.3.4
– 130+ new renders
– two fully animated scenes featuring two different speed variants
v0.3.3
– 110 new renders in College Bound
– 1 new animation
– 6 new music tracks
– Minor UI improvements
v0.3.2
– added 105 renders
– fixed minor bugs and typos
v0.3.1
– 164 new renders in College Bound
– reduced game files size
– beginning of in-game Day 5

+ Features
What caused her last-minute decision that's threatening to ruin your relationship and year of adventure? Will you be able to resolve the situation, or provide for yourself without the scholarship? Are you and Summer going to be able to endure the long-distance test or will the plentiful temptations be too hard for you to resist?
Find answers to these questions (and many more as they unravel) on your own, as the choices you make in College Bound will impact the story with each and every update.
The game College Bound is a visual novel in-progress, utilizing classic Ren'py controls and containing high-quality renders as well as fully-animated, non-censored adult scenes.

Download from [File Boom]
Download from [Rapidgator]