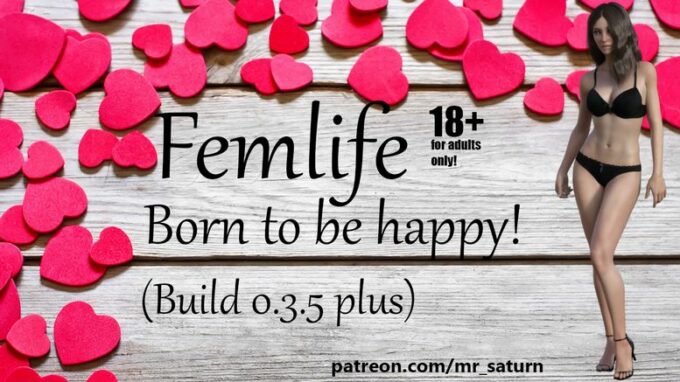 Release date: 10 June, 2021
Genre: 3dcg, Female Protagonist, Interracial, Vaginal Sex, Sandbox, Prostitution, Drugs, Cheating, NTR, Big Boobs, Big Ass, Beautiful Ass
Censorship: None
Platform: Windows
Version: FemLife 0.4
Language: English
File size: 3.76 GB
About game:
The game will be able to lead the way of life that you want. You`ll can be a good girl, get married. You`ll can make a career in any profession.
Or do you want to find a rich husband? However, there will be other opportunities… There will be an opportunity to lead a depraved lifestyle. Prostitution, porn movies, hundreds of sexual partners, alcohol, drugs etc. The choice is yours!​
+ Changelog
v0.4
Added another opportunity to work as a prostitute without a pimp. To do this, you need to buy a notebook and pay for the Internet.
At the moment, offers are available:
Gangbang MMMF(Appears randomly)
Gold Rain
Facial cumshot
Blowjob without a condom
HandJob
ThroatFucking
Anal sex + Vaginal sex
FootJob
Cunnilingus + Vaginal Sex
Blowjob + Bwc
Classic sex(Vaginal sex + Blowjob)
Double penetration
Lesbian sex. Active lesbian + passive lesbian(randomly).
Female cuckold)
v0.3.9
— Added a job as a prostitute in GloryHole.
— Added events with Ilya. After getting acquainted with the company Olesya, you need to work as a prostitute on the street. After Ilya finds you engaged in prostitution, you will need to call him, he will invite you to his dorm for a conversation. Then he will periodically call and invite you to visit.
— If you have collected enough dirt on the Ant, it can be blackmailed. You can extort money from him every day, or ask him to settle the problem with Ilya.
— In a fashion agency, you can do escort work. Requirements: high sexual skills, high intelligence. In the beginning, you will need to pass a sex test. At the moment, there is an «Intimate Dinner» scene.
— Added «Book Cafe». You can read books and develop your intelligence.
— You can meet a rich man in the restaurant.
— Added an intelligence cheat in FemLife.
v0.3.8
— Added a hangover. You can endure it or drink alcohol.
— Added courses for hairdressers (DK T. Shevchenko)
— Added a job as a hairdresser:
— Hair salon in the Residential sector(required skill 25)
— Beauty salon in the Northern District(required skill 75)
— Added NPC in FemLife:
— Olesya, a work colleague at the hair salon (on the third day of work, offer to drink beer, after that, in the Residential sector, after 17:00, the icon of her friends appears.)
— Dima, Olesya's boyfriend (no events yet)
— Sveta, Olesya's friend (no events yet)
— Ilya, a guy from their company (no events yet)
— Kolya, a guy from their company (there are several events)
— Added the «Basement» location. The key to the basement can be stolen from Kolyan (Ant).
— Added the «Garbage Dump» location. Here, Violetta can collect empty cans or have a meal. There is an event with a bum.
— Hypnotherapy sessions have been added to the psychiatric hospital. You can completely get rid of squeamishness and choose the level of depravity.
— In the center of the Factory district, a hair salon has been added, which can be rented and receive a daily income.
— In the pharmacy in the Residential sector you can buy medical alcohol.
— In a pawnshop, you can now sell not only jewelry, but also personal items(including clothing).
— You can collect mushrooms in the forest. You can sell them on the highway or eat them yourself.
— Added a point for receiving empty cans(the center of the Factory district).
— «Druzhba» cheese was delivered to grocery stores.
— Added the location «Emergency House» (the center of the Factory district). You can live there… There is an event with local homeless people.
— Violetta may become an alcoholic. She will be tormented by a long withdrawal syndrome, the body will constantly ask for a dose of alcohol. Violetta wouldn't get a decent job, no decent man would want to fuck a drunk. However, she will still be able to fuck with friends-alcoholics and bums, collect cans, feed from the garbage, buy medical alcohol.
Violetta will be able to seek help from a narcologist in a mental hospital.
— Added a company of drunks(Factory district). After getting acquainted and drinking together, Violetta will be able to spend the night with each of them. At the moment, there are a couple of events.
— Added a scene at a porn studio. Glory Hole in FemLife.
v0.3.7.3
– If the level of a porn actress reaches 50, people in the city will recognize you.
– Added the "Cowgirl" video seminar to the laptop.
– Before shooting in porn, the main character is tested for sexually transmitted infections.
– Added work in the porn industry. Scenes:
Anal fisting
Rough sex
POV 1
POV 2
Bukkake 1(cum swallowing)
Bukkake 2(cum drinking)
Bukkake 3(multiple facial cumshots)
v0.3.7.1:
– One scene (at the moment) of prostitution in a restaurant. This happens randomly. To do this, you need to look like a prostitute (Sexy girl outfit + stockings), sit at a table, eat and drink wine.
– Violetta doesn`t have her own apartment. She can rent an apartment. If Violetta didn`t have the money, she could pay the rent in another way…
– Added the need to wash your hair from time to time. It is possible to buy a hair dryer and dry your hair with it.
– Added the need to shave armpits.
– The added sensitivity of tits
– Added the ability to do pedicures in FemLife.
– Reduced the requirement of depravity level for prostitution and filming in porn.
– Fixed bugs from previous versions that my patron Karol Smolinski found. Many thanks to him for his help!
Build 0.3.7:
– Sperm on her face. Now the main heroine can stay with sperm on her face.
– Added set of underwear and stockings.
– At the beginning of the game, the main character's face is covered with pimples. You can get rid of them in a beauty salon(Northern district) or with sex(this will happen after several times). Or you can use acne cream.
– Fixed bugs that I found during testing in FemLife.
v0.3.6.1
– Other sex scenes with Andrey. Handjob(need to watch TV together), pussy licking(room, kitchen), anal sex(room, kitchen).
v0.3.6:
– Relationship with NPC by the name of Andrey. You can meet him sitting on a Park bench(randomly). You need to call him)) After a few dates(one date a day), he can be invited to cohabit. Andrey can move into your apartment. Available sexual content: sex on dates, if Andrey lives in your apartment-sex in the room, sex in the kitchen, sex in the bathroom. I will continue to develop many aspects of relationship with him.
Build 0.3.5 Plus:
– New location. Relaxing massage parlor. You can get a job there. In addition to massage, you can fulfill additional client`s wishes for an extra fee. (It is located in "1st North lane")
Build 0.3.5:
– Prostitution on the highway(13th km). Added events: Tits slapping and orgasm from a vibrator(Adds masochistic tendencies). I keep working. There will be more events.
– Working as a prostitute on the 13th km, you can bring men to your room in a Motel(5 sex scenes). I keep working. There will be more events.
– BJ for a motel room.
– When shooting porn and erotic massage, you no longer need to click the mouse 75 times.
– Added the intelligence parameter.
– New NPC in FemLife. Onanist from the next balcony. You need to go out on the balcony twice naked showing your body. Then onanist will approach you in your residential sector, when you will enter your home. After he gives you his phone number, you can call him home and have fun with him.

Download from [File Boom]
Download from [Tezfiles]