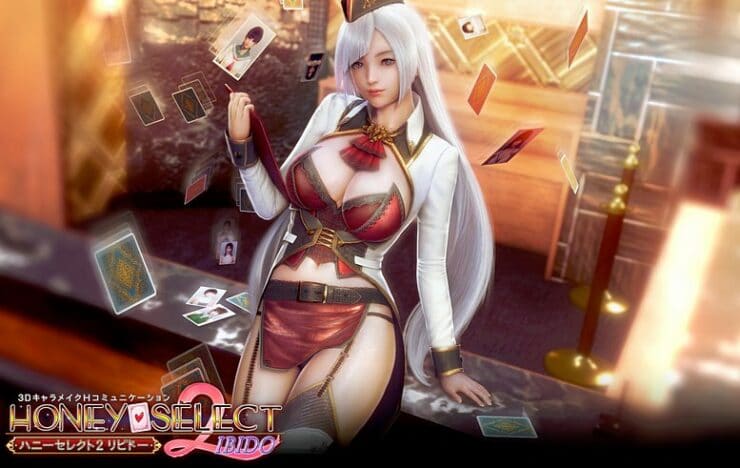 Release date: 17 November, 2020
Genre: 3D Game, Animated, Voiced, Multiple Protagonist, Oral Sex, Vaginal Sex, Anal Sex, Multiple Penetration, Titfuck, Handjob, Masturbation, Groping, Footjob, Group Sex, Interracial, Character Creator, BDSM
Censorship: Yes (mosaic)
Platform: Windows
Version: Honey Select 2: Libido DX R2 Completed
Language: English (MTL), Japanese
File size: 34.4 GB
About game:
Honey Select 2: Libido. The sequel to Illusion's 2016 release of Honey Select will include a similar premise of its predecessor in which you are greeted by a new lady named Für who introduces you to a love hotel where you can find the person of your dreams. Feel free to spend sweet and hot moments with your partners or feel free to fuck like animals and put them in situations which your partner may or may not agree to…
+ Changelog
DX R2
Applied HS2DX Preorder (honey2_dx_souki)
Applied VR Module (honey2dx_03_vr)
Applied compression to the whole game
Applied SpockBauru's HS2 DX Translations v1
Updated vanilla UserData (BRExtras)
Updated vanilla Launcher (BRExtras)
Updated BepInEx to v5.4.1
Updated DragAndDrop to v1.2.3
Updated Duck Preset Pose Pack D33P to v11
Updated HS2_TextResourceRedirector to v1.4.3.1
Updated Animal42069's HS2_BetterPenetration to v2.4.0
Updated DeathWeasel's HS2_Colliders to v1.2
Updated DeathWeasel's HS2_InvisibleBody to v1.4
Updated DeathWeasel's HS2_MaterialEditor to v2.3.1
Updated DeathWeasel's HS2_StudioSceneSettings to v1.3
Updated DeathWeasel's HS2_Subtitles to v2.1
Updated DeathWeasel's HS2_UncensorSelector to v3.11
Updated enimaroah's SB3U to v20.6.5 (**)
Updated Hooh's Graphics to Edge Build edge-20201102.1
Updated Hooh's Heelz to v1.14.2
Updated Keitaro's VNGE v22 (*)
Updated Marco's HS2ABMX to v4.3.4
Updated Marco's HS2API to v1.13.4
Updated OrangeSpork's AdvIKPlugin to v1.3.0
Added CharacterReplacer v1.6.2
Added Grey's MeshExporter to v0.1.0.1
Added KKY's HS2VR_CustomMapsFix v1.1.0
Added KKY's StudioVoiceX v1.0
Added MDGQ's BodyChange v1.0 EDIT
Added OrangeSpork's DynamicBonesGravityPlugin v1.0.1 (*)
Added OrangeSpork's HS2TakeChargePlugin v1.2.0
Honey Select 2: Libido R5
Updated SpockBauru's FanTranslation to v0.5F
Updated IllusionFixes HS2 to v15
Updated HS2_BepisPlugins to R16
Updated 2155X's HS2_HCharaSwitcher to v1.2.0
Updated 2155X's HS2_HLightControl to v1.2.3
Updated 2155X's HS2_MakerSearch to v1.4.0
Updated 2155X's HS2_UnlockPlayerHClothes to v1.4.3
Updated Animal42069's HS2_BetterPenetration to v2.2.1
Updated DeathWeasel's HS2_FKIK to v1.1.1
Updated DeathWeasel's HS2_MaterialEditor to v2.2
Updated DeathWeasel's HS2_Subtitles v2.0.2
Updated GeBo's HS2_TranslationHelper to v1.0
Updated Hooh's Heelz to v1.13.1a
Updated Hooh's HS2_Hooah to v1.0.0
Updated Keitaro's VNGE to v21 (*)
Updated KKY's Color Panel X to v1.4.1
Updated Marco's HS2_CheatTools to v2.8
Updated Marco's FPS Counter to v3.1
Updated Marco's HS2_OverlayMods to v5.2.1
Updated Marco's HS2_QuickAccessBox to v2.3
Updated Marco's HS2ABMX to v4.3.3
Updated Marco's HS2API to v1.13.3
Updated Marco's KKManager to v0.14.4 (**)
Updated Marco's RuntimeUnityEditor to v2.2.1
Updated Mikke's Beaver to v1.2.2 (*)
Updated HS2_VMDPlayPlugin to v0.3.4 (*)
Updated MMDD v1.2.1 (*)
Added GeBo's HS2_GameWhoIsThere v1.0
Added OrangeSpork's AdvIKPlugin v1.2.1
Reverted Hooh's Heelz to v1.12
Honey Select 2: Libido R4.1
Applied official update honey2_01_plus_0807F9Vc_sub
Applied official update honey2_03_vr_0731
Applied official update honey2_01_plus_0814esF3_sub
Updated SpockBauru's translation to v0.4.3
Updated IllusionFixes to v14.1
Updated HS2_TextResourceRedirector to v1.4.1.1
Updated HS2_BepisPlugins to R15.4
Updated XUnity.AutoTranslator to v4.12.1
Updated 2155X's HS2_HCharaSwitcher to v1.1.0
Updated 2155X's HS2_MakerSearch to v1.2.1
Updated DeathWeasel's HS2_MaterialEditor to v2.1.4
Updated DeathWeasel's HS2_StudioSceneSettings to v1.2.1
Updated DeathWeasel's UncensorSelector to v3.10
Updated enimaroah's SB3U to v20.6.2
Updated GeBo's HS2_TranslationHelper v0.9.4
Updated Horse's ScriptLoader to v1.2.3
Updated Keelhauled's GraphicsSettings to v1.2.1
Updated Keitaro's VNGE to v20.0
Updated KKY's Color Panel X to v1.3.0
Updated KKY's StudioCharaSort to v1.0.1
Updated Hooh and Poof Gone's Heelz v1.12.1
Updated Hooh's HS2_Hooah to 20200822
Updated Marco's AI_BetterAA to v1.6
Updated Marco's HS2_BrowserFolders to v2.2
Updated Mikke's Character Loader Plugin to v1.2
Updated Mikke's Beaver to v1.2.1
Updated HS2_VMDPlay to v0.3.1
Added 2155X's HS2_Lightprobereset v1.1.0
Added 2155X's HS2_MakerAdditions to v1.0
Added essu's HeadBundleRedirector v1.0
Added Joan6694's NodesConstraints v1.2.1
Added Joan6694's RenderEditor v1.6.0
Added Marco's HS2_RemoveToRecycleBin v1.1.1
Added Joan6694's VideoExport v1.2.1 as optional
Added Mikke's CameraClipController v1.0 as optional
Removed DeathWeasel's HS2_AnimationController (superceeded)
Removed DeathWeasel's HS2_Demosaic v1.1 (superceeded)
Made Marco's AI_BetterAA preapplied again
Honey Select 2: Libido R4
Applied honey2_03_vr
Applied honey2_01_plus_0807F9Vc_all
Updated BepInEx to v5.3
Updated BepInEx.MuteInBackground to v1.1
Updated HS2_BepisPlugins to R15.3.2
Updated IllusionFixes HS2 to v14.0
Updated IllusionLaunchers to v2.1.0
Updated XUnity.AutoTranslator to v4.12.0
Updated 2155X's HS2_HLightControl to v1.2.2
Updated 2155X's HS2_UnlockPlayerHClothes to v1.4.2
Updated DeathWeasel's HS2_MaleJuice to v1.2.2
Updated DeathWeasel's HS2_MaterialEditor to v2.1.2
Updated DeathWeasel's HS2_Subtitles to v2.0
Updated DeathWeasel's HS2_StudioSceneSettings to v1.2
Updated enimaroah's SB3U to v20.5.2
Updated GeBo's HS2_GeBoCommon to v1.0.1
Updated GeBo's HS2_TranslationCacheCleaner to v0.5.3
Updated GeBo's HS2_TranslationHelper to v0.9.2
Updated Marco's HS2API to v1.13
Updated Marco's KKManager to v0.13.0
Updated Marco's RuntimeUnityEditor to v2.1.1
Updated Mikke's Beaver to 20200712
Updated Mikke's GravureHS2 to 20200712
Updated Mikke's PushUpPlugin for HoneySelect2 to v2.1
Updated Mikke's Straight 2 Maker to 20200708
Updated Unknown's HS2_VMDPlayPlugin to v0.2.4
Added BepInEx.EnableFullScreenToggle v1.0
Added BepInEx.EnableResize v1.5
Added BepInEx.InputHotkeyBlock v1.3
Added 2155X's HS2_ExtraGroups v1.0.1
Added 2155X's HS2_FuckThe50Check v1.0.0
Added 2155X's HS2_MakerSearch v1.1.1
Added Animal42069's HS2_BetterPenetration
Added DeathWeasel's HS2_MakerDefaults v1.0
Added DeathWeasel's HS2_StudioCustomMasking v1.0
Added Hooh's HS2_Hooah
Added Unknown's MMDD v1.0
[applied SpockBauru's HS2 Translations v0.4.1 (bugfix)]
Honey Select 2: Libido R3.1 Hotfix
– Fixed Achievements translation
– Added Craft's HS2WearCustom v0.1.5
– Added DragAndDrop v1.2.1
– Fixed some black skin problems
— Removed [Un1imit3d] AIS_HD_Skins_190915-STN.zipmod
— Readded [Un1imit3d] AIS_HD_Skins_190915.zipmod
— Applied [Nyaacho] AI_FACESKIN_LINEAR v1.2.0.zipmod
— Modified [NYAACHO] HS2_FACESKIN.zipmod
— Added [nyaacho] FACEDETAIL v0.0.1.zipmod
Honey Select 2: Libido R3
Applied official update honey2_01_plus_0619w26K8
Applied official update honey2_01_plus_0626fEw2
Applied Paid DLC dlc_ex1_0619
Applied Paid DLC dlc_ex2_0529
Applied Paid DLC dlc_ex3_0619
Applied Paid DLC dlc_bondage
Updated BepInEx to v5.1
Updated BepInEx.ConfigurationManager to v16
Updated HideAllUI to v2.2
Updated IllusionFixes HS2 to v13.2
Updated HS2_BepisPlugins to R15.1.2
Updated XUnity.AutoTranslator to v4.11.3
Updated 2155X's HS2_StudioPOV to v1.1.1
Updated 2155X's HS2_UnlockPlayerHeight to v1.4.1
Updated DeathWeasel's HS2_MaterialEditor to v2.0.6
Updated DeathWeasel's HS2_UncensorSelector to v3.9.2
Updated enimaroah's SB3Utility to v20.5
Updated Joan6694's MoreAccessories to v1.2.1
Updated Marco's HS2_CheatTools to v2.7.2
Updated Marco's HS2API to v1.12.3
Updated Marco's KKManager to v0.12.0
Added BepInEx.MuteInBackground v1.0
Added 2155X's HS2_BetterHScenes v2.4.0
Added 2155X's HS2_HLightControl v1.2.0
Added DeathWeasel's HS2_InvisibleBody v1.3.2
Added DeathWeasel's HS2_MaleJuice v1.2.1
Added DeathWeasel's HS2_Subtitles v1.6
Added DeathWeasel's HS2_StudioSceneLoadedSound v1.1
Added essu's BepisFix for HS2 v1.0
Added Marco's HS2_BrowserFolders v2.1
Added Marco's HS2_ClothColliders v1.0
Added Marco's HS2_HeightBar v3.3
Added Hooh's Animation Pairing v1.0
Added zoodgame555bnb1's BoopPlugin v1.0.1
Removed Mikke's Character Loader Plugin due to being superceeded by Marco's BrowserFolders
Honey Select 2: Libido R2
PACK DESIGNATED MATURE ENOUGH FOR GENERAL CONSUMPTION
Applied Official update honey2_01_plus_0605d3g46
Applied paid DLC dlc_sister
Updated BepInEx to BleedingEdge 5.1.0.208
Updated HS2_BepisPlugins to R15.1
Updated IllusionFixes HS2 to v13.1
Updated XUnity.AutoTranslator to v4.11.2
Updated 2155X's AI_UnlockPlayerHeight to v1.4.0
Updated DeathWeasel's MaterialEditor to v2.0.3
Updated FairBear's HS2_POVx to v1.0.1
Updated Marco's HS2API to v1.12.1
Updated Ore's Graphics to v0.3.3
Added HS2_TextResourceRedirector v1.3.1
Added 2155X's AI_UnlockPlayerHClothes v1.4.0
Added DeathWeasel's UncensorSelector v3.9
Added Hooh's Heelz v1.12
Added Joan6694's BonesFramework v1.4.0
Added Joan6694's MoreAccessories
Added Marco's HS2_CheatTools v2.7
Added Marco's AI_QuickAccessBox v2.2.1
Added Mikke's GravureHS2 v1.0
Added yps's StudioCharaRefresh v1.0
Added connector_jp's DHH v1.1.5 as semi-optional
Added FairBear's HS2 BoobSettings v1.1.0 as optional
Added Marco's OrthographicCamera v1.1.1 as optional
Added Mikke's Beaver as optional
Added Mikke's Character Loader Plugin v1.0.2 as optional
Added Mikke's PushUpPlugin for HoneySelect2 v1.0 as optional
Added Staksor's HS2_Jiggle v1.0 as optional
Made 2155X's HS2_StudioPOV v1.0 preapplied
Made FairBear's HS2_POVx v1.0.1 preapplied
Removed Uncensor workaround
Honey Select 2: Libido 1.2
Replaced 100% save
Compressed base game, saving ca 10GB from base footprint
Added AIS Preorder extra aigirl_sexy_souki
Added AIS Preorder extra aisyoujyo_yoyaku
Added AIS DLC ai_syoujyo_miko
Added AIS DLC ai_syoujyo_sb
Added Sideloader Modpack
Added HS2_BepisPlugins R15.0
Added 2155X's AI_UnlockPlayerHeight v1.2.0
Added DeathWeasel's HS2_AnimationController v2.2
Added DeathWeasel's HS2_AnimationOverdrive v1.1
Added DeathWeasel's HS2_CharacterExport v1.0
Added DeathWeasel's HS2_FKIK v1.1
Added DeathWeasel's HS2_InputHotkeyBlock v1.2
Added DeathWeasel's HS2_PoseFolders v1.0
Added DeathWeasel's HS2_StudioObjectMoveHotkeys v1.0
Added DeathWeasel's HS2_StudioSceneSettings v1.1
Added DeathWeasel's PoseQuickLoad v1.0
Added DuDu's Frames
Added KKY's AI_ColorPanelX v1.1.0
Added Marco's HS2_BetterAA v1.5
Added Marco's HS2ABMX v4.3
Added Marco's HS2API v1.12
Added Marco's HS2_OverlayMods v5.2
Added Yue + Duck Preset Pose Pack VX – D33P
Added Ore's Graphics v0.3.2 as semi-optional (turn on in launcher)
Added 01010101lzy's HSLipsync v0.2.0 as optional
Added 2155X's HS2_StudioPOV v1.0 as optional
Added FairBear's HS2_POVx v1.0.0 as optional
Updated IllusionLauncher
Updated IllusionFixes HS2 to v13
Updated XUnity.AutoTranslator to v4.11.2
Updated enimaroah's SB3Utility to v20.4.1
Updated Marco's KKManager to v0.10.1
Removed temporary fixes (Superceeded by IllusionFixes)
Honey Select 2: Libido 1.1
Added Preorder yoyaku
Added official update honey2_01_plus_0529hhde
Added AIS Sample Data
Added translated manual by MessyMessiDown2
Added vanilla launcher and userdata to BRExtras
Added savegame from Hooh to BRExtras
Added misc extras to BRExtras
Added workaround IllusionFixes
Added HideAllUI V2.1
Added StudioGet
Added ZipStudio
Added DeathWeasel's HS2_Demosaic v1.1
Added enimaroah's SB3Utility v20.4
Added Keelhauled's GraphicsSettings v1.2.0
Added Marco's FPS Counter v3.0
Updated IllusionLauncher
Honey Select 2: Libido 1.0
-Initial Release

+ FAQ
Minimum System Requirements:
Windows 8.1/10 64bit
DirectX 11
Intel Core i3 4000 (i5 recommended)
4GB RAM (8GB recommended)
2GB VRAM (4GB recommended)
Installation:
If you downloaded the "All-In-One (R3 Base Game Repack)":
Unzip to a root folder (keep your game path simple, don't nest it inside a huge folder tree).
If you donwloaded the "Update only (R2 to R3)":
Run the exe and confirm your game path was correctly auto-detected.
Run "[BR] HoneySelect 2 Registry Fixer.bat" in your game folder.
Install "R3.1 Hotfix".
Run "InitSetting.exe" and update base game ("Bleeding Edge", "Extra Maps", "Items for Studio" and "UserData" are all optional). The update button may sometimes glitch on the first run – just close and restart InitSetting.
Choose your Resolution, "Activate DHH" OR "Graphics Mod" (optional graphic improvements) and "Activate Console" for your first run.
Warnings:
DO NOT merge contents of your old Bepinex folder backed-up by the updater. This will break your game. Move any plugins you were using to the apropriate folder manually.
DO NOT install zipmods into the root folder. R3 now uses "\mods\MyMods". This will insure future updates work as intended.
Feel free to zip-up and move the UserData backup made by the updater. This step insures you have something to roll-back to if something happens to your installation. It is advised to do your own back-ups regularly.
Optional Sideloader Modpack:
Contains multiple assets for animation in StudioNEO. Not relevant to those interested in just playing the game.
Unzip to your "mods" folder.

+ HS2 Guides (Studio Neo/CharaMaker/Plugins/Tools)
This Guide Thread is for:
To encourage those who never attempted to use the studio due to lack of information and tutorials.
To help the community learn the studio & tools more and provide guidance if needed.
To help the creative users, developers who use the studio to create and export assets for their games and projects to achieve better results.
To help people who are interested in this topic access the materials they are looking for more easily in a single place.
To follow future updates, changes, studio plugins, mods and how to adapt to them.
All are welcome to create or share their own guides in the thread linked above.

Download from [File Boom]
Download from [Tezfiles]