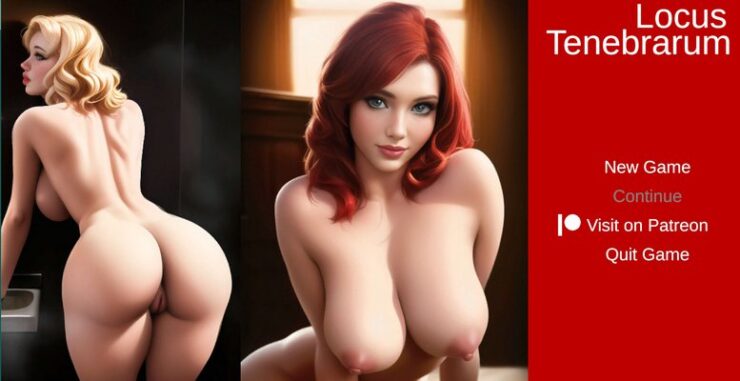 Release date: 13 November, 2022
Genre: 3d game, point and click, male protagonist, teasing, adventures, fantasy, big ass, big tits, vaginal sex, oral sex
Censorship: None
Platform: Windows, Linux
Version: Locus Tenebrarum 2022_11_13
Language: English
File size: 211 MB
About game:
Locus Tenebrarum is a lewd 3d adventure game set in the unseen world that surrounds us. Vampires, witches, demons, and other terrifying creatures lurk in the shadows unseen.​..
+ Changelog
2022_11_13
I know it's only been two days, but the game got a bunch of new players in the last few days (super exciting), and that came with a lot of feedback.
Here are the highlights:
* Resolution and window mode settings, with support for a number of aspect ratios. Note that very wide aspect ratios are a little rough because the environments aren't that wide. The game should be playable, though.
* Settings are now saved in PlayerPrefs instead of the save file. This was just dumb on my part. Now you can load an old save without getting your old settings brought back with it.
* There's now a dedicated slider for the "chatter" volume (the sounds when characters talk). Someone asked me to remove the chatter altogether, but I actually love that feature, so this felt like a good compromise.
* Continue button is now disabled on the start screen unless you have a saved game. This was another goofy oversight on my part. I'm moving so quickly on this stuff, and sometimes dumb mistakes happen since I'm working alone. I appreciate everyone's patience on this. We'll get these growing pains ironed out soon.
* UI has been reworked to behave better on ultra wide resolutions. It's not gorgeous, but menus should no longer clip off the screen.
* Images now crossfade, which adds some polish to the VN scenes in Locus Tenebrarum.
* The start screen has been given a graphical overhaul. Some people on Reddit had very strong negative feelings about the appearance of the old start screen, so it's been re-done. I dug into some UI animation tools that I haven't used before, and I think the results are decent. I may work these into the rest of the UI over time.
2022_11_11
After nearly a month, I have a big release to announce! Here are the highlights:
* New save/load system so you can resume from your last session. This took a ton of work because I'm building out all of the core systems of the game myself, and I would expect some bugs to crop up for a little while. We'll get them ironed out over time.
* New introduction to the game. As I mentioned before, the previous versions didn't start at the beginning of the story. That's been resolved, and there's now a sequence at the beginning that explains the backstory.
* All of the narration text has been re-written. This was very time consuming, but worth it. Instead of using second person present tense (which is common in choose your own adventure novels and interactive fiction), I've switched to a first person past tense perspective, which is more common in novels. This allowed me to add a lot more detail to scenes, especially the lewd scenes. I think you're really going to like this change.
* Dream fragment #2 has been expanded and split up into smaller pieces to make it easier to get to parts of it. This also gives you more things to search for in the world. There are 9 completely new images.
* Part 1 of fragment #2 is now available to free players
* Many existing images have been reworked and improved.
* There's an intro screen when you start the game. It's a small thing, but it feels a lot more polished than launching straight into the game.
* Numerous bugs have been resolved involving interacting with things while various dialogs/menus are being shown.
* More settings! Now you can set the volume of music and sounds, along with the speed of the text. These settings are included in your save file and should be restored when you load from a save.
* Improvements to the debug console in Locus Tenebrarum.
* You can hit escape to dismiss the settings menu (a small thing, but not doing it really irritated me)
* Fix bug with gallery where you couldn't view the same image twice in a row.

Download from [File Boom]
Download from [Tezfiles]