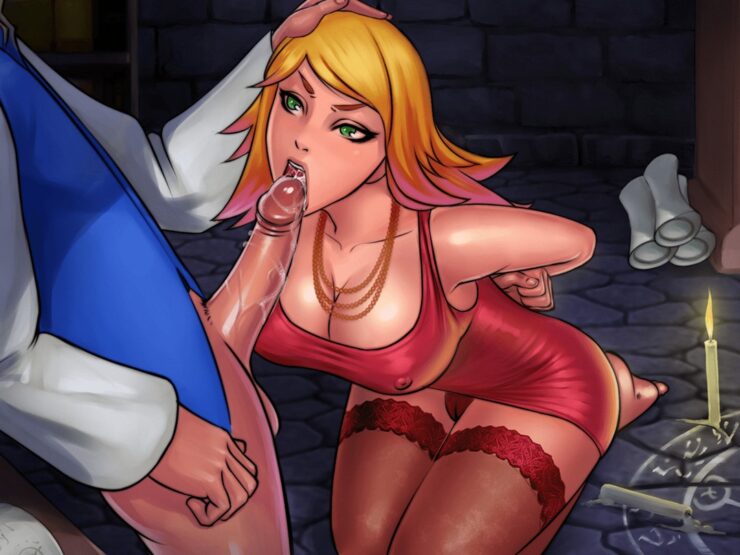 Release date: 9 July, 2023
Genre: Adult game, jRPG, Adventure, Big tits, Yuri, Fantasy, Oral sex, Tentacles, Anal sex, Group sex, Hardcore sex, Titfuck
Censorship: None
Platform: Windows
Version: Roundscape: Adorevia 6.0A Full + Guide + Gallery Mod
Language: English
File size: 3.81 GB
About Game:
Roundscapes: Adorevia is a new erotic fantasy game brought to you by Kaliyo and the Red Dakkar, smut author extraordinaire! The world of Adorevia is one frought with danger, but also adventure for those brave enough to seek it. Walk the lush forests, see the magnificent dwarven city-states, and help stop a terrible threat that could spell doom to countless innocents as you head out on your quest! Of course, along the way, you'll find other brave souls willing to share in your adventures, and perhaps, your bed.
The Game will feature the chance for players to indulge in their fantasies. Rich, detailed written encounters will be coupled with exclusive pictures from mouth-watering artists to help bring the scenes to life. Combined with a variety over ten companions, Roundscapes: Adorevia will have something for just about everyone to enjoy.
The continent of Adorevia, at first glance, is a peaceful and geographically diverse land, populated by an eclectic exotic mix of races and creatures, ranging from the beautiful – but deadly – Sirens that roam the open coasts; to the futanari race of the Nexilim, whose very culture revolves around their constant lustful needs. We want to empower the player with as much choice as possible, allowing you to choose your gender, class and heritage, as you embark upon an adventure that is both epic in ambition, but profoundly personalised in execution…
+ Changelog
v6.0A
Fixed:
– Issue where the PC had the wrong gender during the Origin
– Teleport to wrong location when leaving Perk Menu
– Made origin enemies a bit weaker
– fixed gallery teleporation tevent
v6.0
New Companion: Camilla
Recruit Camilla, the mature druid, at the very start of Act II of Roundscape Adorevia.
We've spent a lot of time creating many fun scenes for her, custom encounters and dialogues across Adorevia and of course her own personal companion quests.
New Origin: Wizard
Start your journey as a young mage at a wizard academy. Featuring several new, fun characters and lots of new scenes as you progress through this new and magic storyline.
New Area: The Grasslands
Visit and explore the eternal grasslands. Help the wild folk of Tesa to solve a conspiracy and become friends with many exotic new characters: Centaurs, Minotaurs and Goblins. Features several new erotic scenes for both genders.
New Storyline: The Golden Tower
At the start of Act 3 you will be invited to the Golden Tower, where the sun elves reside. Help them solve a magical mystery and gain entrance to one of the most exclusive locations of Adorevia. Features several new erotic scenes for both genders.
New Ending: Outlander
You're a fan of Emek's Rest and Minotaurs? We've got a whole new route and ending for you. Let everything behind you: War, Politics, Gods and find peace beyond the sea, in the wild lands. Features new erotic scenes for both genders.
New Ending: Ascension
Help Mayla in her quest to regain her powers. There are souls that are waiting for you to be absorbed. Will you join her on this journey? Features several new erotic scenes for both genders.
More Features and Additions
Resolution upgrade
(From 900 x 600 to 1600 x 900)
Combat Rework
New World Quests
New Origin Quests
New Companion Quests
Many new CG Scenes
Dozens of new Items
Main/Sub Class Feature for the Player Character
New Classes
Reworked Character Creation
Perk Tree Expanded
Each Origin start with a unique Class
Reworked Art for older scenes
UI Reworks
And more…
v5.6
New Quest
Join Kara in her final fight against the mysterious demon.
Features two new CG Scenes. Kara can be found in the Castle Garden.
New Path
A new Storyline has been added for the Farm Origin. This one is highly optional and triggers during Act 3. Features three new CG SCenes.
New Encounter
A new sexy encounter with Meredith being pushed by our Succubus. Features a new CG Scene. Triggers in the Jail after experiencing the Succubus Scene with her summons.
New Brothel Scene
A new brothel Scene exclusive for the Noble Origin. Requires to have at least three hired girls.
Valor Gem Rework
All Faction NPCs in the meeting room now feature a shop. Each NPC offers one Class you can buy.
Valor Quests
Mini Quests you can get after Act 1 from the Meeting Room Map. Each Quest grants three Valor Gems
New Class: Samurai
A heavy-hitting class with a focus on evasion and counter states.
New Class: Paragon
A heroic class with a focus on team buffs. Switch between four passive auras.
New Class: Arcanist
An allrounder magic class. Use all four elements to your advantage.
New Class: Reaver
A dangerous melee class. Take damage to cause massive damage.
New Items in Roundscape: Adorevia
Many new legendary Items have been added to the game
Legendary Orbs
Eight legendary orbs have been added to the game. Their drop chance is pretty low but they grant massive boosts.
Visual Improvements
Small visual improvements have been made to several maps such as the player castle, the desert of Ornesse, and more.
v.5.5
New Questline: Rebuild Oakshire with the help of Irvok. To start the questline you need to be in Act 3 and talk to Irvok in Slinsk.
Gessa – The Innkeeper: Can be recruited in Valorn and comes with a new adult scene for male PCs
Kaelee – The Enchantress: Can be recruited in Summeredge and features two new adult scenes
Zhah – The Healer: Can be recruited near Emek's Rest and features one new Adult Scene.
Recruit several characters for important positions in Oakshire: New ones and someone you've probably met before.
Valerie returns: The fan favorite from Act 1 returns but there's a twist. Valerie comes with three new adult Scenes.
Valerie features two paths to chose from for male PCs.
Lots of new Items: The new NPCs you can recruit offer a several new, very powerful items.
Fixed a whole bunch of bugs:
No more wall of fire in the mansion blocking you.
Fixed an issue where a sigil in the mansion blocks a NPC route.
Fixed an issue where dialogue would loop in the Summeredge shop area.
Fixed an Issue with looping dialogue during a Zent exclusive encounter.
Fixed CG Art position for a specific Succubus scene
Fixed the "Two Merediths" Issue at a castle location
Fixed Astafa disappearing when instead her CG scene should start
And many more smaller fixes in Roundscape: Adorevia
v5.4
One new location added to Summeredge: The Broadfield Mansion
Four new NPCs added to Summeredge.
One new Sidequest and four encounters featuring the Broadfield Family, this sidequest leads you to a mysterious new plane where you'll have to choose between two paths.
Six new erotic CG Scenes. Two for each gender and two shared scenes.
New Class: Void Knight – Somewhat of a dark counterclass to the Paladin. A strong tank with some good selfbuffs and heals.
Fixed Issue where you would get stuck during a specific Succubus Scene
Fixed Issues with sprites having the wrong z-layer
Fixed Issue with the Oakshire section of the gallery
Fixed some typos and smaller issues with the gallery
v5.3B
Bugfix
v5.3
New Brothel Character – Hire an exotic Nexilim from Ornesse for your brothel. Includes a new CG Scene for both genders.
New Brothel Character – Hire a feisty goblin for your brothel. Includes a new CG Scene for both genders.
New Brothel Character – Hire a curvy minotaur for your brothel. Includes a new CG Scene for both genders.
New Brothel Character – Hire a… secret character? Includes a new CG Scene for both genders.
Fiery Fun – Two new CG Scenes for Male PC with Veronica
Radiant Quests – Complete radiant quests and gain Persuasion Power and Brothel Reputation in return.
Lady of the House – A new Event/Quest for when your brothel reaches max reputation. Includes a new CG Scene for both genders.
Gallery unlock – You can now unlock the gallery scenes by providing certain Items.
And of course a lot of smaller stuff that improve the immersion and soul of the brothel.
Bugfixes
– Fixed a bug where Meredith would disappear after her pregnancy
– Fixed several Gallery bugs, we're not all there yet but the gallery will be soon completely polished
– Fixed several smaller issues such as stuck parallax graphics and typos
v5.2
Player Brothel – You can now visit and manage your own brothel. The brothel is consideren mid/endgame content. Upgrade your brothel and hire new characters to rise your brothel's reputation level!
Your brothel comes together with several new characters, including Veronica who'll help you manage your new location!
Hire several characters – Five different characters you can recruit and we'll double that number with the second brothel update in february! Four of them can be recruited by all players, one of them is exclusive to the farm origin.
Sexy time – Of course every brothel characters comes with their own erotic scene. But there's als one additional erotic scene per gender, so seven in total.
Some of those scenes have variations and one new character has two different paths to chose from. Will you obey madame Veronica or try to show her who's the boss?
Fixes – We've fixed several bugs related to the questlog, especially in act 2. No more confusing "go to sleep" journal entries. We've also added new hints to locations to make progressing Act 2 easier.
v5.1
10 New CG Scenes, new events & a lot of bug fixes
v5.0
Hey folks!
Tilan is finally here, we hope you enjoy the storyline we've crafted for Roundscape.
What begins as a simple request for help from a Queen may turn out to be the Hero's most dangerous adventure yet.
12 new kinky CG Scenes have been added to the game
55 new Pictures including variations
Tilan has been added to the game
Explore Tilan and experience a whole new storyline featuring new characters.
Featuring 10 new CG Scenes, many new maps and a large dungeon.
Gallery Rework We've updated the Gallery with help from redknight, it's still not finished and completly perfect but we're getting there!
New CG Scene with Meredith Enjoy a new fun scene with Meredith in Act 2 of Roundscape. Features an optional Path if you're good with Tishtyra.
Natalia the Witch has been added for female PCs featuring a new erotic CG scene of course.
Many new Items have been added to the game, including new orbs and spheres which help you to boost your HP. Great for tank builds.
Tilan features…
Seven CG Scenes you can unlock through Tilan's mainstory.
Five for male PC and four for our female player character.
An aftermath Sidequest featuring three new CG scenes. One per gender and one shared CG Scene.
A new fun, temporary companion.
19 new Maps including new enemies, puzzles and more in Roundscape: Adorevia.
v4.8
New sexy encounter featuring Meredith and her elemental spirits! Includes a new adult scene for both genders.
New encounter with Katelyn in the Whitemoon Ruins including a new erotic scene for male player characters and an optional branch for those who are in good terms with Clawyn.
New adult scene for female player characters and a certain castle companion. Triggers when going to bed in your room.
Visit Galhart and his wife in Novos for a new encounter including an adult scene for male player characters.
New Encounter for female player characters who have chosen the farm origin. Requires Katelyn! Visit the Slinsk Pub to trigger it.
Throne Hall customization is back! Choose one of seven designs to customize your castle
Throne Events! Seven small events added in which you have to make decisions regarding the land you reign.
Select an Advisor to be granted bonus affection when choosing specific replies during the Throne Events.
Quick saving! Press F5 to save anytime. We'll add a visual indicator next patch. We've also locked the first two save slots (Auto & Quick) so you can't override those on accident.
And of course a few bugfixes and QoL changes.
v.4.7a
New Sidequest featuring Kara! Includes two new adult scenes, one per gender. You can find Kara in the elven forests.
New adult scene added for male player characters to the Slinsk barracks! Since we've felt that place was a bit empty for our male hero.
New erotic scene added for Xyless and Roderick. Available for both genders and can be found in the castle.
New and final companion quest added for Galhart including a new castle npc and two new erotic scenes for the male player character.
Whitemoon Abyss added to the player castle. Fight the hardest enemies you can encounter in the game and and unlock unique rewards in return.
Several new items have been added to be found in the world or inside of crystal cores.
Dragon Sidequest has been fixed and will no longer be stuck in a loop.
Castle Defense system has been fixed and will no longer change its difficulty unless you decide so.
Several smaller bugfixes and QoL changes
v4.6
Glory and Holes
Five new sexy scenes in Roundscape: Adorevia have been added to the abandoned quarters in Castle Whitemoon. Three for our male protag and two for our female protag.
Featuring: The Succubus, Zeyga, Felicia, The Minotaur Blacksmith and some dude.
Slimy Intruder
Here's the scene you voted for a few months ago! A new CG Scene for our female protagonist featuring: Slime!
Orc Gang Training Bang
Catch Felicia training your orc guards together with a special guest. Available for both genders.
Wakey, wakey.
A new erotic scene with our succubus and the male protagonist. You folks voted for her in the companion poll and we deliever.
The Duke
New Aftermath Encounter for the female protagonist after Meredith's CQ in Oakshire.
Dark Elf Secrets
New NPC added to castle whitemoon including a new erotic scene for our male protagonist.
Reunion
When you visit certain Farm and Noble Origin NPCs with Katelyn in your team, special events may occur including a new erotic scene for both genders.
Roundscape: Adorevia Bugfixes
Zent CQ Sestria Path fixed
Barrel Quest in Valorn fixed
Vesunna Questline fixed
Caelan Sprite no longer shows up before you recruited him
Kraken Fight in Vesper's Booty fixed
Tish Tent scene fix when you decline her offer
Several typos and combat bugs fixed
v4.5
New Quest – Vesunna
Defend the city of Vesunna from an undead invasion! Includes four new erotic scenes! One for each gender and two for both!
Roundscape: Adorevia New Quest – Soldier Origin Finale
Infiltrate an orc fortress by being disguised as one through Illusion magic! Will you be able to minimize causalities before Summeredge takes over it? Includes three new erotic scenes!
New Encounter
Go for a drink with Ruksana at the Summeredge Pub. Includes one new erotic scene for male player characters.
Roundscape: Adorevia New Encounter
Take Ruksana's love for chains to a new level in the interrogation chamber. Includes one new erotic scene for both genders.
New Encounter
How about some quality time with Meredith? One new erotic scene for male player characters with Meredith at the Castle Whitemoon Inn.
Roundscape: Adorevia Reworked Scenes
We've reworked the whole first erotic scene between Meredith and the male player character! We've also reworked the dialogue for the first erotic scene between Ruksana and the player.
Combat Variety
We've added many new skills to enemies, making combat more fun and dynamic.
Oppai Sprites
Yes, we've added bouncing parts to some character sprites. It had to be done.
Roundscape: Adorevia Bugfixes
Ruksana's unleashed attack now deals damage as intended
Emek's Rest Epilogue during the ending now shows the proper ending you got.
The search for evidence quest is now shown as completed in the quest journal when you've actually completed it.
The Rulwe is no longer a locked companion after its companion quest
The Team Size is no longer locked at 2 after Mayla's Quest
Several new quests added to the quest journal
Several Typos and mini bugs fixed

+ Gallery Mod
– All scenes are now visible at the gallery.
– All scenes can be unlocked with the 'Unlock All' button.
– A new more organized menu.
– Support for gallery from the menu.
– Click-to-unlock feature.

+ Cheat Codes
1700 – Super Speed
1819 – Gold
2931 – Skip Combat Skill

Download from [File Boom]
Download from [Tezfiles]