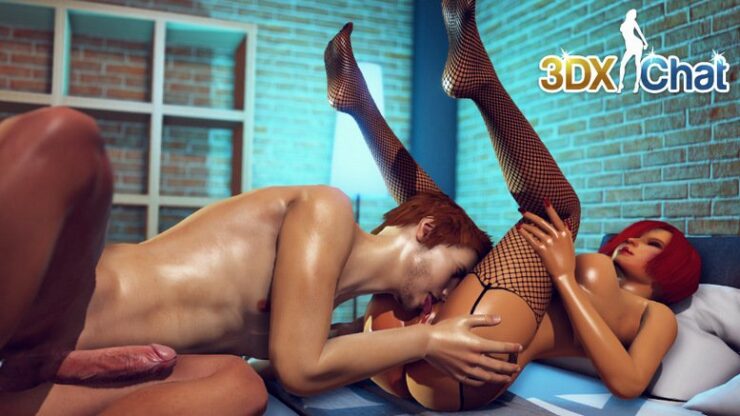 Release date: September, 2020
Genre: Simulator, Erotic adventure, Seduction, Masturbation, Big tits, Oral sex, All sex, Anal sex, Group sex, Lesbians
Censorship: None
Platform: Windows
Version: 3DXChat 1.0.1 Update 2 (Multiplayer) + Build 339/390 + Offline MOD + Meredian v57
Language: English
File size: 2.05 GB
About game:
3DXChat is the web's newest downloadable interactive game strictly made for adults who want to connect and feel a unique sensual experience in the virtual 3D world of gaming. Looking for hot 3D virtual sex with a real partner? Chat, date and enjoy lifelike 3D sex. Enter the world where all your secret desires come true, where you can be anyone and where you can do anything you want.​..
+ Gameplay:
Left-Click on a spot on the floor to move your character there.
CTRL+Left-Click on a spot on the floor to move your bot there.
Right-Click (Holding) moves the camera and the view point.
1 – Makes the character moan, not only in sex mode
CTRL+1 – Makes the selected bot moan, not only in sex mode
2 – Makes the character ejaculate / squirt (cum), only active in sex mode
CTRL+2 – Makes the selected bot ejaculate / squirt (cum), only active in sex mode
ESC – Open/close Menu
F1 – Settings
F5 – Free Camera
F6 – 3rd person camera view
F7 – 1st person camera view (good for VR)
SHIFT+O – Oculus Rift mode on/off
SHIFT+Z – Hide/show user interface
SHIFT+C – Hide/show mousepointer

+ Features:
Characters~unlimited
2 Ways to have more characters(bots) to play with:
Way 1:
1*Go to the folder saying "SPD25".
2*Go to the folder saying "Characters".
3*Copy a file and rename it with another name but keep in mind, that it should look like something like that => f-bella.character (NOTICE* "f" is for female and "m" for male and there should be always an "-" between the gender and name).
4*(IMPORTANT*)The new characters can be find in the friend list but cannot be selected in the character menu.
Way 2:
1*Make another account.
2*Create new characters there, but do not forget your others account email and password! 🙂
3*(IMPORTANT*)The new characters can be find in the friend list but cannot be selected in the character menu.
Money unlimited
All created characters by you (first you start with 0) are in the list of friends, they can be added to the location. (You need to have more than 2 already created characters to work).
On the profile page, buttons to add or remove a friend and it translates to ~ add or delete a bot (which is the character you made) to the scene.
To control the bot, you need to choose it as a partner and hold down the Left Ctrl key, when you want to use the bot. Sit, lie down, dance, posture, etc., also work through the Left Ctrl. If you use the Left Ctrl + Left Shift key combination and click on a dance for example, then your character and all the bots (which you have as partners) do the selected action simultaneously (but you need to have already 3 maded characters and to add them and to make them do what you want).
The bots wardrobe management has been adjusted; to do this, with the Left Ctrl key held down, click on the Clothes button (right below) to open the wardrobe of the selected bot.
In the character menu, buttons to dance, hug and kiss (Slowdance, Cuddle, Kiss cheek) for bots also work (all through the same Ctrl).

+ Changelogs
Update the 339 version:
Added a mod from Ezekiel, features:
• /ignore NAME – add player to ignored users list. Type the nickname as it is, with spaces and stuff. Don't forget that you can also copy-paste nicknames from the chat
• /unignore NAME – remove player from ignored users list. Same rules for NAME apply as in previous command
• /ignoredlist – list ignored users
Appearance presents (only work in Character Editor):
• /asave [NAME] – save appearance present. You can omit the name, in that case name of the character will be used.
• /aload [NAME] – load appearance to current character. Same goes for the name as in /asave. Don't forget that you can copy present names from /alist
• /alist – list stored presets
Chat:
• /playerlist – display list of players in the current room. Useful in case if you don't know who's invisible due to server bug. You can interact with the user by right-clicking his nickname
• /pm NAME – open Private Message tab with the user. Type the name as-is, with spaces and such
(build 390)
fix slowdance
Fixed a bug with solo poses after switching to another location, if at the time of the transition your character was busy with carnal pleasures.
The Left Ctrl + G shortcut has been removed as unnecessary (use the standard Left Shift + Z).
3DXChat Client – build 390

+ Installation 1.0.1 (Multiplayer)
3DXChat REGISTER
http://194.58.69.116:8085/#signup
Installation:
Register in site
Extract archive
Launch 3DXChat
Enter your e-mail and pass and Play

+ Meredian version:
The game is completely disconnected from the Internet (except for the radio).
The mailbox is entered only in order to identify the local user (whether it is real or such:
[email protected]
), and the password does not matter at all.
This is only an offline version of the game, but you are still able to play with bots ~(characters made by you) and to have alot of fun!
These so called bots could be found at your friends list.​
Download from [File Boom]
Download from [Tezfiles]