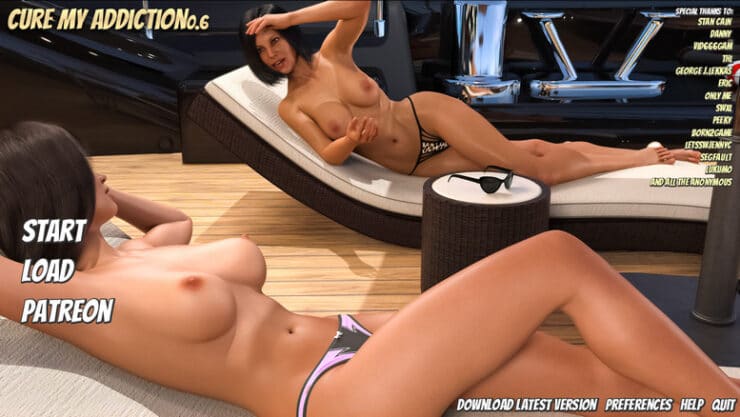 Release date: 10 June, 2021
Genre: 3DCG, Male protagonist, Oral sex, Vaginal sex, Humiliation, Male domination, Spanking, BDSM, Voyeurism, Lesbian, Anal sex, Female domination, Group sex, Incest, Milf, Interracial
Censorship: None
Platform: Windows, Linux, Android
Version: Cure My Addiction Chapter 1-4 Full + Walkthrough + Chapter 5 Episode 1c + Walkthrough
Language: English
File size: 4 GB | 1.1 Gb Chapter 5

About game:
Since your parents found out that you're spending way too much time watching porn they decided to take action and do something about it. Finally, they come to the conclusion to send you on your Uncle yacht without a phone, TV and computer. You're not sure what happened, you didn't see your Uncle for many years, your mother and him rarely talk to each other…
+ Changelog
Patch D
Update one event name to fit in the GUI
Removed the "repeatable" menu after reaching a certain point in the story, it was confusing some players
Fixed one star in "The Perfect Bride"
Added a score indicator after all "test dialogue", this score is required to see additional content or alternative ending in this episode.
Fixed a few crash
Disabled the phone to invite people over.
Fixed an ending issue on the first Amy scene.
Patch C
Fixed skip a day button (it was only resetting the day :facepalm:)
Added missing stars for Chloe's event
Reworked optional content hints
Fixed a potential crash
Patch B
When doing the story in a specific order it was impossible to progress.
Fixed a crash
Ch.4 Episode 3
Patch Note:
2200 Renders
Story progression, big step, lot of revelations.
1 Rachel scene
1 Chloe PoV scene
1 Amy interactive scene
1 Emily interactive scene
1 Chloe, big interactive scene. Multiples clothes, actions, ending,…
1 Amy, big interactive scene with many animations.
1 Emily, big interactive scene. Multiples clothes, actions, ending,…
Ch.4 Ep.2 patch B
1 Interactive spanking event. 4 positions, 4 Outfits, 2 Implements, 3 Intensity, 4 endings (2 special).
3 "Favorite Girl" events that are only possible when Chloe, Emily or Amy is your favorite girl.
2 Events with Sophie, you guys voted for it in November and here it is!
1 "Mysterious" event about your work for the company.
1 short scene with Seo-yun as a poll result of November.
Animations are back for two event.
1200+ renders needed for the update
Ch. 4 Ep.1C
New chapter
Chapter 4 doesn't require your old save. Just start a new game.
One new location has been added. [Poll Result] Added missing portrait of the representatives and the reception clerk .
Updated GUI
Updated Tracker GUI and added functionalities (track all, untrack all)
Lots of new idles of Emily and Chloe living in the penthouse.
New punishment reason for Chloe and Emily to reflect the current situation.
New babysitting starting condition, it's not possible if Chloe and Emily are at home.
1 punishment event for Chloe, it has one main scene and 2 additional small scenes.
1 more event for Chloe, it has 2 different scenes.
1 event for Emily with 2 main scenes.
1 event with Chloe, Amy and Charlotte. It's a multi steps event with a lot of small scenes to find.
1 event with Sophie. 1 main scene with 2 possible extras. Also has a small femdom scene (optional).
Ch.3 Ep.11 A
Added an improved punishment for Chloe
Added new scene for the babysitting event.
Added an event with Sophie
Added an event with Sophie and Charlotte
Added an event for Rachel, this event has 2 scenes possible.
Added an event for Emily
Added an event for Amy
Added dialogues regarding the "Dare" event situation.
Added a series of talks regarding Uncle and the family.
Contract negotiations are back in a new, simplified version
Enabled representatives call (not much use right now, but it gives you a preview of their personalities).
Improved some transitions with the guest mechanic.
Fixed reported bugs and typos.
Episode 9
– 5 New scenes
– 1 Animated scene
– 1 Improved tracker
– 2 Bonus hidden alternate scenes (not counted in the 5 scenes above)
– Reworked some office events to fit the story progression.
Episode 8
If you went back on the yacht during last episode, you'll need to go back on the island to start this episode.
Added an anal scene when sleeping with Rachel.
Added a scene with Susan when sleeping with her (2 ending possible).
Enabled Susan's deal when finding a rare seashell.
Added Amy's scenes when sleeping with her (3 different scenes possible).
Added 1 spanking event with Amy.
Added an event which will properly end the Island trip. This event is huge with 8 different scenes.
Patch B
Fixed some reported typos.
Rachel was repeating one dialogue every time you were talking to her in some, it has been fixed.
Episode 7B
Removed all RNG to unlock stars
Reduced the probability to have a useless items while searching (20% now).
Increased the probability to find seashells
Some traits requirements have been lowered for a smoother progression.
Added a lot of talks that serve multiple purposes (hints, story progression, character progression)
Reworked the island tracker, actions are stacked by events. Also improved tooltips.
Episode 7
7 new events, most of them have multiple alternate scenes.
New island trip with a fully reworked island (4 locations, many idle).
New sleep mechanics on the island : choose with whom you'll sleep.
Added a search action on the island, the notebook has been replaced with a bag (inventory).
Fixed reported bugs and typos
Cure My Addiction Episode 6
1 Linda event
2 Emily event
1 Chloe/Linda event
1 Rachel event
1 Susan event
Added all missing scenes to the tracker
Fixed reported bugs
Patch B
Fixed reported stars not working properly
Patch C
More fixes for the tracker
Ch. 3 Ep. 5d
Added 5 new events
Some old events have updated dialogue now that Chloe and Emily know about each other
Now every interaction you have with an NPC falls into different categories (repeatables, quests, actions)
Fixed several issues and bugs
Ch. 3 Ep. 2b
7 New events in Cure My Addiction.
One of the new events in an "interactive" spanking event, I had many requests for it, let me know what you think about it ;).
Major developments in the story about Chloe and Emily.
Added a gallery with all the scenes available in the game, the button to open it is available in the top right corner of the screen.
Added old (Chapter 2) events to the tracker for new players, still missing some, they'll be added later.
Default settings for the tracker are set to avoid spoilers (blurred action name and thumbnail).
Added new dialogues for Amy rewards and punishments to reflect her improving behavior.
Added a 'swim' button, it has a few outcomes, it's the first player action to come back, more to come in future updates.
Fixed reported bugs.

Download from [File Boom]
Download from [Tezfiles]