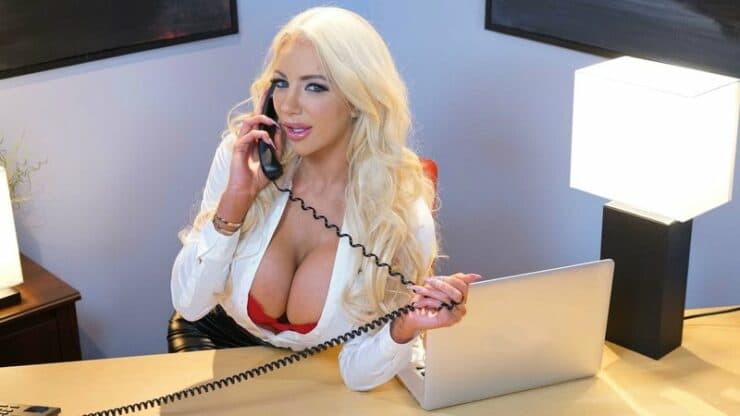 Release date: 16 September, 2023
Genre: Real porn, Male protagonist, Text based, Anal sex, Corruption, Creampie, Group sex, Humiliation, Male domination, Oral sex, Vaginal sex, Simulator, Animated
Censorship: None
Platform: Windows, Mac, Linux, Android
Version: Favorite Teacher 1.14
Language: English
File size: 3.29 GB
About game:
Play as a newly hired Biology teacher who desires to corrupt his fellow teachers, neighbours and his students. Seduce scores of women, from your sexy neighbour right up to the principal of the school. Work, Corrupt and fuck to become everyone's Favorite Teacher…
+Changelog
v1.14
-remade Olivia branch
-added Olivia's quests
-added Sophia's quests
-added Sophia's events
-fixed bugs (Hannah appearence, Angela kitchen time bug, Lexi's home bug, attributes updates bug, etc)
-fixed text (Angela's can, cafe)
v1.13
-added Autumn quests (Monica help's storyline)
-added Olivia's quests
-added laptop back (Susan)
-added webcam event
-fixed bugs (typo and backs)
v1.12
-added Lily's quest
-added Camilla's quests
-added Bella's events
-added laptop backs (Camilla, Lily, Olivia)
-fixed bugs (Angela path reworked, fixed cycled Internet event, etc)
v1.11
-added Angela's quest
-added Angela's bath events
-added Autumn's quests
-fixed bugs (Angela's bath, discuss quest, Monica text, etc)
v1.10
-added Autumn's quests
-added Clara's events
-added laptop backs
-rework and update Autumn's story and tips
-fixed bugs (Veronica and Lexi missing pics, laptop bugs, etc)
v1.09
-added Linda's quests
-added school's events
-added laptop customization
-update Lucy's tips (sport bottle, tracking gym visit, etc)
-fixed bugs (Lucy and Sophia at their offices, bus stop bug, etc)
v1.08
-added Naomi's events
-added Fiona's events
-added Amber's quests
-added home random events
-fixed minor bugs
v1.07
-added Angela's quests
-added Angela's events (tennis, yoga)
-added tennis court location
-added Bella's events
-added Olivia's events
-fixed Angela lunch bug, background bug, etc
v1.06
-added Angela's quests
-added Amber's events
-added Bella's events
-added Lexi's events
-added Veronica's events
-added star list (laptop)
-fixing bugs (Angela quests,Angela's at home, breakfast, etc)
v1.05
-added Angela's events
-added Olivia's events
-added schedule for some characters (Olivia, Camilla,Angela)
-updated Clara's storyline (path of lie)
-fixed Angela's schedule issues
-fixed Lucy's backs issues + some gym quests
-fixed Bella's storylines bugs + backs
-fixed and updated Clara's and Sophia's tasks
-fixed Amber's quests issues
-other bug fixes
v1.04
-added Veronica's events
-added Lucy's events
-added Clara's events
-added new location and events
-fixed minor bugs
v1.03
-remade and updated interaction system (Angela)
-added Angela's events
-added Angela's quest
-added new interaction possibilities
-added random events
-fixed minor bugs
v1.02
-added Monica's events
-added Monica's quests
-added Veronica's events
-added Lexi's events
-added webcam event
-fixed bugs (girl's tips bug, Camilla's store bug, etc)
v1.01
-added Monica's quests
-added Clara's quests
-added Amber's quests
-added Camilla's quests
-fixed bugs (Angela's interaction bug, broken links, etc)
v1.00
-added school control system(skills, staff control, clubs, programmes, etc)
-added school events
-added Monica's events
-added Clara's events
-added Naomi's events
-added Amber's events
-added Lexi's events
-added new locations
-fixed bugs (bedroom, webcam, etc)
v0.99a
-added Angela's quests
-added Linda's quests
-added Camilla's quests
-added Sophia's event
-fixed bugs (pharmacy, mall, tv, typos, etc)
v0.99
-added Angela's quests
-added Clara's events
-added bar's quests
-updated all scenes play in gallery for every character
-fixed bugs (Camilla's quests, Linda's quests, biology exam, live with Monica bug, etc)
v0.98
-added Angela's quest
-added Fiona's quests
-added brothel'events
-added webcam's events
-reworked and remade Angela's tips
-added material to the gallery
-added saves vault
-fixed gallery issues for scene play (Clara, Angela, Veronica)
-fixed bugs (Angela's bugs, gallery bugs, tips bugs, etc)
v0.97
-added Sophia's quests
-added Fiona's event
-added park's event
-added webcam's events
-fixed bugs (Sophia quest's bugs, etc)
v0.96
-added Camilla's quests
-added Sophia's quests
-added Bella's quests
-added school's events
-updated gallery's features
-fixed some bugs (Bella and Clara's issues, etc)
v0.95
-added Camilla's quest
-added Fiona's quest
-added school's events
-added street's events
-fixed bugs (park issue, etc)
v0.94
-added Monica's quest
-added Monica's event
-added Clara's quest
-added Clara's event
-added Lucy's quest
-added Lucy's event
-added few Johan's quests
-added weekend's event
-fixed bugs (text bugs, Lucy's quest bug, broken links in library, etc)
v0.93
-added new Monica's quest
-added new Naomi's quest
-added new Lucy's quest
-added new events for Lucy
-added new events for Naomi
-added new events for Lucy
-fixed bugs (glory hole, Clara's upset bug, Bella's circle bug, etc)
v0.92
-added gallery for characters (Susan, Olivia, Linda)
-added gallery events
-added Susan's quest
-added Sophia's quest
-fixed bugs (basketball issues, qualification, store issues, etc)
v0.91
-added gallery for characters (Lucy, Jerry, Jane, Fiona, Bella, Amber, Autumn, etc)
-fixed some gallery issues for Veronica and Monica
-added and reworked Amber's quests
-added Bella's events
-added Jane's quest
-fixed bugs (qualification trouble, bench, etc)
v0.90
-added gallery for characters (Clara, Angela, Lexi, Monica, Veronica, Naomi)
-added Veronica's events
-added Naomi's quests
-added Clara's quests
-added Monica's quests
-added Lexi's events
-added few random events
-fixed bugs (beach , cafe, compability troubles, etc)
v0.89
-added Jane's quests
-added Bella's quests
-added police quests
-added random events
-remade tips system completely (Bella, Jane)
-remade time schedule events
-fixed great numbers bugs (overflowing bars, search photos, school system, qualification, time bugs, dead ends, etc)
v0.88
-added Jane's quests
-added Lucy's events
-added Veronica's events
-added Monica's events
-added Lexi's events
-fixed bugs (broken links, typos, some dead ends, etc)
v0.87
-added Jane's quests
-added Lucy's quests
-added Olivia's quests
-added Linda's quests
-added brothel's events
-fixed bugs
v0.86
-added Clara's quests
-added Monica's quests
-added Veronica's quests
-added basketball's events
-added park's events
-added gym's events
-fixed minors bugs (girl's shower bugs, MC's name bug)
v0.85
-added Autumn's quest
-added Amber's quests
-added Clara's quests
-added Clara's house events
-added Naomi's house events
-fixed bugs (girls in home corridor bug, Camilla's stats bug, Jerry's affection bug, shower's bug, laptop's bug, etc)
v0.84
-added Jerry's quests
-added school's events
-added Monica's house events
-added Clara's house events
-added Naomi's house events
-fixed bugs
v0.83
-added Autumn's quests
-added Monica's quests
-added Veronica's quests
-added Amber's quests
-added Jerry's quests
-fixed bugs
v0.82
-added new cohabition's events (Monica)
-added Monica's quests
-added new beach events
-added Camilla's quests
-added Naomi's quest
-updated Clara's starter quests
-fixed bugs (text bugs, tips bugs, Clara's tasks, Clara's quests, tools quantity in shop, etc)
v0.81
-added Autumn's quests
-added Autumn's events
-added Amber's quests
-added photostudio's events
-added Susan's quests
-fixed minor bugs (dorm bugs, porn movie, Naomi's house hall back, talk macros, etc)
v0.80
-added new cohabition's events (Monica)
-added new school's events
-added Amber's quests
-added Autumn's quests
-fixed minor bugs (images size, interaction bugs,etc)
v0.79
-added new cohabition feature (Lexi, Veronica)
-added new home's events
-added new school's events
-added new street's events
-added Clara's quests
-added Fiona's quests
-added Autumn's quests
-added dorm's quests
v0.78
-added Bella's quests
-added Amber's event
-added dorm's event
-added photostudio's quests and events
-fixed minor bugs
v0.77
-added Clara's quests
-added Veronica's quests
-added dorm events
-added police quests
-added club girls quests
-added brothel's events
-fixed minor bugs
v0.76
-added Autumn's quests
-added cheerleader's quests
-added Monica's quests
-added Clara's quests
-added few random events
-fixed minor bugs (bedroom's bugs, Clara's broken links, etc)
v0.75
-added Camilla's quests
-added Camilla's events
-added Linda's quests
-added Linda's events
-added bar's events
-fixed minor bugs
v0.74
-added a lot of work events (depends of items, girl's attitude, etc)
-updated discipline events
-reworked some work events
-new Olivia's events
-new Naomi's events
-new Lucy's events
-fixed minor bugs
v0.73
-added Linda's quests
-added Camilla's quest
-added home interaction events
-added and updated Johan's quests
-fixed minor bugs (stamina negative numbers at homes, broken Lucy's vids, broken vids links, dive option bug)
v0.72
-added Linda's quests
-added Camilla's quests
-added Linda's events
-added Camilla's events
-added Veronica's interaction
-updated Naomi's interaction
-fixed bugs (Linda loops, Monica house bug, stamina bugs, Clara's task)
v0.71
-added Clara's quests
-added Linda's quest
-added home quests (Clara, Lexi)
-extended Johan's tasks
-added brothel event
-fixed minor bugs
v0.70
-added Veronica's quest
-added home events (Clara, Lexi)
-added home interactions (Clara, Lexi)
-remade Lucy's quests
-fixed Lucy's storyline bugs (backs, school at weekends, etc)
-fixed minor bugs in Favorite Teacher
v0.69
-added Clara's quest
-added Johan's tasks
-added characters life schedule (Fiona)
-added apartments events (Veronica, Fiona)
-added apartments quests (Veronica, Clara)
-fixed and reworked Clara's questline bugs (backs, broken links, times ,wrong days,etc)
-fixed minor bugs
v0.68
-added autosave feature
-added characters life schedule (Lexi, Clara, Veronica)
-added appartments events (Lexi, Clara, Veronica)
-added appartments quests
-added Veronica's quest
-added Johan's tasks
-added new events with some items
-fixed bugs (Angela quests bugs, bug with image in the store, bug with negative attributes, etc)
v0.67
-added Veronica's quest
-added Clara's quest
-added Jerry's quest
-added new character (Carey)
-remade and updated police quests
-added new qualification lvl and rewards
-fixed minor bugs(Lucy presents, club girls, etc)
v0.66
-added Veronica's quest
-added Veronica's event
-added new character (Jerry)
-added new interaction with items(shower radio, bat)
-added new events in the park
-added new school events
-fixed minor bugs(Angela's, Monica, etc)
v0.65
-added Naomi's interaction system
-added new items in shops
-added new interactions with new and old items
-added new event in the gym
-added new girls`s houses interaction
-fixed minor bugs
v0.65
-added Naomi's interaction system
-added new items in shops
-added new interactions with new and old items
-added new event in the gym
-added new girls`s houses interaction
-fixed minor bugs
v0.64
-added Lucy's interaction system
-added Fiona's interaction system
-added Fiona's apartment
-added Monica quests
-added Veronica quest
-fixed bugs (interaction system buttons bug,Angela work bug, bar bug,etc)
v0.63
-added Clara's interactions system
-added Monica's quest
-added Veronica's quest
-fixed bugs (interaction system,stamina system,etc)
v0.62
-remade and upgraded interaction system with girls
-added Monica's events
-added Monica's quests
-added Amber's quests
-added Veronica's quest
-added few random events at brothel
-fixed minor bugs
v0.61
-expanded school work system
-added a lot of events materials (videos)
-expanded Clara's tasks
-added Sophia's Naughty tasks
-fixed minor bugs (bar, sex system, attributes troubles, school)
v0.60
-full reworked school work system(!)
-reworked Clara's tasks(!)
-updated Clara's questline
-added a lot of school events
-added secret scenes with Monica, Lexi
-returned school surveillance location
-fixed bugs
v0.58
-added Clara's quest
-added Lucy's quest
-added brothel event
-added police quest
-fixed minor bugs
v0.57
-added Jane's quest
-added Fiona's event
-added Monica's quest
-added beach events
-added brothel event
-added police quest
-fixed minor bugs
v0.56
-added Veronica's quest
-added Olivia's quest
-added brothel event
-added bar event
-added special brothel event
-added Far-Dreams event
-fixed minor bugs
v0.55
-added Veronica's quest
-added Naomi's quest
-added brothel event
-added bar event
-fixed minor bugs (tools, cards, cleaning, etc)
v0.54
-added Veronica's quest
-added random school events
-fixed bugs(Fiona's quest canteen, earring issue, Naomi's loop, etc)
v0.53
-added Fiona's quest
-added girl club quest
-added Veronica's event
-added police quest
-fixed bugs (schoolgirls invite, coffee disease, text)
v0.52
-added Clara's quest
-added Olivia's quest
-update school Coffee event with plot
-fixed bug with Far-Dreams event
-fixed bug with Lucy tip
-fixed Naomi event
v0.51
-added save compability system (started from 0.50)
-added Fiona's quest
-added Fiona cards and tip system
-added Far-Dreams event
-added random event
-added Memories event
-reworked tutorial
-fixed tutorial bugs
-fixed broken links
-fixed Naomi quests bugs
-fixed library bug
v0.50
-added Tutorial system
-added Girls choice system
-added Amber's quest
-added Monica's quest
-added Police event
-fixed minor bugs
v0.49
-added Monica`s quests
-added Olivia`s quests
-added Amber`s quest
-updated girl`s club event
-added few random events
-fixed minor bugs in Favorite Teacher
v0.48
-added interaction system (Monica)
-added Monica`s house
-added Monica`s quest
-updated interaction system (Angela)
-Fixed tips for Monica
-Fixed minor bugs in Favorite Teacher
v0.47
-updated interaction system (Lucy)
-updated interaction system (Angela)
-Fixed tips for Olivia
-Fixed tips for Lucy
-Fixed Lucy`s quest bugs
v0.46
-added Interaction system (Lucy)
-added Monica`s quests
-added Olivia`s quests
-added police events
-added Jane`s quests
-added access to MISS system from Linda`s menu
-Fixed minor bugs(tips for Lucy,Clara`s quests)
v0.45
-reworked and update interaction systems(Lexi,Angela)
-reworked stamina system
-added Monica`s quest
-added Clara`s quest
-added Random police events
-added Police quests
-Fixed some bugs in Favorite Teacher
v0.44
-added Amber`s quest
-added Bella`s quest
-added Clara`s quest
-Reworked tips system for Monica
-Fixed bugs with tips for Clara, Monica
-Fixed minor bugs
v0.43
-added Manual Inner Save System
-added Naomi`s quest
-added Monica`s quest
-added Club`s girls event
-added Police quest
-Fixed minor bugs
v0.42
– added Cafe event
– added New beach events
– added Club`s girls event
– added Park`s event
– added Minor updates
– Fixed bugs
v0.41
– added Clara`s quest
– added Lucy`s quest
– added Jane`s quest
– added Monica`s quest
– added random events at the beach
– Fixed bugs
v0.40
– added big Christmas event
– added Clara`s quest
– added Lucy`s quest
– added Fiona`s quest
– added random school events
– added Sophia quest
– Fixed bugs
v0.39
– added Lucy`s quest
– added Random hospital events
– added Jane`s quest
– added Fiona`s quest
– added Magic Ball events and quests
– Fixed bugs
v0.38
– added Lucy`s quest
– added Random classes event
– added Clara`s quest
– added Magic Ball (New content is coming)
– added Fiona`s event
– added Park event
– Fixed bugs in Favorite Teacher
v0.37
– added Lucy`s quest
– added Police event
– added Cafe event
– added Sportfield event
– added New locations (Fifth Ave and Clinic)
– added New items
– added New characters (Bella and Amber)
– Fixed bugs
v0.36
– added Lucy`s quest
– added Smoking events
– added Fiona`s quest
– added New cafe`s events
– added New disease event
– Fixed bugs
v0.35
– added Lucy`s quest
– added Fiona`s quest
– added Smoking events and quests
– added Clara`s quest
– added Subway`s event
– added Beach`s events
– added New school event
– added New achievement system and shop
– added New items
– Fixed bugs
v0.34
-added Lucy`s quest
-added Fiona`s quest
-added Few random events for Math class
-added Smoking events
-added Cafe`s events
v0.33
-updated Clara`s quest
-added Lucy`s quest
-added and update cafe`s quests
-added Fiona`s quest
-added smoking event (Sport field)
-Fixed bugs
v0.32
– added Clara`s quest
– added New scenes to Kiosk location
– added and update Cafe`s quests
– Fixed bugs in Favorite Teacher
v0.31
– added Clara`s quests
– updated Obedience system quests
– added Fiona`s quest
– added Random events for few locations( Beach, Canteen, Cafe)
– Fixed bugs
v0.30
– updated and reworked Angela`s quests. (added a lot of new events)
– added Clara quests
– finished Naomi`s quests
– added Few new events to Lexi`s interaction system
– update Obedience system quests
– added New locations
– added New character – Jane
– added New Fiona`s quests
– added Few random events to different locations
v0.29
– added Naomi's quests
– finished Renewable system of invitation schoolgirls to home
– added new events in the park
– added new events connecting with Obedience system
– added new events with Fiona
– Fixed bugs
v0.28
– added Finished Lexi storyline
– added Interactive system with Lexi
– added Some events with Naomi
– added Renewable system of invitation schoolgirls to home
– added New achievements
– added Shopkeeper for "Imagination Reflection"
– added(again) Sell option for shells
– Fixed bugs
v0.27
– added More Lexi quests
– added New interactation system with Lexi
– added New locations(Kiosk (Park), Lexi house
– added Quests with cheerleaders(Monica, Autumn)
– added Stamina restore option
– added New quest with Fiona
– added Johan in strange store
– Fixed bugs
v0.26
– added More quests with Lexi
– added New character (Naomi)
– added New items
– improved Characters display (More pictures, depend on the level of lust)
– improved Interaction system
– Fixed bugs in Favorite Teacher
v0.25
– added More quests with Lexi
– added New interaction system (Demo/Test)
– redesigned Start passages
– Fixed bugs
v0.24
– added A few new scenes in the school
– added New item slots. For use in the next update
– redesigned A lot of pages
– rewrited A lot of pages
– Fixed bugs in Favorite Teacher
v0.23
– added New freelance level
– added Energy drink
– added Option to drink alcohol directly from the inventory
– added 5 new achievements
– improved Work in cafe
– reworked Buying system
– Fixed task displaying
– Fixed bugs
v0.22
– Fixed bugs
– Fixed a problem with the game speed
– added Visualization of changes at work
– added Sets of clothing
– added Small but important details (including improved storyline of Angela)
0.21
– added A new system of clothing and accessories to expand the potential of the game and your enjoyment of it.
– added More items/gifts
– added New locations – Cafe, Strange shop
– added New work options
– added One new cheat – Back button (Patreon)
– changed Some backgrounds
– Fixed bugs
0.20
– Finished, long-awaited! the storyline of Angela, with a nice bonus at the end of which we will continue to work on in the future.
– An indispensable achievement system in any game for those who do not want to miss anything.
– A wonderful new system of rest in school between work, with a wide range of functions. Install a basketball court in the school yard to play basketball with a porn actress and increase your strength. Read books from the new library to improve your intelligence. And much more.
– A new beautiful location the Beach.
– Large redesign of visual components.
– New school events.
– Bugfix.
– And a bunch of other details that I invite you to personally get acquainted with in this chic update.
0.19
– added a lot of different little things that I already forgot about, so play for yourself and find out what I added. Besides.. =)
– added More work tasks
– added More school events
– added More gifs (Sleep/Webcam)
– added New method of increasing boldness. (Check night park)
– added New locations – Bar, School dormitory
– added New character
– added Start-Bonus
– added Statistics
– added One new cheat (Patreon)
– rebalanced changing school parametres. (Now such characteristics of the master as strength, intellect, charisma and boldness – improve grind)
– Fixed bugs
0.18
– added a little bit of content =)
– added Work tasks
– added Cheats (Patreon)
– redesigned Charaters Tab
– redesigned Scrollbar
– rebalanced Character Stats Changes
– Fixed bugs
0.17a
– Fixed bugs
0.17
– added a little bit of content =)
– added Work events with images
– added English teacher
– added Books for library
– added Character Kobe, meet him in park
– added Talk function for characters
– added Visual parameter changes (Testing)
– Fixed bugs

Download from [File Boom]
Download from [Rapidgator]