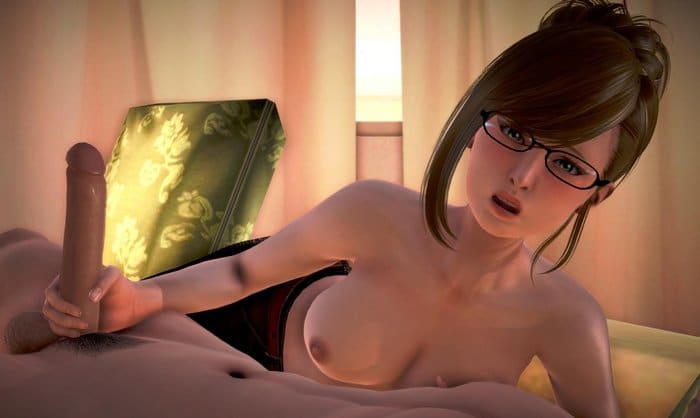 Release date: 31 May, 2022
Genre: 3DCG, Mobile Game, Anal Sex, Big Ass, Big Tits, Breast Expansion, Harem, Oral Sex, Teasing, Titfuck, Transformation, Virgin, Vaginal Sex, Male Protagonist, Mind Control
Censorship: None
Platform: Windows, Linux, Android
Version: Hypnosis 1.2a + Walkthrough + GAME MOD
Language: English
File size: 2.5 GB
About game:
You move in with your best friend and his family under one condition: That you don't hook up with your friend's cute little sister Leah who seems to have a crush on you. Play as the protagonist that discovers his pocket watch can cause physical changes. Start with good intentions, but temptation to use the watch for selfish reasons becomes more appealing as the story progresses. There are five girls with storylines to explore romantically, each with additional friends to introduce you to…
+ Changelog
The Broken Watch Path Part 4 – v1.1f
The last update for the Broken Watch Path, although some scenes still need to be completed.
Also includes the Halloween update
The Broken Watch Path Part 3- v1.0.9
This update contains the first epilogue titled the Big Ending in which the girls struggle to keep themselves from growing too large.
It also begins the other two epilogues, the Huge Ending and the Gigantic Ending which will continue in future updates.
The Broken Watch Ending Part 2 – v1.0.5
128 new images and 17 short animations. Not yet played, but it seems the update still doesn't contain the BE ending…
Broken Watch Ending part1 v1.0.4
This update (v1.0.4) is a beta release and is only intended for game testers.
It is missing many scenes, contains errors and is not meant to be played.
Broken Watch Ending part1 v1.0.3
This ending takes place on the timeline where you never recovered the watch.
Finish the previous episode to find the link to the new content.
Also, find a list of all the major endings after the credits.
Enjoy!
Ep. 13b part2 v1.0.1
What's added since the testing version?
Beth's storyline is now simplified. Instead of there being five steps to get with her, there are now only three. If you tell her you are still hooking up with other girls she will feel less guilty about you hooking up with her, and when she asks if you find her attractive, the answer is yes.
Her scenes, and their interaction with Ashley as well as the morality of the game in general, were something that really took a lot of focus. I wanted to give your choices a weighted feel with clear choices and reactions, and I had to pull back several times to compare previous interactions to keep everything consistent with all the different paths.
There's a quick scene with Brittany. This was fan service, and I'm not ashamed to admit it.
I spent a lot of time cleaning up the uh… confrontation at the end of episode 13 to set everything up for different paths. I also wanted to make everything cleaner and more black and white because it will be the main choice to set up future endings.
I also debated the good vs evil angles quite a bit. I didn't want the paths to be split up with that designation because I felt that it's too vague.
Eventually, I settled on the choices "Listen to your heart" or "Listen to your dick" because I felt that breaks down the choice to its essence. Future paths will focus on that divide of whether you care more about the girls or yourself.
I also focused on the path when you don't recover the watch. This path will lead directly to the BE ending coming out at the end of this month (fingers crossed) so I wanted to get it aligned. It also merges back into the main story, for the most part.
Ep.13b (Beta) v0.9.9
This is the beta version meant for testing and is missing many renders and contains several errors.
It is not meant to be played yet.
This version contains one new h-scene, spanning 12 images and some other character introductions and such. Totally 93 new images.
v0.9.2 Ep11
Episode 11 concludes the Watch Thief storyline with over six different ways to confront the thief, as well as the option to avoid the thief entirely.
Some paths contain far more content than others, so check out the walkthrough for more info.
All the paths merge back into the main story.
v0.8.2 Ep10.5
The Cruise Ending-
Take Laura and Grace on a cruise. Good luck keeping them from the buffet.
It begins when you ask Laura to be your girlfriend at the beginning of Episode 10
This ending is longer than Episode 10 in content. And more fun.
v0.8.1 Ep10
Discover the answer to "what happened to the pocket watch?"
You have a few different paths to explore as you are helped by your volunteer "detectives" Daphne and Grace.
v0.7.2 Ep9.5
This version includes the first real ending of the game.
It is over half the length of Episode 9 and has a decent amount of content, especially if you hooked up with Brittany in Episode 7.
Find it near the beginning of Episode 8.
Choose Laura when you first get to Laura's house for the pool party.
Hypnosis v0.7.1 Ep9
This episode is about the fallout from Episode 8
Hypnosis v0.6.2 Ep8
Fixed a couple wardrobe inconsistencies and issues with dialogue names being wrong in certain scenes.
Added more to the Leah/Ashley sex scene toward the end.
40+ fixes on grammatical errors and mistakes throughout the game.
Hypnosis v0.6.1 Ep8
Pool Party! Take all the girls and put them in one place. Add ice, booze and stir. It's going down.
Hypnosis v0.5.3 Ep.7
The Episode is called Wingman because Cory corners you and calls you out for not sharing your recent streak with him.
You agree to take him out to the bars and have the chance to take him to Jenn's party. Catch up with Jenn and Haley and meet a few of their friends.
The alternate Leah storyline is now updated and begins in Episode One.
You have the option not to kiss her initially, and this starts an alternate (possibly better?) storyline where your relationship with Leah begins slower and is encouraged by Ashley.
It also avoids making the girls angry at you for trying to date them at the same time, but you still end up with both girls.
It took longer than I hoped, as some of the days got moved around and a lot of dialogue needed to be rewritten on top of the new scenes.
I tested it, but I'm sure I missed a few things. Let me know any errors on Discord as you spot them.
Hypnosis v0.4 Ep.6
This release mostly focuses on Grace and Laura.
Expect hot tubs, spoilers and…
Hypnosis v0.3b Ep.5
Taking Ashley out on your date and the aftermath is the main focus of the update.
Once again I also went back to update a lot of animations and pictures.
The vote for whether to add hints to the game came out close so I added it as an optional choice, both at the beginning of the game and the beginning of the episode.
The game is now divided into episodes, this update being episode five.
If you start from the beginning you will find the submissive route for Jenn (which is more fun, in my opinion.)
Hypnosis v0.2c
You won't be able to keep everyone happy this time around, but that is what happens when you try to date five girls that know each other at once.

Download from [File Boom]
Download from [Tezfiles]