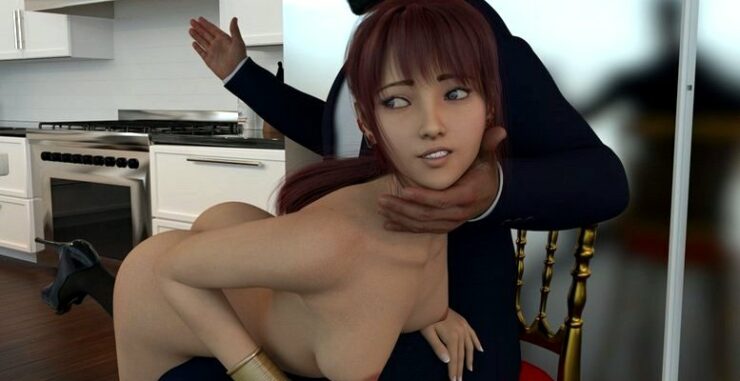 Release date: 30 April, 2021
Genre: 3DCG, Male protagonist, Harem, Dating sim, Trainer, Lesbian, BDSM, Male domination, Female domination, Exhibitionism, Corruption, Big tits, Groping, Masturbation, Oral sex, Spanking, Voyeurism, Sex toys, Handjob, Romance, Big ass, Vaginal sex, Footjob, Titfuck, Anal Sex
Censorship: None
Platform: Windows, Android
Version: Hail Dicktator 0.18.5
Language: English
File size: 1.21 GB
About game:
Down on your luck, you suddenly receive a letter from an uncle you never knew you had. He offers you a job to manage his tropical island resort. You find it's full of beautiful women and a strange culture of punishment and reward. But perhaps the island itself is even stranger than the people that inhabit it. Build friendships and fall in love with the girls. Punish or reward them. Follow their stories. Explore the secrets of the island, upgrade the hotel, build more facilities. Maybe one day, you will become the new 'Dicktator'! Hail Dicktator — features fetishes of all kinds already available in the game, including bondage, spanking and feet…
+ Changelog
v0.18.5
* minor fix: doctor's office quest wasn't visible (but it would start automatically, so it's not really much of an issue). If you downloaded 0.18.4, you don't need 0.18.5
v0.18.4
* fixed crash in side room when Daisy is there
* fixed possible softlock where Daisy could be freed without doing the quest, making the quest impossible to complete (thanks to the crash, nobody should be affected by this)
v0.18.3
* fixed several inconsistencies, typos, and issues in earlier scenes
* all new render system cutting down build size by a lot while increasing quality
* reduced memory needed
* faster game startup
* warning system when C++ redistributable needs to be installed (needed for older OS like Windows 7)
* auto-save system
* gallery MC name fixed
* 200+ new renders
* 15+ new scenes (including some longer ones)
* main story progression
* side story progression
* new bondage content
* new spanking content
* new foot fetish content
* new anal play content
* new sex content
* new blowjob content
* new cosplay roleplay content
* fixed Alice's love limit not being correctly raised after cowgirl sex scene (will retroactively fix if you are past the scene)
* added several missing UI strings to translation
* fixed and expanded main fonts to be able to display most languages
* fixed several issues in language editor
* fixed issue where Main character name would not apply after fresh game start
v0.17.2
* fixed issue with shops
* fixed scenes in compressed version not working
* fixed empty rooms not showing names
v0.17.1
* several translations are currently being worked on. If you are interested in helping, let me know in discord
* ~200 new renders
* ~20 new scenes/events
* new location with character renders
* extremely over-engineered new spanking scene (Only some messages of the chat are actually fake ^^)
* new footjob/eatout scene
* new handjob/bondage scene
* new cowgirl sex scene
* first medical-play scene
* more cosplay in Hail Dicktator
* main story continuation with flashback
* can now call Alice for a sleepover
* fixed MC name entry at the start not working
* added missing scenes to gallery
v0.16.2
* game is now translatable with in-game translation framework (looking for translators)
* 20+ new events/scenes
* ~200 new renders
* new training scene with Sarah and Alice
* new repeatable spanking scene with two outcomes
* new blowjob scene
* new sex scene
* new anal scene
* new bondage scenes
* new story developments for the main story and Daisy
* new story developments for the main story with the new guest
v0.15.3
* fixed issue not being able to use shops
v0.15.2
* added dialog scenes to current and past to reflect current state of things for some characters (Sarah, Scarlet, Daisy)
* fixed deadlock issue not being able to use the side room with the chastity quest
* added missing scene to gallery
* fixed some typos
* compressed versions
* mac/linux/android versions
v0.15.1
* 200+ new pictures
* ~20 new Scenes/Events/Quests
* Sarah's dialog portraits now change to reflect her new style
* New side character
* New spanking scene with Sarah
* New sex scene with Leah
* New anal toy scene with Alice and Yuki
* New bondage/sexy scene with Scarlet
* New spanking scene featuring Sonya
* New foot job scene with Hazel
* Story progression with Daisy/Eris
* Story progression with Sarah
* Main story progression in Hail Dicktator
* Sonya's session quest will now appear when it actually can be done
* Added hint for paddle when Hazel isn't known yet
v0.14.1
* ~200 new renders
* 20+ new scenes/events
* changed asset loading system, so that base graphics memory usage is a lot less (now runs on older mobile phones)
* New sex scenes with Alice, Hazel and Leah
* New spanking scene with Sarah, Yuki and Sonya
* New bondage scenes with Scarlet, Sarah and Daisy
* Main story continuation in Hail Dicktator
* Side stories continuation
v0.13.8 (hotfix)
* fixed gallery not working as intended
* fixed two early quests not showing up in the tracker, making it difficult to progress (will be fixed for existing save games)
v0.13.6
* 270+ new Renders
* 1 new Animation
* 25+ new Scenes and Events
* new location
* new anal scene
* new sex scene
* new spanking scenes
* new bondage scenes
* storyline for several girls continued
* new cat
* quest star hints will now be sticky
v0.12.5
* Christmas Update
* 150+ new renders
* wholesome stories with spanking, bondage and sex.
* side stories featuring the girls
v0.12.1
* 220+ new renders
* new compressed version
* update focusing on general content, less on story
* added several tickling punishments
* added several spanking punishments
* added humiliation punishment
* more scenes for Scarlet in Hail Dicktator
* more storyline for Daisy and Yuki (bondage/spanking/sex)
* more scenes for Leah (chastity/teasing)
* more storyline for Sarah and Sonya
v0.11.1
* 200+ new renders
* 25+ new events, scenes and options
* new dual punishments with two girls
* Several storylines continued
* new bondage scenes
* chastity belt
* new spanking scenes
* new sex scenes in Hail Dicktator
* several small fixes for quest triggers
v0.10.2
* 220+ new renders
* 25+ scenes and events
* Climax of on-going arc with Sarah
* More sex and spanking scenes with Hazel and her Mom
* A new bondage scene with Alice
* A new sex scene with Sonya
* A new bondage scene with Yuki
* A sexy dream
* Exit button in session should no longer wander off screen
* Save/Load/Settings bar should be more visible now
* Made quit button more visible
* Added text bar in hotel management panel to easier enter cheats on mobile
* Fixed Massage scene
* Several text fixes in Hail Dicktator
* Fixed sequence break bug with being able to start Sarah's quest too soon (problem will resolve automatically for people that ran into it)
v0.9
* 200+ new renders
* 25+ new events and scenes, most rendered
* start of a big main quest
* side quests with other girls
* can now do full service check with hazel
* can now call Alice to the kitchen (as long as she is not busy).
* can send Yuki away from the kitchen if you need some private time with Alice.
* some more general dialog for some situations
* fixed memory leak by force cleaning up unloaded assets (not confirmed, but should be working)
* framerate now adapts to the current refresh rate set from the resolution setting
v0.8
* 280+ new renders
* 35+ new scenes and events
* two interactive scenes with multiple endings
* introduced an all new girl for the main cast
* Daisy's story started
* Main story continued involving Leah, Daisy and Scarlet
* Yuki's story continued in Hail Dicktator
* side events for Sarah & Sonya involving all the other girls
* added more dialog events for girls in the sauna and the bar (thanks to ThL)
v0.7.3
* Sessions have been fixed by implementing chunked loading and optimizing mobile texture compression
* 30+ new events
* 250+ new scene renders
* All new shop interface in Hail Dicktator
* Can now sleep at any time to skip a day
* New side character with events
* Slight overhaul of the quest panel (colors and visibility triggers)
* Addition of timed events (events that will have impact on a girl's activity in the map)
* Timed event with Sarah
* Can now call Sonya to the bank
* Can now call Sonya to the electronics store
* Can now call Scarlet to the clothing store
* Continuation of KNL story line (Hazel + Yuki)
* Events with Hazel's mom
* New workout event with Leah
* Main story line advanced
* Scarlet's & story line continued
* Sarah's story line continued
v0.6.3
* Fixed Hazel's service quest to not appear before the quest is actually doable.
v0.6.2
* Gallery is now available
* 30+ new scenes/events. Most of them rendered
* 250+ new renders
* Added stat tracker to see where which girl-stat can be raised (in the girl status panel)
* Volume slider fixed to be more linear. (might reset saved volume settings)
* First anal scene
* New tit-job scene
* Multiple bondage scenes
* New spanking scene
* New humiliation scene
* Main story line continued
* Story lines of several girls continued
* Fixed several issues in triggers and quests
* Improved scene asset loader
v0.5.3
* 25+ new scenes, most of them rendered
* 250+ new scene renders
* 300+ new session renders
* New bondage scene for Sonya's session (voted by Patreons), with tons of options to tie her up in different ways
* Added girl reaction for using toys in sessions
* Sonya's butt will get red if you spank her for longer
* Lots of spelling corrections in previous quests (thanks to f95's somebodynobody)
* All new tit job scene
* All new foot job scene
* All new shower sex scene
* All new fingering scene
* Two all new bondage/bdsm scenes
* A scavenger hunt featuring most of the girls
* Leah's story line continued
* MC's story line continued
* Scarlet's & Sarah's story line continued
* Completed asynchronous loading system for less memory usage
* Loading screen for starting up the game (better feedback on mobile)
* Fixed several screen transitions without text
* Fixed several triggers for earlier quest being available too early in the story (~20 fixes)
* Fixed a deadlock with Yuki's quest
* Improved several hints
v0.4.2
* Fixed Scarlet's quest falsely updating Narrator's love limit instead of her's (if you already completed the quest the right value will update retroactively for you when you load your save the next version 0.5)
* Cut down memory usage by only loading the session resources when they are being used. (This will be further improved in 0.5 to drastically cut down overall RAM and VRAM usage, so that it will always stay constant in future versions.)
WARNING for Android users: 0.4.2 might still use a bit too much memory for some Android devices when entering Sonya's session, so it could crash. Be sure to make a save before that to not lose any of your progress.
v0.4.1
* over 1200 new renders in Hail Dicktator
* 220+ of it scene renders
* 31 new events/scenes total
* Six new fetish/sexual scenes
* new automatic checkpoint feature for events that have a time condition
* all new feature: sessions. Spend time with a girl and customize
* Select camera
* Select outfit
* Select tools (butt plug, clamps, etc)
* Select pose
* Select advanced activity like spanking
* ~1000 new renders created for this feature
v0.3.3
* fixed crash when rolling back while Hazel is tied up
* fixed Alice's dialog about abilities being available way too soon
* added hint in Yuki's teaching event to better indicate when and where it happens
v0.3.2
* Android version release (should work out of the box)
* 30 New Scenes (20 of which are fully rendered)
* 250 new renders in Hail Dicktator
* includes first full sex scene
* includes first deep throat scene
* included the poll winner for Scarlet's casual outfit
* more punishments and rewards for the hotel employees
* fixed 2 events giving stats to the wrong person
* option to stop the scrolling animation on text boxes when MC is thinking
* Alice now reacts slightly different when peeking at her in the shower if her exhibitionism is high enough
* new scene logic/trigger functionality
* event actions to move a character to a location (will be expanded upon in further updates)
* fixes for Scarlet's matte renders (black pixels) and pixelation from other girls in some location.
* switched default mouse wheel for rollback/rollforward, and added option to invert in the settings
* fixed Sonya's Maintenance check being available before she starts to work for the hotel
* Alice's and Sonya's sexual rewards now require minimum stats
* moved sexual rewards and punishments into a separate category
* added option to enable on-screen buttons for skip and rollback (enabled by default on android, otherwise disabled by default)
* small optimizations for resource loading pipeline
v0.2.3
* 30 new events and scenes. Half of which are fully rendered scenes. Includes some bigger fetish scenes (feet/spanking/bondage/dildo)
* introducing 2 new girls
* new location in Hail Dicktator
* over 250 new renders in Hail Dicktator
* changed girls stat gains to be less grindy
* updated hotel management mechanic with a punish/reward. You can now observe the girls and punish/reward them.
* new gag mechanic for Yuki (might come for other girls later)
* expanded quest system for more complex event triggering
* fixed render mistakes of some of previous Version's scenes
* added girldar (portrait displayed on location buttons)
* fixed spelling and grammar mistakes. (Special thanks to my Patreons as well as somebodynobody and other members on the f95zone forum for the help).
v0.1.1
* Hotfix: A string conversion bug prevented the game from starting on a few OS locale/language settings
v0.1.0
Initial release Hail Dicktator.
* 89 total Scenes and around 50 events with more than 650 high quality renders.
* All basic game mechanics
* Full rollback/rollforward
* Compatible save games

+ Developer Notes:
I hope you enjoy the content.
Use the mouse wheel to roll back/forward.
More punishment/reward options will be added with upcoming updates.
Hail Dicktator Cheat:
* Money Cheat: type "money" while the hotel management panel is open.
Hail Dicktator Save games Location:
Windows: C:\Users\\AppData\LocalLow\HachiGames\HailDicktator\save
(make sure that hidden folders are visible)
Mac: /Users/[username]/Library/Application Support/com.Company.ProductName/save/
Linux: /home/USERNAME/.config/unity3d/HachiGames/HailDicktator/save

Download from [File Boom]
Download from [Tezfiles]