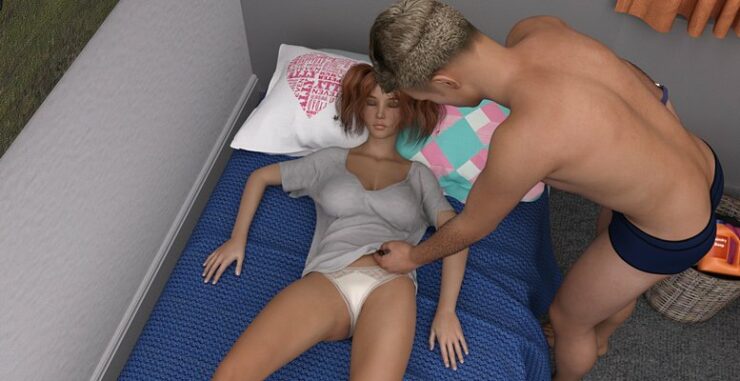 Release date: May, 2021
Genre: Rpg, 3DCG, Adventure, Sexy Girl, Big Tits, Big Ass, All sex, Blowjob, Corruption, Mind Control, Humilation, Shower
Censorship: None
Platform: Windows
Version: New Paths 0.13a
Language: English
File size: 894 MB
About game:
You are a young girl (19 years old).
Player choice of name, and game play. There is three ways to play submissive, dominate and something in between. Multiple choice as you played. (Not that many at this point, but more to come). We follow the female protagonist and her choice to move away from the Mountain Village to the capital. She at this point has a job as a waitress/bartender at the local bar. Where the male customers not always are the nicest…
+ Changelog
v0.11b
– 3 new items
– 4 new quests (and some new questlines & cgs)
– New job
– New outfit
– New town
– New store
– 3 New songs
– ~5 New locations
– New feature: Bus ride
– ~10 New Characters
There's also a huge amount of new assets like icons, better fogs and clothing icons.
Improvements
– Passability on the main classroom
– Reduced the opacity of fogs
New Paths Fixed
– More than 20 bugfixes
– Dad has a portrait now
– The bus driver can't get too far from the bus anymore
– Removed text over characters during more cutscenes
– Fixed the issue that some completed quests showed incompleted objectives
– The time will flow as normal after Suzie's first visit to Elena
v0.10
# Added
– Stats Screen by pressing S or through the ESC Menu
– New message for Suzie's Dad
– Message indicators for many NPCs and objects
– Bus Driver NPC
– Bus Visual
– Elena's Home
– Beginning of Elena's Story
– New visual for Elena
– New icon for completed in-quest objectives
– New item for Elena's quest
# Improvements
– New Message sound effect
– Many renders had transparent backgrounds replaced by actual environments
– More main objectives have the yellow indicator instead of the white one
New Paths Fixed
– Thought indicator on the school restroom
– Elena is a brunette, now, in all of her variations
– Borya won't appear duplicated after certain "events" anymore
– More cutscenes will have the Action Indicators hidden this time
– Correct image layering while Suzie watches "someone" "having a good time"
v0.8a
# Added
– New Quest on Journal: "Cleaning for Votes"
– Completed Quest: "I Have a Dream…"
– Completed Quest: "Expanding Your Mind"
– New Questlines for Junior & Senior
– Items' pictures and descriptions for 6 items
– Desk & Chair in Suzie and Borya's room
– 3 New Icons
– 4 New Emojis
– Suzie's Father seated down sprite
– 12 new NPCs
– The first glimpse of "The Violator"
# Improvements
– Improved Home's movement flow
– Item Menu's shapes and sizes
New Paths Fixed
– Corrected the message about School's working time
– Missing interaction's in School's Restroom
– "Knowledge is Power"'s Quest description
– Weird Book won't respawn
– Some missing items are now appearing on the Items Menu
– Clock will start running again after going out of the Church
– Clock will start running again after going out of the "Secret Hole"
– Marina won't appear again after being saved
– Girl at the park won't always keep the interaction icon
– Lake Forest's Changing Room won't displayer weather effects
– Jogging cutscene will only appear if Suzie's wearing her Gym Clothes
– Misha's background will disappear after finishing his interaction with Suzie
– You can meditate for 24 hours now
– You can now watch TV with clothes other than Casual Clothes
– Suzie's picture will appear in the main menu, now
– Porn magazine's events at School's Restroom
– Choices menus now appear correctly
– Faces in messages now appear correctly
– Corrected message if there are no jobs available at Mel's
I did an error on some of the renders and are rendering them as we speak
v0.7a
Rework. Big changes
0.05c
Bug fix:
· Fix bug trigger at the bedroom. There are some random events trigger when the time hits 03.00 at night. Trigger change around 30 %
· Fix a big bug that quest doesn't show at the start of a new game.
· The trigger for the Photograph quest now works 100.
· Clean up much of the code at the Café, capital.
· Around 40+ smalls bugfix/rework some code.
Added:
The public event (where females send in pictures/movies/novels etc. Is still on. And have two new enters. Two Norwegian girls. In total 6 movies and 21 pictures.
New events at school.
New events at home town (Bar) This event is not triggered by the corrupted stat.
A new event at home (watch TV)
The new weather system is finished. Still, need to add the outdoor paths for different seasons. But for the moment it works. Others plugin have gotten some rework/update.
Added more text and renders to the studio event.
Note for the new weather system, it still needs some love and improvement. Since this is an only visual improvement, I will continue to improve this over time. link
Input the towel outfit in the home.
Added bicycle to world map. (travel time 25 min, instead of 45 min for walking) Start the quest right outside of Mel store.
All the seasons have been added for the outside maps. (Summer, spring, winter and fall)
New Paths Changes:
Mother has been reworked and re-render. (This so the face animation will work)
Priest has been reworked and re-render. (This so the face animation will work)
Lidka (Girl in school) has been reworked.
Changed in-game start date. This so the weather system says its summer and not winter.
All the NPC face animation have been sent to my photoshop guy. And 90 % of the NPC have face animation in the scenes.
All the renders are getting some love in photoshop.
v0.04
Bus now will have random event(s). (Spoiler) (Spoiler)
New main event of the story. (Spoiler)
New event that will unlock the new map (Lux paradise) Thanks for the name suggestion. (Spoiler) (its just the map, No event)
Random event that will unluck a new job. (Capital) (Spoiler)
More fun at Mel store with Arthur. (Spoiler)
3 new events at the Café (capital) (Spoiler)
Two run animation in the woods. (Spoiler)
47 face animation for Suzie. (Spoiler)
New event message GUI. (Spoiler)
New event to unlock bicycle.
There is probably a lot of more stuff I have forgot to remember that I have done. Smaller events and bug fixes.

Download from [File Boom]
Download from [Tezfiles]