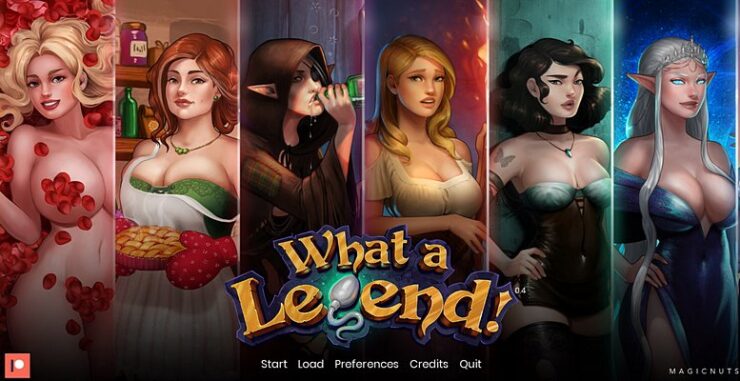 Release date: 30 July, 2022
Genre: 2DCG, Male protagonist, Fantasy, Adventure, Animated, Dating sim, Big tits, Groping, Humor, Masturbation, Milf, Point & click, Sex toys, Vaginal sex, Voyeurism, Sandbox
Censorship: None
Platform: Windows, Linux, Android
Version: What a Legend! 0.6.02 Bugfix + Gallery Mod
Language: English + Spanish patch
File size: 3.59 GB
About game:
What a Legend is a story is about a young man that goes to the biggest city of the realm to lose his virginity but ends up meeting a mysterious woman who sends him on an epic quest. A quest full of sexual encounters, unhappy housewives, beautiful damsels, comely magical creatures, and the chance to become a legend.​..
+ Changelog
0.6.02
– fixed a bug that prevented the threesome scene from being shown
– fixed Jeb's missing bandages
– fixed the issue with Myrtle's bed sex scene not appearing correctly when repeated after a scene with Rose
– fixed typos and other grammatical issues
– changed 'exorcist' to 'sexorcist'
0.6.01
– fixed a bug that prevented the crafting cabinet from being used
– fixed an issue with Anne's bell allowing free-roaming and breaking the dungeon event
– fixed an issue with Rose's the sex animation during repeatable scenes
v0.6
About 50k new words
Seven new sex scenes: vaginal, anal, oral, and boob (including two scenes in a threesome)
Three hidden photos: Anne, Serena, Simmone
One new sprite for the Main Character
One new sprite for Rose
Two new male characters: Jebediah, Abu Gadu
Six new locations: Raventrove, The Doorway, The Twins', Inside of the Wagon, The Fork, The Swoon Tree
One new Map: Cin Town
Two think quests
One craft quest
Five achievements
New patron avatars
New music tracks and sound effects
Quality of life improvements: changing the world map icon, adding a guide for the first player choice dialogue (intro)
Fixing/improving typos, bugs, and artworks from previous releases
0.5.01:
A new female character: Simmone Hammerdick (Lord Hammerdick's daughter)
Two new male auxiliary characters: Sev, and Karl.
Six new sex scenes: five with Lana (oral, vaginal, boob), and one with Simmone (hand).
Six new locations (12 backgrounds in total): the marketplace, the dungeon, the city hall, behind the city hall, outside of the inn, and the Cursed Mansion, which itself contains 7 backgrounds.
Two characters have their hidden photos: Rose and Madeline.
One new splash art (Simmone)
Eight new achievements
Quality of life improvements (increasing the number pages for saves, notification icon in the hint screen to show unfinished quests, pop-op notification when collecting all photos and opening the album, change the main character's name from the preferences screen)
The 0.5.01 bugfix: adds exit button to mirror, allows Lambert's photo to be collected from the mirror regardless of the content of the Main Story
0.4.01:
Contains the following fixes:
Allows multiple crafting quests to be completed simultaneously
Fixes an issue with initial variables that prevented re-playing one of Serena's scenes from the crystal ball
Typos and grammatical mistakes
What a Legend 0.4:
2 new locations: woodcutter's living room, woodcutter's bedroom;
3 new characters: Hammerdick, George, Tree
7 sex scenes (all Myrtle): masturbation, blowjob, toying, vaginal (3), anal
3 new quests, including:
2 think quests;
1 craft quest;
3 hidden photo;
2 new beds;
5 new achievements;
Quality of life improvements:
UI clock;
Hidden photo hints in the album
0.3.01
Fixing bugs.
What a Legend 0.3
3 new locations: the mudbank, the well, the matchmaker's;
3 new characters: Celestina, Abe, Gretta
3 sex scenes: titjob (Serena), vaginal sex (Celestina), dry hump (Holly);
1 think quest;
1 hidden photo;
1 new bed at Holly's where you can sleep or pass the time;
2 new splash arts;
5 new achievements;
Crystal ball added to the bag;
Cutscenes added to the crystal ball;
Possibility to delete saves (by hovering over them and pressing the Delete button on PC);
Placeholder image for blank save files;
CV achievements' titles and descriptions are hidden until collected;
Now new characters' screens in the crystal ball need to be unlocked by meeting them first (testing to apply this to all characters in the future);
What a Legend 0.2
The main story's quest from 0.1 is continued
One think quest, and a lot of linear content
New female characters: Anne, the welcome whore, Madeline, the Lady, Gomira, the mercenary
New male characters: Biggs and Wedge, guards
Locations: the cave in the woods, the dungeon, Carn Alley in the Sweat dist.
Five new CV achievements
Handjob: Rose
Blowjob: Anne
Glory-hole (oral): Gomira
Estimated playtime: for a dialogue reader about 40-60 minutes
What a Legend 0.1
Prologue and introduction
Maple's introductory quest-line
Main story's introductory quest-line (unfinished)
Female characters: Serena the princess, Serena in disguise, Rose the gypsy, Myrtle the woodcutter's wife, Lana the beggar, Holly the shepherdess, Maple the pixie
Male characters: MC, Kevin the guard, Waldo the gatekeeper, Junior the hunter
Maps: world map, the Old Capital, the wood, and the village
Locations: bridge, gate, wall, gypsy's wagon, woodcutter's hut, inside woodcutter's hut, riverside, shepherdess's shack, grasslands, tree, forest, pixie path, Serena's room, and MC's tent
Five CV achievements
Two beds (one unlockable)
Spying + masturbation: Serena
Vaginal sex: Maple
Spying (naked): Myrtle
Estimated playtime: for a dialogue reader about 30-40 minutes

+ FAQ
How often will you update the game?
Ideally, we want to release a new update about once every two-to-three months. In practice, however, the release schedule is more determined by the story and how much content we include and could take closer to four months.
What is the release roadmap?
For 0.5, we will continue the Main Story and there will be scenes with Lana and Simmone Hammerdick. The direction of subsequent updates will be determined by patrons.
Will the MC ever return to his home brothel?
Yes, but toward the end of the story (most likely in the epilogue).

Download from [File Boom]
Download from [Tezfiles]