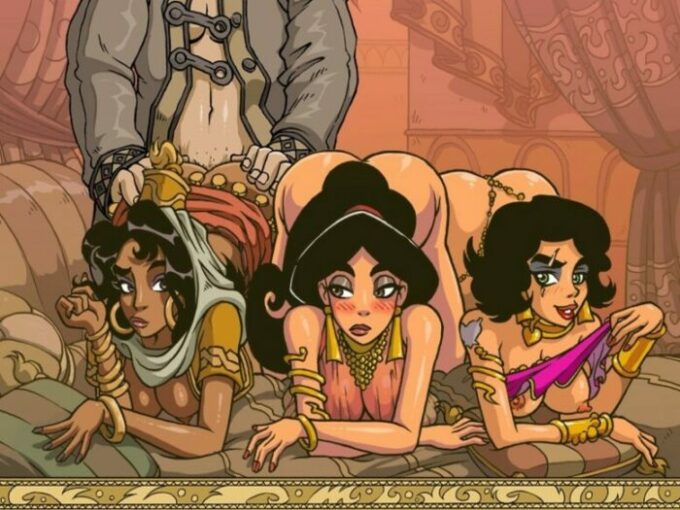 Release date: 24 October, 2021
Genre: ADV, Anal sex, Animation, Big tits, Comedy, Fantasy, Harem, Oral Sex, School, Striptease, Tiny tits
Censorship: None
Platform: Windows, Linux, Android
Version: Witch Trainer – Silver Mod 1.41.3 + New Extras Pack
Language: English
File size: 776 MB
About Game:
So, you appear in an office of the director of academy. After a short bewilderment, you decide to look around … And then the plot twists with unprecedented possibilities. At your disposal blackjack with whores School of Magic with sexy schoolgirls and more! It depends on you to what level it will be possible to establish "close" communication with them!
+ Changelog
1.41.1
Improvements
Added a save updater modal popup informing about performed update.
Added a new experimental cheat that will let you set Hermione's breast and ass growth stages permanently.
Added new dialogues during Hermione's Breast Expand events to account for the (lack of) clothes.
Added naked variants for Hermione's Potion Drinking, Potion Sniffing, and Potion Holding chibis.
Bug fixes
Fixed Tonks' Lady Dimitrescu gloves layering issues.
Fixed syntax errors for Ass Expand events.
Fixed bad label jumps for Hermione's Tier 4 public request handjob events.
Fixed Cat potion events mentioning undressing when Hermione is already naked,
Fixed inventory bug causing tabs other than gifts or potions becoming inaccessible.
Fixed Hermione's Maid Events crashing due to a syntax error.
Fixed missing pre-splash on android.
Fixed save updater sometimes not updating the save when loaded callstack was broken.
Fixed CG characters becoming corrupted or transparent due to a incompatible image check.
Fixed Luna's hair item being inaccessible for players who have already completed Luna's storyline.
Fixed spelling.
v1.41.0:
General
Added compatibility for saves made with version 1.40 or later.
Added Snape's Office:
Snape now has his own office where he will spend the evenings.
The office is a visitable location.
Similarly to Genie's Office, you can interact with the environment.
Added Potion Brewing:
From now on you can brew magical potions, each one having unique effects, and events for both personal and public variations.
Added potions (so far):
Breast Expansion Potion
Ass Expansion Potion
Polyjuice Cat Potion
Polyjuice Luna Potion
Added common ingredients (so far):
Bat Spleen
Animal Hair
Dried Nettle
Bicorn Horn
Fluxweed
Knotgrass
Leeches
Pufferfish eyes
Added unique ingredients (so far):
Lock of Luna's hair (Obtainable from event)
Added quest items:
Experimental recipes
v1.40.2
Click
v1.39.4 XMAS Update
Christmas is approaching at Hogwarts which means it's the time of year when we find out who's been naughty or nice.
This mini-update adds a bunch of new clothing sets and a Christmas themed story as you fall asleep on the 24th. The story will trigger until January 1st but is also available in the Mirror of Erised, (that's Desire backwards) if you'd like to replay it or if you're playing on an older save file.
The Holiday themed clothing will unlock once you've played the story alongside previous years office decorations. A lot of the clothing pieces aren't shown in the story itself so make sure to have a peek into Tonks' and Hermione's wardrobes, especially the drawers. On top of the Christmas themed sets, there's also another three sets available for Tonks' in her section of the clothing store. Which makes it a whopping total of eight sets plus various miscellaneous items for this update.
And with three booming "Ho's" SilverstudioGames wishes you all a Happy Holidays!
v1.39.3
Added a new story branch for Tonks, which can be reached during Cho's Tier 2 strip event.
Added a new Mirror of Erised story that includes Tonks.
Added new Halloween Outfit for Tonks.
Added new Japanese School Outfit for Cho.
Added new Halloween themed office decorations.
Updated and improved below clothes:
Hermione's Sweater
Hermione's Pullover
Hermione's Tied top
Cho's Sweater
Fixed various visual bugs for clothes.
Fixed Tonks' hair colour being reset during wardrobe interactions
Fixed Hermione reputation being stuck at level 3 when events were played out of order.
Fixed Hermione panties still being equipped when she was asked not to wear them.
Fixed subcategory order in the wardrobe.
Fixed wrong label call in the 'Flirt with the Teacher' public request.
Fixed wrong icon displayed in Hermione's summon menu.
Defer day time changes in special cases.
Fixed some girls not updating (resetting) properly after being summoned.
Fixed context error in Cho's tactics.
Fixed writing errors.
Updated build-tools.
v1.39:
Hermione
Hermione can be asked to put her ****** in her ***** in one of the events.
After summoning Hermione unlocks, she will start changing clothes by herself through Outfit Scheduling. (Optional)
Wardrobe:
Added school robes. (4 variants)
Added reading and vintage glasses.
Added lipsticks.
Cho
Streamlined and improved Quidditch Event Chain to make it more approachable and less confusing to the player.
Outfit picking mini-game has been removed.
Training Events are more straightforward.
Added more hints regarding the current progression step.
Improved Quidditch Matches in general.
*NEW* The Slytherin Quidditch match and preparations is now available which includes a new CG scene, graphics and multiple characters involvement.
Personal Favours:
*NEW* "Suck it!" including animated CG scenes.
*NEW* "Strip for me!"
Public Requests:
*NEW* "Spy on the girls!"
*NEW* "Manipulate the girls!"
*NEW* "Spy on the boys!"
*NEW* "Manipulate the boys!"
Wardrobe:
Added ??? Outfit.
Added school robes. (3 variants)
Added lipsticks.
Temporarily disabled pig-tails hairstyle until it's fixed.
Added splooge layers.
Tonks
Tonks' model has been reimagined and overhauled:
Improved body quality.
Added new facial expressions to improve narrative.
Wardrobe:
Realigned old clothes and improved their quality.
Added a new hairstyle.
Added a ruffled top.
Added Casual outfit.
Added Nightie Outfit.
Added School Outfit.
Added Bunny Outfit.
Added Silky Dress Outfit.
Added Bikini Outfits (4 variants).
Added body piercings:
3 types of earrings.
3 types of nipple piercings.
3 types of belly button piercings.
1 type of clit piercing.
Added lipsticks.
Added new hangout events.
Added clothing store for Tonks.
Added splooge layers.
Astoria
Wardrobe:
Added lipsticks.
Susan
Added chit-chats.
Gameplay:
Overhauled weather system and added new weather states.
Reimagined Quidditch Areas and added new effects.
Improved interpauses during dialogues.
Improved paperwork and its bonuses.
Added an in-game loading screen during save loading, which ensures all of the required game assets are loaded, to avoid stuttering and IO lags.
Added lore-friendly hints whenever you pick a favour that's above your current progression step with a specific character, or when a character is no longer mad at you.
Added character emotes (angry, confused, happy, hearts, sweat).
Added a hotkey for the summon menu. (Default key is D)
Added tutorial for outfit scheduling.
Tonks will no longer be overheating during hangout events due to wearing a coat.
Rebalanced whoring/public points gains for the events.
Rebalanced mood changes.
Other in Witch Trainer – Silver Mod:
Replaced .PNG files with much better and smaller .WEBP format, reducing the game size tremendously with no quality loss whatsoever.
Considerably reduced loading times on all platforms.
Optimized doll class image return methods, to rebuild parts of the doll only when a change occurred.
Optimized character screens.
Added QoL change for the in-game menus, allowing you to close them by clicking outside of the displayed in-game window.
Adjusted Tonks' mood-based hair colours.
Adjusted default hufflepuff colour scheme.
Added a reward display window with personalised icon whenever you acquire someone's panties.
Added semi-automated game patcher for PC and Mac:
Place the patch .ZIP file in the main game folder and launch the game to update your game automatically.
Added animated CG support w/ camera movement.
Added a function to render displayables to file.
Added dynamically-layered wardrobe items support. (Lipstick etc.)
Added placeholder functions and methods to increase development speeds.
Added em dash support for the dialogues.
Added transitions whenever a chibi enters the scene.
Added skin layers support for splooge layers.
Added Tonks' chibis in public events.
Added automated build scripts w/ assets compression.
Added new outfit-based clothing store dialogues with Madam Mafkin.
Improved resolution of CG images in Hermione's public favours.
Improved consistency of the choices in some events.
Improved wardrobe subcategories naming scheme and the layout.
Improved wardrobe icons.
Improved character's head position behaviour during dialogues.
Improved dialogues sound encapsulation.
Improved image (fall)callback to work with non-standard methods.
Improved sound call labels.
Improved chibi pathfinding.
Improved image prediction in some instances.
Improved profiling functions and made them work with context changes.
Improved expression editor, reaching version 0.2.
Improved saybox behaviour in an upper game context.
Improved contrast on Outfit Scheduling icons.
Improved mail indicator.
Unified menu option styles across the game.
Updated credits.
Removed scale ratio variables.
Proofread the entire game.
Code refactoring and optimisations.
Disabled potion dialogues. (Potions do not exist just yet!)
Disabled collar events. (Same as above)
Witch Trainer – Silver Mod Bug Fixes:
Added a workaround for intel-based GPUs to use DirectX via Angle renderer instead of OpenGL, to avoid rendering errors. (Black screens)
This is caused by a faulty Intel's OpenGL driver and cannot be fixed by us.
Fixed Hermione menacingly bobbing up and down for no apparent reason.
That one is on us, sorry.
1.38.5
Added 4 new pubic hairstyles for Hermione, Tonks, Cho, Astoria.
Added Tattoo & Piercing tab sections for Astoria, Tonks.
Added modification indicators for clothes, outfits and export images.
Added indicator for disabled underwear tabs.
Added headpats. OwO
Improved doll transitions and image output.
Improved clothes for Cho: Bikini Outfit, Sailor Outfit.
Changed behaviour of the mods loader to require maintenance of the mod only between major releases unless said otherwise.
Fixed Tonks' hair colour mismatch in the wardrobe.
Fixed dialogue logic in Astoria's introductory event.
Fixed Susan's height in the stats menu to match it closer to her sprite equivalent.
Fixed cum layers persisting throughout events.
Fixed wrongly assigned Y position in Hermione's groping events.
Fixed missing 'move' transition in the editor dictionary.
Fixed sprite position in Hermione's BJ favours.
Fixed body hue not working for arm layers.
Fixed an issue caused by rolling back after the save update.
Fixed Luna's stewardess hat for short hair style.
Fixed image fallback function causing an error when called from within a Displayable.
Fixed Hermione's underwear hint message displaying incorrect value.
Fixed cache miss for doll displayables.
Fixed alpha channel in the studio by flattening the displayable.
Fixed unequippable lockhart signature for Hermione.
Fixed Outfits deletion working incorrectly in the Wardrobe.
Fixed overflowing character sprites in the Wardrobe when using very wide images.
Fixed overflowing item icons caused by miscalculated positions.
Fixed empty (fill) icons not working for pages above zero in the wardrobe.
Fixed and improved outfits icons.
Fixed modded items causing a crash when saved.
Fixed modded items causing a crash when exported.
Fixed character studio context.
Fixed arm layers for Outfits.
Fixed easter egg positioning.
Fixed equippable bras for characters with too low level.
Fixed typos and spelling errors.
Removed prediction for clothes in the wardrobe to avoid cache overload.
Code cleanup and refactoring.
Witch Trainer – Silver Mod 1.38.4
Added clothing store option for next day delivery (for a 20% item-price increase.)
Added cheats to skip Cho's intro & Quiz.
Increased chance to see one of Tonks or Snape's hangout events from 50% to 100%.
Lowered overall Slytherin points gain from Tonks and Snape.
Tonks now gives bonus points to Hufflepuff when they're behind in points.
Tonks & Snape's friendship level now increases quicker after each hangout.
Hanging with Tonks while the fire is burning increases her friendship level by 2 (She likes feeling hot & sweaty!)
Hanging with Snape while it's raining, or when there is a blizzard, increases his friendship level by 2 (Puts him in a good mood…)
Added a new chibi of Luna sitting on Genie's lap.
Added Tattoo & Piercing wardrobe section for Hermione.
Enabled transparency slider for makeup and tattoos.
Added new outfits for Hermione:
Lora Craft Outfit
Halloween Witch Outfit
Latex Outfit
Slutty Schoolgirl Outfit
Heart Slut Outfit
Ms Marvel Outfit
Tifa Outfit
Teddy Nightie Outfit
Fishnet Outfit
Muggle Spring Outfit
Muggle Winter Outfit (3 variants)
Sling bikini Outfit
Casual Outfit (2 variants)
Cheerleader Outfit (2 variants)
Misc:
Bandaids bra, gift wrap accessory.
Tattoos (15 variants)
Freckles makeup (4 variants)
Added confirm action during game quitting from within the menu.
Added Hermione dance transform-based animation.
Added New Tonks' hairstyle.
Added new outfit related chit-chats for Madam Mafkin.
Added outfit descriptions in the store.
Updated Tonks' chibi.
Updated wardrobe icons.
Updated Hermione outfits prices.
Adjusted cupboard item drop rate logic on Normal difficulty.
Adjusted statistics menu to show last visited character by default.
Revamped whitespace calculation function.
Fixed wardrobe underwear tab being locked for everyone when Hermione had worn blacklisted items.
Fixed book item descriptions.
Fixed grammar.
Fixed Cho's and Tonks' gift responses.
Fixed twins profit cap.
Fixed Cho's sport underwear hand issues.
Fixed overlapping characters during Luna's and Hermione's events.
Fixed hearts in Astoria events.
Fixed cum layers for Hermione poses.
Fixed Tonks' bust layer for corset.
Fixed ValueError affecting saving and loading menu caused by old save version variable.
Fixed Hermione retaining parts of clothes during some events.
Fixed stockings and accessories not getting hidden while in the Piercing & Tattoo section of the wardrobe.
Fixed doll and chibi positioning in Luna's lap sitting events.
Fixed inconsistent use_head variable in Hermione talk events.
Fixed Luna's doll position inconsistencies.
Fixed Snape chibi positioning during Hermione's strip event.
Fixed outfit item names in the store UI.
Fixed missing outfits directory.
Fixed Lockheart's autograph tattoo being assigned to the wrong category.
Fixed Outfits delivery time.
Fixed bug that prevented Slytherin from getting daily points from Snape & Tonks on easy difficulty.
Fixed clothes blacklist not respecting requirement levels.
Removed skipping animation due to poor reception.
Removed unfinished, prototype feature from phoenix menu.
Removed subpixel positioning to reduce the overhead.
Refactoring and optimizations.
1.38.1-1.38.3
Bugfix
1.38
Hermione
Hermione has received a major overhaul and has been converted into a new wardrobe system.
Hermione's model has been redrawn from scratch in higher quality.
Added new outfits:
Bunny Outfit.
Egyptian Outfit.
Rave Bikini Outfit.
Delivery Outfit.
Pink Latex dress.
Added redrawn outfits:
Ball-Dress Outfit.
Leather Bikini Outfit.
Poker Outfit.
Yennefer (Witcher) Outfit.
Maid Outfit.
Schoolgirl Outfits. (6 variants)
Elizabeth (Bioshock) Outfit.
Swimsuit Outfit.
Misc:
Nightie.
Lockheart's tattoo.
Gryffindor emblem.
Tied top.
All of the events have been expanded to support contextual dialogues based on the character's clothing. Many of the events have received additional writing and choices. The scope of affected events is too big to list here, but noteworthy ones include:
The game's intro events.
Forbidden Scroll event and lead-up events.
Favour events.
Autumn ball lead-up events.
Option to continue playing after the ball "ending".
And more…
Hermione's whoring points will now increase during her tutoring lessons as well.
Added whoring requirements for clothes.
Cho
Cho has received a facelift.
Added 19 new mouth variants.
Added 6 new eye variants.
Added 4 new eyebrow variants.
Added new pupil and blush images.
New Hair-style
Relined and adjusted some of her existing clothing
Restructured some of the Pre-Hufflepuff match events.
Added new dialogue choices with some pacing improvements to her existing content.
All her content has been re-posed to use her new face expressions.
Added hint function on how to progress by talking to cho about quidditch.
Astoria
Added chitchats.
Luna
Improved CG scenes and removed floating d*cks.
Added a (f)lying chibi at the end of a sex event.
Many bug fixes and improvements, which are listed below.
Gameplay:
Improved and expanded game ending:
Replaced ball images with high quality widescreen images. (Welcome to 2020!)
Added additional writing and ending choices. (Spoilers!)
Added new Quidditch stands and Quidditch pitch images.
Added a new mirror story "Eating for pleasure".
Implemented replay mode for ball ending gallery.
Added tutorials for certain game mechanics.
Streamlined hearts system and made it consistent for all characters.
Rebalanced cupboard item/gold drops to lessen the grind but also encourage the player to spend their earnings and not abuse the in-game economy too much.
Removed obsolete dyes and misc items from the clothing store.
Interface and Graphics:
Overhauled doll class and character displayables:
Improved stability and performance, a lot.
Reduced overhead during non-essential interactions (i.e. Skipping)
Added cum-layers support.
Added custom skin colour support.
Added basic pose support.
Added alpha masking to automatically cut problematic parts of the image (e.g. nipples).
Added facial skin layers based on expressions.
Added back and front layer support.
Added automatic transitions of doll appearance during dialogues.
Added blinking animation for characters included in the doll system (Cho, Astoria, Hermione, Tonks)
Overhauled chibi code:
Unified chibi code in a way that improves reusability and greatly reduces the likelihood of issues such as wrong appearance or position.
Made chibi walking speed consistent across events.
Made chibi walking animation always end on a 'standing' frame.
Added random blinking instead of creepy simultaneous blinking.
Added waypoint movement.
Added room-dependent scaling and positioning.
Improved setup of chibi scenes involving Hermione and Genie.
Added outfit scheduling:
Set an outfit for each character based on various conditions (weather and daytime).
Characters will automatically wear valid outfits.
Scheduling can be toggled on and off for each character individually inside the wardrobe.
Added new icon for outfits export/import.
Added chit-chats toggle.
Added level requirements display toggle.
Reduced wardrobe clutter by moving toggles inside a drop-down menu.
Colour picker:
Added swatches, allowing saving of favourites.
Added a history of sampled colours.
Added comparison between old and new colour.
Added a button to reset to the old colour.
Reduced lag while picking using the sliders.
Added interface menus (Wardrobe, Inventory, Statistics, Achievements) into a separate game context to improve stability.
Added screen grab and blur effect for context background.
Disabled rollback in interface menu context.
Game menus (Preferences, Save/Load Game):
Improved layout consistency.
Added infinite pages support with proper scrolling.
Added window size preference and reset button.
Added cheats toggle preference.
Added tutorials preference.
Added 'use drawable resolution' toggle to avoid issues on high resolution devices that experience abnormally high VRAM usage. (in developer mode)
Added weather volume slider.
Improved save compatibility checks.
Replaced popups with notifications instead.
Improved character drag performance in studio.
Disabled game menu while setting up a new game to avoid issues.
Added automatic image prediction for doll objects.
Improved credits by adding chibis, and changing scrolling speed and position.
Made tooltips look better and follow the mouse cursor.
Made character name box resize to fit longer names.
Added fast-forward animation for skipping.
Added transitions for game menu interactions.
Improved choice menus and favour menus.
Replaced image-based text icons with Unicode characters.
Improved gift/reward popup screen.
Improved scaled-down appearance of icons where possible.
Added butterfly and cloud generator for use in outside areas.
Improved map icons and added highlights for unseen events.
Enhanced castle background to widescreen size.
Other Improvements:
Improved room logic:
Removed overlapping shadows, so no more flickering!
Improved transition to and from rooms, ensuring graphics and sound change appropriately.
Improved return jump to office after events have ended.
Reorganised project files:
Moved lots of smaller and bigger parts of code into respective files.
Removed some redundant files and gave others more descriptive names.
Reduced game file size by removing obsolete/unused image and music files.
Added a bunch of new developer tools:
Quickstart.
Live expression editor.
Character expression linter.
Precalculated image bounds (for whitespace cropping) generator.
Added several developer-only cheats.
Added experimental mods support:
Mods use their own format .rpym and require to be put in /mods/ directory.
Mods do not overwrite existing game files, allowing greater compatibility across different game versions, requiring very minimal maintenance from the modder.
Compatible with existing saves. (Depends on the complexity of the mod)
Support for custom clothing.
Support for custom characters. (Partially)
Custom event support. (Partially)
Event overriding through config.label_overrides.
To enable mods remove or rename DISABLEMODS.txt file.
Removed obsolete warning message before ball event.
Added new cheats.
Added mood reactions for all doll based characters.
Added fast-forward through the day when skipping for some time in the office.
Many spelling, grammar and writing style corrections.
Improved performance of non-interactive screens by making them insensitive to input events.
Disabled automatic image definition to improve loading times.
Replaced redundant blank.png image with Null displayables.
Replaced plain colour images with Color objects.
Replaced separate achievements thread with periodic function call instead.
Added function to render numbers as words for use in writing.
Improved dynamic volume changes in events by utilising set_volume function.
Added new sound effects and music.
Added new display layer for certain interface elements.
Improved miscellaneous screens and added transitions to them.
Streamlined quest items usage and moved them into the inventory menu.
Added writing for gift items: Sexy stocking, anal beads.
Added beverages at the top of the store item list.
Moved Hermione's tutoring intro dialogue into the first tutoring event.
Improved public route warning.
Streamlined mirror stories: Improved title screens and fixed setup/reset logic.
Bug Fixes:
Fixed Luna's nipple going AWOL in some events.
Fixed Luna becoming confused about time of day.
Fixed Luna's arm pose when wearing a muggle top.
Fixed Luna's thigh position.
Fixed chibi positions in several of Luna's events.
Fixed Luna's handjob pose.
Fixed Luna's CG layering and transitions.
Fixed Luna's masturbate arm pose not aligning with her sleeve.
Fixed Luna's favours menu soft-locking when she has not been converted.
Fixed Astoria using the wrong name variable during summon events.
Fixed Astoria and Tonks overlapping sprites during Imperio spell event.
Fixed Cho going bald (and naked) during Quidditch events.
Fixed Cho's tattoos icons causing Divided by zero error.
Fixed Cho's sports bra being locked by default.
Fixed Cho's underwear level check in the wardrobe.
Fixed Hermione's favours to immediately update after a tier-level increase.
Fixed Hermione's masturbation flag.
Enabled an existing variation of Hermione's 'wear my cum' shaming event.
Fixed indefinite ball event delay when repeatedly talking to Hermione about it.
Fixed Susan not getting dressed after an Imperio event.
Added missing stop music calls in events.
Fixed character retaining expressions when returning from the character Studio.
Fixed skin layers not displaying on arms.
Fixed dynamic text styling in dialogue window, causing resource leak.
Fixed text outline not scaling with the screen size.
Fixed subtle fade glitch affecting choice screens.
Fixed autosave preference and its frequency.
Fixed notification screen visibility.
Fixed achievements notification sometimes not displaying.
Fixed dueling sprites persisting on the master layer across the game.
Added missing attack sound during the dueling event when Snape was blocking.
Fixed janky animation toggle for the map, now it should work correctly.
Fixed several item descriptions.
Fixed num_to_word function and added hyphen support.
Fixed accessories toggle in the wardrobe remaining non-interactive in some cases.
Fixed icons position in the Wardrobe.
Fixed bugs in the old wardrobe for the time being.
Fixed outfit import/export.
Fixed counter decrement issue in the event class.
Added missing sexy stockings item.
Fixed cupboard gold calculation not being re-calculated during evenings.
Changed some instances where Astoria took the gift item even though she didn't really want it. What a bitch.
Fixed fire whisky disappearing from the store.
Fixed gifts screen return stack causing depth issues.
Fixed a call hierarchy 'leak' that caused rollback related issues and long error messages (in case of a crash).
Fixed some difficulty variables not being affected by changing the difficult preference.
Fixed crash to title screen when loading corrupted save files (reset to office instead).

Download from [File Boom]
Download from [Tezfiles]