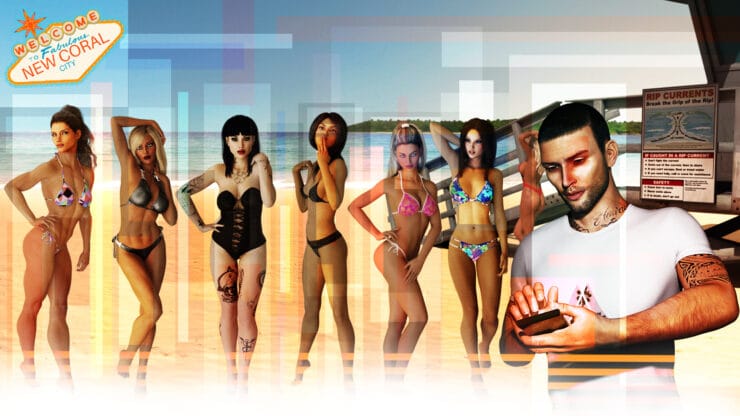 Release date: 2022
Genre: 3dcg, Male Protagonist, Oral Sex, Vaginal Sex, Interracial, Creampie, Lesbian, Sex Toys, Handjob, Exhibitionism, Female Domination, Male Domination
Censorship: None
Platform: Windows, Linux, Android
Version: New Coral City Season 1 Final + Name Mod + Guide + Season 2 v0.2
Language: English
File size: 3.93 GB + 857 Mb

About game:
This is the Story of Anthony. He's reach his brother in New Coral City and he try to get a life. At the begin of the game Anthony live in his brother's house and will work in a pizzeria to get some money… but his dream is to become a Photographer a New Coral City is full of "wannabe Models"… so..​
+ Changelog
v1.5
A look under the skirt:
The story is complex and there are many important situations in this release. The storylines are coming together and some new dynamics that have been created will keep you entertained (or pissed off, depending on your paths).
I also did a huge amount of rerendering work. I practically re-rendered all the renders I had prepared for 1.5 Because the level of the renders I made with the new PC is too much better than the old ones.. And I also started rendering the old images and locations. In the next releases I'll add from time to time also new sx scenes replacing the previous ones (I'm designing also the scenes in a different way, you'll see, you'll be happy).
v1.3.1
I fixed some bugs and a couple of things
Grammar check done
v1.2
I admit that in the last period I was really hard to concentrate on the game, this complete reboot was much more difficult and tiring than I imagined… but finally we're there…
We've reached the original 1.2 release with the difference that now every path in the game is encoded, tracked and ready to be recalled. Already on this 1.2 you'll see how some events of the past weeks are better chained in the story and how the options will be more and more on point with what happened.
These are many small details (some big ones) that used to escape tracking and are now completely part of the story.
To repay you for the wait I have expanded and deepened the part that concerns the "manager" and I have already included in 1.2 an important character that was not included in the original release.
also in 1,2 (and 1,3) many of the relationships with the girls (Michelle, Roberta, Zoe) will be better defined and there will be different paths if it will be just "Sex path" or "Girlfriend Path".
I also added some news about these paths, maybe you won't see them because you're not playing certain scenarios and everything will seem normal, but in some scenarios some important things will happen (am I talking about Randy?).
This weekend I won't be home, but as soon as I get back (I'll fix any bugs) and start working on the new release with a new energy. I'm looking forward to it.
This is going to be fun.
I want to thank all the patreons who have continued to support me during this long and tiring reboot. I hope that the wait has been rewarded and I hope that from now on you can enjoy the game with punctual and exciting releases.
The fireworks are about to explode…
v1.1
A new Yanmai sx scene and a new Roberta sx scene. Each girl will have 2 different sx path that will bring to 2 different relationship path and possible consequence. More renders will be added to the scenes in the next releases when you'll unlock new position and… We'll see how the relationship will go, you could unlock more things…
Then. As I said in 1,0 I totally remade the manager path, so in this release you could shoot 2 scenes. 1 for Pinky and 1 for Hanna. You can choose 2 new scenes for Pinky (or 3 if you choose to make her shoot the movie with Mark for her first sx scene) and between 3 scenes for Hanna (1 with you and 2 with other actors).
Then. I fixed all the stats in "really complicated path": AdeleGaryLara affair, RebeccaBorisJennifer affair, ConnorKirstenTatiannaAshley sx/blackmail/secrets…
Then… Things already available in original 1.1 release: Melissa first scene, Zoe first scene, Michelle first complete scene and Ashley first complete scene. All of them totally rebuilded… I mean: a lot of things
Then the stories… You know events are always more complex than the previous release but now I've tracked everything in a better way so I think the "game experience" it will be more satisfying than in the original release. I hope you'll appreciate.
Most of the game now is grammarchecked, so it should flow good. (In the next days I'll update some new check. at the moment is fixed until day 75 and some dialogue are not checked yet… so I'll share the last dialogue and the days 76 and 77).
v1.0
N/A
0.7 Reboot
N/A
v1.2 (Last version before reboot)

Download from [File Boom]
Download from [Tezfiles]