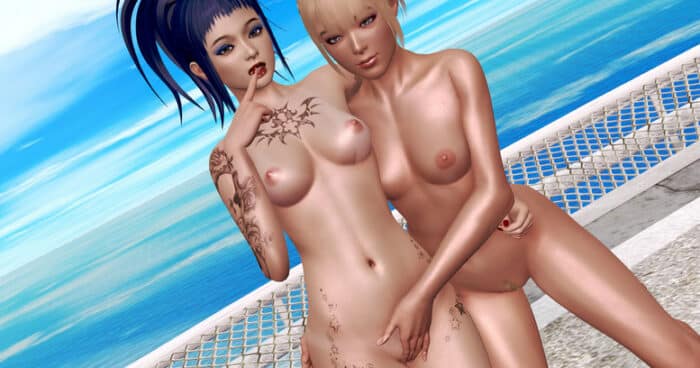 Release date: 1 August, 2023
Genre: 3DCG, Male protagonist, Animated, Sci-Fi, Big tits, Oral sex, Corruption, Exhibitionism, Voyeurism, Masturbation, MILF, Sexy Girls
Censorship: None
Platform: Windows, Android
Version: The Anomalous Dr Vibes 0.17
Language: English
File size: 1.81 GB

About game:
The story is about a young entrepreneur mysteriously transported into another dimension, similar but not the same as the one he left. The game begins having to build relationships in this new world and starting to generate an income. Can he survive and prosper in this new world? Can he find out what the hell is going on and why some evil bastard has stolen him away from his old life?​
+ Changelog
v0.16
IMAGES 5583 (280 new)
VIDEOS 429 (30 new)
Main story progression.
Quinn story extended (2 scenes).
Ashling scene.
Photo session with Lucie, Christina, Nano.
Nano and Brigitte scene.
Fernanda's condition repeatable updated and added to.
Very small Helana progressive scene update.
Various fixes and improvements, spelling etc.
Added option to skip the Officer Murphy lockup scene.
Added a couple of animations of Perrin to the Quinn Deflowering scene
Multiple language database integration and editing feature added (no translations available at this point).
v0.15
IMAGES 5303 (273 new)
VIDEOS 399 (36 new)
Cara, Helana and Quinn stories extended
Perrin story extended
Navia scene
Officer Murphy scene
Ashling scenes
Fernanda repeatable updated
Roman (mechanic) repeatable scene
New Location – Adult Store
Settings slider added for text background darkness
Fixed an issue with incomplete events adding -1 to event complete count.
Fixed an issue with the map displaying inside an event.
Fixed a loop caused by not showing Cara your manhood when she's playing bass naked in her room.
MacOS now uses fullscreen mode rather than windowless
v0.14.0 Public
IMAGES 5028 (291 new)
VIDEOS 363 (47 new)
Cara story extended
Quinn story extended
Helana story extended
Soren story extended
Juno/Jett/Jinx scene
Nudist beach scene
Billie and Fernanda – repeatable scene that changes with Fernanda's condition (First trimester this release, slightly plumper)
Scene with new character Roman
New character Molly introduced
New locations added (repeatables for these will be added to the next release)
Hide and show text button added for android
Text shadow darkened a little to make text more legible on some backgrounds
v0.13 final Public
Added replayable scene with Quinn at night
Added some more images and an animation to the final scene, as the ending needed a little improving
Fixed issue showing incorrect futa scenes in Highgrim scene
Fixed some text issues/spelling
Fixed wrong task days for Cara event
Added a Version Load button to the Load Screen to allow loading the game at checkpoints if all saves have been lost (useful for android users who have deleted the game and lost saves)
v0.13.0
Images: 4737 (266 new)
Videos 317 (50 new)
Quinn story extended
Cara story extended
Helana story extended
Ashling story extended
Fernanda and Billie story extended
Nano story extended
Jessica, Aurora, Mackenzie, Soren and Hendrix story extended
Improved smoothness of some looping animations (there are more that need to be improved)
Missing Miao character card added
Added some overlooked characters from character cards (Billie and Fernanda). Will automatically be added if you have missed gaining the cards. Fernanda is worth a look.
Fixed an issue where the game may never have allowed you to repair the PC with the power supply
Misc text fixes
v0.12.0
IMAGES 4471 (274 new)
VIDEOS 267 (31 new)
Helana story extended
Cara story extended
Quinn story extended
Juno story extended
Perrin and Nano story extended
Ashling story extended
Navia and Miao story extended
Fernanda and Billie story extended
Quinns special event from 0.11 has been cut short and finalised in this version. You are now initially interrupted by Helana before the deed is done. I felt this event lacked any build up or anticipation.
Moving back home after being kicked out is now set to a fixed number of days rather than waiting for other events to be completed.
v0.11.0
IMAGES 4197 (228 new)
VIDEOS 236 (29 new)
Helana story extended
Cara story extended
Quinn story extended
Ashling event added
Pugsley events added
Alize Lucie and Perrin events added
Sabine event added
Updated second and third main events to run any day of the week to speed gameplay
Fixed a bug where the Cara photoshoot wouldn't launch preventing progress for some players
Fixed a bug where a Nano event wouldn't launch preventing progress for some players
Added ability to sleep and eat at neighbours after a checkpoint has been passed
Fixes requirements for Cara in the bathroom scene (existing scene that wasn't previously viewable)
Fixes a bug where a stage priority flag was also effecting following stages resulting in the wrong event being played (changed boolean flag to stage_id)
Added a cheat option to view correct answers for the Romancing Helana event upon failing
v0.10.0 Full
Fixes to some wording
Improved ability to start some scenes
Improved some images in earlier content
Improved some readability in earlier content
A couple of fixes to event logic in this version
Changed screenshot key to Alt-S
Improved hide text function to allow clean screenshots
v0.10.0 beta
IMAGES 3936+ (330+ new)
VIDEOS 203+ (32+ new)
Quinn story extended
Cara story extended
Fernanda and Billie story extended
Jinx and Jett story extended
Nano and Brigitte story extended
Dr Vibes story extended
Original universe Soren story extended (featuring Cayenne and Ukulele dude)
Poor Helana only gets a couple of minor appearances and bird droppings on her head.
Removed index label from Character Cards. Was showing incorrectly.
Added ability to save a screenshot (as png). S key.
Remapped some keys to adhere to renpy standards (see Keys under Options).
v0.9.0 Final
Fixes to some wording
Fixes some images displaying at incorrect time
Fixes two missing audio samples
Some continuity improvements
Several images added where needed
Delete save button only appears when hovering over save
v0.9.0
IMAGES 3606 ( 306 new)
VIDEOS 171 (16 new)
BETA 2
Fixes a problem that stops progression with Quinn swimsuit and Nano at the dorm
Adds an extra option/scene portion to the cruise event
BETA 1
Quinn story extended (and a new replayable event at night)
Cara story extended
Alize and Lucie scene progression
Perrin story extended
Hendrix, Jessica and Imani story extended (and an introduction to Gabriel)
Helana, 2 scene progressions and a cameo
Navia story extended
Soren, Nina and Mackenzie story extended (and an introduction to Annika)
Volume slider moved onto the settings page with other sliders for consistency.
Set right mouse button to also close settings window for consistency and to match RenPy
Extended image overlay tween options
Fixed Helana double character card bug (moved to end of intro)
Fixed random missing navigation buttons on PC Character Cards
Changed colour of neighbors house on map to make it easier to see coloured event ring
Fast forward now turns off on last page of an event if running (rather than completing event)
v0.8.5
IMAGES 3300 (143 new)
VIDEOS 155 (12 new)
Cara Photoshoot and setup scenes added
Fixes issues with Lucie Air-Horn Revenge and Juno Photoshoot triggering early
Fixes some display issues with Character Cards and Web Site on the PC
Various writing improvements and some image updates throughout the game
v0.8.0 Final
New scene at the beach added
Game show scene with Helana and Ashling now works (wasn't triggering in beta)
Minor bug fixes and grammar/wording improvements
Nickname system added (and used in beach scene)
v0.8.0
IMAGES 3157 (340 new)
VIDEOS 144 (32 new)
Helana story extended
Cara story extended
Quinn story extended
Perrin and Lucie story extended
Alize story extended
Ashling story extended
Jet and Jinx story extended
Brigitte and Jessica story extended
Carlos introduced in Maximum Deviance Mode
Maximum Deviance/Hareem Mode comes into play (Maxium Deviance is all content (MMFF etc). Hareem Mode is only one male in scenes (MFF).
Fixed bug in display of screen replay info
Fixed event gold ring not showing sometimes when multiple concurrent events in room
Added option to not display gold ring for some events (usually repeatables that are unique to the original event)
Set the skip/fast forward option to not stop when an animation or image sequence is displayed
Now saves fullscreen/windowed state when changed in game
v0.7.0 beta
IMAGES 2817
VIDEOS 112
Isolated running event variable: There has been an ongoing random bug which occasionally will mark the wrong event completed which can mess up play order. This will hopefully fix this however its very difficult to test.
Fixed a bug where right clicking after saving would freeze the window (Renpy muscle memory!)
Have implemented two paths into the game for future events. Maximum Deviance: Allows MMF, orgy etc scenarios. Alternatively Hands off my Hareem: No other males involved.
Hendrix friend or foe choice affects whether Maximum Deviance or Hands off my Hareem route is taken. This route can be changed at any time on the phone under kinks.
Collectable Character Cards implemented. View on the PC. Cards will be granted during events. Current save games will grant previous Cards after Pool Party event with Imani.
Fixed occasional bug where message box was popping up on starting a replay (This FixedID not found)
Colors of videos should now be correct due to an update to the Godot engine
Helana progression extended
Quinn progression extended
Nano progression extended
Piper photoshoot
Perrin progression extended
Christina repeatable event added
Cara progression extended
Alize progression extended
Vibes and Navia story progression

Download from [File Boom]
Download from [Rapidgator]