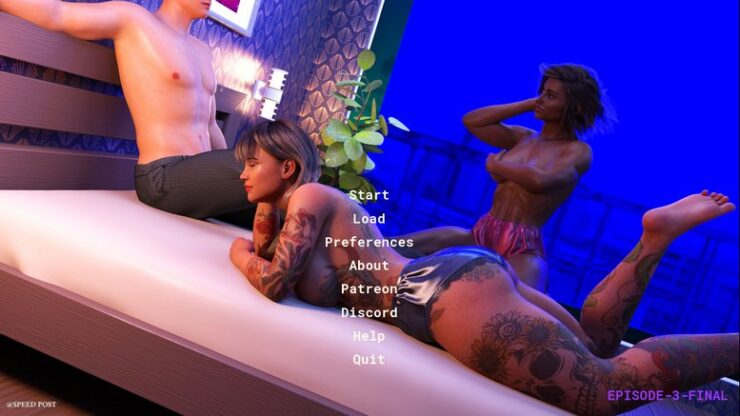 Release date: 11 October, 2023
Genre: 3DCG, Incest, Harem, Male Protagonist, Mobile Game, Voyeurism, Big tits, Big ass, Teasing, Interracial, Mystery, Romance, Sextoys, Animated, Creampie, Female domination, Group sex, Male Domination, Masturbation, Oral Sex, Vaginal sex
Censorship: None
Platform: Windows, Linux, Android
Version: The Lost Love Ep.4 CG + Walkthrough Mod
Language: English + German, Spanish patch
File size: 2.36 GB
About game:
The Lost Love is a hot story about betrayal, lust, insanely beautiful women and, of course… love…
+ Changelog
EPISODE 4 CG
1. changed all the bad renders from episode 4 from the Lily scene, beach scene, dinner scene, and police station scene.
2. changed the design of the beach lady
3. changed the design of the lieutenant of NCPD
4. some minor dialogue changes
5. fixed the main menu of the Android port.
EPISODE 4
1. RENDERS: [2200+] I can't believe but yeah… 2200+ renders. Recently I found out that not all screen shows accurate colors, and my laptop doesn't have 100% sRGB. I was curious about my renders and whether they look good or not on a better monitor/TV. So I hooked up my TV to see my old renders and found out I used to saturate my render a lot more than I should have. But with Episode 4 that has changed, and my renders will change for the better from now on.
2. STORY: [60K words/2.5 to 3.0 hour] About the Characters:
Jill: You will see a lot of Jill(Policewoman) in this episode. You will also learn how she started bullying our protagonist, and you will see her in action.
Kavita(The Indian beauty) is also in this update, as I have said already, she will get a bigger part than just being Mrs. Patel now. And I have given her a more interesting storyline, I hope you will like the way I'm going with her.
Dixie (The crazy reporter) You only saw a glimpse of her, but you will see A LOT of her in this episode.
Ashley (Ebony beauty), you will see the wall between her and our protagonist slowly but surely breaking in this episode.
Chloe(The Cam Girl), I know she may not be people's fav, but she has a scene in this, and you will see more of her submissive side.
Maya, you will finally see her kink in this episode, from the start I knew if I was introducing a lot of characters I should at least give them different kinks. I know, discussing Maya's kink is a bit risky here but I hope you are getting where I'm going with her
Cynthia (The redheaded neighbor), you will finally break the boundary that is stopping you with her. Also, you will meet the annoying Donald.
About the world building:
Novus City- This update is going to be a lot of world-building. Starting with the name of the city where Mc is living right now, which is called Novus City. This city is surrounded by the sea from three sides, with a lot of beaches, casinos, hotels, and a lot of foreign money coming to the city. Which makes this city a haven for organized crime groups. I have also made an AI image for this city, I don't think I'm that talented enough to make a whole city in a few days in 3D right now.
Criminal groups:- In Ep4 you're going to be introduced to many criminal groups who ruled Novus City and still are. Because there is enough money for every group, they have divided the city between each other. How Mc is connected to all this will be explained briefly in ep4. I'm going to make a post about this and show you guys some of those crime lords.
NCPD:- Novus City Police Department, you will see a lot more side of NCPD through Jill, even characters like the captain and the lieutenant of NPD. (I have only searched a little bit of these ranks and I hope I have given the right ranks to these characters.)
The pacing: At first I wanted to keep the bigger plot hidden till episode 5, but I have decided to change the pacing now, that is the reason this update is this big. My first thought was that I should introduce the LI first, progress in their path, and then introduce the actual plot but now I feel I should keep them going parallel.
Blood and violence: This episode will contain some scenes with blood, I think I have to add that to the notes at the start of the episode. I want to know if you guys have a problem seeing the blood or if I will have to change things in the post, I will think about this more and ask a few devs about this.
The antagonist: Every good story needs a good antagonist, and this story has one too. Usually, antagonists like these reveal themself at the end of stories but I don't like that way, I want to create a rivalry between our Mc and our antagonist. The connection of this antagonist to Mc and his past will be shown in this episode too.
A few changes in the story:
In EP3 I have added Maya's missing scene, with only Ashley's route
In Ep3 Mikayla's neutral scene is added
In Ep3 Maya's Scene with Only Jennifer's route.
3. ANIMATIONS: [10] All 10 animation has more than 60 frames, so a total of 600 render frames.
4. CODES: [02 new features] Two big features in this update are…
Path Maker:
This option will let you play the latest episode without going through the previse ones.
First, you will have to enter your name and last name, and the path maker will start asking you questions about the characters in the game.
Instead of asking about every choice you have already made till ep3, the question will be precise, for example, which path you will take with Ashley? This way you won't spend 5 to 10 minutes just answering questions.
Also, you will be able to change their name according to your taste.
Of course, there will be only a few important questions for you to answer that will affect the game.
Otherwise, you only have to select Yes or No to pursue a particular character's path.
The Walkthrough Mode:
In preference, you will find this option.
In this updated Walkthrough mode, you will get hints about the choices you are making.
I know it took too long to make this episode, so I will try extra hard to make Episode 5 quicker.
EPISODE 3 Final:
1. RENDERS: Total count= 1800+
New renders= 740
2. Scenes: 5 more scenes (Major and Minor).
2.1 20000+ words.
2.2 A scene with Sally the nurse.
2.3 A scene showing Jennifer's wild side.
2.4 Introducing a new character Gael.
2.5 The first look of Mellisa (Not a spelling mistake).
2.6 A scene with Ashley in an arcade shop.
2.7 Tried to write more and differently. Less like a web novel and more like a VN.
2.8 Finally a sex scene.
2.9 Changed Chloe's scene.
3. Animations: 2 new animations.
4 Music/ Sound:
Music tracks: 22
Sounds: 33
5. Changed the Main Menu GUI.
6. New Main Menu picture.
7. New banner.
EPISODE 3 Beta
1. Renders- 1000. This is the first time I made 1000 renders for an update. (Excluding animation frames.)
2. 12 scenes. I tried to write more this time.
2.1 Introducing Chloe. (Just to intrigue you, she is an independent scientist and she has an Onlypal.)
2.2 Introducing Dixie. (Just giving you the first look at Dixie and showing you a bit of her personality.)
2.3 Revealing the reasons behind Mikayla's tattoos and her nose ring.
2.4 You meet Frankie and Skippy again.
2.5 You get to see Ashley and Mikayla on the same bed.
3. Animations- Yes, we have animations now. 12 animations to be exact. (Read more in Dev notes.)
3.1 Frames: 60+140+180+180+60+60+60+60+60+60+30
4. Music tracts – 22. Sounds- 26.
EPISODE-2 Public release
1. Added the last two scenes(one lewd).
1.1 You are finally meeting Jennifer at the present time.
1.2 Introducing Tara, she is going to be a very important character. She has a connection with our protagonist that even he does not know about. I kept her introduction small and sweet cause I still wanted to keep Jennifer the star of this Episode but you will see a lot of Tara in upcoming EPs.
2. Added more music
3. Added more sounds
4. Removed problems from the code шт The Lost Love.
5. Added a new Main menu image. (Just wanted to add a 5th point.)
EPISODE 2-BETA
Renders = 600+
Scenes= 10 (In the Beta)
1. Introducing Jeniffer, she was only hinted at in episode 1 now you are going to see a lot of her in this update.
2. Introducing Jill Burch, she is one of the people from our protagonist's past.
3. Seeing a glimpse into Cynthia's life.
4. Remembering some past moments with Ashley.
5. And of course, a pleasant drive with Mikayla.
EPISODE ONE
Renders-430
10 scenes (8 Major, 2 mini)
Added hints of relationships
Added many sounds
Added Music to every major scene
Removed all the mistakes in typos and grammar
The Lost Love BETA
– v0.05b Release
-200(1920×1080) renders
-7 scenes(2mini, 5 major)

Download from [File Boom]
Download from [Rapidgator]