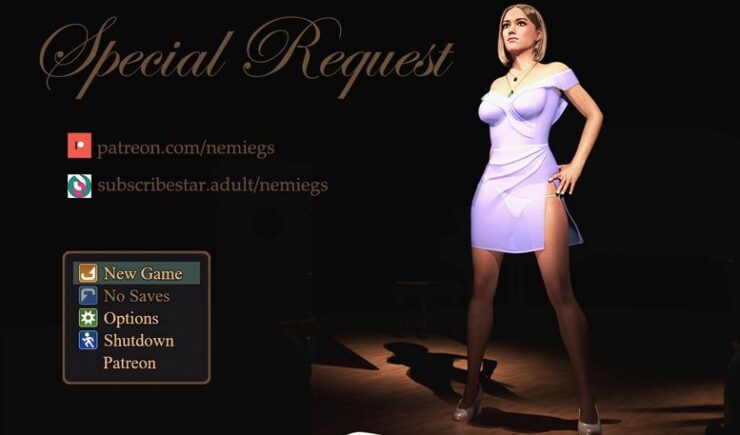 Release date: 7 July, 2023
Genre: 3DCG, RPG, Female protagonist, Corruption, Blackmail, Vaginal sex, Anal sex, Group sex, Animated, Oral sex, Sex toys, Sexual harassment
Censorship: None
Platform: Windows, Linux, Android
Version: Special Request 1.8 Official Ren'Py Edition + Gallery Mod + save
Language: English
File size: 6.17 GB
About game:
Special Request is adult game about a successful woman that gets involved in somebodies' game behind her back. The story will lead to the discovery of some secrets in a City, and the once sunny environment will show its dark side now. The main protagonist will have to endure mostly blackmail and corruption, but there will be other fetishes to meet as well. Will she be able to fight her life back again…
+ Changelog
v1.8
I bring you a game update that will add more fun and experiences to our game!
In this latest update, I'm introducing Sunday Events. I've expanded the CG gallery with nine new scenes. I've fixed some pesky bugs that slipped through my previous update. On Saturday evening, Laura now has the opportunity to avoid both punishment and getting drunk by taking a serene walk to the beach.
I hope these new additions will leave you eager to dive back into the world we've crafted together.
v1.7
· Saturday.
· 30 major and minor events.
· 8 new events in the CG gallery.
· New sandbox events: Discover encounters at home, church, and an exclusive event in the Fancy Suburb. (Unlock it by bringing Oliver in the morning!) Extended player interaction with Laura on the beach. More fun if Oliver is around.
· A grand total of 866 images and 58 animations. Please note! This update is an exception as I needed to replace a lot of Sandbox events.
· Improved info window: Hints are now delivered through pop-up messages, while the info window provides comprehensive progress tracking of all game stats.
· Added a new "Relationship Gallery" menu to remind you of the main characters in the game and hierarchies in organizations.
· Bug found: Regrettably, the brothel attendance counter stopped working correctly. So, Laura will be punished for absence anyway if she is submissive. Sorry. To resolve it, replay the last week of the game.
v1.6:
A hard morning with a surprise awaits Laura, who brought Brute home due to circumstances or her indiscretion.
Friday is payday, if you know what I mean. It's also someone's birthday, and maybe Laura will sing a song…
After the presentation of its products, PAM will open its first charity ball. How will Laura fare there?
Laura will have an unexpected meeting with a friend.
And yes, he is back. How will Oliver react to Laura's transformation? Will he decide to go on a business trip again on Monday?
I would advise Laura not to go to the brothel tonight…
Also, I could advise her to be careful about who she talks to… She might get into big trouble…
Friday, Week 4
621 images
69 animations
v1.5
Thursday, week 4
498 images
27 animations
v1.4
Change log:
*Over 500 images.
*36 animations.
*2 events in "Pants & More."
*The hotel storyline goes further.
*The brothel storyline goes further.
*The punk event you voted for this update. I know someone who has been *waiting for this so much!
*Beatrice has a scene too. It will be slightly lighter this time.
*New event with Pecker in the park.
*The priest in the church at night gets tempted even more!
*Don't eat the cake! Laura can get pregnant…
*Laura receives news from her hubby.
*Over 2000 re-rendered images and very many animations.
*Added "Pride" and "Submission" stats. If you start a new game or use bridge – *fine. If you use your old save, Laura will ask you to choose her character type at some point. It will influence the game already in this update.
*You can change textbox opacity in preferences. Letters have black outlines to make them more visible.
*Many more little tweaks and polishings.
*And most important! If a player wants Laura to be as pure as possible, he can get only one event on this update! Greetings to social justice warriors out there! I warned you…
v1.3
About 500 new images
32 new animations
New event in the church during the daytime if the priest is corrupt.
New event in Gunnar's shop on the map.
New customer for PAM and new Special Request.
New event in Brothel.
New event in Hotel.
10 new events to the scene gallery.
in The Hall of Shame, replaying home scenes, you can pick Laura's outfit.
V1.2
New navigation system
Cleaned previous maps
130 images for small events
489 pictures and 22 animations for the main story
Monday, week 4.
v1.0
390 new event images
14 new animations
8 events to Hall of Shame
v0.9
This update covers events of Friday, week #3.
371 new renders in Special Request
51 animations
Ten events to Hall of shame.
v0.8
Two in-game days
over 600 renders
16 animations
New Pecker sidequest in the Park during the daytime.
Replaced repeatable events in the PAM office
Three hidden events*
New characters in Special Request
One new place
And the event that you probably were waiting for the most!
v0.65
A scene gallery called "Hall of Shame" added to the game menu.
90% of old pictures re-rendered. The only ones left are early scenes with Donald.
All of the animations re-rendered
The shower screen removed completely starting from day 2. It can be accessed through the "Hall of Shame" now.
no new story content
v0.5
+ Visual novel now is full size.
+ remastered images
+ shortened transitions between scenes, removed nearly all of the black screens and unnecessary renders.
+461 new renders in Special Request
+ 5 animations.
+2,5 in-game days.
v0.4
Initial Release – Special Request

Download from [File Boom]
Download from [Tezfiles]